Airplane snacks can be the answer to flying with less stress. Because flights get delayed, kids get bored, and budgets are tight, oftentimes it's the snacks you pack that lessens stress and gives you a happy travel day. Here I will share with you six tips that will save you time, money, and lessen stress on family travel days.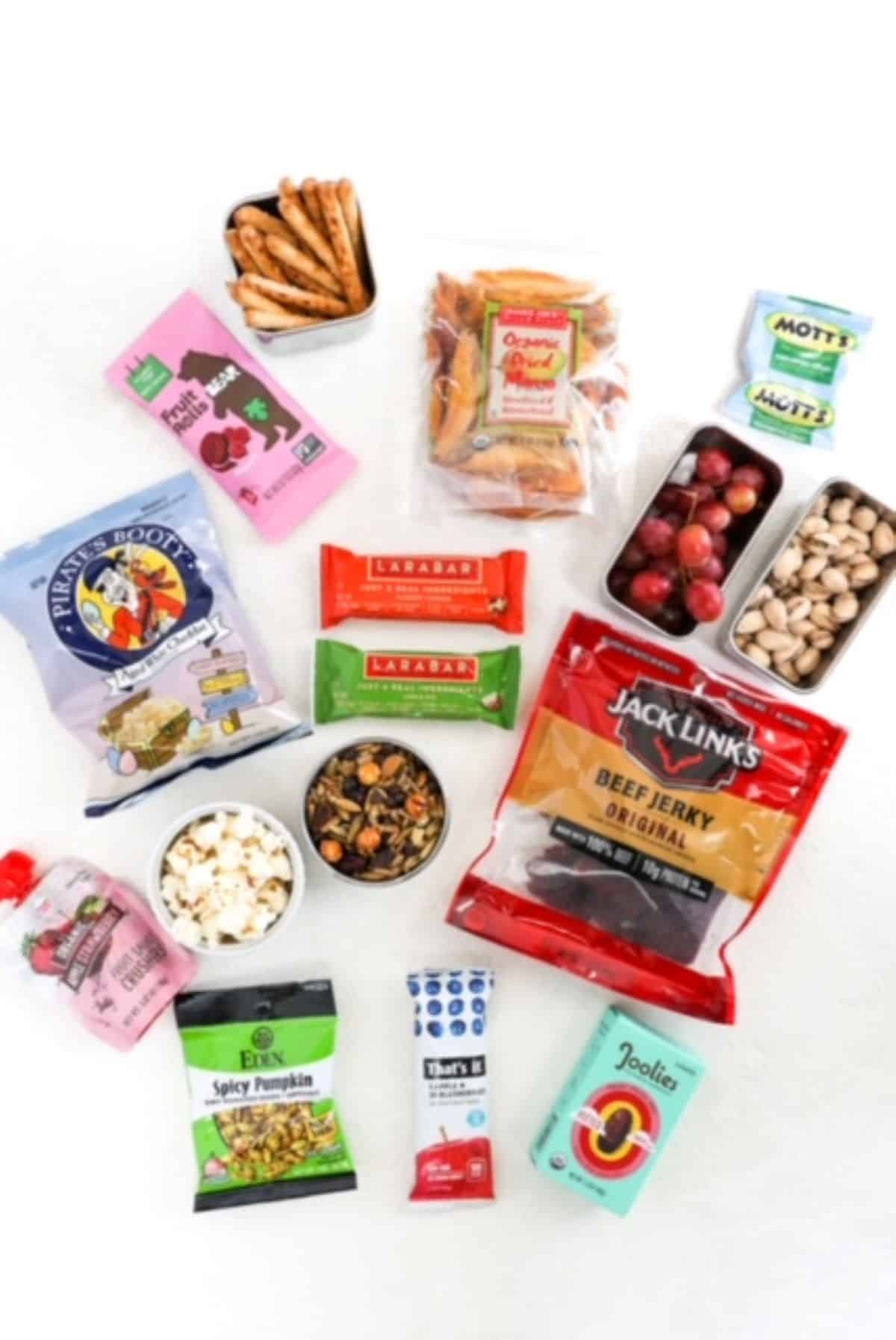 I've taken over one hundred flights with kids, and I can tell you that there is nothing like being prepared with snacks, for you and for those who you are traveling with.
Flights get delayed and cancelled, kids get bored, and budgets get tight. Purchasing food at the airport is expensive, so if you pack food wisely, you'll be able to avoid the added cost of last-minute purchases before boarding the plane.
As a dietitian and mom of three, I try to balance out fun, flavors, food safety, and of course, nutrition when it comes to packing food. The good news is, there are so many excellent kid-favorite snack foods out there. I'll help you sort through some of them as well as provide a few travel tips here 🙂
Jump to:
Figuring Out What Food to Take on a Plane
Figuring out what food to take on a plane can be tricky. With so many options out there and all of the TSA regulations, it can be hard to know what airplane snacks to pack that will travel well and that your you and kids will actually eat.
I'll help you narrow down your choices and figure out which carry on snacks to pack for your next flight.
1. Be Prepared For a Long Day of Travel
I know what you are thinking, "it's such a short flight". Well, I've traveled enough (with all three of my kids) to know that flight delays and cancellations are very real.
The worst situation I faced was when our flight was cancelled late at night after being delayed for hours... it was our second flight of the day, and we were tired. I had to find a hotel, figure out transportation, and of course, what to feed my kids.
What I'm trying to say is this, be sure to pack enough food and make sure most of the food you pack does not have to be kept cold for very long.
Also, keep in mind that food not only satisfies hunger for your kids, but eating gives them something to do and something to look forward to.
2. Plan According to Your Food Storage Options
Of course, it's one thing to buy a ton of snacks, and it's another to get everything to fit in carryon luggage. Ask yourself these questions before you start packing food for your travels.
Do you have space for a lunch bag or insulated tote in your carry-on bag?
Does your child's favorite bento box fit in your carryon? If so, using it to pack snacks for the plane may help your child to be more comfortable on the plane.
Are your kids old enough to carry a carry-on that can hold snacks, too?
Do you have a stainless steel thermos container (most lunch box sizes are 10 ounces) and space for it? If yes, your options of what you can pack just increased significantly!
Do you have (and want to use) small food storage containers or would you prefer to travel with disposable resealable sandwich and/or snack bags?
How much space will you have for food in your carry on?
Will you be able to carry it all?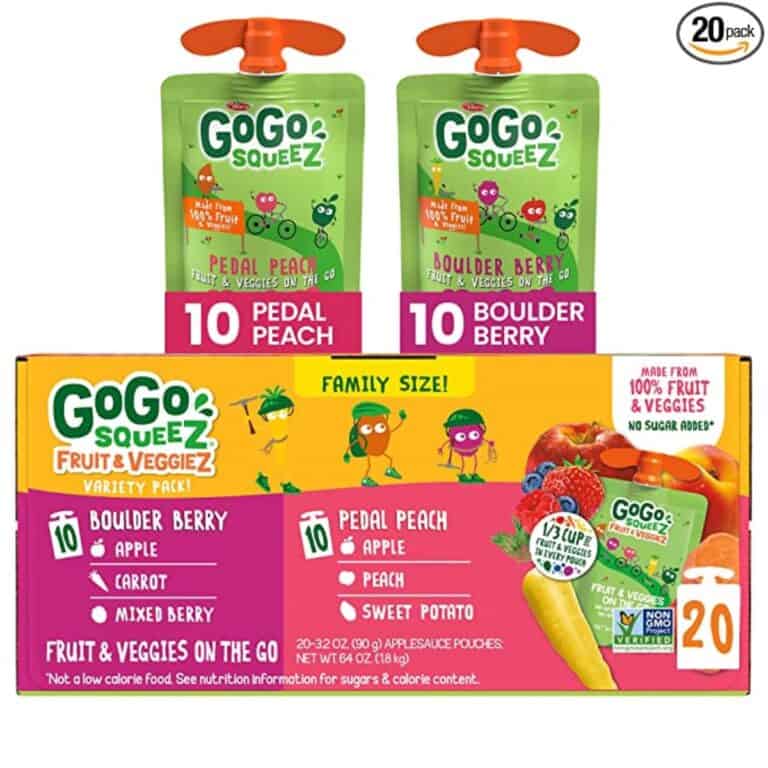 3. Know What Foods are (and are not) Allowed Through Airport Security
Before you start packing, consider checking out the TSA website. Did you know that they limit the size of liquids AND gels that go through security? Yogurt, peanut butter, jelly - you get the idea.
Also, it's important to know that some of the rules are different if you travel internationally. For example, most fruits and vegetables will not be allowed through security for passengers flying from Hawaii, Puerto Rico, or the U.S. Virgin Islands to the U.S. mainland.
Since nut and seed butters do not require refrigeration, they are perfect for traveling. Still, they are considered a 'gel,' so they would need to be less than or equal to 3.4 ounces in order to be allowed in a carry-on bag.
Once you have everything purchased, organized, and packed, you can take your knowledge with you through airport security on your day of travel. As long as you are following the TSA 'rules', there is no need to worry if they pull your bag or small suitcase aside for inspection, which happens to me almost every time I travel.
Traveling with kids is hard enough, not having to worry about food being thrown out at security will be a relief.
4. Let Your Kids Pack Some of the Food
Kids this age (6-12) are gaining independence and confidence pretty much daily, and it's no secret that they want their voices heard. Still, a little guidance from you will go a long way.
Give your kids options to pick from. Would they prefer pretzels or crackers? Cashews, pistachios or sunflower seeds? Raisins or dried mango?
Then, once you have the travel snacks to pack, let your kids pack some of the food. Consider giving them a simple task like putting pretzels in individual snack bags or containers for each person traveling.
Also, let your kids pick something sweet to pack. No guilt here! Yes, I'm a dietitian and I encourage my kids to eat fruits and veggies. But I also allow my kids to eat cookies without guilt and with much enjoyment!
Just as importantly, talk about sweets just like any other food. There is no need to make a big deal out of it or say something like "you need to eat the healthy food first". Just let them enjoy their food and the plane ride.
5. Know What Foods 'Fly' Well
Think tray table and minimal mess when packing snacks to eat on a plane.
I learned pretty quickly that bananas and sandwich bread do not travel very well, unless you don't mind mushy bananas and sandwiches. For this reason, if I'm packing a sandwich, I use bagels, slices of hearty whole-grain bread, whole grain crackers, or graham crackers to make nut butter sandwiches for my kids for the day of travel.
Also, small-sized food storage containers with a tight-fitting lid will help keep foods like sandwiches and grapes from getting smushed.
As far as bananas go, I like them, most kids like them, and they are easy to eat with minimal mess. But you really should keep them on top of your carry-on and plan to eat them toward the beginning of your adventure. Just saying 😉
I've heard others suggest packing instant Miso soup because all you have to do is add hot water. The concern I have with this is that it sounds messy, and the flight attendants might not be thrilled with you doing this. The other tricky one is tuna in pouches. I actually love this idea in theory, but I don't think the passengers sitting next to you will be thrilled with the smell.
As far as canned foods go, TSA suggests packing canned foods in your checked luggage. If you pack them in your carryon luggage, they may have to go through additional screening and may not pass through security.
My Nut Butter Pick for Airplane Travel
Almond butter is a good source of protein and fiber which will help you feel full longer. These pouches are 1.5 ounces, which means they meet TSA requirements for packing them in a carry-on.
SHOP NOW
Photo Credit: amazon.com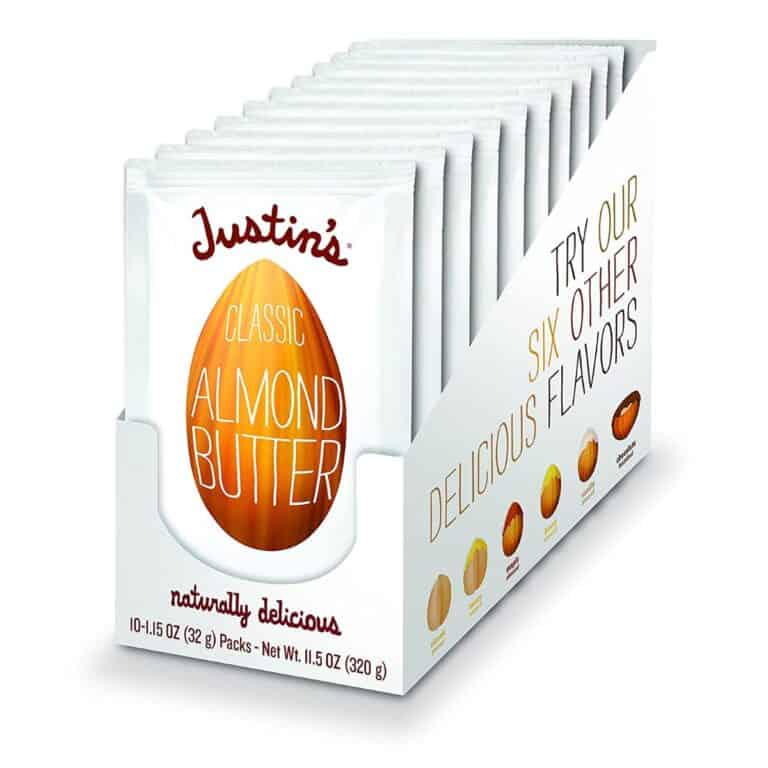 Best Plane Snacks for Older Kids
Here is a list of foods that I have found that make great airplane snacks. What makes them even better, is that, for the most part, they are shelf-stable (grapes, carrot sticks, mini cucumbers, and apples will want to be kept cool).
Sunflower seeds
Pumpkin seeds
Nuts (my kids prefer cashews and pistachios)
Jerky (turkey and beef jerky are most common)
Individual pouches of tuna for a high protein snack during your layover (be sure to pack a fork, too)
Single-serve containers of nut butters or hummus
Pretzels
Popcorn
Crackers
Cereal
Bagels
Mini muffins
Granola bars
Fruit snacks
Cereal bars
Veggie chips
Roasted chickpeas
Apples (whole)
Clementines
Grapes
Small bananas (see note above)
Dried fruits (examples: raisins, dried mango, and apple rings)
Fruit squeeze pouches (</=3.4oz)
Carrot sticks
Mini cucumbers
Celery sticks
6. Stay Hydrated
Pack EMPTY reusable water bottles for each traveler and fill them up with water AFTER you have gone through airport security.
If you forget to pack water bottles, I suggest buying them after you have gone through security. In my opinion, disposable water bottles with a sports cap are perfect for kids. Call it an airplane water bottle 😉
Staying hydrated is important every day. But, since air at high altitudes is much drier than on the ground, it's even more important to make sure everyone is drinking enough water on the day of travel.
Yes, I know how small the bathrooms on airplanes are, but I also know how important hydration is for good health.
Oh, and be sure to encourage your kids to drink when taking off and when landing to help minimize pressure in their ears and help avoid airplane ear.
The only other 'liquids' that I can think of (for this age group) that will make it through airport security are listed below. Just be sure to keep them cold or consume them within two hours of taking them out of the refrigerator. Yes, gel ice packs are allowed through airport security - phew!
Tube yogurt (aka 'squeeze yogurt' in my family). Siggi's has the highest protein content and fewest grams of added sugar per serving (that I'm aware of), but any brand will do!
Danimals 3oz 'smoothie' drinkable yogurt containers - they are small enough to be allowed through airport security. They contain only 2 grams of protein but, kids like them, and they will help keep your kids hydrated.
10 Tasty Carry-On Snacks You Can Make Yourself
Questions You May Have
Why is peanut butter not allowed on planes?
TSA has determined that peanut butter is a liquid. Because of this, peanut butter can only be brought on a plane if it's less than 3.4 ounces in volume.

If your kids like peanut butter and jelly sandwiches, make them before you go to the airport and pack them so that they won't get smashed.
Can I pack a jar of peanut butter in my checked bag?
Yes, you can pack a jar of peanut butter in your checked bag, but not in your carry-on bag. If you pack peanut butter in your checked bag, pack one that has not been opened yet. The last thing you need is for it to get all over your clothes.
Can I bring a water bottle on a plane?
You can bring an empty water bottle through security. You can fill it up at a water filling station after you pass through security and bring it on a plane.

If you buy a bottle of water in the airport terminal, after passing through security, you can bring it on a plane.
Can I bring Starbucks on a plane?
If you purchase your Starbucks drink at the airport, after you pass through security, you can bring it on the plane.
More Non-Recipe Posts
Did you find this post on airplane snacks helpful? If so, please let me know by leaving a comment below!
Remember to follow me on Instagram @carrots.and.cookies for more helpful tips and easy recipes!