Just like finding the right lunch box, finding the best lunch containers can be the answer to your school lunch struggles. As a dietitian mom, I've noticed that having enough of the right containers can make all the difference when packing lunches, whether I'm trying to fit a lot of food in a lunch bag or in need of one that won't leak.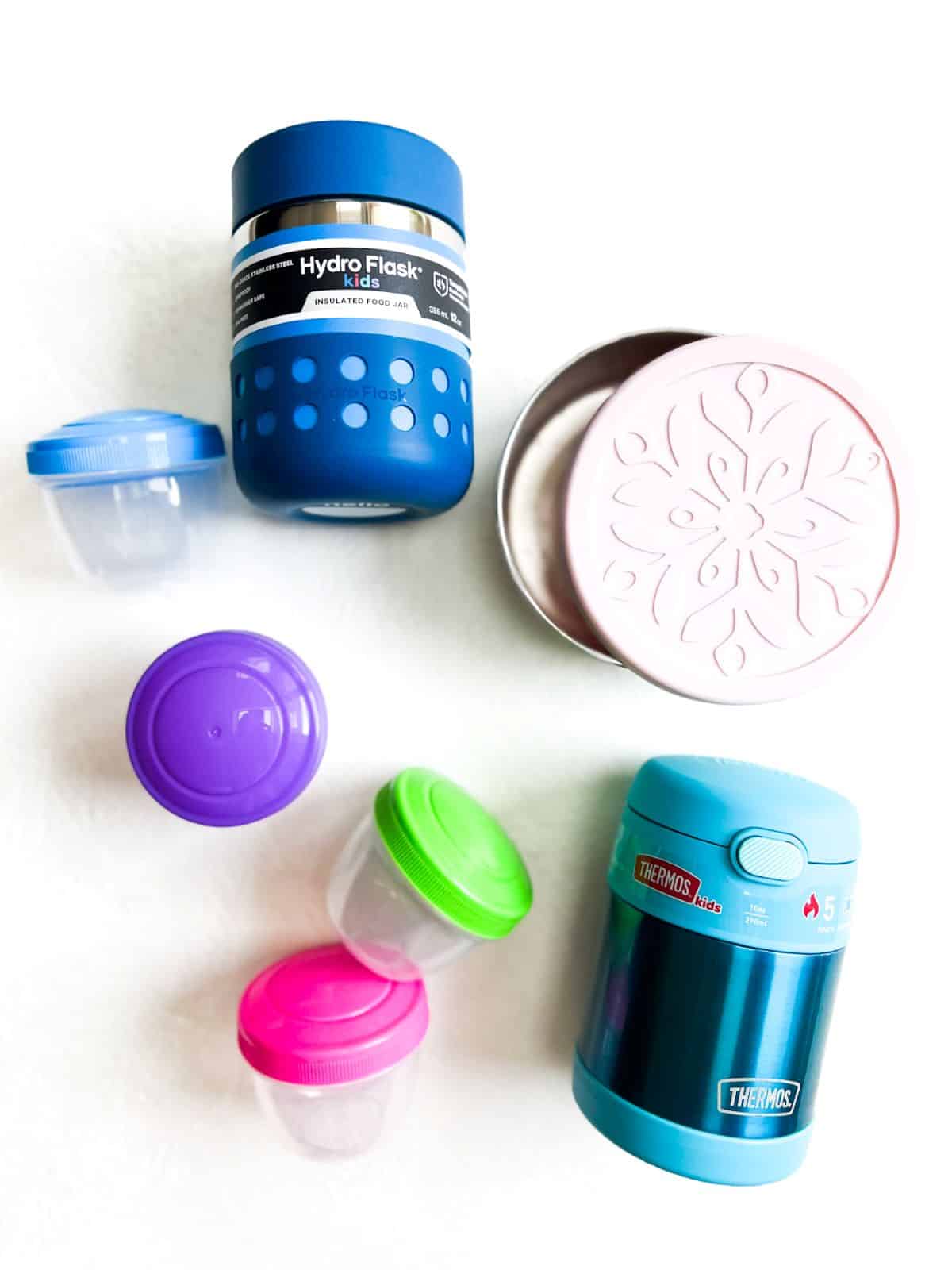 As kids get older, they eat more. This means that parents like you and I need to find ways to fit more food into their packed lunches.
While some kids won't mind eating a lot of one thing, I've noticed that most kids prefer eating a variety of foods for lunch. And with variety comes the need for more containers.
As I mention in my lunch box for teens post, I think the key to staying motivated to pack lunches is to have the right kitchen tools and cookware at my fingertips. This includes lunch containers 😉
Jump to:
Finding the Best Containers for School Lunches
With so many options out there, it can be hard to find the right ones that will work for your kids, especially once they start eating more as they get into middle and high school.
I'll help you narrow down your choices and figure out what to look for.
What to Look for When Buying Containers for Packed Lunches
What food(s) that you often pack will you use it for? Yogurt? A sandwich? Chips or trail mix? Leftovers? There's no sense in buying containers that you won't use.
How much food will it hold? Food containers come in all shapes and sizes. So, while you'll want to be mindful of what containers will fit in the lunch box, you'll also want to consider how much food your kids will actually eat.
Will it fit in your child's lunch box? This is key. For instance, not all Bento Boxes and thermoses will fit in every lunch box.
Will it leak? This is also key. Choose leakproof containers especially when packing foods like yogurt, fruit salad, soup, and applesauce.
My Picks for Best Lunch Containers
My Sandwich Container Pick
This is very similar to the sandwich container from Pottery Barn Kids that I've been using for years. In my experience, kids are more likely to eat their lunches when they can see what's packed. I just ordered this to use for packing school lunches this year.
SHOP NOW
Photo Credit: amazon.com
My Plastic Dip Container Pick
These mini dip containers with a screw top lid are perfect for packing a small amount of guacamole, salsa, peanut butter, dip, or salad dressing in school lunches.
SHOP NOW
Photo Credit: amazon.com
Dietitian Tips for Buying the Best Lunch Containers
If possible, use containers that you can see through. Your kids will be more to open containers when they can see what is in it.
Make sure they are sized so that they will fit in your child's lunch box. There is nothing like spending money on a bunch of lunch containers only to find out that they don't fit in their lunch box.
Keep extra lunch containers on hand, especially if your kids pack lunches every day. You will be much more motivated to pack lunches if there are clean lunch containers handy. I don't know how many times I went to pack lunches only to find that all of our lunch containers were dirty (either my kids forgot to unpack their lunch, or I hadn't run the dishwasher yet🙃) So, now I keep extra lunch containers for school on hand.
If all of your kids like packing leftovers for lunch, have one thermos for each kid handy. Some days I tell my teens, "Either you're having leftovers for lunch, or you can pack your own lunch" (#truth). 😆
Questions You May Have
Which containers are best for a lunch box?
Food-safe containers that will hold the food you like to pack, that don't leak, and that will fit in your lunch box are what's best. My kids have different shaped lunch boxes, so I have to pack them differently.

One of their lunch boxes doesn't hold as much as the other two, so I have to take that into consideration.
How do you keep lunch containers from leaking?
Read reviews of lunch containers before purchasing them. Food storage containers with a tight seal or with a screw top lid are often most leak-proof.
How do you keep lunch containers cold?
Use frozen ice packs when packing cold lunches.

If you will be using a thermos for something cold, you can first rinse the inside with ice cold water before putting the food you want to keep cold into the thermos.
Easy Recipes for School Lunches
Was this lunch container post helpful for you? Please write a review in the comments section below to let me know!
Don't forget to follow me on Instagram for more tips and easy recipes!