Say 'hello' to your new favorite fresh fruit salad, made with fresh pineapple and berries. It will be your new 'go to' for snacks, school lunches, when hosting, and for picnics! It's so easy!!
This fresh fruit salad is super easy, super healthy, and kids love it! Plus, it's so pretty, it can even serve as a center piece, lol!
There is no need to add juice or make a sweet dressing - the juice from the pineapple creates a natural juice all on its own - so great!
If your kids love fruit as much as mine do, you've got to make some of my other fruit-based recipes! I've got a lot - here's just a few of my 'must try' recipes: mango avocado toast, strawberry-banana smoothie bowl, tropical blue smoothie bowl, and strawberry summer salad with strawberry dressing!
About this recipe
Mixing pineapple with fresh berries may help to keep berries from going bad so quickly (likely due to the acid in the pineapple).
The juice from freshly cut pineapple blends adds enough liquid and sweetness to the fruit. For this reason, an extra 'dressing' or 'syrup' is not needed.
Pineapple does take a little work to cut. Consider this as a way to increase your level of N.E.A.T (non-exercise activity thermogenesis), lol!
This fresh fruit salad can be served to your kids as part of any meal, sent to school in lunch containers, used to make Easy Fruit and Yogurt Parfaits, or served as a snack.
ingredient notes
Pineapple Contains manganese, copper, various vitamins (including vitamin C), and fiber. It also contains bromelain, an enzyme that is thought to help with digestion and reduce inflammation.
Raspberries High in antioxidants, phytonutrients, and fiber.
Blackberries Blackberries are among the berries highest in antioxidants and fiber.
Blueberries and strawberries Strawberries and blueberries should be eaten frequently. They contain anthocyanins, fiber, and vitamins.
step-by-step instructions
Here's a quick overview of the steps to make this fruit salad. For the full list of ingredients and instructions, scroll down to the recipe.
Soak berries in a vinegar water bath (vinegar mixed with water) for about two minutes. Drain and rinse. Set aside.
Using a sharp knife, cut pineapple up into small pieces (see How To Cut A Pineapple below)
Place pineapple pieces in a large serving bowl.
Put berries on top of pineapple pieces (see picture below).
Carefully mix berries in with the pineapple.
Serve!
expert tips and faqs
Do not use moldy berries. In fact, moldy berries should not be eaten by anyone.
Soaking berries in a vinegar water bath will help remove any potential mold and bacteria.
Rinse the berries with water after removing them from the vinegar water bath so they will not taste like vinegar.
I have found Aldi to have the best prices on pineapple and organic berries.
To save time, buy pre-cut pineapple pieces.
How do you cut up a pineapple?
There are various ways to cut a pineapple. I highlight the quickest way I have found (for me) to cut a pineapple below, and it seems to produce the least amount of waste. Do what works best for you.
What fruits work best in a fruit salad.
I've included my favorite fruits to use in a fruit salad that are easy. Grapes are also easy and go well with pineapple. Mango, kiwi, and cut orange segments are also tasty additions to fruit salad, they just require more work to cut than berries or grapes.

For same day eating, you could make a fruit salad with cut up apples, bananas, and/or pears (they just won't last for more than a few hours once they are cut).
How to cut a pineapple
Using a sharp knife is key to making this and easy and quick process. I like to use my bread knife for cutting pineapple. Otherwise, a sharp chef's knife will do the trick.
Place the pineapple on it's side and slice off the top and bottom inch of the pineapple.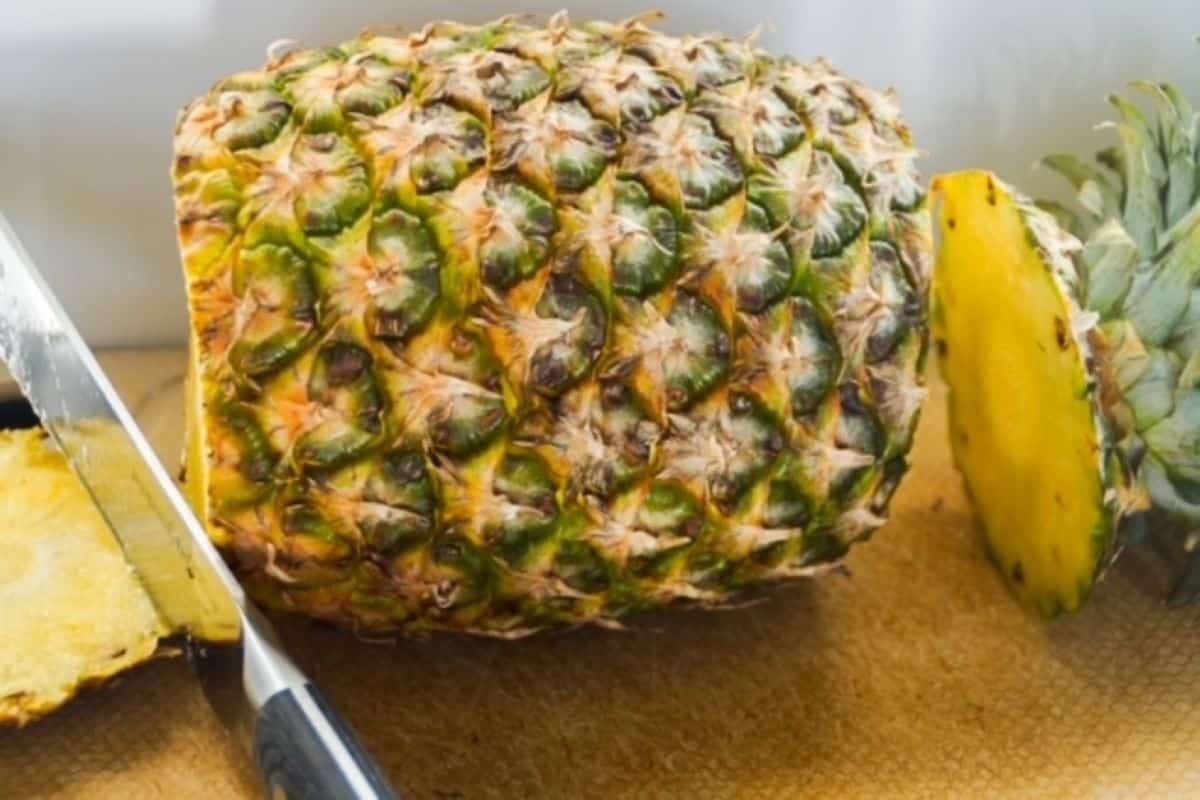 Turn the pineapple so that it is sitting upright, with the bottom side down.
Cut off the outer skin of the pineapple from top to bottom in strips, working your way around the entire pineapple.
Use the tip of you knife to thinly slice off the 'eyes' of the pineapple that did not get removed in step 3.
Next, cut the pineapple into four sections, cutting lengthwise along each side of the core.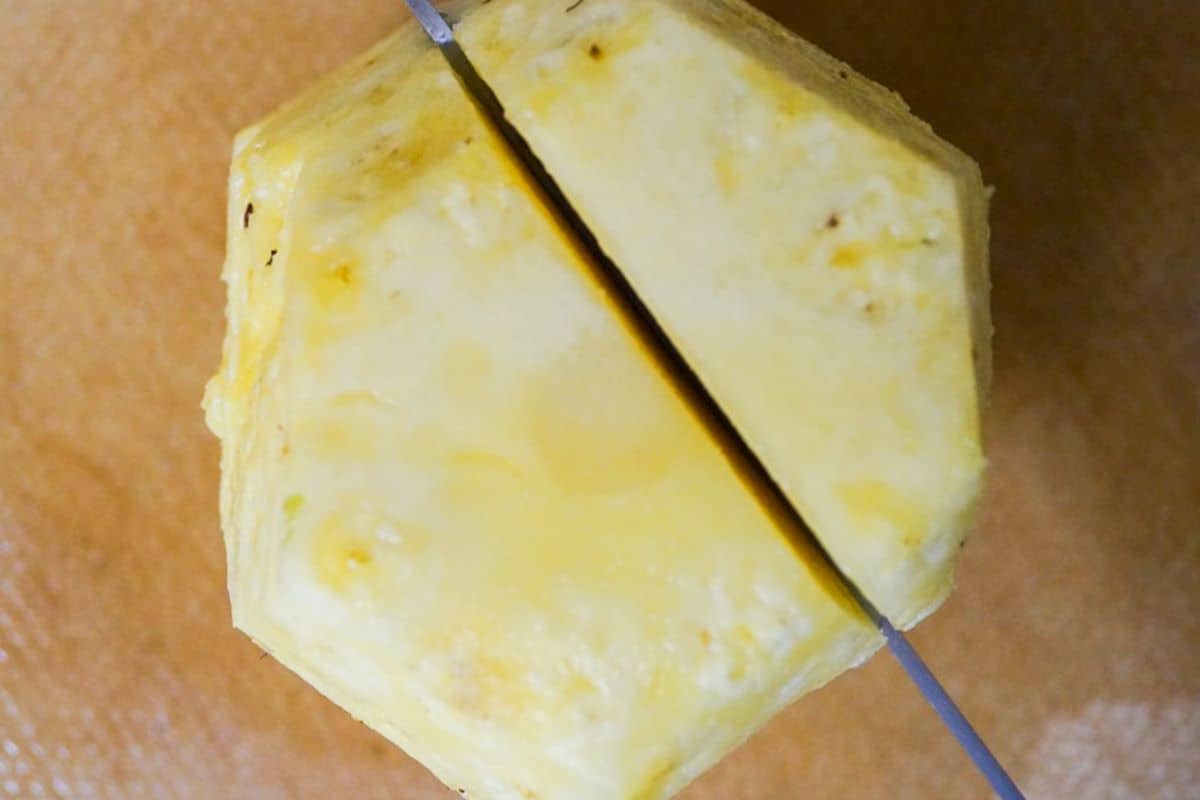 Set the core aside and store it to be used in a smoothie another time.
Lay each section on it's side and slice, again lengthwise, into smaller sections.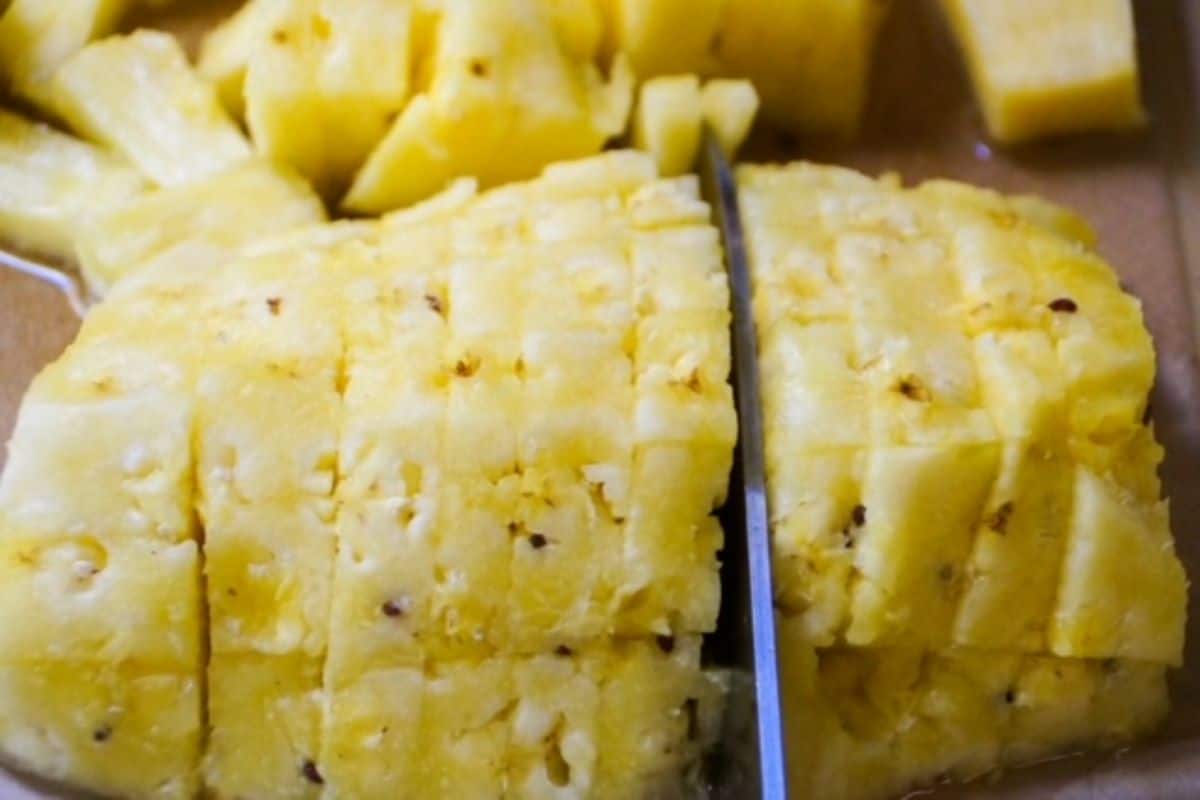 Then, cut into smaller pieces by slicing the other direction.
That's it!
Fresh Fruit Salad
Say 'hello' to your new favorite fresh fruit salad, with pineapple and berries. It will be your new 'go to' for kids' snacks, school lunches, when hosting, and for picnics!
Ingredients
1

pineapple

3-4

cups

berries

18-24 ounces of fresh berries (blueberries, raspberries, blackberries, and/or strawberries)
Instructions
Cut up pineapple into small pieces.

Place pineapple pieces in the bottom of a large serving bowl.

Soak berries in a vinegar-water bath for two minutes, and rinse with water. Drain.

Add berries to the pineapple and carefully mix through.

Serve and enjoy!
Notes
See post for steps on 'How to cut up a pineapple'.
To make a vinegar-water math, mix 0.25 cups (120mL) vinegar with 0.75 cups (360mL) water.
Mix berries in very carefully with the pineapple so they maintain their shape.
Nutrition
Calories:
43
kcal
Carbohydrates:
11
g
Protein:
1
g
Fat:
1
g
Saturated Fat:
1
g
Polyunsaturated Fat:
1
g
Monounsaturated Fat:
1
g
Sodium:
1
mg
Potassium:
77
mg
Fiber:
2
g
Sugar:
8
g
Vitamin A:
46
IU
Vitamin C:
28
mg
Calcium:
10
mg
Iron:
1
mg