This incredibly easy fruit salad made with fresh pineapple and berries will be your new 'go to' for school lunches, snacks and side dishes! And it takes just 15 minutes max to make!
This fresh fruit salad is a family favorite. Not only is it easy and delicious, but it's one fruit recipe that you can prep ahead of time. In fact, it's likely the best meal prep fruit option out there.
And it's so pretty that I've even served it in a glass trifle bowl and set it as the center piece. I'm all about keeping things simple 🙂
Thankfully, there is no need to add juice or make a sweet dressing. The juice from a ripe pineapple creates a natural dressing all on its own and I believe that it's the juice from the pineapple that helps the berries stay fresh longer.
I literally make this at least once a week, often twice. Sometimes I use mango instead of pineapple, but because pineapple is less expensive, easier to cut, and helps the berries stay fresh longer, I usually opt for pineapple.
Oh, and don't let the thought of cutting your own pineapple intimidate you. I have step-by step instructions down below showing you just how easy it is to do. Besides, buying a whole pineapple is much less expensive than buying it pre-cut.
If you are looking for more fruit-based recipes that kids love, check out my mango avocado toast, tropical blue smoothie bowl, and strawberry goat cheese salad recipes.
As for raspberries specifically, I highly recommend making my Raspberry and White Chocolate Blondies. Just saying 😉
Jump to:
Why You'll Love This Recipe
Simple recipe (no dressing).
Quick and healthy snack or side dish that kids love.
Naturally sweetened. No sugar, juice, or syrups added.
Perfect for school lunches.
Excellent side for kids with food allergies (gluten-free, dairy-free, nut-free).
Ready to serve right away or stored in the fridge for later.
Can be used to make fruit and yogurt parfaits.
Can be served as a fruit bowl alone or topped with granola.
Ingredient Notes
Step-by-Step Instructions
Here's a quick overview of the steps to make this fruit salad. For the full list of ingredients and instructions, scroll down to the recipe.
Use a fine mesh colander to rinse and drain the berries.
If using strawberries, slice or quarter them. Set aside.
Place pineapple pieces in a large bowl. If you are cutting up your own pineapple, be sure to use a sharp knife. For specific instructions on how I cut up a pineapple, scroll down to the section titled How to Cut a Pineapple Without Waste.
Put berries on top of pineapple pieces.
Carefully mix berries in with the pineapple.
Serve!
Dietitian Tip
Make this fruit salad in a large bowl. Serve it as a side with dinner and then divide what's left into several small lunch containers (see my lunch container pick above). This way, you'll have a delicious side to serve with dinner and fruit for school lunches set for days.
Kids can either eat it as is or sprinkle homemade granola on it. Yum-O!
For more easy school lunch ideas, take a look at my Lunch Box Snacks post and kid-approved Chicken Wrap recipe.
Expert Tips
I have found Aldi to have the best prices on pineapple and organic berries.
To save time, buy pre-cut pineapple pieces.
The juice from freshly cut pineapple blends adds enough liquid and sweetness to the fruit. For this reason, an extra 'dressing' or 'syrup' is not needed.
Pineapple does take a little work to cut. Consider this as a way to increase your level of N.E.A.T (non-exercise activity thermogenesis), lol!
Mixing pineapple with fresh berries helps prevent the berries from going bad so quickly (likely due to the acid in the pineapple).
Do not use moldy berries. In fact, moldy berries should not be eaten by anyone.
I often soak berries in a vinegar water bath (vinegar mixed with water) for about two minutes before I rinse them because it helps remove any potential mold and bacteria.
If you choose to soak the berries in a vinegar bath first, be sure to rinse them well with water after removing them from the vinegar water bath so they will not taste like vinegar.
Recipe FAQs
How do you cut up a pineapple?
There are various ways to cut a pineapple. I highlight the quickest way I have found (for me) to cut a pineapple below, and it seems to produce the least amount of waste. Do what works best for you.
What fruits work best in a fruit salad.
I've included my favorite fruits to use in a fruit salad that are easy. Grapes are also easy and go well with pineapple. Mango, kiwi, and cut orange segments are also tasty additions to fruit salad, they just require more work to cut than berries or grapes and they don't seem to store as well once mixed.

For same day eating, you could use seasonal fruits to make a fruit salad with cut up apples, bananas, and/or pears, they just may not store well in the refrigerator.
What is better, fresh fruit juice or fresh fruit salad? And why?
Because most of the fiber is lost when juicing, eating fresh fruit gives you the satisfaction that comes from eating food and it will also help you to feel full longer.
How to Cut a Pineapple Without Waste
Using a sharp knife is key to making this and easy and quick process. I like to use my bread knife for cutting pineapple. Otherwise, a sharp chef's knife will do the trick.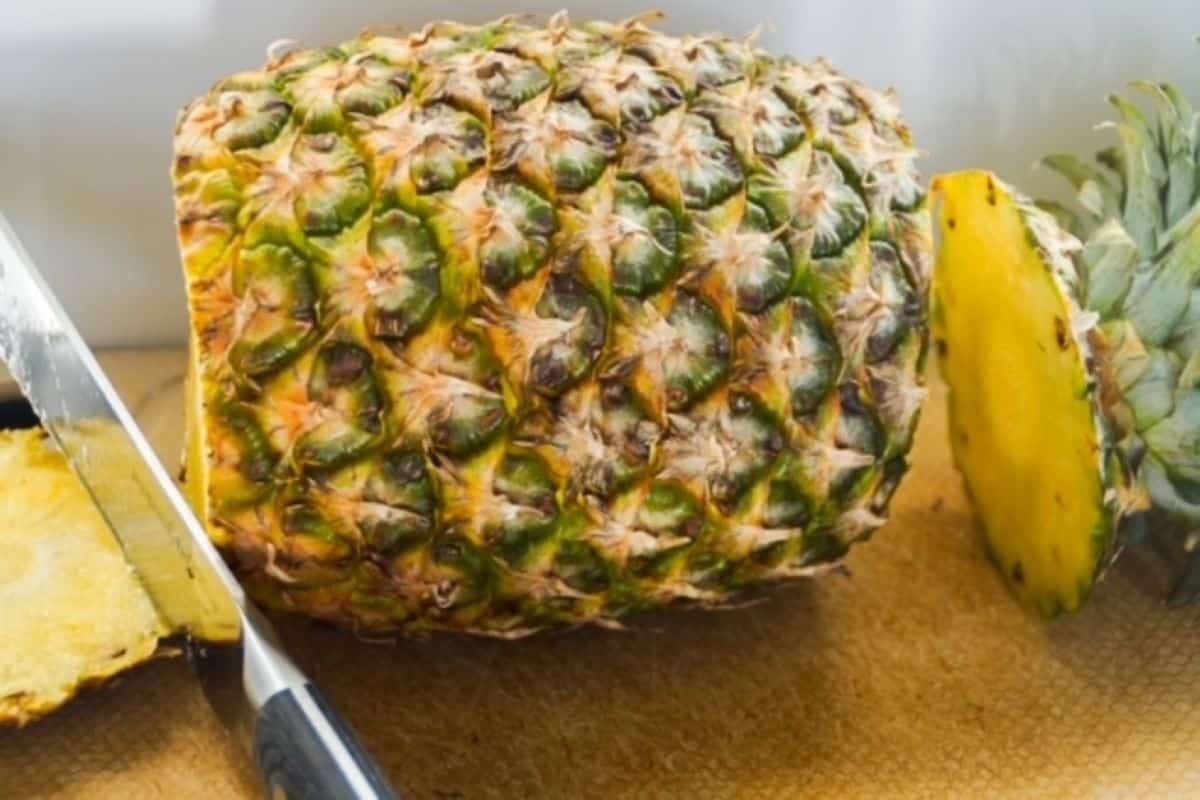 Place the pineapple on it's side and slice off the top and bottom inch of the pineapple.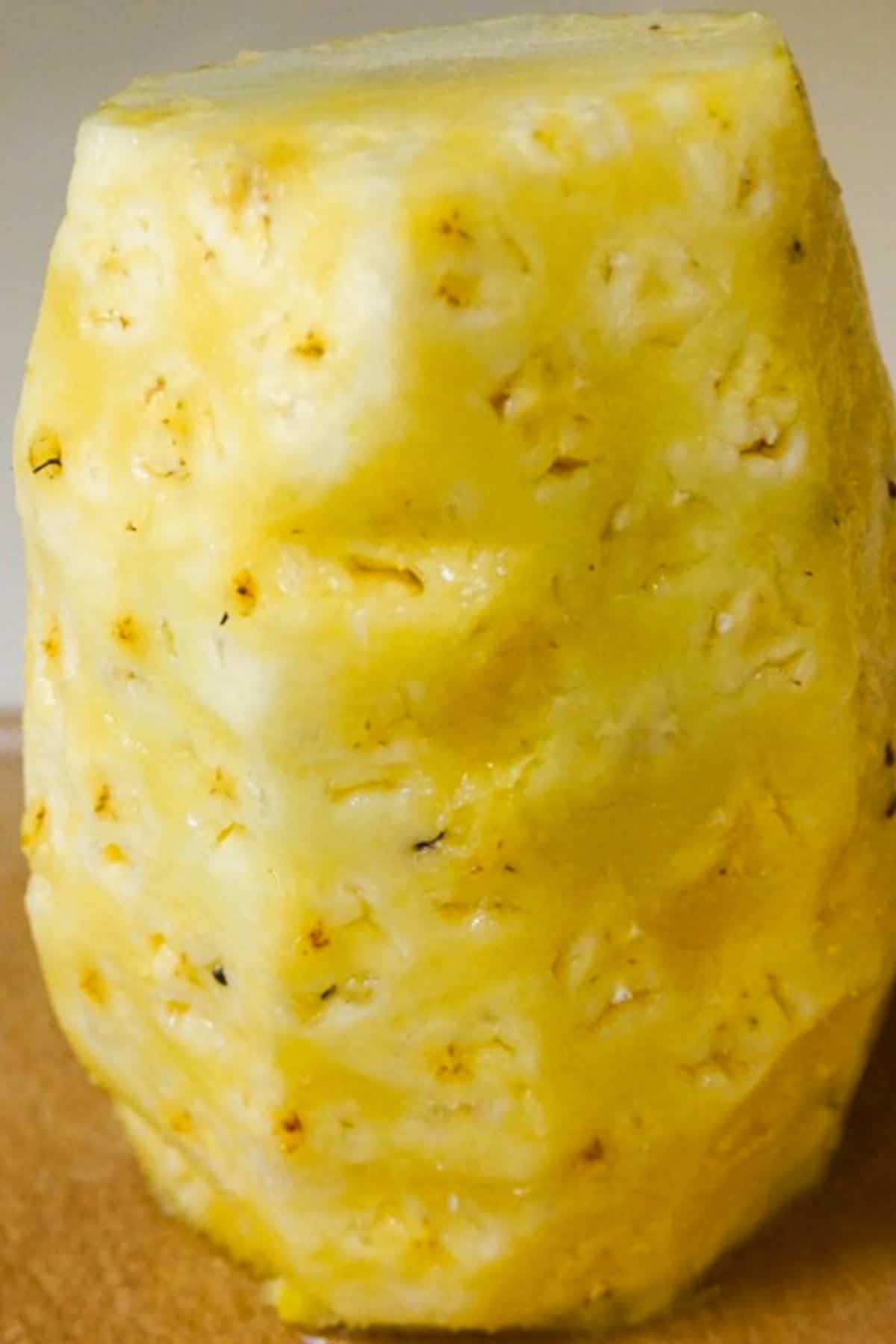 Turn the pineapple so that it is sitting upright, with the bottom side down.
Cut off the outer skin of the pineapple from top to bottom in strips, working your way around the entire pineapple.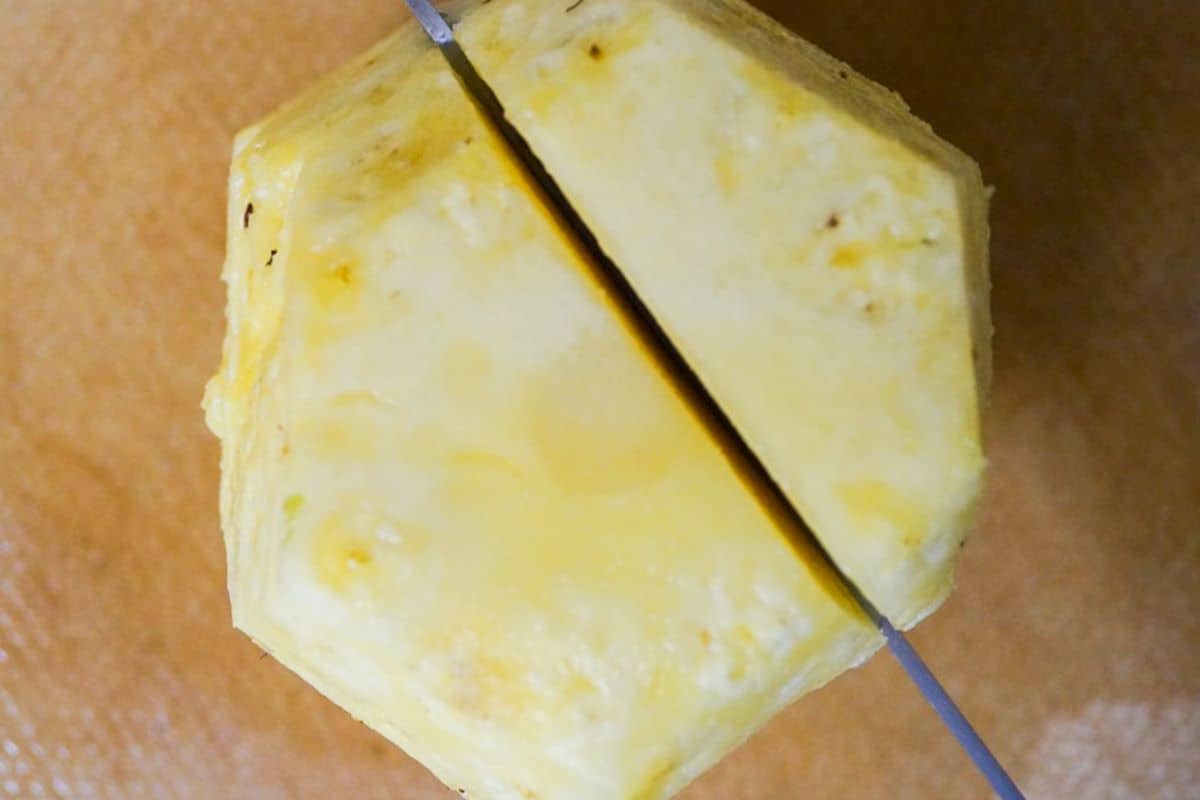 Next, cut the pineapple into four sections, cutting lengthwise along each side of the core.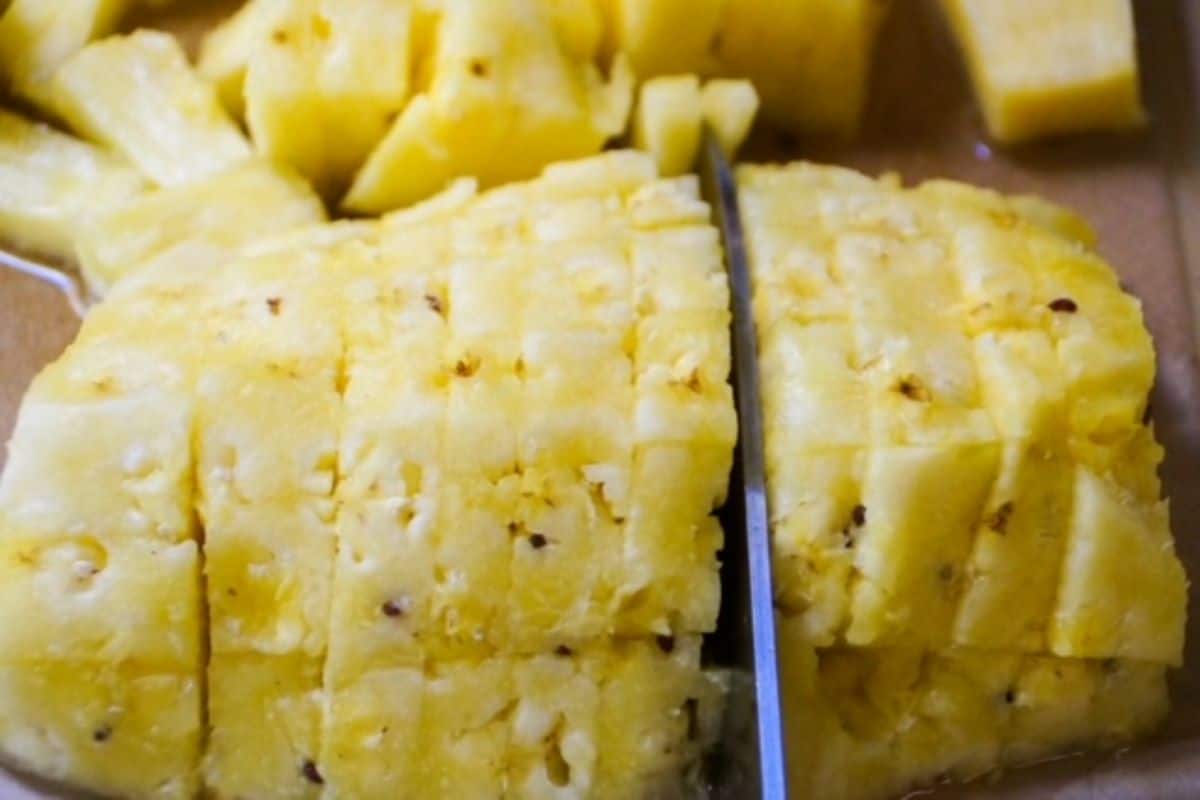 Lay each section on its side and slice, again lengthwise, into smaller sections.
Then, cut into smaller pieces by slicing the other direction.
Set the core aside and store it to be used in a smoothie another time.
More Easy Berry Recipes
Did your kids love this Fresh Fruit Salad? Please leave a 5-star rating below or a review in the comments section!
Don't forget to snap a pic of their beautiful bowl of fresh fruit and tag @carrots.and.cookies on Instagram so I can see it. Enjoy!
Fresh Fruit Salad
Say 'hello' to your new favorite fresh fruit salad, with pineapple and berries. It will be your new 'go to' for kids' snacks, school lunches, when hosting, and for picnics!
Ingredients
1

pineapple

3-4

cups

berries

18-24 ounces of fresh berries (blueberries, raspberries, blackberries, and/or strawberries)
Instructions
Cut up pineapple into small pieces.

Place pineapple pieces in the bottom of a large serving bowl.

Soak berries in a vinegar-water bath for two minutes, and rinse with water. Drain.

Slice, halve, or quarter strawberries.

Add berries to the pineapple and carefully mix through.

Serve and enjoy!
Notes
See post for steps on 'How to cut up a pineapple without waste'.
To make a vinegar-water math, mix 0.25 cups (120mL) vinegar with 0.75 cups (360mL) water.
Mix berries in very carefully with the pineapple so they maintain their shape.
Nutrition
Calories:
43
kcal
Carbohydrates:
11
g
Protein:
1
g
Fat:
1
g
Saturated Fat:
1
g
Polyunsaturated Fat:
1
g
Monounsaturated Fat:
1
g
Sodium:
1
mg
Potassium:
77
mg
Fiber:
2
g
Sugar:
8
g
Vitamin A:
46
IU
Vitamin C:
28
mg
Calcium:
10
mg
Iron:
1
mg