With just three main ingredients plus spices and broth, this butternut squash soup will be ready in no time thanks to your Vitamix. It has a savory flavor and velvety texture that your kids will love!
This recipe is a copycat version of the delicious savory butternut squash soup found on True Food Kitchen's (TFK) Fall menu. You're welcome!
For more delicious Fall-inspired recipes, make my amazing whole wheat pumpkin bread, pumpkin waffles, roasted root vegetables, roasted Brussel sprouts, and apple crumble recipes.
And, for more delicious soup-style recipes, try my Veggie Lentil Soup and turkey chili recipes.
Jump to:
About This Recipe
Cozy up this with this comforting flavorful soup-it really is the best! When I ordered this soup from True Food kitchen, I encouraged my daughter to take a bite. We were both delighted and yet stumped. We wondered what they used to get the soup to be so rich in color (not bright, as is expected) and what that one unique spice was that we were tasting. So, I asked.
Roasting the vegetables first gives this soup the rich color that is unlike most butternut squash soups. This was one tip that I learned from our server at TFK.
Roasting the vegetables also makes this soup savory, and less sweet in flavor.
Using a Vitamix or other high-speed blender (that can handle hot food safely) saves time, makes less mess, and gives the ultimate soup consistency when compared to using an emersion blender.
This is an excellent 'meal prep' recipe.
The butternut squash can be cubed ahead of time and stored in the refrigerator.
Roasting the vegetables can be done ahead of time and stored in the refrigerator.
Make this soup while you are doing other things in the kitchen, and store refrigerated until ready to serve.
Leftovers can be heated up and placed in a thermos to be sent to school in packed lunches.
Ingredient Notes
Butternut squash High in beta carotene and fiber. It also contains several other vitamins and minerals. Butternut squash is the key ingredient in this recipe.
Onion and Garlic Contain prebiotics. Roasting onion and garlic give this soup a more pleasant and savory flavor.
Water or Low-Sodium Chicken broth Used to bring this to a 'soup' consistency. Broth helps give this soup a savory flavor. Using water instead of broth will make this a vegan soup. It will also reduce the amount of sodium in the recipe.
Ground allspice or cloves TFK uses allspice. I've used ground cloves when I didn't have all spice and the soup was still delicious.
Salt and pepper For flavor.
Fresh sage Add just a few tiny pieces of fresh sage to each bowl as you serve the soup to bring the flavor to the next level. If your kids have aversions to texture, feel free to leave it out.
Step-by-Step Instructions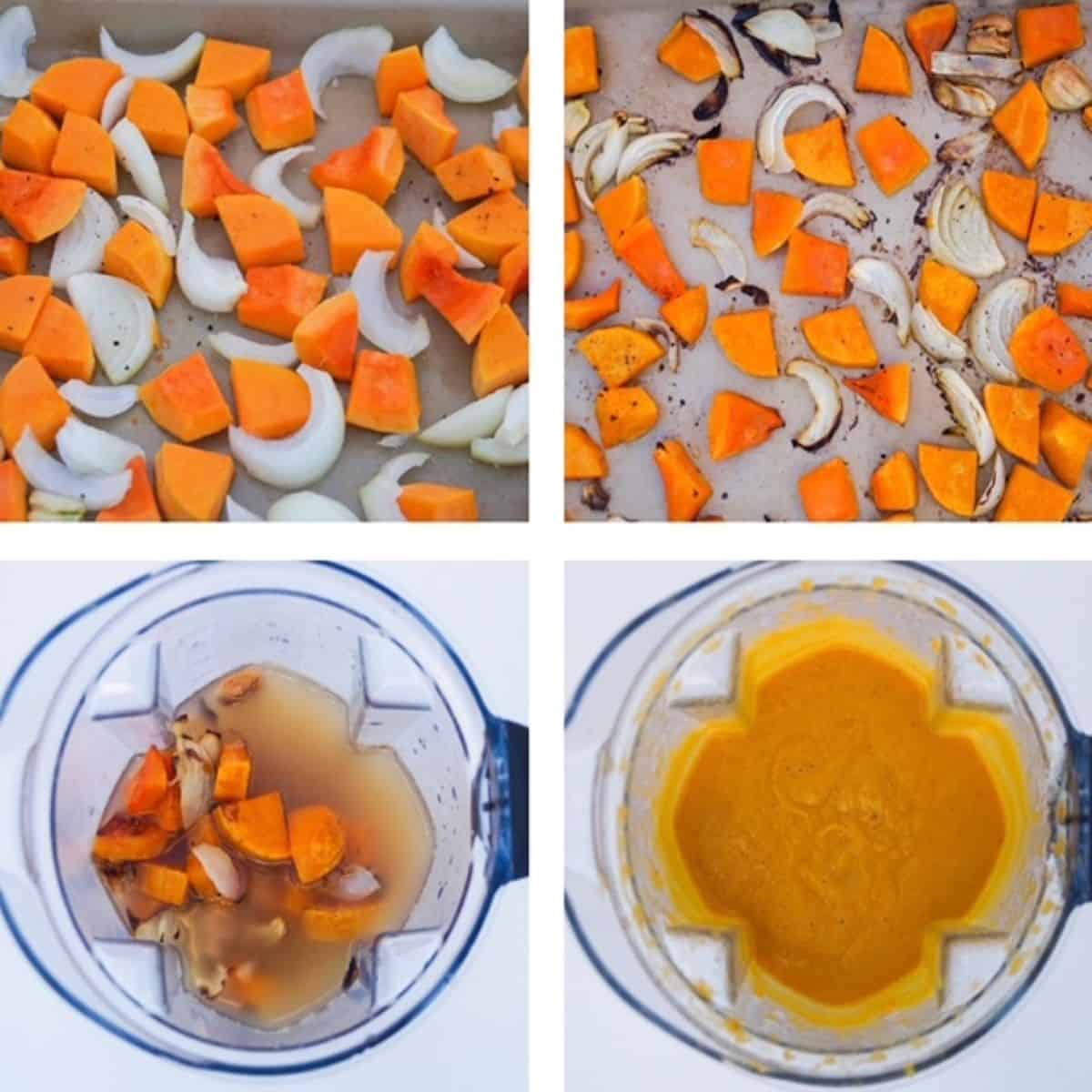 Here's a quick overview of the steps to make this savory three-ingredient (main ingredients, that is) butternut squash soup. For the full list of ingredients and specific instructions, scroll down to the recipe.
Cut up butternut squash (if cutting it up yourself). See the FAQ section below for how I cut up butternut squash.
Slice the onion and remove the peel from the garlic cloves.
Spread chunks of butternut squash, onion slices, and garlic cloves out on an oven safe baking sheet. Drizzle with olive oil then carefully toss to combine.
Roast in the oven on the top rack for about 30 minutes.
Once the edges of the onion and butternut squash start to brown, remove from oven (they are now considered to be roasted).
Carefully place the roasted butternut squash, onion and garlic in to your Vitamix. Add broth, salt, and spices. Blend until smooth.
If you will be serving this soup right away, warm the soup up in on the stovetop or in the microwave to a serving temperature.
Optional: top each serving with a few small strips of cut up sage leaves.
Dietitian Tips
You may have noticed that some kids are more adventurous eaters than others. There are so many ways to introduce kids to new foods and just as many (if not more) factors that go into their acceptance of food. Here are just a few considerations when introducing this soup:
If your kids are reluctant to try a "squash soup", encourage them to take one bite just to taste it, explaining that you won't ask them to take a second bite if they don't want to. And follow through with this. If they don't want more, don't make a big deal about it. Then, offer it again the next time you make it.
Kids often have to be exposed to something several times before they will accept it. Exposure leads to familiarity. Familiarity leads to acceptance. Soup is no exception.
Let your kids see you (and other adults in the home) eat and enjoy this soup. This will also help with acceptance.
Expert Tips
Butternut squash comes in various sizes. The ones I get from my CSA are on the smaller side and I consistently get about five cups of cubed flesh (give or take one half of a cup). I have purchased larger ones that give me almost double the flesh, in which case I would double the entire recipe.
Time saving tip: buy pre-packaged, already cut up butternut. It can be found in the produce section of many grocery stores. I even saw it at Costco.
Do not double the garlic or onions unless you are doubling the whole recipe. I did this once and my daughter went from loving the soup to not wanting any of it.
If you double the recipe, pour just enough broth to get you to the "max capacity" line of your Vitamix. The soup mixture will be thick. When you are ready to serve the soup, pour the soup mixture in a soup pot or Dutch oven. Add the rest of the broth and stir to combine. Warm to a serving temperature.
If you will not be serving the soup right away, store it refrigerated in an airtight container for up to three days.
Warm the soup before serving. Even though the vegetables will be hot when you put them in your Vitamix, the soup cools down a lot when the broth is added.
I was recently introduced to the veggie peeler and 'veggie chop' kitchen tools by Gourmet Guru at a farmers' market in California. They work wonders for quickly peeling and cubing butternut squash. This is not an affiliate link. I'm just giving them credit for their kitchen tools.
Questions You May Have
How to cut up a butternut squash?
There are more ways than one to cut up a butternut squash soup. This is how I choose to do it. First, I rinse and dry the butternut squash to remove dirt. Then, I use a good quality vegetable peeler to peel off the outer skin.

Next, I use a good quality sharp knife to cut off both ends.

Then, I cut the butternut squash in half lengthwise. Next, I use a spoon to remove the seedy part. And last, I use the sharp knife again to cut the butternut squash into strips and then into cubes. This takes 'work', but I look at it as increasing my level of N.E.A.T., ha!
Can you cook butternut squash in the microwave?
Yes, many people cook butternut squash this way. Microwaving it (instead of roasting it) will not give this soup the same savory flavor or color.
What to serve with butternut squash soup?
For a simple meal, I serve this butternut squash soup with grilled cheese sandwiches. If your kids are really hungry, serve this soup as a side to a larger meal that you would otherwise make (roasted chicken, pork tenderloin, leftover turkey dinner, a casserole, etc.).
More Easy Fall Recipes
Did you make this butternut squash soup and love it? Please leave a 5-star rating below or a review in the comment section.
And remember to take a picture of your savory soup and tag me @carrots.and.cookies on Instagram so I can see it!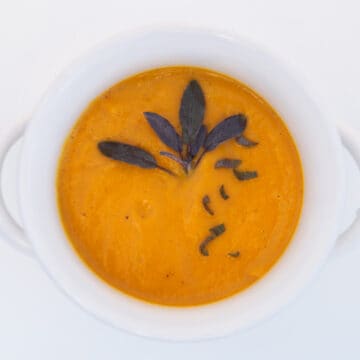 Easy Butternut Squash Soup Recipe (Vitamix)
Kids just love the savory flavor and smooth texture of this favorite Fall soup. With just four main ingredients, you'll have the soup ready in no time!
Ingredients
1

Butternut squash, small

Peeled, seeds removed, and cubed. About five cups of cubed butternut squash.

½

Yellow onion

sliced

2

cloves

garlic

fresh garlic, peeled

3

cups

chicken broth

low-sodium

1

tablespoon

olive oil

extra virgin

¼

teaspoon

salt

I use sea salt

¼

teaspoon

nutmeg

ground nutmeg

⅛

teaspoon

Allspice

or cloves

⅛

teaspoon

black pepper

3

sage leaves

optionsl, for topping
Instructions
Preheat oven to 425° Fahrenheit.

Place cubes of butternut squash, onion, and garlic on a large sheet pan. Drizzle olive oil, then toss to coat. Add pepper and a tiny pinch of salt.

Roast on the top rack of the oven for 30 minutes, or until edges are browned.

Remove from oven. Place roasted vegetables, broth, the rest of the salt, and spices in your Vitamix. Blend on high for thirty seconds to one minute, or until desired consistency is reached (it shouldn't have any chunks in it). That's it.

When ready to serve it, warm soup on the stovetop or in the microwave. If you won't be serving it right away, store the soup refrigerated in an airtight container. Consume within three days.

Optional: top individual bowls of soup with small pieces of fresh sage. I use my kitchen scissors for this. This is how True Food Kitchen serves it and now I know why!
Notes
If you use pre-packaged already cubed butternut squash, the total time will be reduced by about 5-8 minutes.
To easily remove the skins of garlic cloves, carefully use the flat side of a knife to press on the clove. The skin should peel right off. 
Good quality kitchen tools are the key to making the process of cutting up a butternut squash easier. I use a vegetable peeler to peel the outer skin off. Then, I use a knife to to cut off both ends and then use the same knife to slice the squash in half length-wise. 
Use a spoon to remove the seedy area. Discard the seeds. Either use a knife or your favorite kitchen gadget that cuts to cut the flesh of the squash into cubes.
The broth cools down the roasted vegetables a lot. This is why it should be warmed on the stovetop or in the microwave to bring it to a serving temperature.
Nutrition
Calories:
152
kcal
Carbohydrates:
26
g
Protein:
6
g
Fat:
5
g
Saturated Fat:
1
g
Polyunsaturated Fat:
1
g
Monounsaturated Fat:
3
g
Sodium:
207
mg
Potassium:
840
mg
Fiber:
4
g
Sugar:
5
g
Vitamin A:
19932
IU
Vitamin C:
41
mg
Calcium:
104
mg
Iron:
2
mg