This warm and wholesome baked oatmeal makes the perfect breakfast for kids. It's easy to make and cooks in the oven just long enough for the apple pieces to soften and cranberries to pop! With just ten minutes of prep time and a handful of familiar ingredients, you will have breakfast set for days.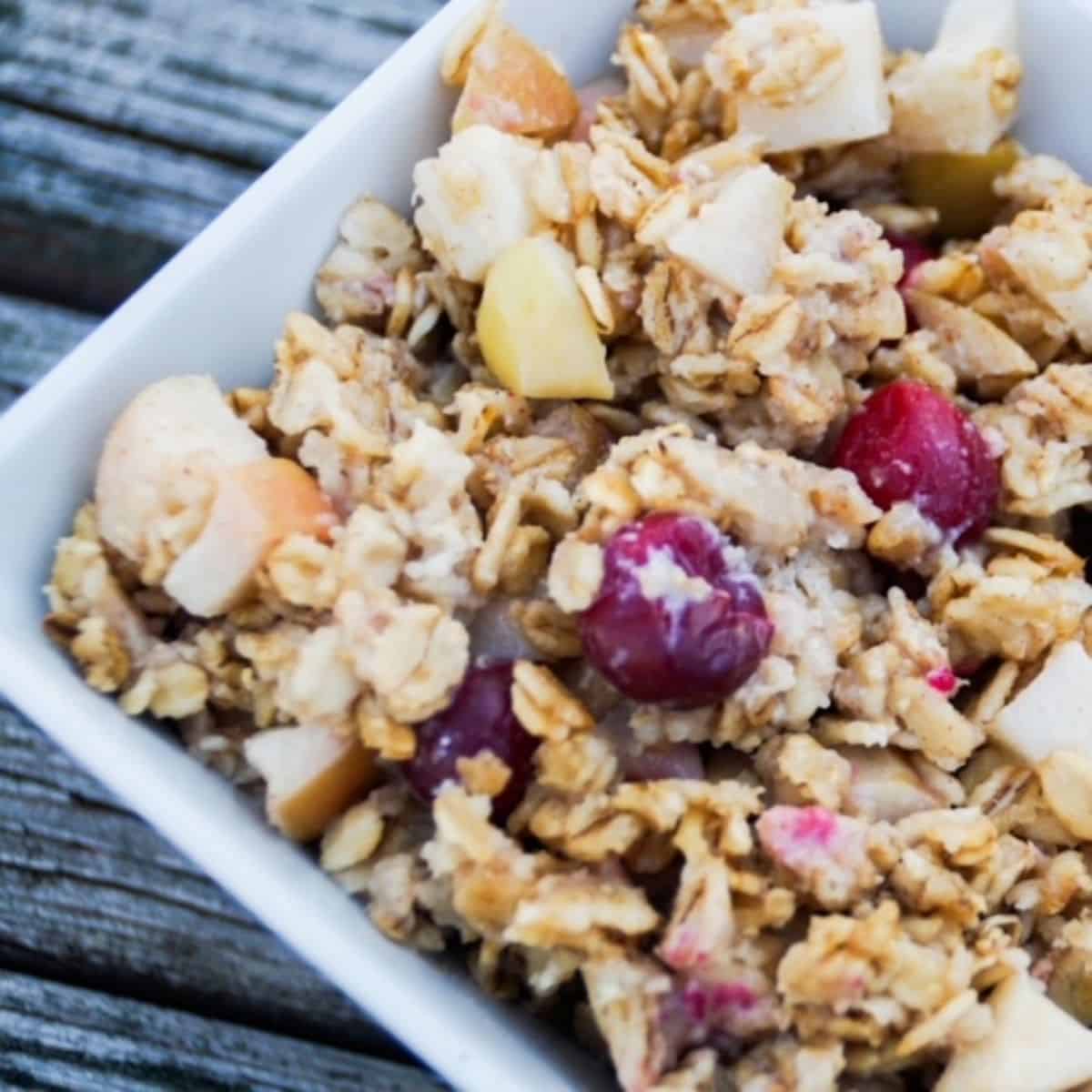 I have been making baked oatmeal for years. It's not a dish that I grew up with but one that quickly won me over when I was introduced to it as a young adult. It's healthy, easy to make, leftovers can easily be re-heated (hello easy breakfasts and school lunches!), and it's so good!
I started making baked oatmeal for my kids as soon as they could eat it. I would actually freeze leftovers in ice cube trays (okay, I was actually re-purposing my breastmilk freezer trays, lol).
And, now that I have three kids with bigger appetites, I simply store leftovers in the fridge so my kids can reheat it the next morning for a quick breakfast. So easy!
For more warm seasonal recipes, try my pumpkin waffles, roasted root vegetables, roasted brussel sprouts, apple crumble, healthy pumpkin bread, and roasted butternut squash soup recipes.
And, for more healthy oat recipes, check out my strawberry-banana baked oatmeal and mango overnight oats.
Oh, and if you love cranberries as much as we do, you've got to make my cranberry sauce!
Recipe Highlights
Let your kids cozy up with this comforting Fall-inspired baked oatmeal. It's got the perfect balance of sweet to offset the tartness of cranberries.
Made with familiar ingredients that kids love.
Great way to use up leftover cranberries after Thanksgiving.
High in fiber so your kids can feel full longer.
An easy recipe that tweens and teens can make.
When heated to just the right temperature, cranberries pop. If they haven't popped on their own, kids can pop them by pressing down on a cranberry with a fork or spoon.
One bowl for mixing, so clean up is a breeze.
Leftovers can easily be re-heated for a quick breakfast the next morning or to be sent in a thermos for lunch at school.
Ingredient Notes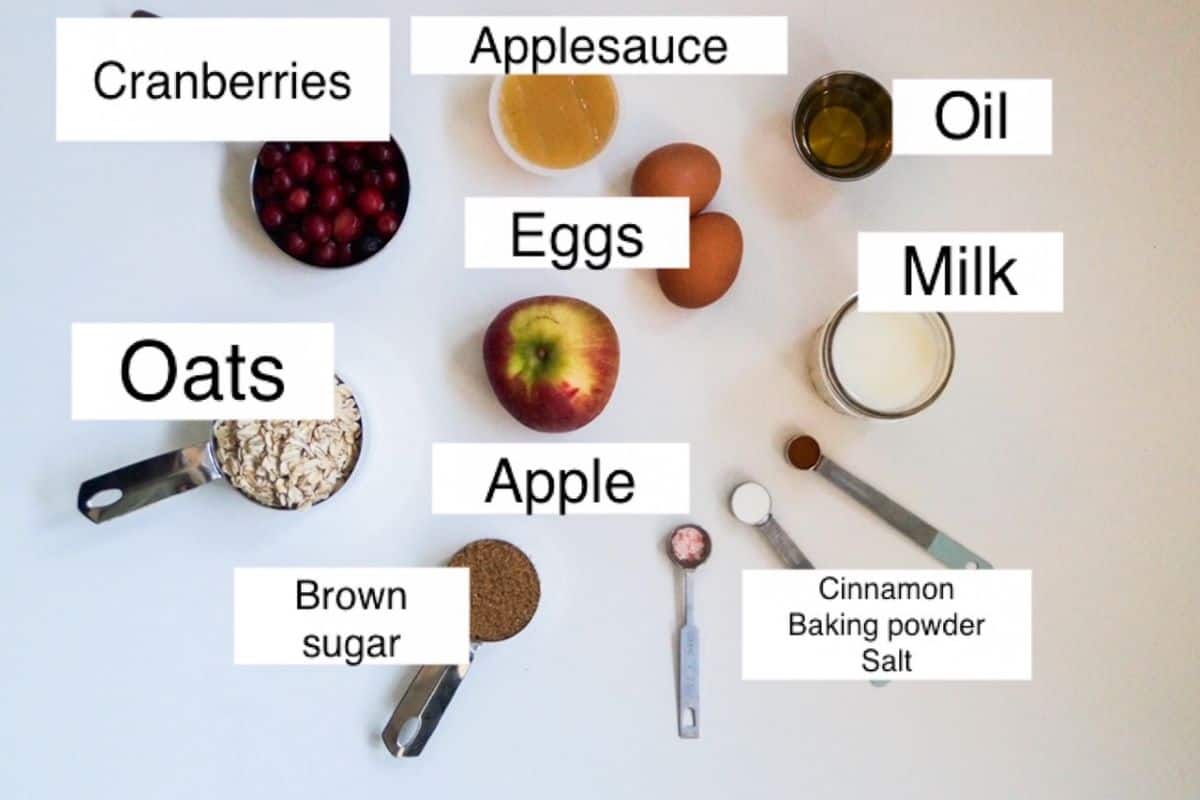 Apple Apples are high in fiber (both soluble and insoluble), contain vitamin C, and are rich in the antioxidant quercetin. I've used various apples when making baked oatmeal. A Cortland apple is pictured above.
Cranberries Cranberries are beautiful in color, have a tart flavor, and contain a variety of vitamins and antioxidants.
Applesauce Use unsweetened applesauce. Applesauce adds natural sweetness and helps smooth out the consistency of baked oatmeal.
Oats Use Old Fashioned Rolled Oats. Whole oats are a whole grain. They provide a source of soluble fiber, which is good for the heart and will help your kids feel full longer. The American Heart Association recommends that at least half of your grains come from whole grains.
Milk Good source of protein and calcium. I use skim milk, but use what you have.
Oil I use extra-virgin olive oil because it contains healthy fats. If you don't have olive oil, a neutral flavored oil can be used instead.
Eggs High in protein. Eggs help bind the recipe together.
Brown sugar Balances out the tartness of cranberries.
Step-by-Step Instructions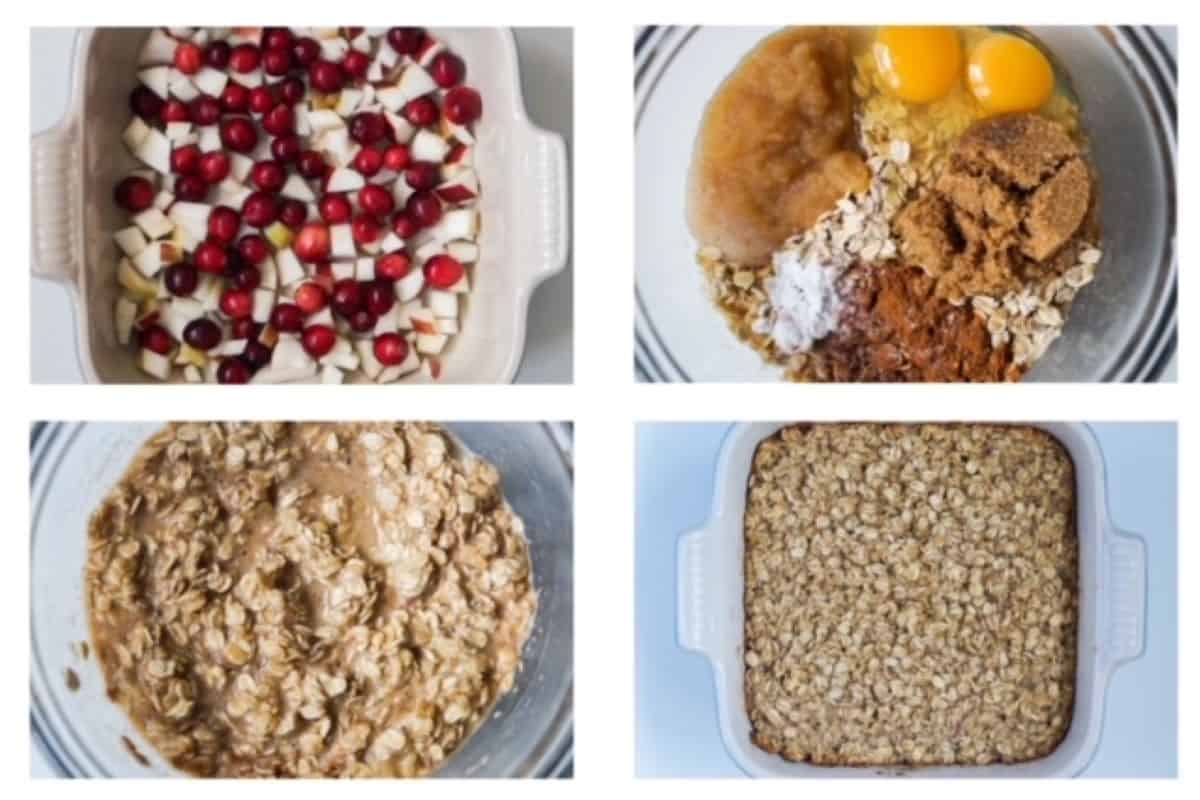 Here's a quick overview of the steps to make this kid-favorite baked oatmeal. For the full list of ingredients and specific instructions, scroll down to the recipe.
Preheat the oven to 375 degrees Fahrenheit.
Spread apple pieces and cranberries over the bottom of a greased 8x8 or 9x9 baking dish.
Mix all other ingredients together in a medium mixing bowl.
Pour oat mixture over the apples and cranberries. Spread the mixture out evenly.
Bake in the oven for 35 minutes.
Remove from oven and let sit for five minutes before serving.
Serve 'as is' or with a splash of milk. My kids prefer it with a splash of milk.
Expert Tips
Use a good quality kitchen knife to cut apples into pieces.
Do not peel the apples. This saves time and helps to optimize the fiber content.
If you prefer to use maple syrup instead of brown sugar, go for it. If maple syrup is used, this oatmeal will have more of a maple flavor.
For single-serve portions, pour into a greased muffin tin and bake for about 25 minutes.
Do not shorten the baking time unless you are using a muffin tin instead of a baking dish. Kids do not want to bite into a cranberry that has not softened.
Store leftovers in an airtight food-storage container. Refrigerate and use withing three to four days.
Leftovers can easily be reheated in the microwave.
FAQs
Can you freeze leftovers?
Yes! Freeze leftovers in a freezer-safe food container. Use within three to six months.
Can you freeze cranberries?
Yes! I freeze cranberries every year. Simply place them in a freezer safe freezer bag before freezing.
Can you make baked oatmeal for one?
Yes! To do this using this recipe, simply pour the mixture into a greased muffin tin and reduce the baking time to about 22 minutes. Let cool and then refrigerate or freeze into single-serve portions. For reference, my youngest child eats the equivalent of one and my oldest eats the equivalent of three muffin sized portions.
Be sure to comment below to share your feedback, and don't forget to snap a pic of this delicious baked oatmeal and tag @carrots.and.cookies on Instagram. Enjoy!
Other Breakfast Recipes Your Kids Will Love
Healthy Apple Baked Oatmeal with Fresh Cranberries
This flavorful and wholesome baked oatmeal makes the perfect breakfast for kids. It's easy to make and cooks in the oven just long enough for the apple pieces to soften and cranberries to pop!
Ingredients
2½

cup

Rolled oats

Old fashioned rolled oats

1

cup

Milk

I use skim or 2% milk.

½

cup

Applesauce

unsweetened applesauce

1

Apple

One large apple.

1

cup

Cranberries

fresh cranberries, rinsed well

2

Eggs

1

teaspoon

Baking powder

¼

teaspoon

salt

2

tablespoon

Olive oil

extra virgin

¼

cup

brown sugar
Instructions
Preheat oven to 375° Fahrenheit

Core and chop the apple into small pieces. Leave the peel on.

Spread apple pieces and fresh cranberries to cover the bottom of an 8x8 or 9x9 greased baking dish.

Mix all other ingredients together in a medium mixing bowl.

Pour oat mixture evenly out over apples and cranberries.

Bake at 375° for 35 minutes.

Remove from oven. If serving immediately, cool the baked oatmeal down by adding a splash of milk before giving it to your kids. Enjoy!
Notes
There is no need to remove the apple peel.
Leftovers can easily be re-heated in the microwave.
This recipe can be prepared the night before and stored (covered) in the refrigerator overnight, to be baked in the oven the following morning. I've done this and it worked great!
Have your kids 'pop' the cranberries with their spoon before eating it. It's fun for kids and eating a popped cranberry with the oatmeal tastes a lot better than biting into a cranberry by itself.
Save money by buying rolled oats in bulk, if available at your grocery store.
Nutrition
Calories:
271
kcal
Carbohydrates:
43
g
Protein:
8
g
Fat:
8
g
Saturated Fat:
2
g
Polyunsaturated Fat:
2
g
Monounsaturated Fat:
5
g
Cholesterol:
55
mg
Sodium:
193
mg
Potassium:
280
mg
Fiber:
5
g
Sugar:
17
g
Vitamin A:
195
IU
Vitamin C:
4
mg
Calcium:
136
mg
Iron:
2
mg