The look, feel, and smell of a pineapple say everything. Let me teach you a few quick tips that will help you be able to tell when a pineapple is ripe and know how to pick a good pineapple.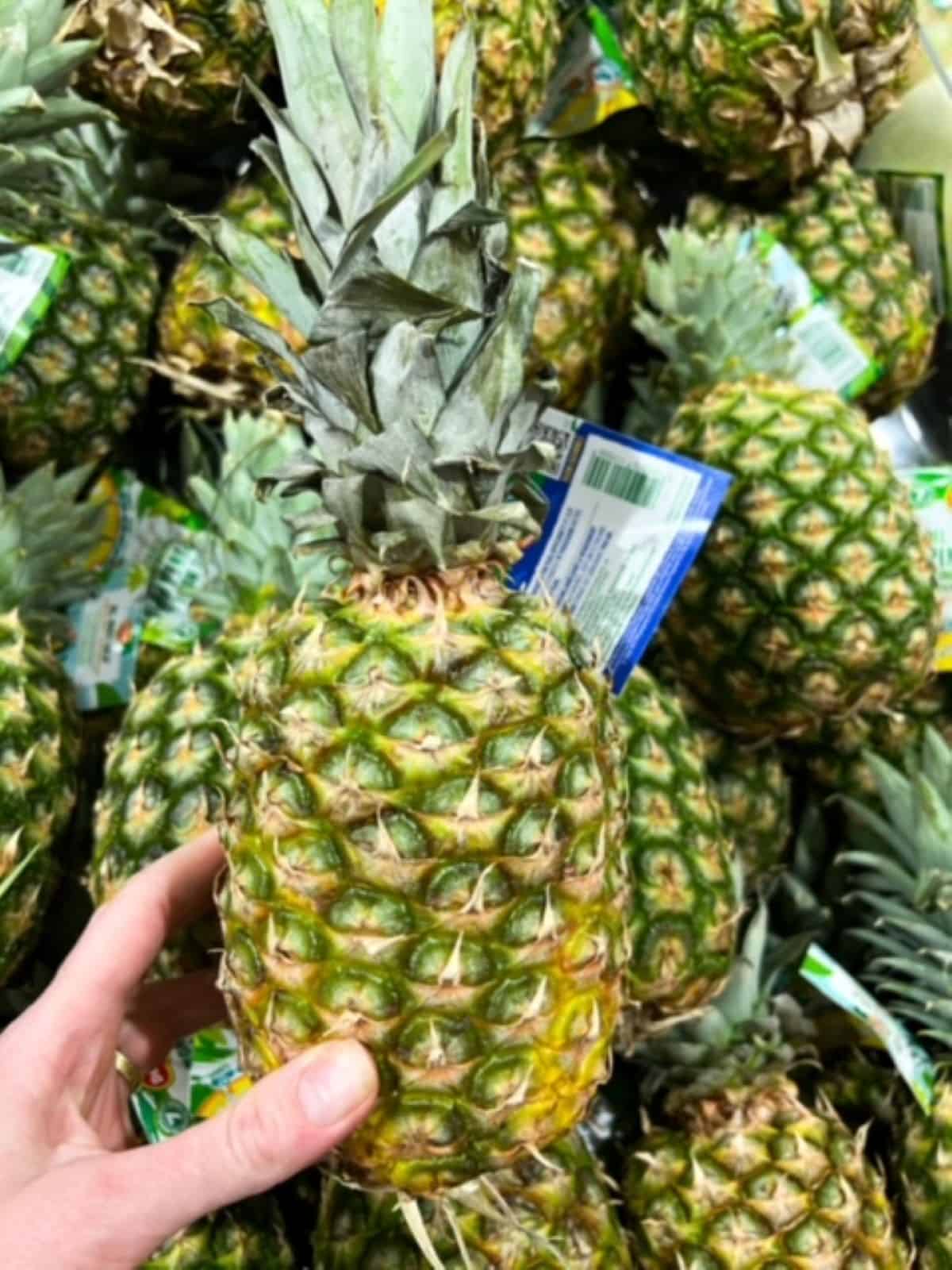 After making fruit salad with pineapple on repeat for years, I pretty much consider myself an expert in picking out the best of the best when it comes to pineapple, lol! So, when I got a text from my cousin the other day asking me to create a post to help her pick out a good pineapple, I went right to work 😉
You know how if you go to buy ripe bananas and they are all very green or dark brown, you just walk away without buying any? Well, it's important to know that just like when shopping for bananas, there will be times when the only pineapples at the store are either not ripe at all or way too ripe to eat.
And I know what you're thinking. "I just want to run in, grab what I need, and run out of the grocery store." Well, trust me when I say that pineapple is not something you want to just grab and 'hope for the best' with. Taking time to pause and assess a pineapple before you put it in your cart is well worth it.
The good news is that it only takes about a minute to stop and use your senses to pick out a good pineapple. It's actually pretty easy once you get the hang of it.
Jump to:
What Does a Ripe Pineapple Look Like?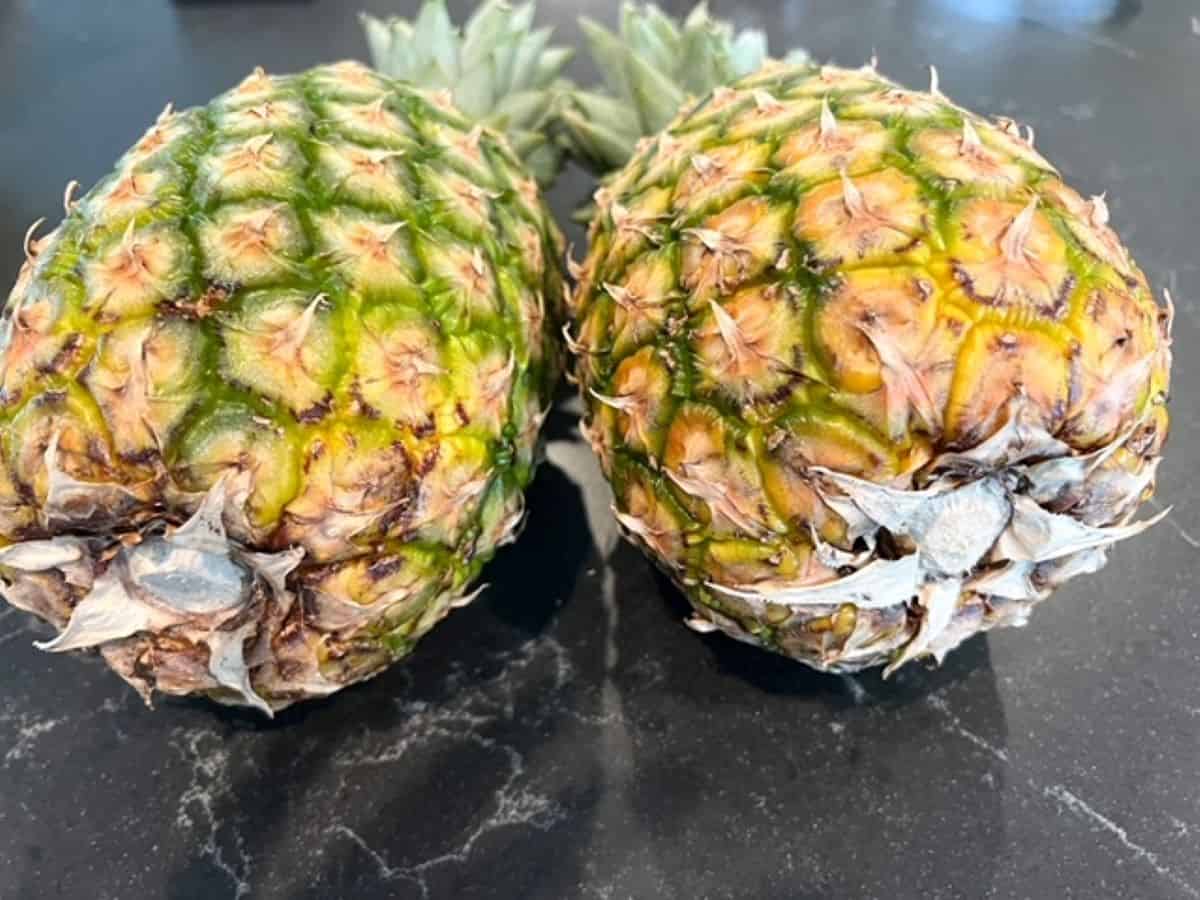 First, check out the bottom of the pineapple, also referred to as the base of a pineapple. It should have a nice yellow color, with or without some visible green parts as well. If it's mostly green it's not ripe enough, and if it's dark yellow or more of a burnt orange color, it is too ripe.
If you look closely at this image above, you can see that the one on the right has a darker yellow color than the one on the left. The smell was still pleasant, so I decided to buy both of the pineapples pictured.
It turns out that the flesh at the bottom of the pineapple on the right was very ripe and juicy, but not overripe. They must have picked it just in time!
And the pineapple on the left was perfectly ripe. I sliced both of them up on the same day. This picture below shows you what the flesh of these two pineapples looked like.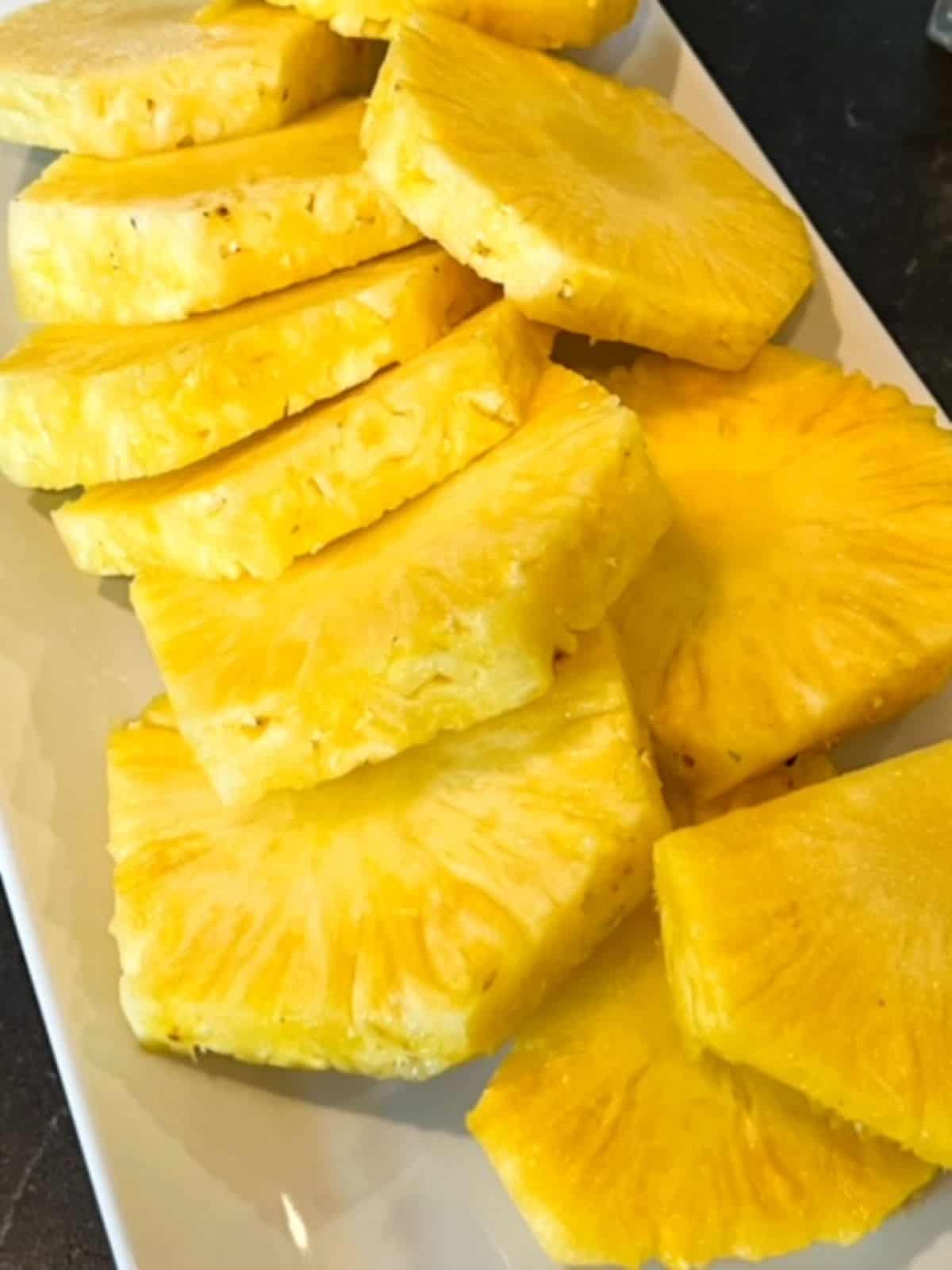 Next, look at the leaves that stick out from the top of the base. You know, the tough, spikey tops of the pineapple. The leaves should be green. Large brown spots on the leaves are a sign that the pineapple is rotten or way too ripe to eat.
What a Ripe Pineapple Should Smell Like
The base of the pineapple should smell a little like pineapple, or at least a little sweet and fruity. If it has a strong smell, it is overripe and will taste terrible if you try to eat it.
Here's the tricky part, though. Pineapple often doesn't have a smell when it's cold. So, if the pineapple meets all of the other criteria for ripeness but is cold when you pick it up to feel it, it may not have much of a smell. But this doesn't mean it's not ripe.
This happened to me at Aldi the other day. All of the pineapples were cold, so I couldn't assess their scent, but at least I could use the other criteria mentioned in this post.
What a Ripe Pineapple Feels Like
Again, first check out the base. A ripe pineapple should feel heavy and firm, but not too firm. You don't want a pineapple that is hard as a rock. The base should definitely have a little give when squeezed.
Next, try to pull out a small leaf from the center of the top of the pineapple. If it pulls out easily, it's a sign that the pineapple is ripe. If you have to pull pretty hard, it's likely not ripe enough.
I learned this tip years ago when I was working at a produce market while in high school. It's not always easy to do because sometimes the inner leaves are small and hard to get to. But, if you can reach one, give it a tug.
Dietitian Tip
Pineapples are an inexpensive and versatile fruit. I often buy pineapple at Aldi because they cost about two dollars each.
What I love most about pineapple is that it has so many uses. It can be used to add sweetness to a smoothie or mixed in with berries to make an easy fruit salad. You can use pieces of it to make fruit skewers or chocolate covered pineapple pieces for a delicious dessert.
And, if you're really adventurous, you can even grill pineapple slices to bring out even more flavor.
Do Pineapples Ripen After Picking?
The simple answer is no. Even though there are so many tips out there telling you "How to ripen a pineapple," like storing it with other ripe fruit in a brown paper bag or in rice, place it upside down, you name it. I've done a lot of research on this, and it's very clear that pineapples do not ripen after they are picked.
Helpful Tips
The ends of a pineapple may look and taste very different. The flesh at the bottom of a pineapple is often juicier and riper than the flesh at the top.
The bunch of pointy leaves at the top of a pineapple are easy to break off from the base by hand. This is helpful for when you have to store a ripe pineapple in the fridge before cutting it.
Questions You May Have
How do you cut a pineapple?
The easiest way I have found to cut a pineapple is to cut off the top and bottom ends. Then use a sharp knife to cut the skin off from top to bottom, working your way around the pineapple.

Then, I cut the pineapple into quarters by slicing along the core lengthwise. From there, I cut the flesh of the pineapple into pieces. Check out my Fresh Fruit Salad post for pictures and more specific instructions on how to cut a pineapple!
How long does cut pineapple last?
Cut pineapple can be stored in the refrigerator for up to 3-5 days. Any longer than that and it will go rancid.
Can you refrigerate pineapple?
Yes, you can refrigerate the whole pineapple for two to three days until you are ready to cut into it. Pineapple that has been freshly cut can also be refrigerated.
Related Recipes
More Non-Recipe Posts
Do you feel more comfortable with picking out a good pineapple now? I hope so! Please let me know by commenting below!
Don't forget to follow me @carrots.and.cookies on Instagram for more helpful tips and easy recipes!