This is the easiest and best 4-ingredient kid's guacamole recipe you will find! It takes less than ten minutes to make and it does not contain spicy ingredients, so the kids will not be able to get enough! Whip it up for a healthy after school snack... or, any time really!
This easy homemade guacamole pairs amazingly well with pretty much anything! Serve it with marinated chicken, enchiladas, beans and rice or turkey burgers! This super easy guacamole even makes an amazing appetizer on 'game day'. It will not disappoint!
And, if you happen to have an air fryer, you can make these amazing tortilla chips to serve with the guacamole!
For more easy side dishes that kids love, make my kale salad and fresh fruit salad recipes.
Recipe Highlights
This 4-ingredient guacamole is made with easy to find ingredients, can be made year-round, and can be made in less than ten minutes. Does it get any better?
The first time I made guacamole I used all of the 'typical' ingredients. It was time-consuming, to say the least. And, while diced onion, tomatoes, cilantro, and/or jalapeno can most definitely be added, it's really not necessary! I mean, why complicate things when you don't have to?
Serve this guacamole with dinner, or send it as a side in school lunches.
When your nieces and nephews are over, serve it.
Serve it when your kids have friends over.
When you go to picnics, bring it.
It's healthy + kids love it = serve it often.
Did you catch that it only takes ten minutes (or less), from start to finish? Amazing!
Ingredient Notes
Avocados Avocados are full of monounsaturated fats, fiber, and various vitamins and minerals. Read more about monounsaturated fats from the American Heart Association.
Lime juice Use fresh squeezed lime juice, as in squeeze the juice from one lime. Lime is high in vitamin C.
Garlic Use fresh garlic (not jarred). Garlic is considered a vegetable, offers a variety of vitamins and minerals, and has many health claims. Read more about garlic from Food & Nutrition.
Salt Added for flavor. Sea salt contains slightly less sodium per teaspoon than traditional table salt. Either can be used for this recipe - you decide!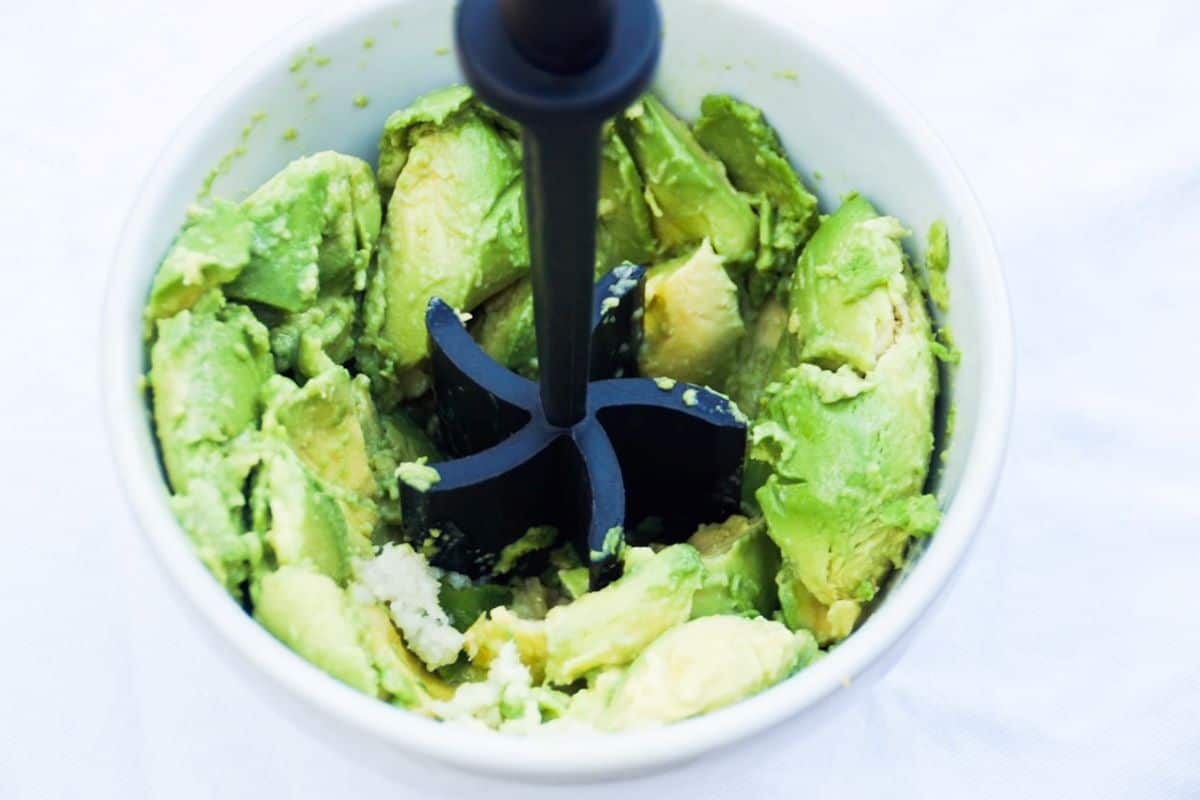 Why Kids Love This Guacamole
This is a more mild guacamole recipe. It doesn't contain any jalapenos or raw onions which makes it more friendly towards kids, who usually have simpler pallets. Kids love a good dip, whether dipping tortilla chips or veggies!
How To Make This Recipe
This guacamole is made by mashing avocado, fresh lime juice, fresh garlic, and salt together until the desired consistency is reached. That's it! It's so easy!
For a complete list of ingredients and specific instructions, scroll down to the bottom for the recipe.
Expert Tips and FAQs
Guacamole is best eaten the same day.
Buy avocados that are ripe (tender to the touch but not mushy) if you will be using them within a day or two.
If you are buying avocados in advance, buy unripe avocados (hard to the touch) and let them sit out on a counter to ripen. Place them in a paper bag first to speed up the ripening process.
Check on avocados daily to be sure they don't get over-ripe.
Use a citrus juicer to get the most juice out of a lime.
A garlic press to mince garlic saves time and helps to achieve a perfect consistency.
Use a meat or potato masher to mash all ingredients together. Alternately, a fork can be used.
If your kids aren't used to heavily seasoned foods, consider using one clove of garlic or leave the garlic out altogether the first time you make this recipe.
Start by using ½ teaspoon of salt. After mixing in ½ teaspoon of salt, taste it. If you love it, great! If it could use more salt, add more. You really shouldn't need to add more than a total of ¾ teaspoon of salt.
If your kiddo has been told to follow a low-salt diet, simply reduce the amount of salt added.
Can I use lemon instead of lime?
I've used lemon in a pinch. It's definitely better than nothing, but the lemon can be a little overpowering.
How do you store guacamole?
Guacamole is best eaten the same day it's made. You can make it an hour before it will be served with no problem. When stored in an airtight container in the refrigerator, guacamole will still taste good the next day but not good enough (in my opinion) to serve it for company. If you have leftover guacamole, I think it's best to freeze it in a freezer-safe resealable bag (get as much of the air out as possible before sealing it) and store it in the freezer.
What to serve with guacamole?
Chips! Kids love chips! Serve guacamole with tacos, burritos, on top of salads, or with beans and rice. I serve this as a side to many meals (chips and guac go great with marinated chicken) pretty much all year long.
Other Great Kid-Friendly Snacks
Did you try this kid-friendly guacamole? Tell me how it went! Leave a comment below.
Follow me on Pinterest for more healthy, kid-friendly recipes and meal inspiration!
Kid's Guacamole
Avocado, garlic, and lime come together to make the easiest and best kid-friendly homemade and healthy guacamole recipe ever!
Ingredients
3

avocados

2

cloves

of garlic

finely minced

1

lime

Juiced

about 2 tablespoons

½

tsp

salt

may need up to an additional quarter teaspoon of salt, to taste
Instructions
Place flesh of three avocados in a medium-sized mixing bowl

Add minced garlic and lime juice to the avocados

Mash avocado, garlic, and lime well with a fork or food masher for about one minute (this will take longer if using a fork), until it reaches your desired consistency

Add ½-¾ teaspoon of salt and mix well. Taste it. *If you think it needs more salt, add up to an additional ¼ teaspoon more salt, to taste.

Mix well. It's ready to serve!
Notes
If you have a juicy lime, one lime will be enough.
To save even more time, just squeeze (by hand) the lime juice directly into the mixture without measuring. If the lime is on the dry side, add juice from a second lime.
A garlic mincer works great to get garlic to very small pieces (I use one from Pampered Chef).
A meat or potato masher will make mashing the avocado so much easier.
This can be made in advance to freeze and enjoy later.
You can easily adjust the amount of garlic and salt, depending on your preference.
Nutrition
Calories:
108
kcal
Carbohydrates:
6
g
Protein:
1
g
Fat:
10
g
Saturated Fat:
1
g
Polyunsaturated Fat:
1
g
Monounsaturated Fat:
7
g
Sodium:
134
mg
Potassium:
328
mg
Fiber:
5
g
Sugar:
1
g
Vitamin A:
98
IU
Vitamin C:
7
mg
Calcium:
9
mg
Iron:
1
mg