This incredibly easy, 4 ingredient homemade guacamole recipe is a crowd pleaser! In just 5 minutes, you'll have the best guacamole ready to serve as a side, snack, or as a dip on game day! It's so much better than store bought!
Have you ever had a recipe that you just know would win an award? Well, yeah, that's this recipe for me. Everyone raves about it, especially kids!
The first time I made guacamole I used all of the 'typical' ingredients. It was time-consuming, to say the least. And, while diced onion, tomatoes, cilantro, and/or jalapeno can most definitely be added, it's really not necessary. Why complicate things when you don't have to? 😉
What makes it even better is that it's super easy to serve. Set this guacamole out with tortilla chips or as a side with cheese quesadillas and it will be gone in no time!
Jump to:
Why You'll Love This Recipe
5-minute guacamole recipe If you use a garlic press and food masher, it really can be made so quickly!
4 ingredients That's right! Just four simple and easy to find ingredients is all you need.
No onion, no tomato, no jalapeño, no cilantro Although if you really like any or all of these in your guac, feel free to add them!
Can be made smooth or chunky.
Can be served as a snack, side dish, on a salad, or as a dip
Perfect for school lunches, dinner, game day, picnics, barbecues, and parties
Gluten-Free and Dairy-Free Actually, this recipe is free of the top 8 food allergies.
It's healthy + kids love it = serve it often.
Ingredient Notes
Avocados Avocados are full of monounsaturated fats, fiber, and various vitamins and minerals. Read more about monounsaturated fats from the American Heart Association.
Lime juice Use fresh squeezed lime juice, as in squeeze the juice from one lime. Lime is high in vitamin C.
Garlic Use fresh garlic (not jarred). Garlic is considered a vegetable, offers a variety of vitamins and minerals, and has many positive health claims.
Salt Added for flavor. Sea salt contains slightly less sodium per teaspoon than traditional table salt. Either can be used for this recipe. You decide!
Dietitian Mom Tips
Tip 1 This is a milder guacamole recipe with a consistent texture. It doesn't contain any jalapenos or raw onions which makes it more friendly towards kids, who usually have simpler pallets.
If your child is the exception, you can always add jalapenos, onions, and/or tomatoes if they prefer it that way! Kids love a good dip, whether dipping tortilla chips or veggies!
Tip 2 Use a food masher and garlic press to make this guacamole quickly and without chunks of garlic. I use both of these kitchen tools so much that I've included them in my Kitchen Gift Ideas for Busy Families post. Imagine getting a food masher as a stocking stuffer, lol. Genius!
How To Make Guacamole in 5 Minutes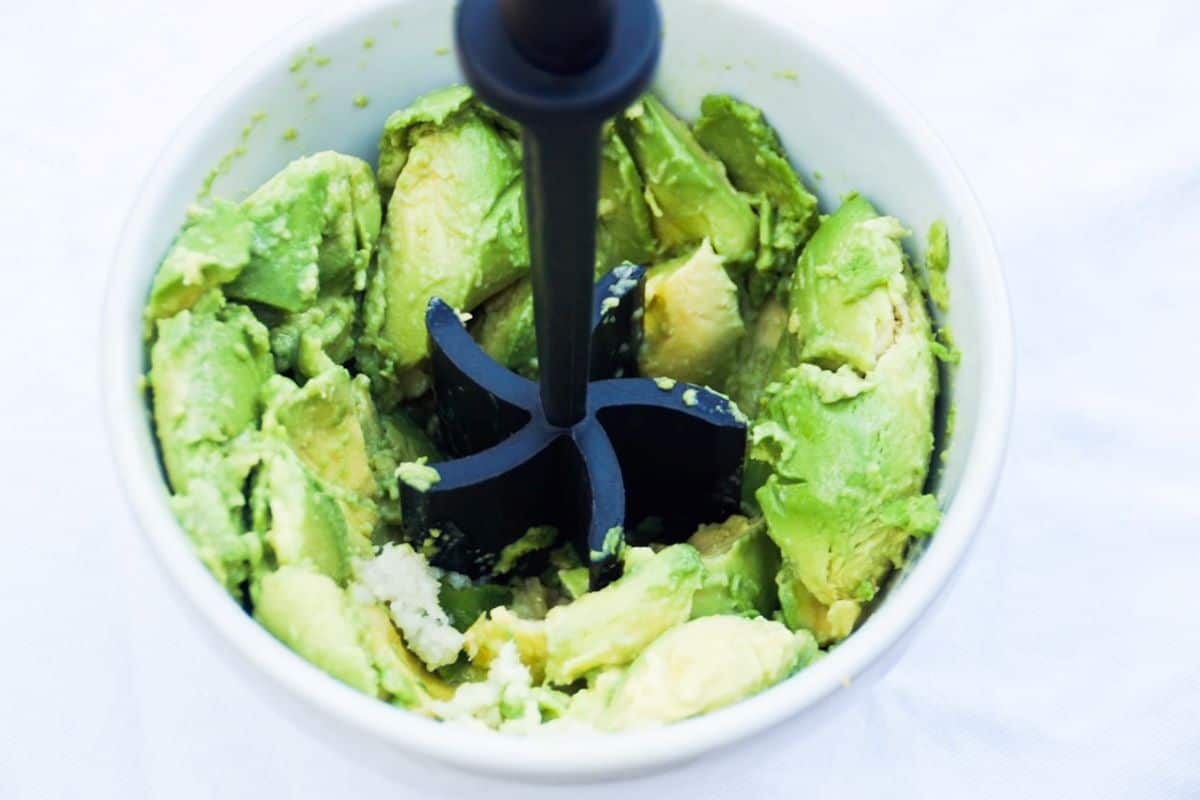 This guacamole is made by mashing avocado, lime juice, garlic, and salt together until the desired consistency is reached. That's it! But you have to use the right tools for this to be easy and save time.
Use a paring knife to slice the avocado lengthwise. Then, twist each side to separate the halves. Remove the pit. Use a spoon to remove the flesh from the skin. Place the flesh in a large bowl.
Use a garlic press to mince the garlic cloves. Mincing garlic into the tiniest pieces by hand can add about another five minutes of time. Add minced garlic to the large bowl.
Slice the lime in half, use your fingers to squeeze the lime into the large bowl. Use a citrus juicer to ensure you are getting the most juice out of your lime.
Add salt to the bowl.
Use the back side of a fork or a food masher to mash all ingredients together. If you like your guacamole chunky, use a fork to gently mash the avocado until your desired consistency is reached.
Serve and enjoy! It will be gone before you know it!
My Garlic Press Pick
This is the garlic press that I use. It's easy to use, saves time, minces garlic cloves into the tiniest pieces, and minimizes waste.
SHOP NOW
Photo Credit: amazon.com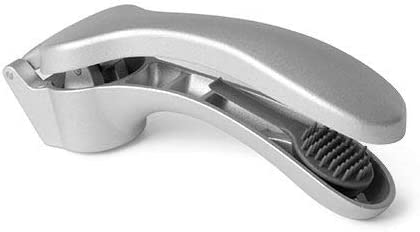 How to Serve Guacamole
Serving guacamole is simple. The most common way to serve it is with chips, either as chips and 'guac' or alongside a tomato or fruit salsa. To do this, spoon the guacamole into a small serving bowl and serve it with chips in a separate bowl. You can also use guacamole as a spread on burgers and wraps, or as a topping for tacos or burrito bowls.
And thankfully guacamole pairs amazingly well with so much more. Here are some of our favorite main dishes that I serve guacamole with:
Expert Tips
Serve homemade guacamole at room temp.
Guacamole is best eaten the same day.
Use avocados that are ripe (tender to the touch but not mushy).
If you are buying avocados in advance, buy unripe avocados (hard to the touch) and let them sit out on a counter to ripen. Place them in a paper bag first to speed up the ripening process.
Check on avocados daily to be sure they don't get over-ripe.
Use a citrus juicer to get the most juice out of a lime.
Use a garlic press to mince the garlic. A garlic press helps to achieve the perfect consistency.
Start by using ½ teaspoon of salt. After mixing in ½ teaspoon of salt, taste it. If you love it, great! If it could use more salt, add more. You really shouldn't need to add more than a total of ¾ teaspoon of salt.
Questions You May Have
How do you store guacamole?
This simple guacamole recipe is best eaten the same day it's made. You can make it an hour before it will be served with no problem.

Store leftovers (refrigerated) in a small food-safe container and covered with plastic wrap or tight-fitting lid. There should be minimal air between the guacamole and plastic wrap or air-tight lid to keep it from turning brown.

What to serve with guacamole?
Chips! Kids love chips! Serve guacamole with tacos, burritos, on top of salads, or with my black beans and rice dish. I serve this as a side to many meals (chips and guac go great with lemon pepper marinated chicken) pretty much all year long.

Oh, and nachos! How could I forget nachos?! This is a super easy guacamole recipe for nachos.
Can I use lemon juice to make guacamole?
I suggest using fresh lime, but you can use lemon if you have to. I've used lemon in a pinch. It's definitely better than nothing, but the lemon can be a little overpowering.

I've also used fresh squeezed grapefruit juice. It changes the flavor and adds a little sweetness, but it still worked! Still, stick to lime if you can!
Can you freeze guacamole?
Yes, you can freeze guacamole! It will not taste quite as good as fresh, but it can be done!

To freeze guacamole, simply place it in a freezer-safe resealable bag. Get as much air out of the bag as you can and seal it. Use it within one month.
How to make chunky guacamole?
There are a few ways to add 'chunks' to guacamole. For chunks of avocado, simply use the back side of a fork instead of a food masher to break the avocado pieces into chunks. Stir the guacamole periodically as you press the avocado. Do this until your desired consistency is reached.

Also, if you like tomato and/or onion in your guacamole, feel free to stir in chunks of these to make your guacamole even chunkier.
Does your family love this guacamole as much as mine? If so, please leave a comment and give this recipe a 5-star rating to let me know!
And don't forget to snap a pic of this incredible guacamole and tag @carrots.and.cookies on Instagram so I can see it. Enjoy!
More Kid-Friendly Side Dishes
4 Ingredient Guacamole Recipe
Made with simple ingredients and ready in just 5 minutes, this 4-ingredient guacamole recipe will be your next go-to for busy weeknights or when hosting a crowd on game day!
Ingredients
3

avocados

2

cloves

of garlic

finely minced

1

lime

Juiced

about 2 tablespoons

½

teaspoon

salt

may need up to an additional quarter teaspoon of salt, to taste
Instructions
Place flesh of three avocados in a medium-sized mixing bowl

Add minced garlic and lime juice to the avocados

Mash avocado, garlic, and lime well with a fork or food masher for about one minute (this will take longer if using a fork), until it reaches your desired consistency

Add ½-¾ teaspoon of salt and mix well. Taste it. *If you think it needs more salt, add up to an additional ¼ teaspoon more salt, to taste.

Mix well. It's ready to serve!
Notes
If you have a juicy lime, one lime will be enough.
To save even more time, just squeeze (by hand) the lime juice directly into the mixture without measuring. If the lime is on the dry side, add juice from a second lime.
A garlic mincer works great to get garlic to very small pieces (I use one from Pampered Chef).
A meat or potato masher will make mashing the avocado so much easier.
This can be made in advance to freeze and enjoy later.
You can easily adjust the amount of garlic and salt, depending on your preference.
Nutrition
Calories:
108
kcal
Carbohydrates:
6
g
Protein:
1
g
Fat:
10
g
Saturated Fat:
1
g
Polyunsaturated Fat:
1
g
Monounsaturated Fat:
7
g
Sodium:
134
mg
Potassium:
328
mg
Fiber:
5
g
Sugar:
1
g
Vitamin A:
98
IU
Vitamin C:
7
mg
Calcium:
9
mg
Iron:
1
mg