Making tortilla chips in an air fryer in just five minutes is an easy way to turn a kid-favorite food into a quick healthy snack! All you need are a few basic ingredients!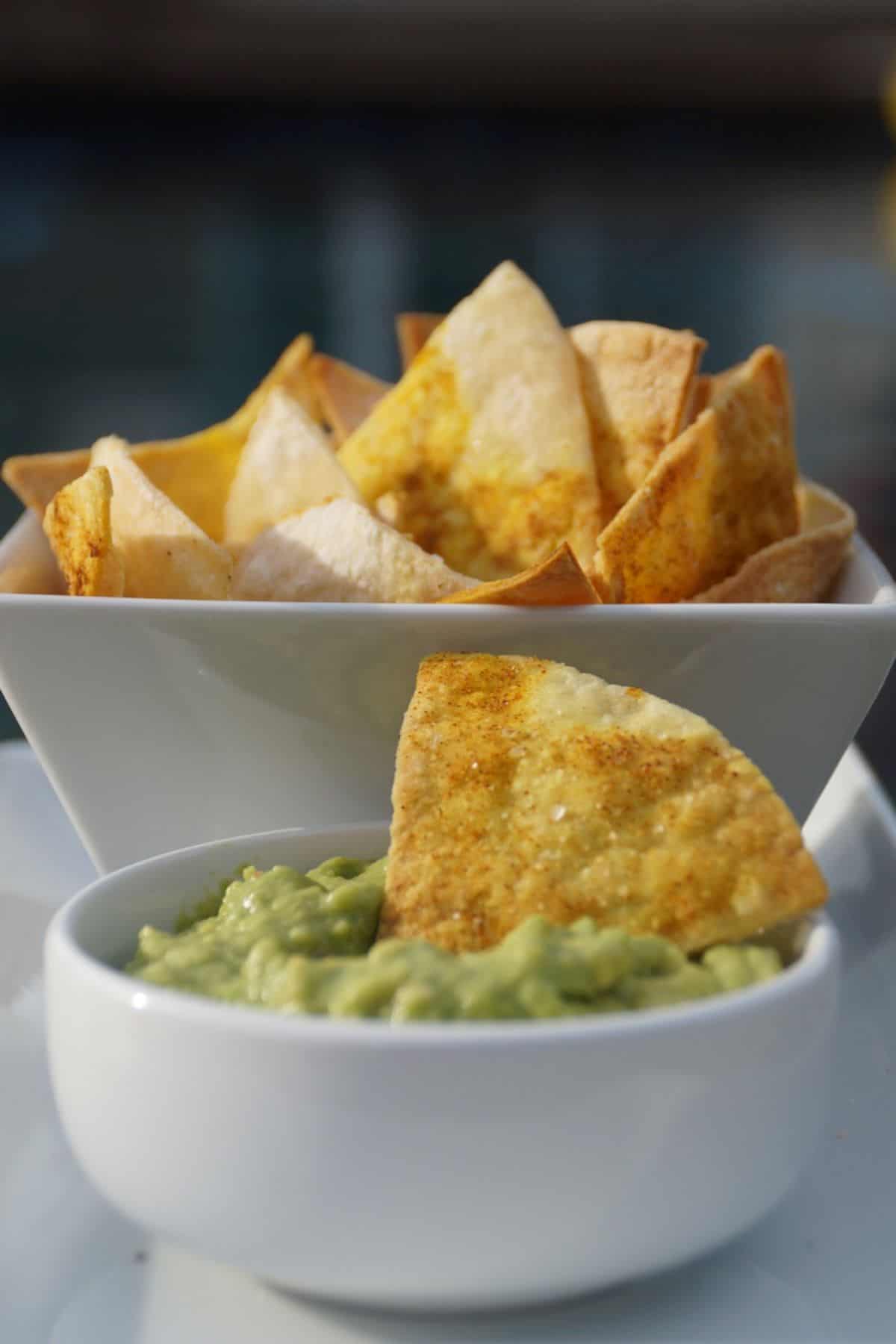 It's no secret that kids love chips. If you look at the ingredient list on most tortilla chip bags, the ingredients listed are simple: corn, oil, and salt. The only difference is that store bought chips are deep fried which significantly increases the fat content of a chip when compared to baking or air frying them.
Believe it or not, you can get the same crispness by making tortilla chips in the air fryer with such a small amount of oil.
I started experimenting with seasonings and I knew I had the right combination when my kids said, "you need to post this recipe!" So, the next time you find yourself with a few leftover tortillas after making quesadillas, just cut them into triangle shapes and turn them into chips. So easy!
Kids love eating these chips plain, with mango salsa or guacamole. Serve them as an after-school snack, as an appetizer, or as a side with lunch or dinner.
And the best part is that tortilla chips can be served with pretty much anything. Turkey tacos, burgers, salads, you name it.
Jump to:
About This Recipe
Surprise your kids by serving up these homemade tortilla chips made in the air fryer! I mean, how often are parents saying "here, eat some chips!". Your kids might just give you a 'parent of the year' award for serving up this delicious snack, haha!
Ingredient Notes
Step-by-Step Instructions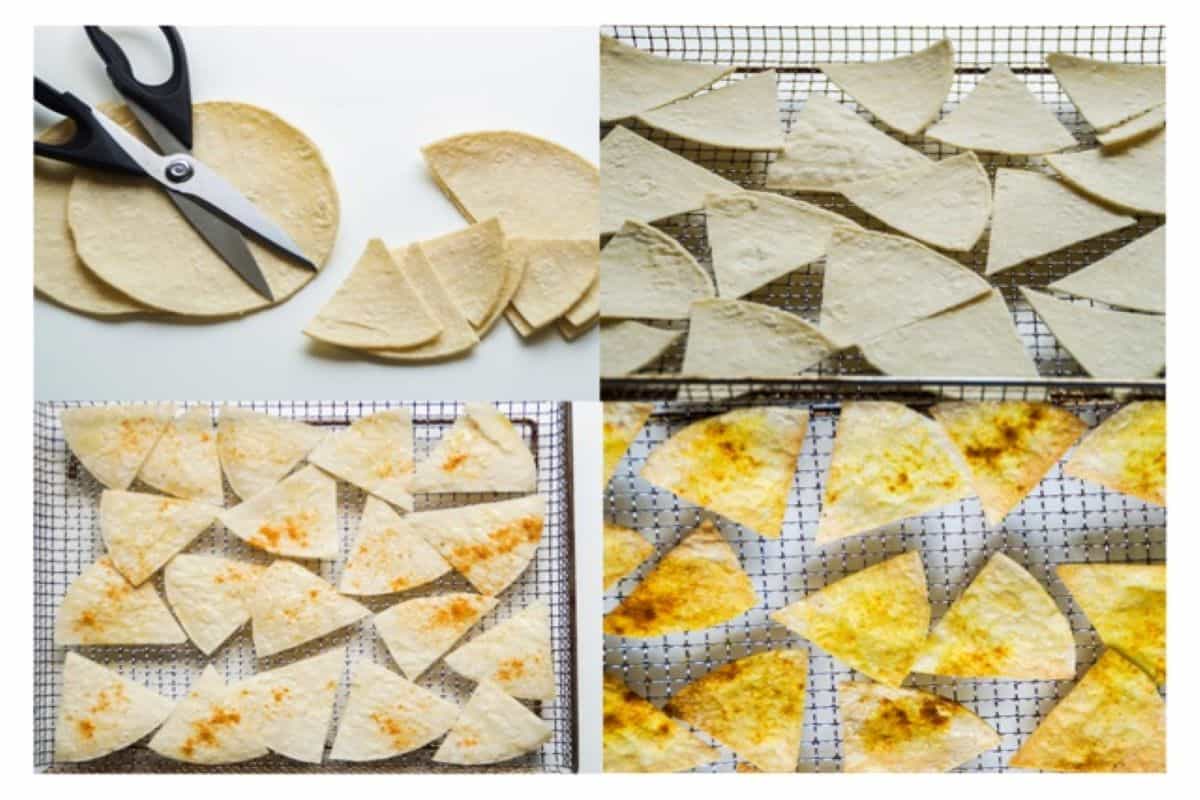 Here's a quick overview of the steps to make these homemade tortilla chips in the air fryer. For the full list of ingredients and instructions, scroll down to the recipe.
Cut each tortilla in chip sized pieces. One standard sized corn tortilla can be cut into eight pieces.
Lay pieces in a single layer on an air fryer basket fit for your air fryer. Do not over lap the pieces.
Lightly coat both sides of each piece with oil. If you are in a rush, you can coat just one side (your kids will likely not notice, but you might).
Sprinkle each piece with the seasoning mixture.
Sprinkle each piece with salt.
Air fry for 6-7 minutes. If your air fryer is pre-heated, check on them after five minutes.
Let cool and enjoy.
Dietitian Tip
Some companies add gluten and/or dough conditioners as an ingredient to soften tortillas. Tortillas made with these ingredients will not get as crispy as tortillas made with basic ingredients.
Expert Tips
Recipe FAQs
How do you make crispy tortilla chips?
Coat tortillas pieces in oil and crisp them up in the oven or air fryer. An air fryer is the quickest way to make crispy chips. They won't be quite as crispy as store-bought tortilla chips that are deep fried, but they will crispy enough!
How do you heat tortilla chips?
Set your oven or air fryer to 350 degrees. Place tortilla chips in a single layer on a sheet pan and warm in the oven for 2-5 minutes.
How do you store tortilla chips?
Air fryer tortilla chips are best for same-day eating. Once cooled completely, they can be stored in an air-tight container for a few days. If they soften, simply place them back in the air-fryer for about two minutes to crisp them back up.
Can you make chips with flour tortillas?
Yes, you can! They won't crisp up quite as much as corn tortillas, but they will crisp up enough! I have made these with flour tortillas, corn tortillas, and corn-flour blend tortillas from Trader Joe's.
Related Recipes
More Air Fryer Recipes
Be sure to comment below to share your feedback, and don't forget to snap a pic of this incredible lentil soup and tag @carrots.and.cookies on Instagram. Enjoy!
Tortilla Chips (Air Fryer) for Kids
Making tortilla chips in an air fryer in just five minutes is an easy way to turn a kid-favorite food into a quick healthy snack!
Ingredients
3

tortillas

corn tortillas

I use Trader Joe's brand. Ingredients: white corn, water, lime.

½

teaspoon

olive oil

extra virgin

⅛

teaspoon

turmeric

⅛

teaspoon

garlic powder

⅛

teaspoon

paprika

⅛

tsp

cumin

or chili powder

¼

teaspoon

salt

coarse sea salt
Instructions
Cut each tortilla into chip size pieces. About eight pieces per tortilla.

Lay pieces in a single layer on an air fryer rack fit for your air fryer.

Lightly coat both sides of each piece with oil.

In a separate small bowl, mix spices together.

Lightly dust each tortilla piece with spices.

Sprinkle salt out evenly over the pieces.

Air fry at 375° for 5-7 minutes, until lightly brown on the edges but not burnt.

Let cool completely and serve!
Notes
Use either kitchen scissors or a pizza slicer to cut the tortillas into pieces.
I suggest keeping the spices toward the center of the chip because the yellow hue of turmeric will easily get on little fingers (no worries, though, it washes off easily).
If you don't feel like measuring out each spice, simply give each chip a light dusting of each spice one at a time and finish with salt.
Some recipes say air fried tortilla chips can be made without oil but still tell you to use an oil spray to coat them... that's still considered oil. A very small amount of oil is necessary to give these chips a flavor your kids will enjoy.
Use a basting brush or oil sprayer to lightly coat the kale.
If you have an air fryer that causes pieces to blow around, cover them with another air fryer rack.
Do not overlap the kale pieces - keep them in a single layer and cook in batches if needed.
My kids like the chips to be slightly soft in the center and crispy on the edges - this takes 5 minutes to achieve in an already heated air fryer, 6 minutes if it is not preheated. One minute in the air fryer makes a difference between slightly soft in the center and a completely crisp chip.
Always follow the manufacturer's instructions for how to properly and safely use your air fryer.
I use a Cuisinart Digital AirFryer Toaster Oven. Different air fryers might require small adjustments in temperature and/or cook time.
Nutrition
Calories:
83
kcal
Carbohydrates:
17
g
Protein:
2
g
Fat:
1
g
Polyunsaturated Fat:
1
g
Monounsaturated Fat:
1
g
Fiber:
1
g
Vitamin A:
11
IU
Vitamin C:
1
mg
Calcium:
30
mg
Iron:
0.6
mg