Believe it or not, you can roast small chunks of sweet potatoes to perfection in just ten minutes! When cooked just right, sweet potatoes turn a little crispy on the outside and stay soft on the inside- kids just love them!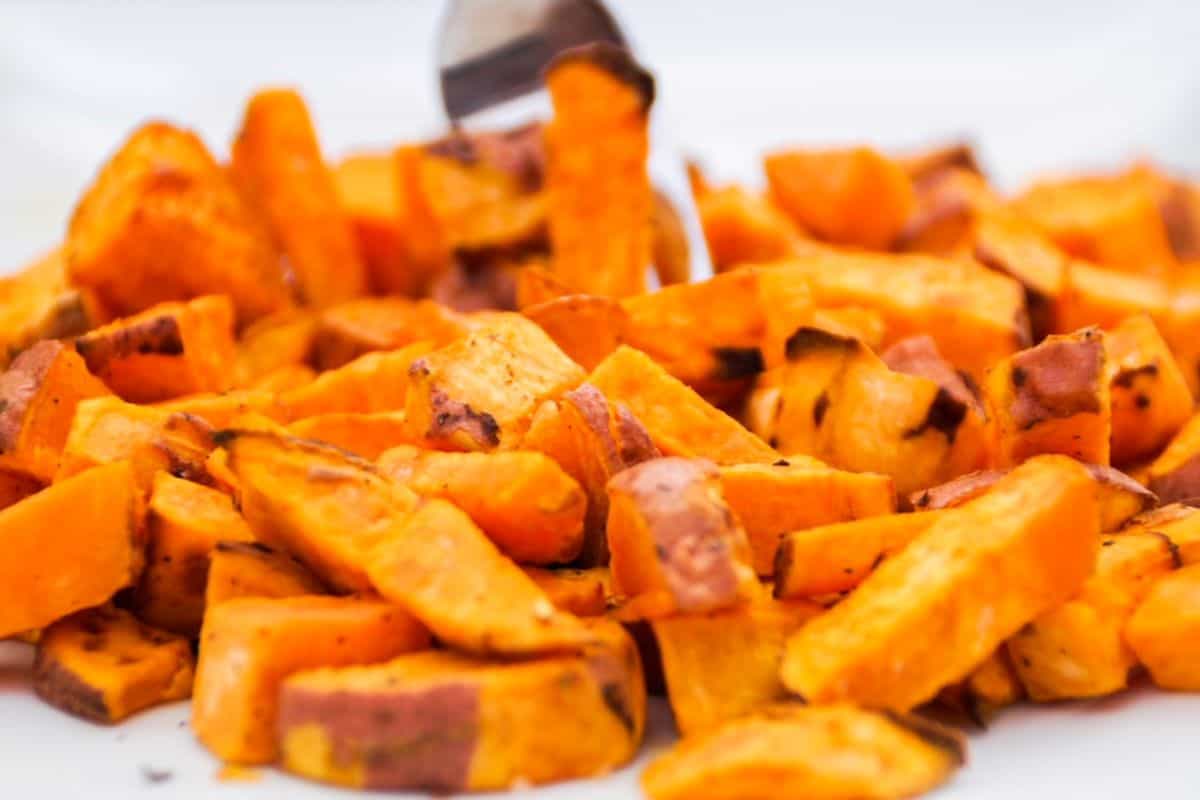 The air fryer saves so much time! If you don't have an air fryer, you can easily make these sweet potatoes in the oven - it will just take longer (time to preheat your oven + longer cook time).
I am not one to have every appliance out there. In fact, I was very resistant to the air fryer when it first came out. Afterall, I don't care for fried anything really. It turns out that an air fryer is simply a mini convection oven - genius!
Now, back to the sweet potatoes - your kids will eat these up! The dusting of cayenne pepper is completely optional. Some kids like spice, others do not.
One of my kids loves spicey food and my other two don't want even a hint of 'spice' on anything. And, while I encourage my kids to continue to try foods that they don't like, "spicey" food is one exception that I make.
So, when I roast sweet potatoes for my kids, I put a light dusting of cayenne on half of them and leave the others to be seasoned just with salt. Yum!
For more easy air fryer recipes, try my kale chips, beet chips, apple slices, tortilla chips, sweet potato fries (from frozen), and broccoli parmesan recipes - kids love them all!
Recipe Highlights
Roasted to a consistency that kids love: a little crispy on the outside, while remaining soft on the inside.
Shorter cooking time, thanks to the air fryer.
Sweet potatoes are naturally sweet.
Made with simple ingredients that are easy to find year-round.
Healthy side dish that can be served as a side to pretty much anything, even sandwiches!
10 minutes from start to finish.
High in fiber so kids feel full longer.
Ingredient Notes
Sweet potatoes That's it - just one main ingredient! Sweet potatoes are a root vegetable. They typically have an orange flesh and are high in fiber and beta carotene (vitamin A). Sweet potatoes are also a good source of vitamins C and B6, and potassium. Leave the skins on.
Step-by-step instructions
Here's a quick overview of the steps to make roasted sweet potatoes in the air fryer. For the full list of ingredients and specific instructions, scroll down to the recipe.
Scrub the skins of the sweet potatoes well.
Slice sweet potatoes into small rectangle shaped pieces, about one-half to one inch in length.
Place sweet potato chunks, olive oil, salt, and pepper in a bowl and toss to coat.
Spread sweet potatoes out in a single layer on an air fryer rack fit for your air fryer.
Air fry for eight minutes.
Serve and enjoy!
Expert Tips and FAQs
Larger chunks will take longer to cook.
Use a good quality knife to make it easier to cut through the sweet potato.
Using a narrow sweet potato will result in more skin proportionate to the flesh. This will give it a thicker texture once roasted. To avoid this, peel about a quarter to half of the skin before slicing a narrow sweet potato.
Kids are more likely to eat a vegetable that is cut into small pieces.
The cayenne pepper is optional. Some kids enjoy foods with 'spice', others do not.
If you are feeling adventurous, Tajin can be used in place of cayenne to give the sweet potatoes more of a citrus flavor.
If you do not have an air fryer, these sweet potatoes can be roasted in the oven at 425 degrees for about twenty minutes instead.
Do I need to soak the sweet potatoes?
No, you do not need to soak the sweet potatoes for this recipe. Soaking sweet potatoes is a recommended step when making homemade sweet potato fries, but not when you are roasting small chunks of sweet potatoes in an air fryer (or oven).
What do you serve sweet potatoes with?
Roasted sweet potatoes can be served with pretty much anything: burgers, barbequed or grilled chicken, salmon, sandwiches, wraps. In fact, some restaurants have started to offer roasted sweet potatoes as a side in place of french fries - love it!
Do I have to peel the sweet potato?
No. Leaving the skin on increases the fiber content, saves prep time, and helps the sweet potato chunks keep their shape.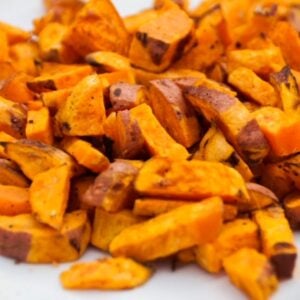 Perfectly Roasted Air Fryer Sweet Potato Chunks
If you've got a sweet potato, an air fryer, and ten minutes, you can make the most delicious sweet potato side ever! When roasted to perfection, sweet potatoes turn a little crispy on the outside and stay soft on the inside- kids just love them!
Ingredients
1

sweet potato

One large sweet potato or two smaller ones (about two cups when cut into pieces)

2

tsp

olive oil

extra virgin

1

pinch

salt

1

dash

cayenne pepper

optional
Instructions
Cut sweet potato into small chunks. See notes.

Place sweet potato chunks into a bowl and toss to coat.

Spread sweet potato pieces out in a single layer on the air fryer rack fit for your air fryer.

Sprinkle salt on top of the sweet potatoes. If your kids like spicey food, top sweet potatoes with just a dash of cayenne pepper.

Air fry at 400°F for 8 minutes.
Notes
Cutting sweet potato into small rectangular pieces reduces cooking time and it makes sweet potatoes more appealing to kids.
As for the cayenne pepper - a little goes a long way. If your kids don't like spice, I do not suggest adding any cayenne. I often put cayenne on half and leave the other half simply salted, because one of my kids likes spicey food and the others do not.
Larger pieces will take longer to cook. 
Narrow sweet potatoes have more skin proportionate to flesh. To ensure a consistency desirable to kids, peel about one-quarter to half of the skin off before slicing.
Use a good quality knife to make cutting through the sweet potato easier.
Always follow the manufactures instructions on how to use your air fryer safely.
I use a Cuisinart Digital AirFryer Toaster Oven. Different air fryers may require small adjustments in temperature and/or cook time.
Nutrition
Calories:
66
kcal
Carbohydrates:
11
g
Protein:
1
g
Fat:
2
g
Saturated Fat:
1
g
Polyunsaturated Fat:
1
g
Monounsaturated Fat:
1
g
Sodium:
41
mg
Potassium:
191
mg
Fiber:
2
g
Sugar:
2
g
Vitamin A:
8026
IU
Vitamin C:
1
mg
Calcium:
17
mg
Iron:
1
mg