This easy caprese bruschetta recipe is easy, fresh, and bursting with flavor! All you need are a handful of simple ingredients and about 15 minutes.
Just a heads up - you might want to make extra because kids will eat these up!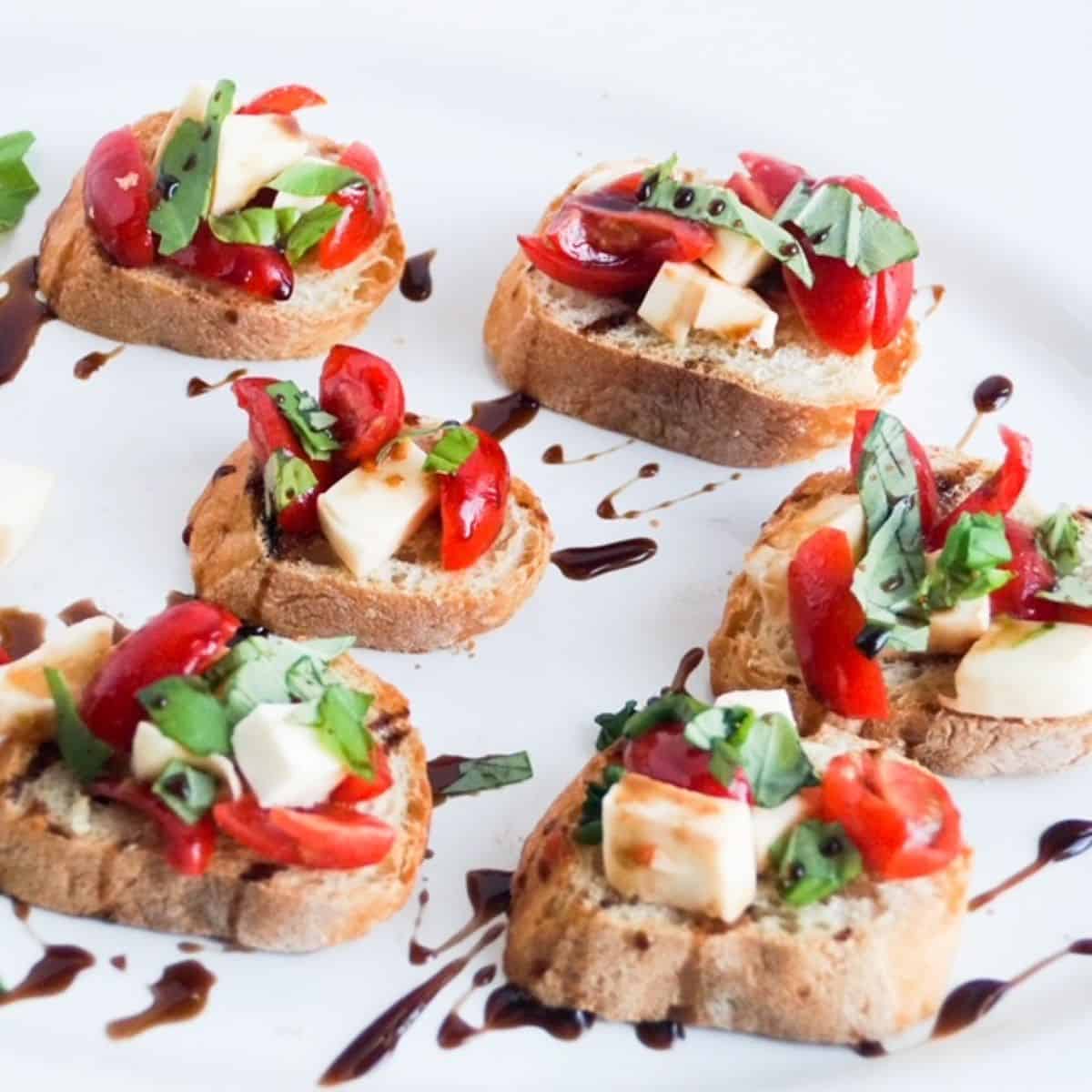 You know how sometimes you spend forever making food only for it to all be eaten in like five minutes? Yeah, well that's what's going to happen with this, except it doesn't take much time at all! Can you tell how excited I am about this fact? 🙂
Seriously, though caprese bruschetta is one of the easiest appetizers to make that doesn't require you to mash or blend anything. And the smaller chunks of tomato and mozzarella drizzled with balsamic glaze is what makes this especially appealing to kids.
In fact, I often leave the bottle of balsamic glaze out when I serve it because my kids usually want to add even more. Hey, if an extra drizzle of balsamic glaze gets them excited to eat tomato, basil, and mozzarella, I'm in!
If you're wondering what else you can use fresh basil leaves to make, I'd suggest using it to make basil pesto to toss in with tortellini and chicken or use the leftover basil to sprinkle on top of lasagna for extra flavor. Italian food is so good!
To sum it up, caprese bruschetta is pretty much a super fresh version of my margherita flatbread. So good!!
Jump to:
What is Caprese Bruschetta?
By definition, bruschetta is an antipasto (appetizer) dish made by rubbing garlic on grilled bread and then topping it with olive oil and salt. There are different variations of bruschetta, but most American versions add tomatoes and basil.
This caprese bruschetta is essentially bruschetta as you might order as an appetizer in an Italian restaurant but with pieces of mozzarella cheese mixed in and then topped with a delicious drizzle of balsamic glaze for even more flavor.
Why You'll Love This Recipe
Made with fresh ingredients like basil, tomatoes, and mozzarella, this unique bruschetta recipe tastes like summer:) And thankfully you can get a taste of summer all year with this recipe because these ingredients are available in grocery stores year-round.
Quick and easy recipe.
Easy after school snack or appetizer.
The mozzarella adds protein which will help your kids feel full longer.
Kid-friendly Let your kids drizzle the balsamic glaze on as the final step and allow them to be a little artsy with it. This will give them some ownership and help build confidence in the kitchen.
Ingredient Notes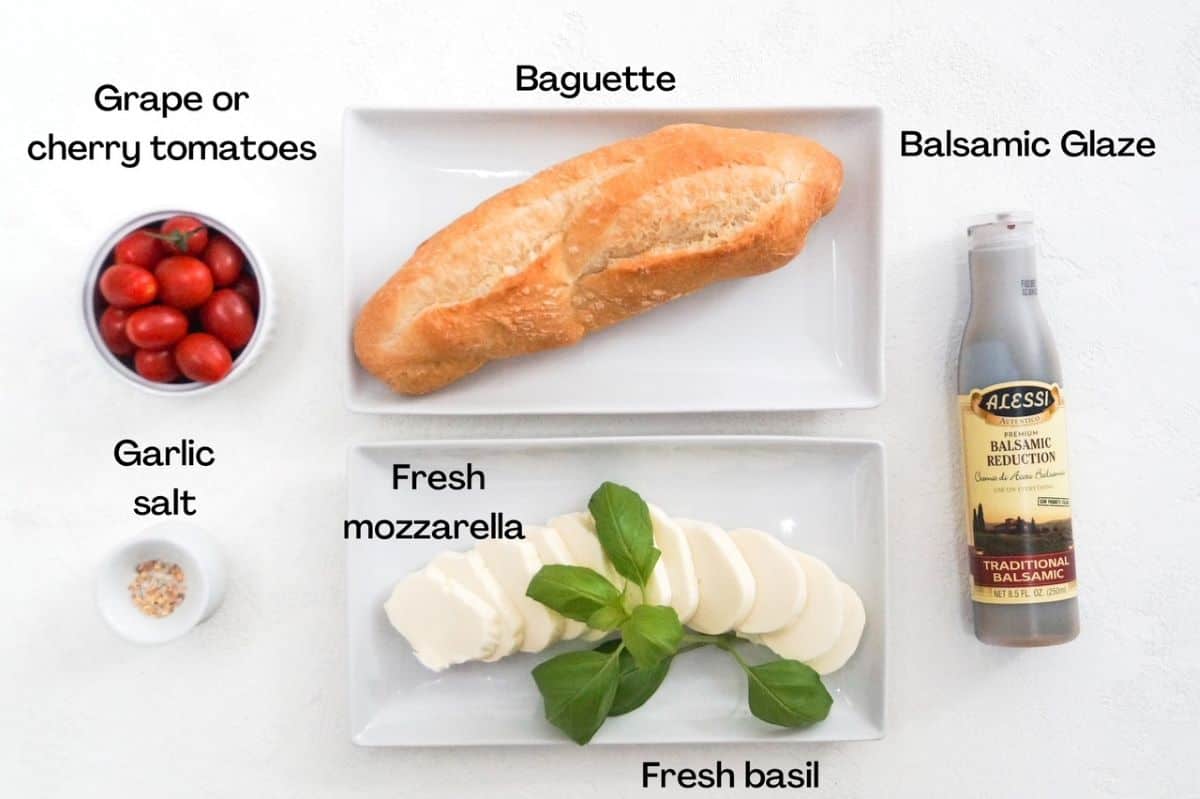 Fresh Mozzarella Cheese Provides protein and calcium. Buy a fresh mozzarella log and cut it up using a knife. It's easy!
Grape or Cherry Tomatoes Cherry and grape tomatoes add beautiful color, a nice texture, and are easy to quarter. Tomatoes are an excellent source of lycopene, vitamin C, and potassium.
Fresh Basil Leaves Basil is an herb. It adds beautiful color and a refreshing flavor. Basil or basil microgreens can be used in this recipe.
Bread Baguette slices worked best. Bread contains carbohydrates. With very few exceptions, kids need carbohydrates! Serving them this Easy Caprese Bruschetta is one healthy way to get some in!
Olive Oil Use a high-quality extra virgin olive oil (EVOO). You will definitely taste the difference. EVOO contains a variety of nutrients including heart-healthy monounsaturated fats.
Garlic Salt Yummy flavor! If you don't have garlic salt, you can substitute it with salt and pepper with a pinch of garlic powder.
Balsamic glaze Also known as balsamic reduction, provides the perfect hint of sweetness that kids love. If you are an avid home cook and make your own balsamic reduction, you might want to add a small amount of honey or sugar when concentrating the balsamic vinegar to get the same level of sweetness as you get from store-bought, unless you prefer it to be less sweet.
My Balsamic Glaze Pick
This balsamic reduction has an incredible flavor that takes caprese bruschetta to the next level and it's made with just two ingredients.
SHOP NOW
Photo Credit: amazon.com

How to Make Caprese Bruschetta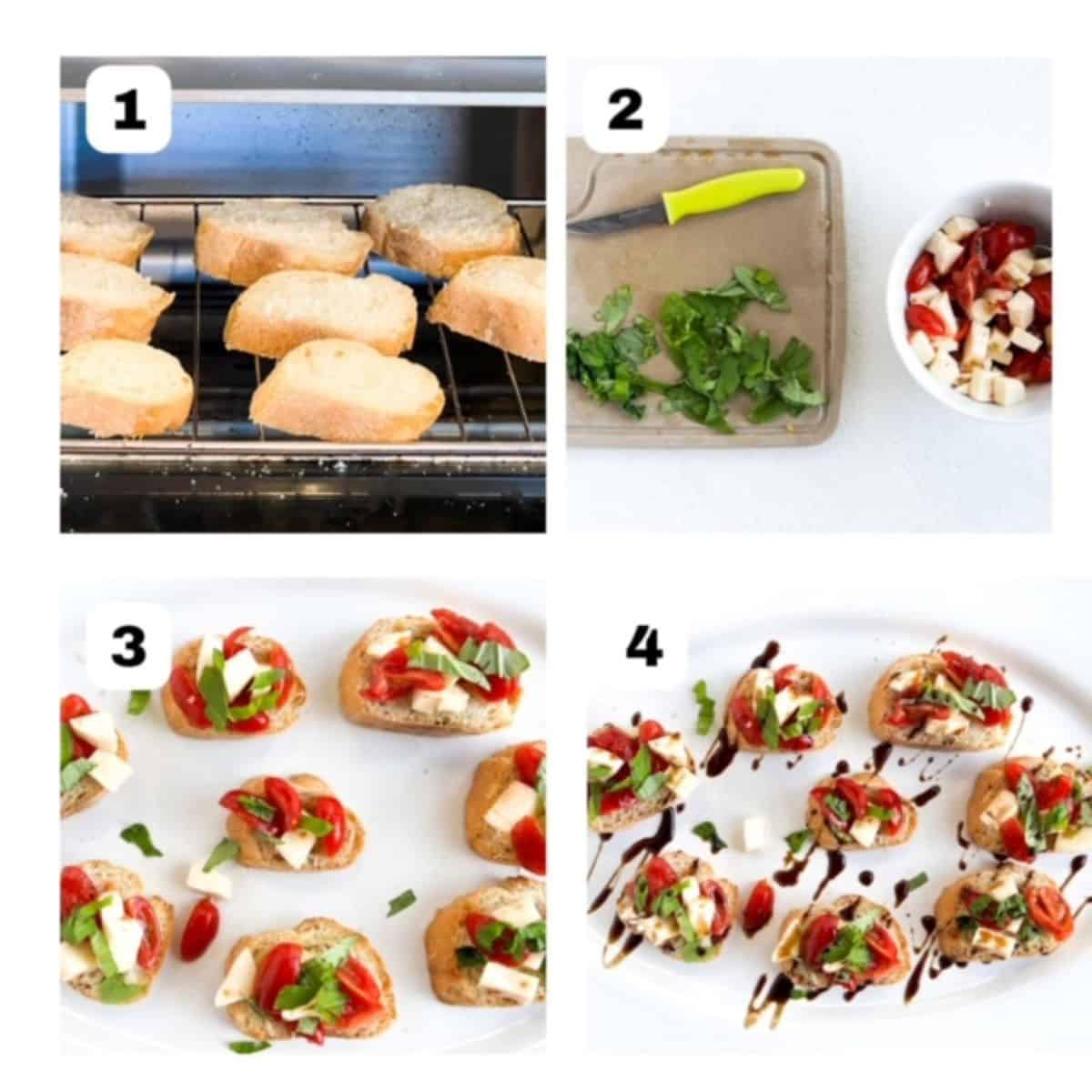 Here's a quick overview of the steps to make this easy Caprese Bruschetta. For the full list of ingredients and instructions, scroll down to the recipe.
Slice the loaf of baguette into one-inch pieces and toast.
Quarter the grape or cherry tomatoes and cut the fresh mozzarella into one-quarter inch pieces.
Carefully combine tomatoes, mozzarella, olive oil, and garlic salt together in a bowl. Set aside.
Slice the fresh basil leaves into small strips using kitchen scissors or a small paring knife and set aside.
Once the pieces of bread are cooled (this doesn't take long), top each baguette slice with 1-2 tablespoons of the mozzarella and tomato mixture.
Top the mozzarella and tomato mixture with strips of fresh basil then drizzle with balsamic glaze.
Devour!
Dietitian Tip
As parents it really helps to have recipes on hand that can be easily modified, especially if you have a child with food allergies or aversions.
Take this caprese bruschetta for instance. If someone in your family cannot have dairy, make some of the mixture with mozzarella and some without. Then, top some of the slices with each mixture, so everyone can feel like they are eating the same thing and enjoy this as an appetizer or snack together.
Likewise, if someone in your family has reflux and is sensitive to tomatoes, simply leave tomatoes out of some of a mixture. This way you are able to accommodate everyone while not having to make completely separate dishes (who has time for that anyway? ;).
Expert Tips
Adding the balsamic glaze is a must for getting kids to get love this.
Use a high-quality bread knife to slice bread.
Either toast the bread slices in a toaster oven or stick them in an oven set to 375-400 degrees Fahrenheit for five minutes, or until lightly toasted. I have used both strategies and they both work well!
If you have a local bakery, I strongly encourage you to support them! Not only will you be supporting a local business, but local bakeries tend to use higher quality ingredients and avoid adding 'extra' ingredients like vital wheat gluten and dough conditioners.
Regular sliced bread can be used in place of baguette slices. Just be sure the slices of bread are small enough and hearty enough so kids can pick them up without the bruschetta falling apart.
Balsamic glaze can be found in most grocery stores. Look for it in the same aisle where you would find vinegar.
When adding balsamic glaze, simply take the bottle of glaze and drizzle it over the Caprese Bruschetta so that each piece has at least two to three streaks of glaze on it. So good! I'm sure your kids would love to help with this step!
Questions You May Have
What's the difference between bruschetta and caprese?
Caprese usually refers to a salad made up of tomato, mozzarella, and fresh basil, while bruschetta is often made by topping grilled bread with garlic, olive oil, salt, and sometimes tomato.

So, essentially, to make caprese bruschetta you first make a caprese salad and use it to top toasted bread and then drizzle balsamic glaze over it. Yum!
What is Balsamic Glaze?
Balsamic glaze is made by cooking balsamic vinegar and sugar together until the vinegar cooks down, making a sweet and delicious syrup. No wonder why kids love it! You can make it yourself or buy it in the store (usually found in the vinegar aisle).
Can I make caprese without cheese?
Absolutely! You can either serve the mozzarella cheese on the side if someone in your family has a dairy allergy or just leave it out altogether.
Related Recipes
More Easy Side Dish Recipes
Did you make this easy caprese bruschetta and love it? Please leave a 5-star rating below or a review in the comments section!
And don't forget to snap a pic of your incredible caprese bruschetta creation and tag @carrots.and.cookies on Instagram so I can see it. Enjoy!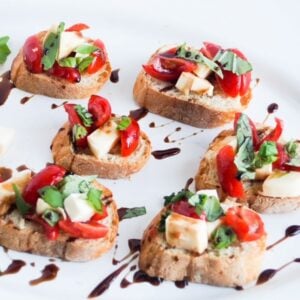 Easy Caprese Bruschetta
This Easy Caprese Bruschetta recipe is the best! It's easy, delicious, and ready in minutes! Caprese bruschetta is easy enough to make as part of a busy weeknight dinner and fancy enough to serve when hosting company.
Equipment
1

Kitchen shears

Or you can use a small paring knife to slice the fresh basil leaves instead.
Ingredients
1

Baguette

Sliced

4

ounce

fresh mozzarella

1

cup

grape tomatoes

Can use cherry tomatoes instead. Washed and quartered.

1

teaspoon

olive oil

extra virgin

¼

teaspoon

garlic salt

10

leaves

fresh basil

1

tablespoon

Balsamic glaze

to taste
Instructions
Lightly toast baguette slices either in a toaster oven or in the oven (see note below)

While the baguette slices are toasting, carefully cut the mozzarella up into ¼ inch cubes.

Mix mozzarella pieces, olive oil, quartered cherry tomatoes, and garlic salt together in a small bowl and set aside

Slice or cut basil into small pieces and set aside.

When baguette slices are lightly toasted, remove from oven and let cool

Once the bread is cooled, top each slice with about 1-2 tablespoons of the mozzarella and tomato mixture.

Top the mozzarella and tomato mixture with pieces of fresh basil.

Drizzle balsamic glaze over each piece of assembled Caprese Bruschetta
Notes
Nutrition facts are calculated using an electronic nutrition calculator - information is an estimate and may vary depending on specific brands and measurements used.
If your oven is on and set to 375-400 degrees Fahrenheit for other purposes, simply spread the pieces of bread out on a baking sheet and place in the oven for a few minutes to lightly toast them (instead of placing them in the toaster). If doing it this way, one side will feel toasted while the other will not, but nobody seems to mind as long as you top the side that is toasted with the mozzarella mixture.
Let the bread cool before assembling.
Not all baguettes are created equal. Some are smaller than others, which is why the amount of mixture to top them with is provided as a range.
Kitchen scissors work well to slice fresh basil into small strips.
If you don't have fresh mozzarella, cut up pieces of string cheese can be used (traditional string cheese is mozzarella cheese) OR cheese can be left out altogether.
Kids love to help make these. They especially enjoy drizzling on the balsamic glaze.
Most older kids would be able to make this by themselves.
Nutrition
Calories:
72
kcal
Carbohydrates:
9
g
Protein:
3
g
Fat:
2
g
Saturated Fat:
1
g
Polyunsaturated Fat:
0.3
g
Monounsaturated Fat:
1
g
Cholesterol:
6
mg
Sodium:
190
mg
Potassium:
51
mg
Fiber:
0.5
g
Sugar:
1
g
Vitamin A:
151
IU
Vitamin C:
1
mg
Calcium:
57
mg
Iron:
1
mg