You can't beat this incredibly delicious 5-minute homemade pesto without pine nuts that is made with just 4 ingredients (plus water and salt/pepper, if you are really counting, ha!). Let me show you how easy it is to make, what you can do with it, and how to store it!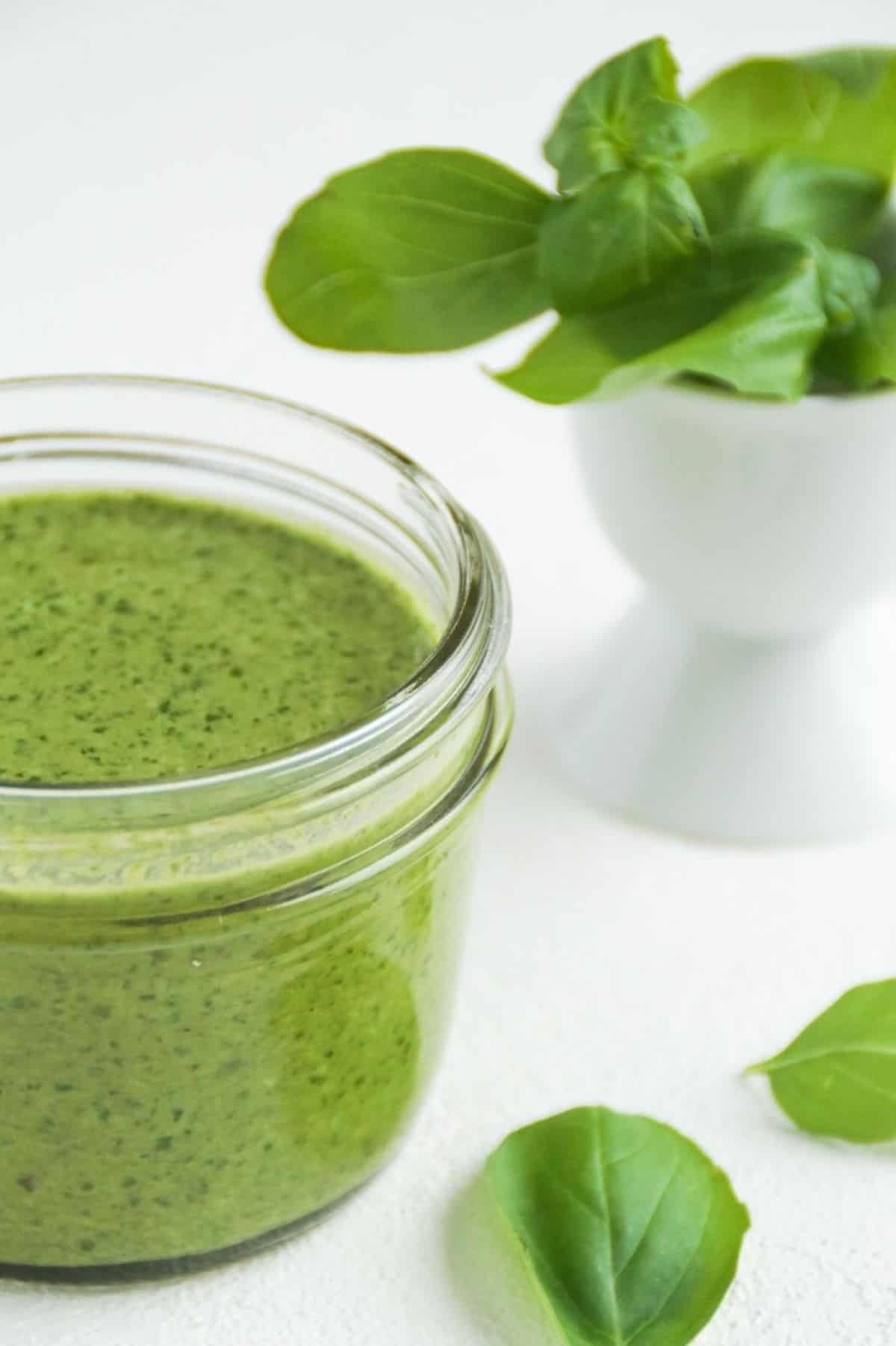 This homemade pesto recipe is a spinoff of one from one of my old Cooking Light cookbooks, probably from twenty years ago. I now use walnuts instead of pine nuts because, not only are pine nuts expensive, but the rest would go to waste.
And that's the start of how this pesto without pine nuts came to be! If you've been following me for a while, you'll have learned that I love to cook with walnuts because of their nutrition profile.
The best part of keeping pesto on hand is that you can use it to flavor everything from a scrambled egg sandwich to air fryer salmon and tortellini with chicken.
While homemade tomato sauce is also super delicious, sometimes it's nice to change things up! Give this homemade pesto a try and let me know what you think!
Jump to:
Why You'll Love This Recipe
It's so easy!
5-minute recipe. 10 minutes if you choose to grate your own parmesan.
Made with walnuts instead of pine nuts.
Less oil than store bought pesto, and it tastes better, too!
Ingredient Notes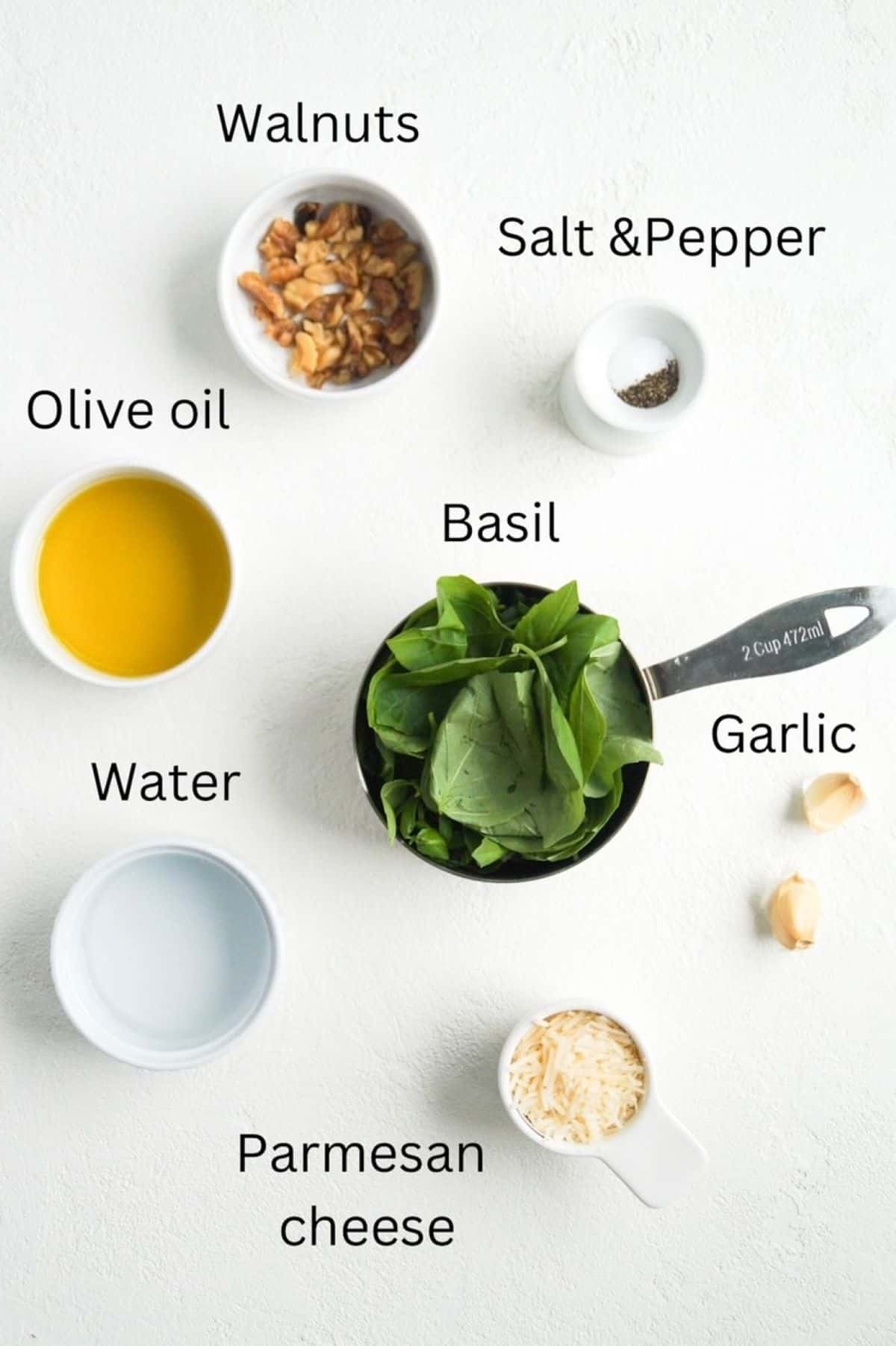 Fresh basil This recipe calls for two-cups of slightly packed basil, which is about 2.5 ounces.
Walnuts Toasted walnuts for optimal flavor. Raw, untoasted walnuts can be used but the flavor is so much better if you use toasted walnuts.
Parmesan cheese Use freshly grated for optimal flavor. I tend to be in a crunch for time, so I often use grated Parmesan Reggiano that I buy in bulk from Costco, and it works well!
Garlic For optimal flavor, use fresh garlic cloves. You can use jarred garlic instead, if it's what you have.
Olive oil Use extra virgin olive oil. This recipe calls for less oil than most homemade pesto recipes.
How to Make Pesto Without Pine Nuts
Here is a brief overview of the steps to make this recipe. For a complete list of ingredients and even more tips, scroll down to the recipe.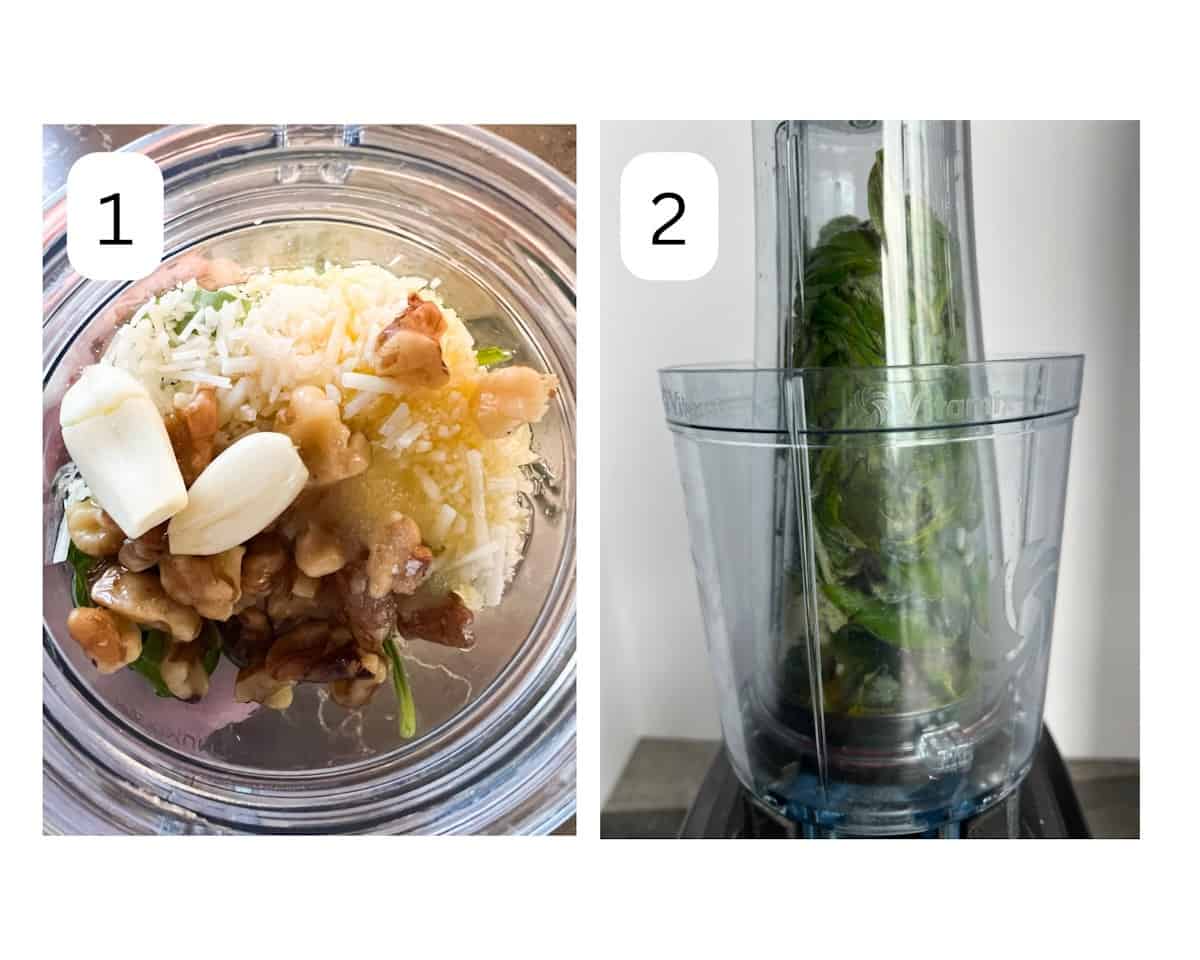 Did you know that homemade pesto could be so easy? And did you know that pesto still tastes amazing even without pine nuts? It's true!
Seriously, all you need to do is put all of the ingredients in a small blender or food processor and blend until smooth. If some of the basil leaves get stuck and don't move toward the blades while blending, you may need to pause blending once to get them down. But otherwise, this is the only step.
My Pick for California Walnuts
I prefer walnuts without preservatives (the only ingredient should be "walnuts") and that are packaged in a resealable bag, so they are easy to store.
SHOP NOW
Photo Credit: amazon.com
What Do You Eat Pesto With?
The question really should be, what don't you eat pesto with? 🙂
Pesto can be used to flavor everything from chicken or salmon to pasta and pizza. It can be used as a spread on grilled cheese, or, as you may have had at an Italian restaurant, it can be served as a dip and served with bread.
Personally, my favorite way to use pesto is to make Pesto with Tortellini and Chicken. My other favorite is to use pesto in place of tomato sauce on pizza. It's so good!
Oh, and salmon! Pesto goes great with salmon. So, I guess I don't have a favorite after all 🙂
Okay, so I'm finishing up this post in a local coffee shop and, believe it or not, their breakfast special is made with pesto, so you know I had to get it!
It looks like they spread pesto on top of a flatbread, topped the pesto with arugula and the arugula with scrambled egg. Then they sprinkled feta cheese on top. It's delicious and something that would be easy to make at home.
Dietitian Tip
While fish is most notorious for providing omega-3 fatty acids, let's face it, most kids are not eating fish high in omega-3s (like salmon) two days a week. And that's how other foods, like walnuts, can help.
Using walnuts in recipes is an easy way to get more omega-3 into your child's diet. In fact, walnuts are the only nut that offers a significant amount of the plant-based omega-3 ALA.
Of course, if your child has a walnut allergy, do not feed him or her walnuts. Omega 3 fats can also be found in foods like chia seeds, flax seeds, and more.
How to Store Homemade Pesto
Refrigerate: Store pesto in an air-tight container in the refrigerator. Try to refrigerate it in a container that fits just the amount of pesto that you have. The less air in the container, the less brown the top of the pesto will get.
Freeze: Believe it or not, I usually freeze pesto in a freezer-safe resealable zip-loc bag. Be sure to squeeze as much of the air out as you can first, before sealing it.
You can also freeze pesto in ice cube trays. Once frozen, place the cubes of pesto in a freezer safe bag or container to freeze.
Expert Tips
Fresh basil, garlic, parmesan, salt, and pepper all contribute equally to the incredible flavor of this basil pesto. Any substitution that you make to these ingredients will affect the flavor.
A small personal sized blender or food processor will work great for this.
This recipe does not make enough to cover the blades of a low-profile Vitamix blender (with a wide base).
If you have a low-profile Vitamix blender, I recommend using the personal cup adapter (if you have one) that fits on your Vitamix.
If you are going to use this pesto with another salty ingredient (like tortellini), I suggest cutting back on the salt in this recipe. You can always add more later.
One serving is ¼ cup which is the same as 2 ounces of pesto.
Questions You May Have
Is it worth making your own pesto?
I certainly think it is! Homemade pesto is often lighter in texture than store-bought (not as dense). It is also much brighter in color which makes it more visually appealing. And, because the ingredients are fresh, you will definitely notice a flavor difference as well.
What's a good sub for basil in pesto sauce?
This is a tricky question to answer. While you can substitute basil with spinach or another similar green, leafy vegetable, it will not taste the same. I suggest using at least a small amount of fresh basil leaves and substituting the rest with spinach, if necessary.
Can you use the basil stems in pesto?
Yes, you can! I actually had to look this question up for myself because the stems are rather long in the packages that I bought from Trader Joe's a few weeks ago.
Should basil be washed before making pesto?
Yes. Rinse fresh basil leaves to get any remaining dirt or bugs off. Then, simply pat to dry. There is no need to soak or immerse the basil leaves in water.

If I will be making pesto right away, I don't always pat the basil leaves first and it still worked. So, drying is not necessary if you've already measured the basil and will be using it right away.
More Easy Italian Inspired Recipes
Did you make this pesto without pine nuts and love it? I hope so! Please let me know by giving it a 5-star rating or by commenting below.
Don't forget to let me know how you decide to serve it. And if you take a pic, post it and tag me @carrots.and.cookies on Instagram or @ Carrots & Cookies on Facebook so I can see it!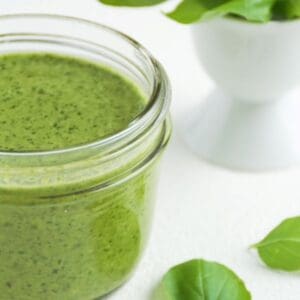 Easy Pesto Without Pine Nuts
You will absolutely love this lighter pesto without pine nuts recipe that is made with the perfect amounts of fresh basil and garlic, while using less oil. And it only takes 5 minutes!
Ingredients
Instructions
Add all ingredients to the blender. See notes.

Blend until all ingredients are combined. This should take 30-60 seconds.
Notes
Put the ingredients in the blender in order, making it so the garlic cloves are close to the blades and the basil leaves are furthest from the blades before blending.
In other words, if using a blender cup that you end up putting upside down to blend, add them in the order listed. If your small blender is an upright blender, add them in the opposite order.
This pesto recipe blends fast. If you prefer to see small specks of basil in your pesto, blend just until all ingredients are combined, which will only take about thirty seconds. 
For optimal flavor, use toasted walnuts. 
This recipe calls for freshly grated parmesan. To save time, you can use grated Parmesan Reggiano instead (I buy it in bulk from Costco and store it in my freezer). 
The least expensive basil I have found is at Trader Joe's. I've used the hydroponic basil from my local grocery store, too, and it was double the cost for the same amount of basil leaves. 
If you are going to use this pesto with another salty ingredient (like tortellini), I suggest cutting back on the salt in this recipe. You can always add more later.
Nutrition
Serving:
0.25
cup
Calories:
157
kcal
Carbohydrates:
2
g
Protein:
3
g
Fat:
16
g
Saturated Fat:
3
g
Polyunsaturated Fat:
4
g
Monounsaturated Fat:
9
g
Cholesterol:
5
mg
Sodium:
402
mg
Potassium:
77
mg
Fiber:
1
g
Sugar:
0.2
g
Vitamin A:
689
IU
Vitamin C:
3
mg
Calcium:
85
mg
Iron:
1
mg