Looking for an easy and delicious way to change up your snack or appetizer routine? I've got you! You will absolutely love this yummy, garlicky, lemony, and delicious edamame hummus recipe that's made with simple ingredients and ready in just 10 minutes, max.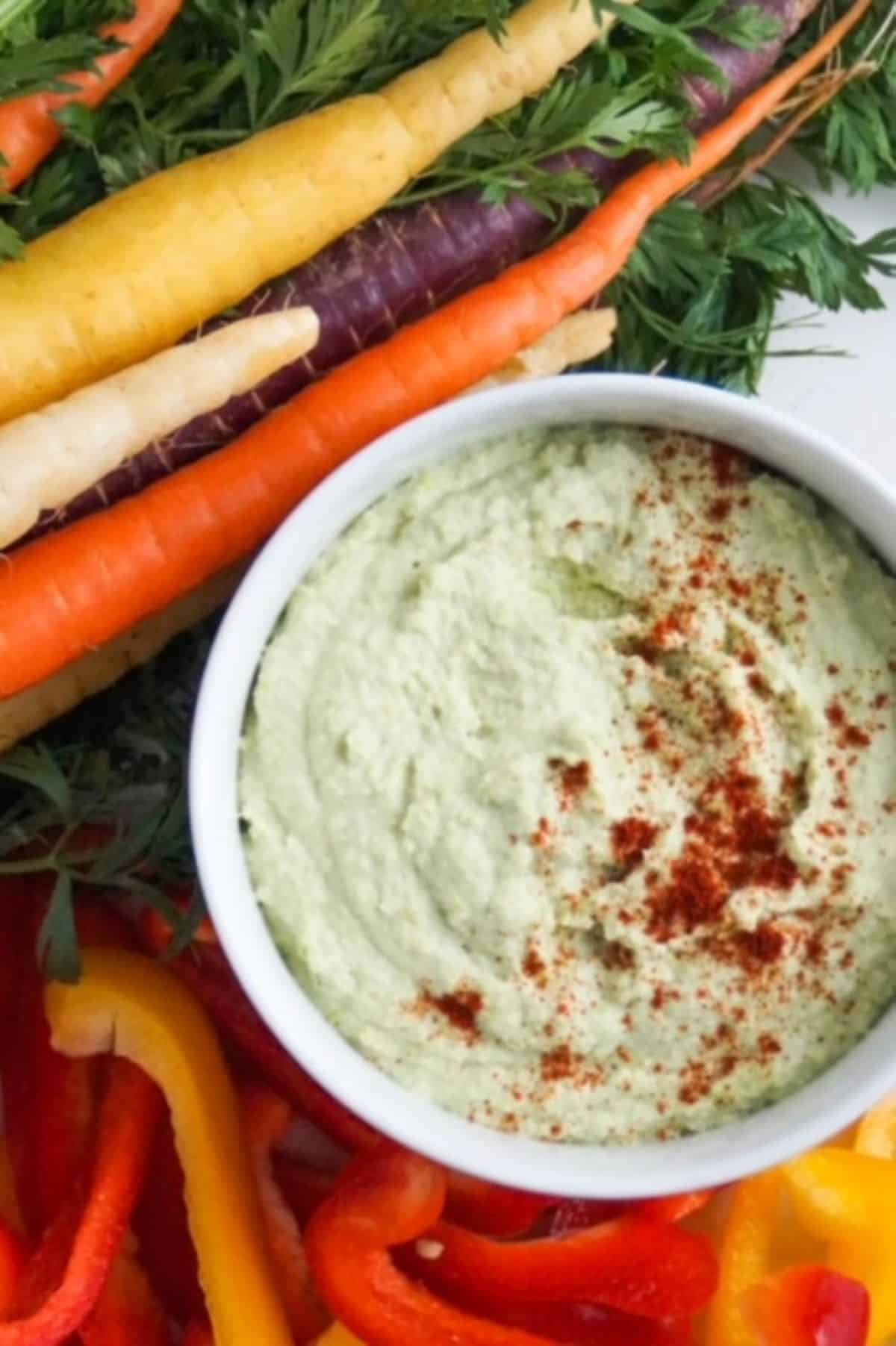 Have you made my 4-Ingredient Guacamole recipe? If so, you know I don't mess around with a good dip. This smooth and creamy edamame dip is no different (seriously, it's SO good!).
This hummus recipe has a light green color and is easy enough to make on busy weekdays, while fancy enough to serve as part of a fancy crudité platter. Just serve it with veggies, in a wrap, or with pita chips and you'll be set.
In fact, I whipped this up to bring to a Christmas Eve party and was asked for the recipe, so I figured I should share it with you, too! Even the teenagers loved it, so you know it has to be good;)
And while I do love cooking with avocado, it's fun to change things up and still get a fun green color from other foods, like edamame. Plus, edamame is a good source of protein and fiber which will help you feel full longer.
Jump to:
What is Edamame?
Edamame are soybeans that are harvested before they mature, while they are still green. Edamame is grown in a pod. The pod is not edible, but the hulled edamame is.
What is Hummus?
Hummus is a Mediterranean dish that is typically served as a dip or spread. Hummus quite literally means "chickpeas" or "chickpeas with tahini" and is often made by using chickpeas, tahini, garlic, lemon, and olive oil.
So, while this is technically not a 'regular hummus' recipe because I opted to use edamame in place of chickpeas (both are legumes), I do believe it will quickly become your new favorite hummus recipe. Plus, it's made with all of the other ingredients you would expect, so I figured it meets enough of the criteria to be called hummus. Like how I justified this? 😉
How to Serve Edamame Hummus
Serve edamame hummus just like traditional hummus, typically as an appetizer or snack. Here are a few ideas of how to serve hummus that I thought of. If you have a favorite way to serve hummus, please let me know in the comments!
As a dip with raw or blanched veggies.
As a dip with pita chips, whole grain crackers, or tortilla chips.
As a spread with wedges of pita bread.
As a spread on a wrap.
As a spread on a sandwich.
Thinned out with a light broth and used as a unique pasta sauce.
Thinned out and used as a salad dressing.
In a pita with falafel.
Dietitian Tips
Most kids love dip, whether it's ranch dressing or hummus. There's just something about it (and I personally think it's the salt, lol), so we, as parents, should not just roll with it but also take advantage of it 😉
While there's nothing wrong with serving a small side of ranch with veggies, a heartier dip like this edamame hummus, is an easy way to get extra fiber, protein, and other nutrients like vitamins, minerals, and isoflavones. In other words, it helps to complete a snack, or meal.
Serving different dips is also a great way to expose kids to different foods and see that food can be fun. This dip is green, so it's especially fun to serve on St Patrick's Day, paired with red veggies to be served around Christmas, and when the Philadelphia Eagles are playing, just saying;)
My last tip is this: learn to speak your kids' language when it comes to talking about food. For instance, if your teenager is 'obsessed' with protein, use the angle of, "hey! you should try this new dip I made. It's made with edamame which is a plant protein." Or, if your kids love hummus but are leery about trying foods that are green, instead of describing it, say something like, "I made a new hummus recipe. I think you'll really like it."
Ingredient Notes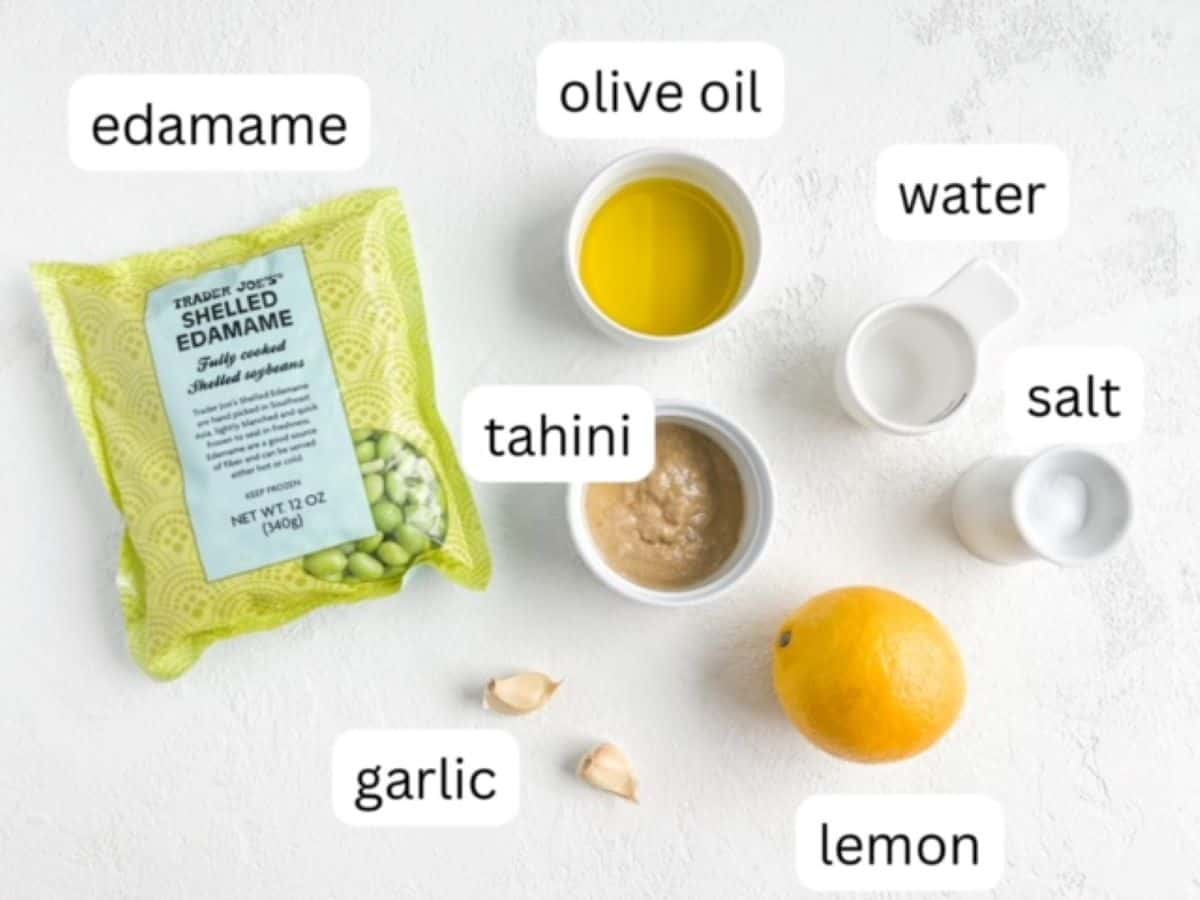 Edamame Frozen shelled edamame can be found in the frozen section of most grocery stores near the frozen peas.
Tahini Ground up hulled and toasted sesame seeds. It has a thick paste-like consistency. Tahini has a unique flavor that sets hummus apart from other dips. Contains a variety of nutrients in including protein, unsaturated fats, minerals (like manganese) and lignans.
Lemon juice Use fresh lemon juice for the best flavor. Lemon is high in vitamin C.
Olive oil Use extra virgin olive oil. Good source of monounsaturated fats.
My Shelled Edamame Pick
I always buy extra bags of frozen shelled edamame to keep in the freezer. Frozen edamame beans defrost easily and can be used in a variety of recipes.
SHOP NOW
Photo Credit: amazon.com
Step-by-Step Instructions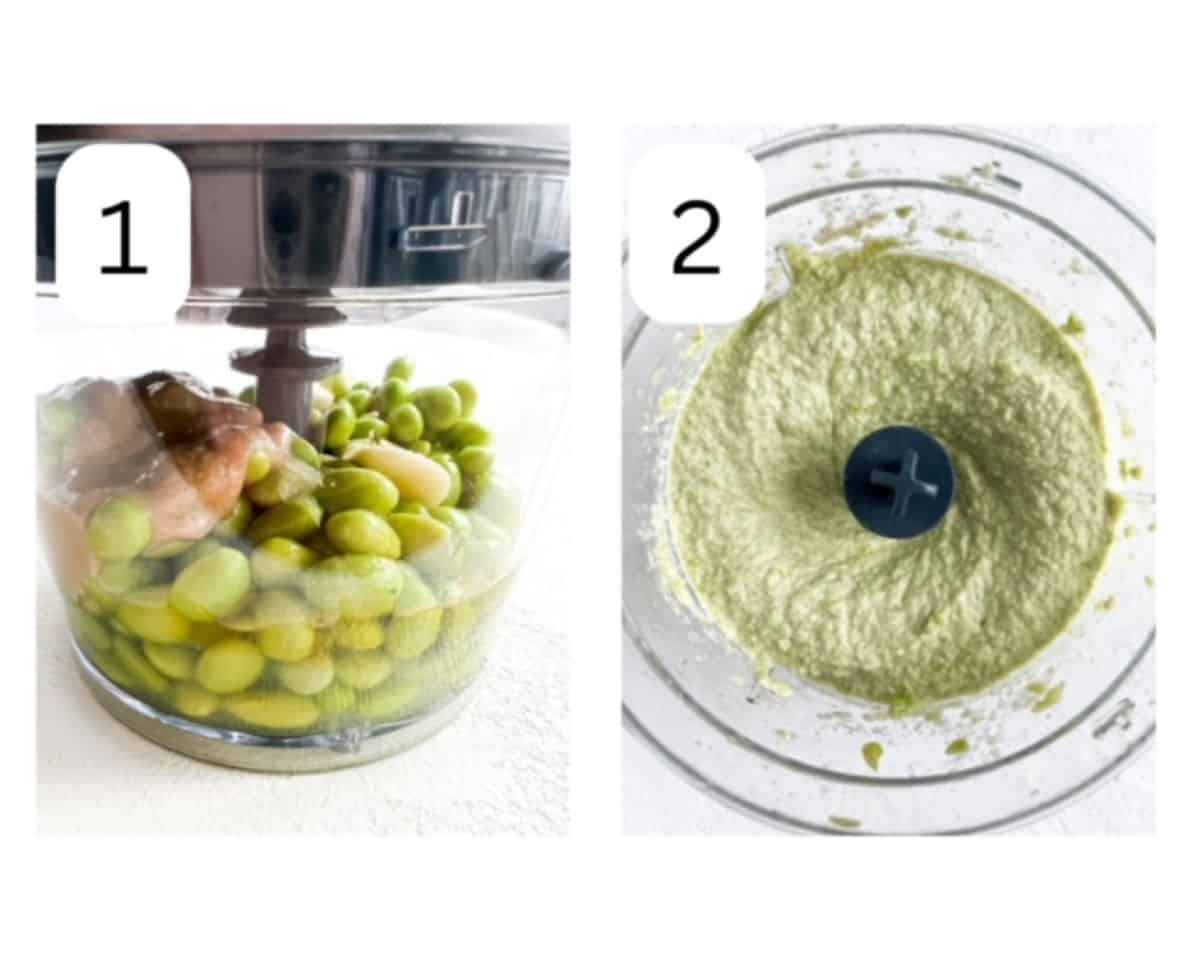 You're going to love this recipe, especially when you see how easy it is to make! Here is a super brief summary of how to make edamame hummus. For a complete list of ingredients and detailed instructions, scroll down to the recipe.
Place all ingredients in a small food processor (add the edamame last) and blend until mixture is smooth.
Scoop it into a small serving bowl to serve, or in an air-tight food safe container and refrigerate. That's it!
Expert Tips
Defrosting frozen, shelled edamame is easy. I place mine in the refrigerator the day before, or let it sit out on the counter for about an hour to defrost. Of course, you could also follow the instructions on the package.
For optimal flavor, use fresh garlic and fresh lemon juice.
Feel free to adjust the amounts of garlic, lemon, tahini and/or salt to your liking.
Keep a small spatula handy for scraping down the sides as needed.
If using a blender to make this hummus, add the ingredients so that the liquids come in contact with the blades before the edamame. For instance, when I use my Vitamix Single Serve container, I add the tahini and liquids last because I end up placing the single serve container upside down in order to blend.
I have made this hummus recipe with my personal cup adapter (the product linked here only works on certain models) on my low profile Vitamix blender AND with the Chopper Attachment that comes with the Cuisinart Smart Stick. They both worked wonderful.
If you have a low profile Vitamix blender, this recipe will only work if you double the recipe because of the wide blending base.
If you double the recipe and don't feel like measuring out so many tablespoons, you can convert tablespoons to cups to save time. For instance instead of measuring out 6 tablespoons of tahini, you'll be able to measure out one-quarter of a cup and then add two more tablespoons.
Questions You May Have
How do you store hummus?
Store hummus in a food safe container with a tight-fitting lid and refrigerate.
What can I use in place of tahini?
While some will suggest using peanut butter as a substitute, using peanut butter in this recipe will likely give it an undesirable color. Still, you absolutely can try it.

Others have used avocado in place of tahini with success. If you find a tasty way to make hummus without tahini, please let me know!
Where can I find tahini?
Tahini can be found in the international aisle at most grocery stores. Trader Joes' even sells it.
Is hummus gluten free?
From what I understand, traditional hummus is gluten-free. Still, there are so many variations of hummus now that you should always check the ingredients to be certain.

This hummus recipe is a gluten-free, vegan recipe.
Where can I buy edamame?
Not all grocery stores sell fresh edamame, but most do sell it frozen. You should be able to buy frozen, shelled edamame at your local grocery store. Look for it in the freezer section, near the frozen peas. That's where it is in my grocery store.
More Easy Appetizer Recipes
More Easy Snack Recipes
Did you make this hummus and love it? Did you use it as a dip, spread, or both? Comment below and/or tag me on Instagram to let me know!
As always, a 5-star rating is appreciated and it's the best way to let others know how much you enjoyed this recipe!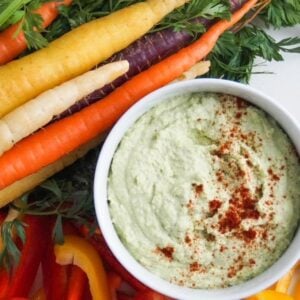 Easiest Edamame Hummus
This incredible edamame hummus is made in less than 10 minutes with the perfect proportions of tahini, fresh lemon, and garlic to give you the texture and flavors you'll just love.
Instructions
Place all ingredients in a small, personal-sized blender or food processor, or electric food chopper, making it so that the edamame is furthest from the blades before blending.

Blend until a smooth and even consistency is reached. It will still be slightly gritty in texture.
Notes
Let frozen edamame defrost completely before blending.
Taste the hummus before you serve or store it. You may want more salt, lemon, or tahini depending on your flavor preference. 
If you add extra tahini, you may need to add a small amount of additional water, too.
If you don't love garlic, start with two cloves instead of three. 
You may need to pause blending to scrape the sides, so keep a small spoonula or spatula on hand just in case. 
I have made this hummus recipe with my personal cup adapter (the product linked here only works on certain models) on my low profile Vitamix blender AND with the Chopper Attachment that comes with the Cuisinart Smart Stick. They both worked wonderful.
If you have a low profile Vitamix blender, this recipe will only work if you double the recipe because of the wide blending base.
Hummus can be served so many ways! Hummus can be served as a dip with veggies or pita crackers, as a spread on a sandwich or wrap, or thinned out and used as a salad dressing or pasta sauce.  
Nutrition
Serving:
2
tablespoon
Calories:
86
kcal
Carbohydrates:
5
g
Protein:
3
g
Fat:
6
g
Saturated Fat:
1
g
Polyunsaturated Fat:
1
g
Monounsaturated Fat:
3
g
Sodium:
196
mg
Potassium:
138
mg
Fiber:
1
g
Sugar:
1
g
Vitamin A:
4
IU
Vitamin C:
3
mg
Calcium:
29
mg
Iron:
1
mg