Hello, easy! In just ten minutes you will have this kid-favorite, super simple, and delicious Tuscan kale salad ready to serve! It's a perfect side for busy weeknights, school lunches, and for when feeding a crowd.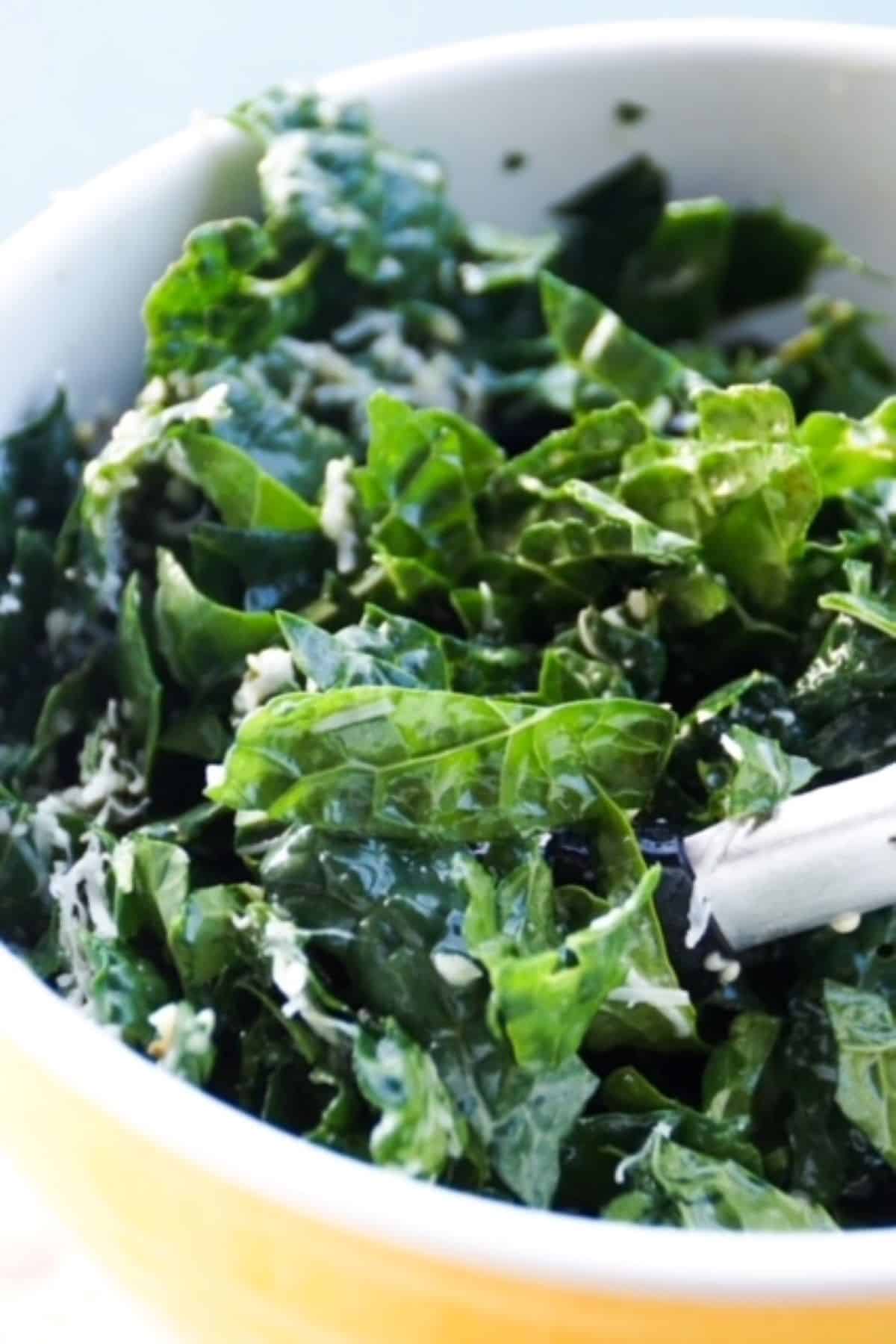 Seriously, this is a salad that your kids will look forward to having, even in their lunches! It really is THE BEST!
Aside from being a delicious addition to lunches, it's also a perfect side to serve with dinner. In fact, this easy kale salad pairs nicely with marinated chicken and turkey burgers!
Why This Recipe is so Great
Inspired by the Tuscan Kale Salad served at my absolute favorite restaurant, True Food Kitchen, this salad is just perfect to serve with any meal, any time of year!
Quick and easy recipe.
Can be made ahead of time.
Great salad for meal prep.
Can easily be turned in to a complete meal by topping it with a protein (like salmon, chicken, or hard-boiled egg) and a hearty piece of bread.
Kale strips are just the right size for kids.
Hemp hearts are used in place of breadcrumbs.
What Is Cavolo Nero?
Cavolo nero is a variety of kale that has been used in Italian cuisine for hundred of years, especially in regions like Tuscany. This variety of kale has been grown in Tuscany for centuries and is an ingredient in many traditional foods.
Cavolo nero is also known as Tuscan kale, Lacinato kale (grocery stores often label it as this), Italian kale, dinosaur kale (because some think it looks like the skin of dinosaurs), palm tree kale, or black Tuscan palm.
Most commonly called Tuscan kale in the United States, this type of kale has a deeper color and is more tender than curly kale. The hardy texture of Tuscan kale makes it perfect to be used in salads.
Ingredient Notes
Cavolo Nero (Tuscan Kale) This ingredient is high in fiber, vitamins A, K, and C. Tuscan kale also contains vitamin B6, calcium, potassium, copper, and manganese. So good for you!
Lemon Juice Use freshly squeezed lemon juice. It adds flavor, softens the kale, and provides vitamin C.
Hemp Hearts Hemp hearts provides omega-3 fatty acids and protein. They also contain fiber, potassium, iron, and more.
Garlic Use fresh garlic. Mince garlic using a garlic press. Or, by hand using a sharp paring knife.
Olive Oil I use extra virgin olive oil. Olive oil contains polyphenols, with the most found in extra virgin olive oil. Additionally, olive oil is rich in monounsaturated fats and contains antioxidants that contribute to its anti-inflammatory properties. It also has an excellent flavor that compliments this kale salad so well.
Parmigiano Reggiano Cheese Added for a richer flavor. You can either shred your own or, to save time, use pre-shredded parmesan. Costco's pre-shredded Parmigiano Reggiano cheese works very well in this recipe!
Step-by-Step Instructions
Here's a quick overview of the steps to make this kale salad. For the full list of ingredients and instructions, scroll down to the recipe.
Remove the thick middle rib from the center of washed kale.
Cut kale in to small pieces. This step is key to making this salad easier for kids to eat!
Make the dressing by winking the fresh lemon juice, extra virgin olive oil, garlic, and a pinch of salt and pepper in a separate small bowl.
Pour dressing over kale. Toss to coat the kale.
Sprinkle the Parmigiano Reggiano cheese and hemp hearts on top of the salad. Toss again. Enjoy!
Expert Tips
Kitchen scissors are, hands down, my most used kitchen tool! They work perfectly for cutting kale into pieces!
The quickest way I have found to cut kale is to layer a few pieces of kale at a time, roll the kale up (as you would roll up a yoga mat), and carefully use kitchen scissors to cut the kale into pieces.
One bunch of Tuscan kale should yield 4-5 cups of cut kale.
Fresh squeezed lemon and freshly minced garlic are essential in making this dressing - so good!
Although this salad can be served right away, I do suggest letting it sit (covered) in the refrigerator for at least 10-15 minutes before serving.
Recipe FAQs
What do you serve kale salad with?
Another thing that makes this the best kale salad is that it can be served with pretty much anything! Serve it along side of a sandwich, a burger, grilled cheese... you name it!
Tuscan salad can also easily be turned into a main meal by topping it with protein. In fact, salmon, chicken, and hard boiled eggs taste terrific with this salad.
Now, if your kids are pretty adventurous with food and you are really looking for nutrient density, you can try topping the salad with roasted red beets (chilled). Delicious!
Can kale salad be made ahead?
Yes! This salad can easily be made in advance and stores well in the refrigerator for 2-3 days.
And, because this kale salad stores well, it makes a nice addition to school lunches. This is one of my son's favorite salads and he loves it when there is enough leftover to have some packed in his school lunch!
What are hemp hearts?
Hemp hearts, shelled hemp seeds, and hulled hemp seeds are one and the same. When the outer shell of the hemp seed has been removed, you are left with the softer, chewier inner seeds.
Many Tuscan kale salad recipes call for breadcrumbs. In my experience, the breadcrumbs get soggy and make the salad less desirable to eat the next day. So, I use hemp hearts instead!
More Salad and Dressing Recipes for Kids
Did you try this healthy Cavolo Nero Salad? Tell me how it went! Leave a comment below.
Follow me on Pinterest for more healthy, kid-friendly recipes and meal inspiration!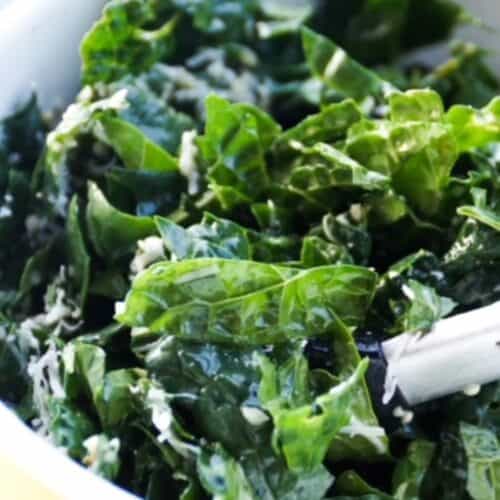 Cavolo Nero Salad (Tuscan Kale Salad)
Made with Tuscan kale, fresh lemon, fresh garlic, olive oil, fresh Parmesan, and hemp hearts, this easy kale salad recipe is the best! It's healthy AND it's a kid favorite!
Ingredients
Instructions
Remove the thick middle rib from the center of washed leaves of Tuscan kale

Cut kale into small pieces and place in a medium sized bowl

In a small bowl, whisk lemon juice, garlic, extra virgin olive oil, salt, and pepper together to make the dressing.

Pour dressing over the kale and toss well

Sprinkle the cheese and hemp hearts on the top of the salad and toss one last time

Let sit for 10-15 minutes before serving (optional)
Notes
Removing the thick middle rib from each kale leaf, using fresh garlic and fresh squeezed lemon juice are the keys to making this salad taste amazing!
Kitchen scissors work perfectly for slicing kale into small pieces.
You can use either freshly grated or pre-grated Parmigiano Reggiano cheese.
This salad can be made ahead of time. It can also be refrigerated to be consumed within three days.
If you can't find Tuscan kale, you can substitute curly kale or even spinach!
Nutrition
Calories:
84
kcal
Carbohydrates:
5
g
Protein:
3
g
Fat:
7
g
Saturated Fat:
1
g
Polyunsaturated Fat:
1
g
Monounsaturated Fat:
4
g
Cholesterol:
1
mg
Sodium:
38
mg
Potassium:
189
mg
Fiber:
1
g
Sugar:
1
g
Vitamin A:
3394
IU
Vitamin C:
48
mg
Calcium:
73
mg
Iron:
1
mg