With the perfect combination of color, crunch, and taste, this salad really can't be beaten! Top it with Strawberry Vinaigrette and you will have found yourself your new favorite summer salad!
What salad greens should I use?
Baby spinach, arugula, spring mix... they all work well! Although it's not a must, I suggest using a mixture of greens. Doing this will add a variety of colors, nutrients, and texture.
Salad greens, especially the darker leafy ones, are nutrient power-houses!
Spinach is well known as a 'winner' when it comes to a salad green that is nutrient-dense. This is because spinach provides a good source of iron, folate, potassium, vitamins A, C, and K. Did you know that spinach also contains protein? Amazing!
Arugula provides an excellent source of folate, calcium, zinc, and vitamins A, C, and K. While not as 'high on the list' as spinach when it comes to nutrient-dense salad greens, arugula still contributes a lot of nutritional value!
Kids especially tend to enjoy salads more when a softer green is mixed in with a heartier green (like spinach and arugula).
Spring mix salad greens are much softer in texture which makes it easier to chew. They are considered 'baby greens' which is why they are more tender than their more mature counterpart.
Spring mix salad greens may not be as nutrient-dense as darker greens, but if it brings my kids (or anyone, for that matter) to increase their vegetable/nutrient intake, then I am all for it!
Strawberries
Fresh strawberries are so refreshing! They add a lovely color and a pleasant texture to this salad. Their sweetness combined with the salt from pistachios really make this salad rather amazing!
Strawberries are also nutrient-dense, providing fiber, antioxidants, a variety of vitamins, manganese, folate, and more!
Pistachios, Hemp Hearts, and Microgreens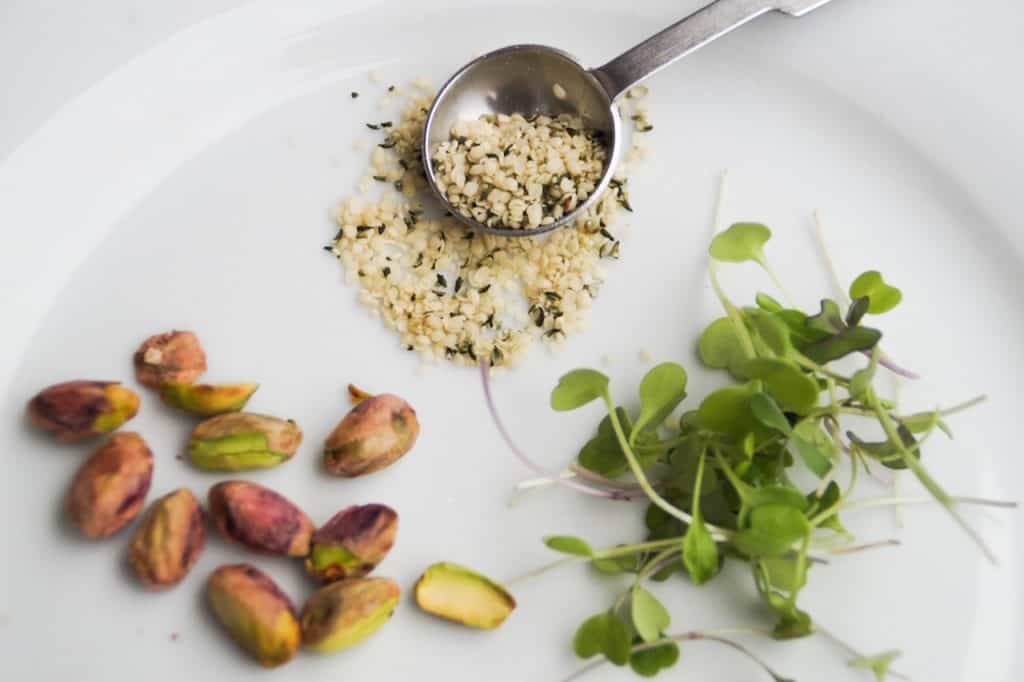 Pistachios
Pistachios add a nice crunch and a touch of salt to this delicious salad! They also contribute monounsaturated fat (aka: healthy fat) and protein which will help you feel full longer!
Of course, if you are allergic to pistachios, please leave them out. Otherwise, toss them on your salad and enjoy!
Hemp Hearts
Hemp hearts add a nutty flavor and soft texture. You can add them to almost any dish and they won't disappoint!
Did you know that hemp hearts, shelled hemp seeds, and hulled hemp seeds are one and the same? When the outer shell has been removed, you are left with the softer, chewier inner seed. Yum!
From a nutrition perspective, they are a source of Omega-3 fatty acids and protein. They also contain fiber, potassium, iron, and more. Enjoy!
Microgreens
Microgreens are not only nutrient-dense, but they look so fancy! Microgreens really add a nice touch to any dish!
If you are lucky, you will find microgreens in your local grocery store. Whole Foods typically carries them and some (but not all) Trader Joe's stores sell them.
Check out your local farmer's market as well. If you are unable to find them, it's okay. This salad will still be great (and still super healthy) without them!
Perfect Summer Salad
This super healthy salad made with strawberries and pistachios is full of color, crunch, and taste!
Ingredients
1 ½

cups

salad greens

spring mix, baby spinach, arugula, washed and drained

¼

cup

sliced strawberries

1

tbsp

pistachios

1

tsp

hemp hearts

2

tbsp

microgreens
Instructions
Lay salad greens on a plate or in a bowl

Break greens into smaller pieces either by hand or by using kitchen scissors

Top with remaining ingredients
Notes
There is no need to worry if you are missing an ingredient. This recipe is very flexible.
Nutrition
Calories:
94
kcal
Carbohydrates:
7
g
Protein:
5
g
Fat:
6
g
Saturated Fat:
1
g
Polyunsaturated Fat:
3
g
Monounsaturated Fat:
2
g
Sodium:
16
mg
Potassium:
240
mg
Fiber:
2
g
Sugar:
2
g
Vitamin A:
752
IU
Vitamin C:
36
mg
Calcium:
30
mg
Iron:
2
mg