Made with simple ingredients and ready in fewer than thirty minutes! Your kids will love these turkey burgers so much that they will want leftovers for lunch. Simply serve it with homemade guacamole and easy air fryer tortilla chips, and dinner is set!
Say 'hello' to your newest favorite quick and healthy dinner option!
These really are the BEST turkey burgers! The amazing flavors and textures of the ingredients blend together just perfectly!
Have you heard the saying "everything is betta with feta"? Haha! With this recipe, it's true! Your kids will love them!
For more easy and healthy dinner ideas, check out my chicken enchilada dish, bean and rice casserole, marinated chicken , and easy Asian noodle bowl recipes!
Why I Love This Recipe
It's no secret that most kids love 'burgers' and these turkey burgers are no exception!
It's incredibly easy.
Ready in under thirty minutes.
Can be cooked in a skillet on the stovetop or on the grill.
The flavor of feta does not stand out in this recipe, so even if you and/or your kids don't love feta, you should still try these!
Easy to reheat as leftovers.
To pack these in school lunches, simply reheat a turkey burger in the morning and put it in a thermos. Pack a burger roll separately, and their 'main' meal is set.
Ingredient notes
Ground turkey Good source of protein. 99% lean ground turkey is technically the "healthiest" option. Although less 'lean' ground turkey is higher in saturated fat, it is usually less expensive and it adds more moisture to the burgers. The choice is yours.
Spinach Cooked and drained. Spinach adds a nice color to the burger and it also gives you an extra dose of iron, vitamin A, vitamin E, zinc and fiber.
Feta Cheese I suggest buying a block of feta to use in this recipe.
Egg White Good source of protein. Egg helps bind these burgers together.
Worcestershire Sauce Added for flavor.
Garlic Powder Added for flavor.
Steps To Make This Recipe
Here's a quick overview of the steps to make these easy turkey burgers. For the full list of ingredients and instructions, scroll down to the recipe.
Add all ingredients to a medium sized mixing bowl.
Mash ingredients together well. I use a meat and potato masher for this step.
Pack turkey mixture into a one-third measuring cup.
Place turkey mixture onto a hot skillet or grill pan. Press mixture down slightly with the bottom side of a fork to form a burger patty.
Sprinkle the top of each patty with garlic powder and cook for about 4 minutes on each side, or until the internal temperature reaches 165 degrees Fahrenheit.
Notes and Tips
Cooking time will vary depending on the size of the burgers and heat setting of your stove top.
When doubling the recipe, you can use one whole egg instead of two egg whites, for less waste.
The quickest, most simple and effective way I have found to get water out of cooked spinach is to use a small mesh strainer - you simply put the cooked spinach in the mesh strainer and press down with a fork or spoon. That's it!
I do not recommend using feta crumbles because they won't blend in quite as well.
Blocks of feta typically have a longer shelf life and offer fewer ingredients than the crumbles - just a few added benefits of using blocked feta!
In general, feta cheese is lower in saturated fat than American and Cheddar cheeses.
Cooking tip: toss sliced onions and mushrooms on the pan while the burgers cook for a grilled veggie effect. They make excellent toppings! So does Avocado!
Dietitian Mom Tip
Having the right kitchen tools can often save so much time and lessen stress with cooking. For this recipe, I use kitchen shears to cut the cooked spinach into smaller pieces, a meat and potato masher for mashing everything together, and a measuring cup to scoop and pack the mixture before I put it on the skillet. Find more of my most used kitchen tools in my Kitchen Gift Guide for Busy Families.
What to Serve with Turkey Burgers
Guacamole Either as a topping for your burger or as a side with chips.
A simple lettuce salad
Baked beans
Questions You May Have
What % ground turkey should I use?
This really depends on your (and your kids') preferences. Because fat adds moisture, the burgers will be the most moist if you use less lean meat. Still, spinach, feta, and Worcestershire sauce add moisture, so burgers will still be moist. What do I do? I often double the recipe and use one pound lean (99% lean) and one pound less lean (93%) ground turkey. Please note: the nutrition facts will vary depending on what type of ground turkey and feta cheese you use.
What do you serve with turkey burgers?
I suggest serving these delicious burgers with a side of chips and guacamole and/or fresh fruit salad.
Are turkey burgers gluten free?
Not all turkey burgers are. Some turkey burgers use gluten-containing ingredients like bread crumbs.

As for this recipe, if you use gluten-free Worcestershire sauce, then these turkey burgers are gluten-free.
Can these turkey burgers be cooked on the grill?
I suggest using a grill stone for cooking these on a grill (I use a Rockcrock grill stone from Pampered Chef). These turkey burgers may stick to the grill grates and end up falling apart, if place directly on the grill.
More Ideas for You
Did you try this Healthy Turkey Burger recipe? Tell me how it went! Leave a comment below.
Follow me on Pinterest for more healthy, kid-friendly recipes and meal inspiration!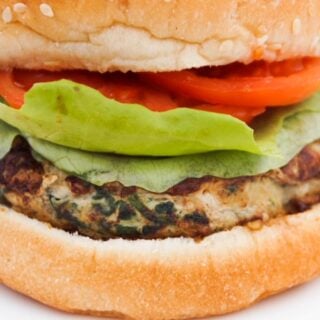 Easy Turkey Burger Recipe
These kid-approved turkey burgers are easy, healthy, and delicious!
Ingredients
3

cups

baby spinach

1

pound

ground turkey

lean

4

ounces

feta cheese

do not use pre-crumbled feta

1

egg white

1

teaspoon

Worcestershire sauce

one splash

¼

tso

Garlic powder
Instructions
Cook or steam spinach until wilted. Squeeze the spinach dry, or use a small mesh strainer to get the excess water out.

Put the cooked spinach, ground turkey, feta cheese, egg white, and a splash or two of Worcestershire sauce in a medium mixing bowl and mix/mash well. A meat or potato masher works well for this step.

Put ⅓ packed cup of the meat mixture on a hot and lightly oiled pan. Dust the top of the burger with garlic powder and cook for 4 minutes.

Using a small spatula, flip the burger over and cook for an additional 3-4 minutes, until the internal temperature reaches 165° F.
Notes
This recipe is easily doubled. If doubled, you can use one whole egg instead of two egg whites to minimize waste.
Use feta that comes in a block because it is easier to mash into the turkey meat and will blend in nicely. Crumbled feta will not blend as well.
Leftovers reheat well and are perfect for lunches, too!
Cooking time will vary depending on how many burgers will fit on your pan at one time.
Cooking tip: toss sliced onions and mushrooms on the pan while the burgers cook for a grilled veggie effect. They make excellent toppings! So does Avocado!
Nutrition
Calories:
212
kcal
Carbohydrates:
2
g
Protein:
32
g
Fat:
8
g
Saturated Fat:
5
g
Polyunsaturated Fat:
1
g
Monounsaturated Fat:
2
g
Cholesterol:
88
mg
Sodium:
419
mg
Potassium:
503
mg
Fiber:
1
g
Sugar:
1
g
Vitamin A:
2259
IU
Vitamin C:
7
mg
Calcium:
168
mg
Iron:
2
mg