With 5 ingredients and 10 minutes, you will have this absolutely delicious, thick, and creamy high protein smoothie bowl ready in no time!
I'll show you how easy it is to make at home and give you tons of easy topping ideas that kids love!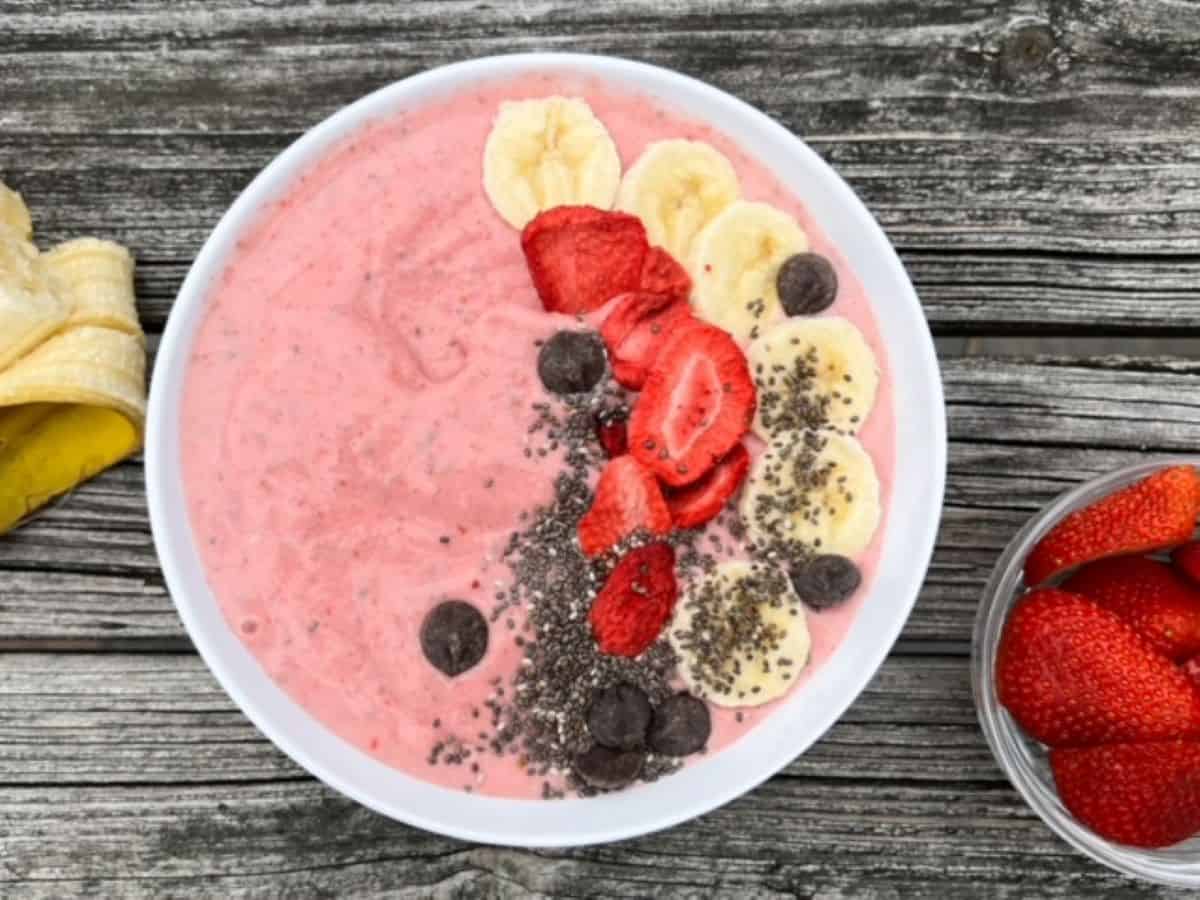 This strawberry banana smoothie bowl can be served as a breakfast smoothie bowl, for lunch, or as an after-school snack. No matter when you serve it, your kids will love it!
It's especially fun to serve this 'smoothie bowl bar' style. All you need to do for this is to set out a few different topping options and let your kids decide what they want to top their smoothie bowl with.
While setting out toppings can sound like a lot of work, it really isn't as long as you keep the options simples. As I've mentioned in my post that lists ways to eat granola, granola is a favorite smoothie bowl topping that you can have kids put on themselves.
Mini chocolate chips are another favorite smoothie bowl topping, especially for kids 😉
For another 'must try' smoothie bowl recipe, check out my Tropical Blue Smoothie Bowl - it's blue!
And if your kids love strawberries and bananas, you've got to make my Strawberry Banana Baked Oatmeal - it's one of our favorite plant-based breakfast options!
Jump to:
Why You'll Love This Smoothie Bowl Recipe
This refreshing smoothie bowl will 'hit the spot' with your kids! It's healthy, delicious, and the recipe is easily modified. Skyr, frozen banana, and chia seeds are used to achieve the perfect consistency for a smoothie bowl.
Quick and Easy Ready to serve in 10 minutes from start to finish.
5-ingredients.
Gut-healthy fruit breakfast recipe.
Can be served as a meal or as a snack.
Good source of protein and fiber, so it will help keep your kids feel full longer.
Kid-friendly Kids love to add toppings to this smoothie bowl for added crunch and flavor. Some of the most popular topping combinations I've seen include one or more of the following: granola, banana slices, strawberries (either fresh or freeze-dried), macadamia nuts, nut butter, chia seeds, coconut flakes, and chocolate chips.
Dietitian Tips
Toppings are really what make smoothie bowls so great from a kid's perspective. Allowing kids to choose what to top their smoothie bowl with will increase their acceptance by giving them ownership of what they are eating.
Many will choose to 'decorate' their smoothie bowl using toppings in a way that makes it more visually appealing for them. And they might just ask you to take a picture of it!
And serving a smoothie bowl as opposed to a smoothie is what makes it feel most like a meal. They can sit down, look at it, and use a spoon to eat it just as they would oatmeal or cereal.
Ingredient Notes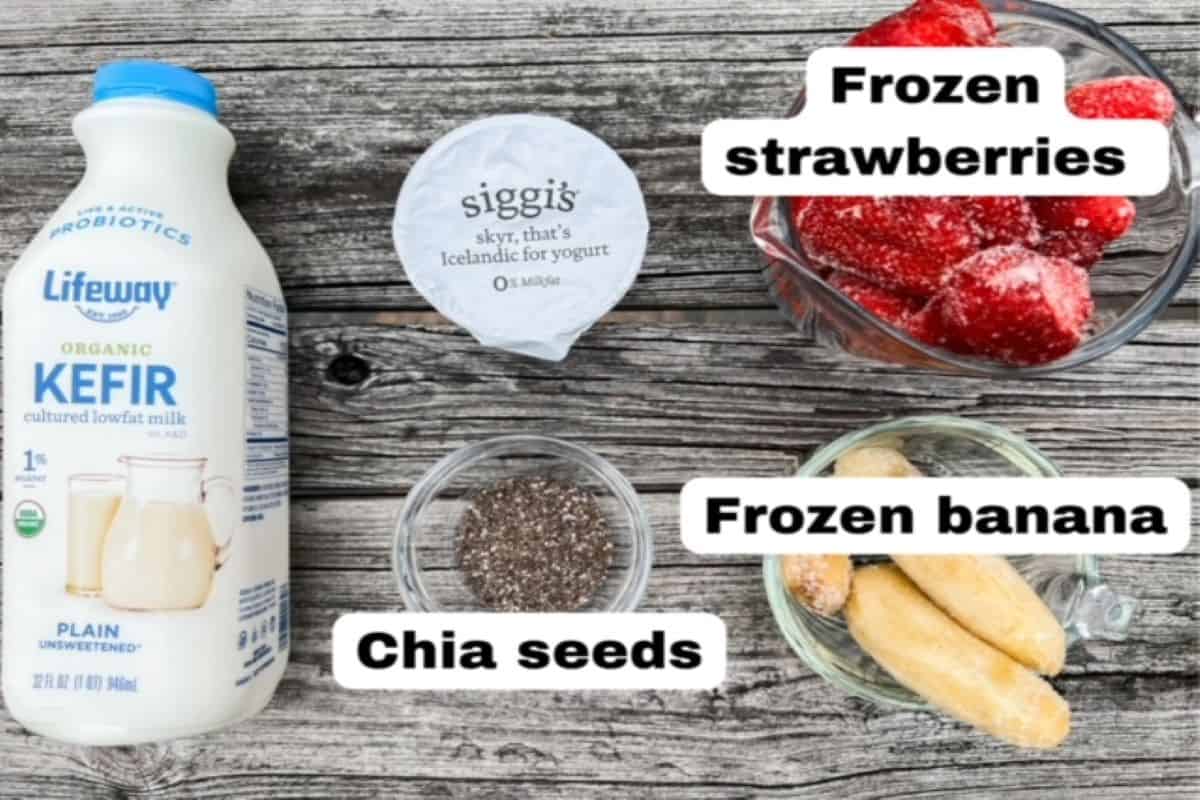 Frozen strawberries Strawberries are high in vitamin C, antioxidants, vitamins, manganese, folate, fiber, and more. Plus, they add a vibrant pink color when blended!
Chia seeds Contains Omega-3 fatty acids and fiber. Chia seeds also help thicken the smoothie bowl base.
Kefir Used as a liquid to help blend all ingredients together. Kefir is a fermented milk drink (we called it drink yogurt when my kids were little). It provides probiotics, protein, calcium, and vitamin D. Milk, milk alternatives, or even water can be used as a substitute, if needed.
Strawberry Skyr Thicker than Greek yogurt, which makes it the best for getting the perfect consistency for a smoothie bowl. Plus, it's super high in protein (about 27 grams of protein per cup).
Frozen Banana High in fiber and potassium. Using a frozen banana is key to achieving the consistency that kids love. Banana adds enough sweetness to the smoothie bowl, so there is no need to add additional sweeteners.
My High-Speed Blender Pick
Vitamix blenders are great for making smoothies and smoothie bowls that call for frozen fruit and minimal liquid. They are also easy to clean.
SHOP NOW
Photo Credit: amazon.com
Step-by-Step Instructions
Here's a quick overview of the steps to make this smoothie bowl. For the full list of ingredients and instructions, scroll down to the recipe.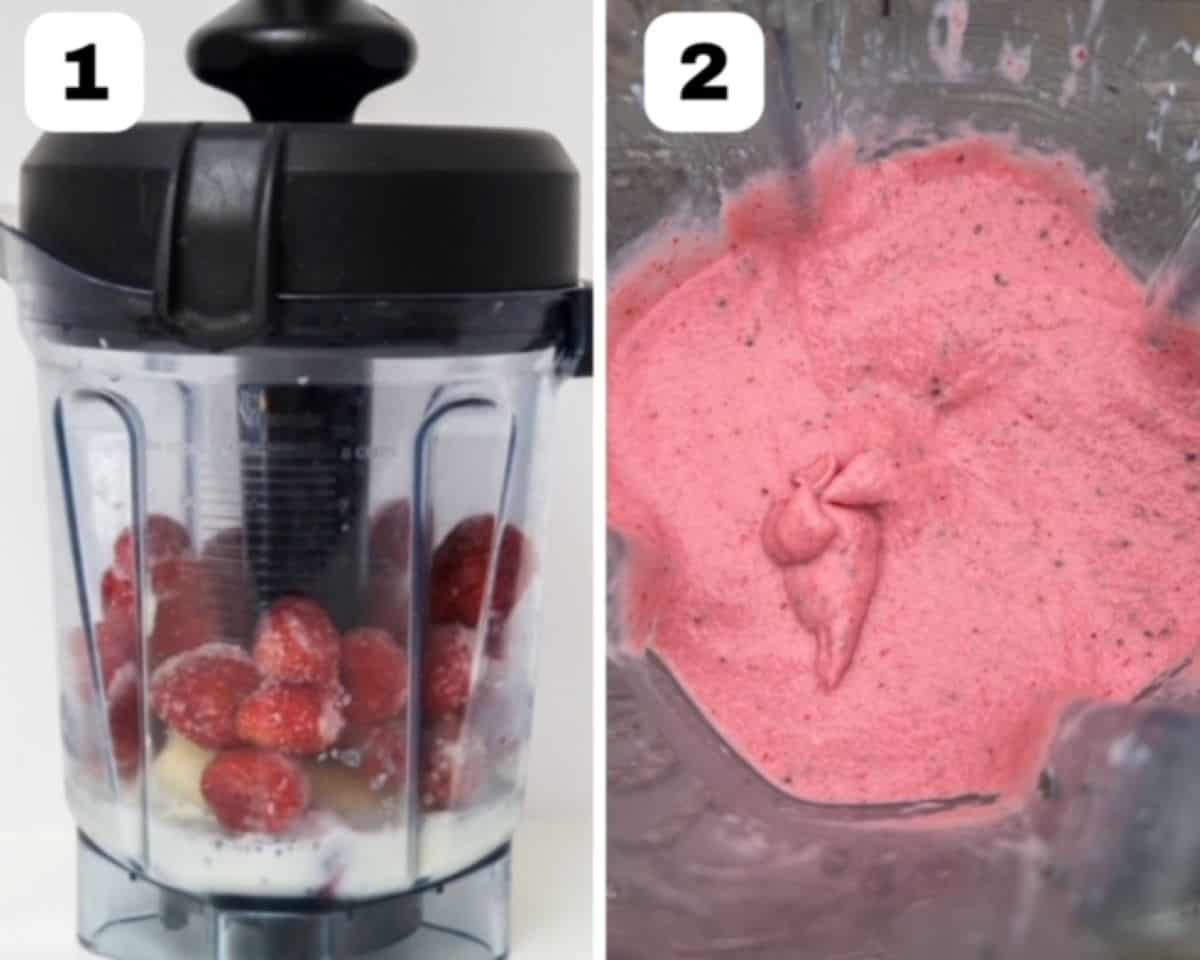 Add all ingredients to a high-speed blender in the order that they are listed in the recipe.
Blend until smooth, using the tamper that comes with your blender to keep the ingredients moving.
Scrape down the sides using a spatula or spoonula as needed.
Serve into bowls and add your kids' favorite toppings. So easy!
Expert Tips
Using a tamper helps combine all of the ingredients without over-blending. It works by breaking the air pockets that form in the corners of the blender.
Use only the tamper that is recommended for your high-powered blender. Using a tamper that is longer than recommended can damage both the blender and the tamper, and it may cause pieces of plastic (from the tamper) to get into your smoothie bowl.
If you need to scrape down the sides in the middle of getting it to your desired consistency, turn the blender off first. Resume blending once you have scraped the sides, removed the spatula, and put the lid back on.
Give your kids smoothie bowl topping options and let them add their own toppings.
Serve this smoothie bowl in a fun shaped bowl or in a natural coconut shell as another way to change it up for your kids!
If you can't find Skyr, you can use Greek yogurt instead. It won't be quite as thick, but it will still give a nice consistency.
You can use any type of milk or milk alternative in place of kefir.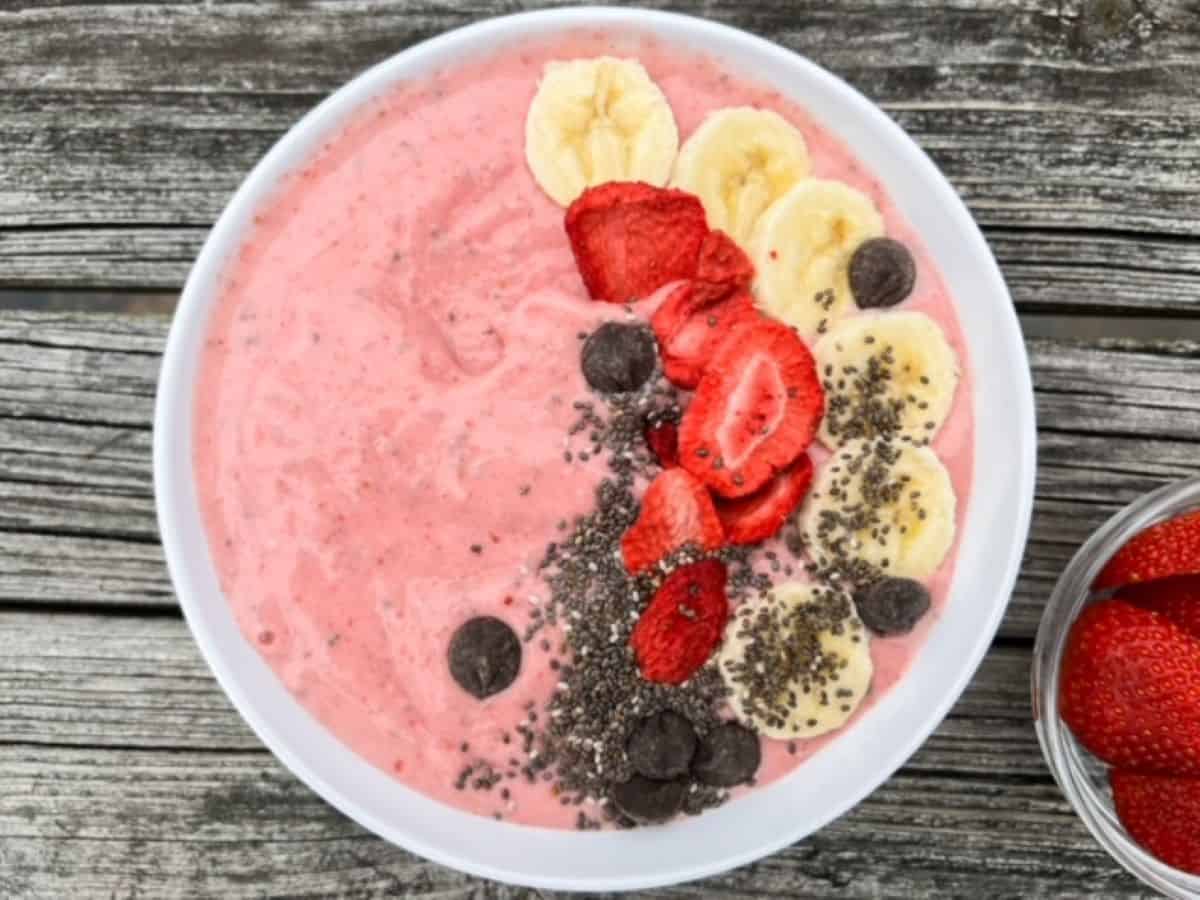 Questions You May Have
What is a smoothie bowl?
Smoothie bowls are made with more frozen ingredients and less liquid than smoothies. Smoothie bowls need to be eaten with a spoon because they are too thick to drink. The thick consistency allows toppings to be added and enjoyed without the toppings sinking to the bottom.
Can you freeze a smoothie bowl?
Yes, smoothie bowls can be frozen. To defrost a smoothie bowl, let it sit out on the counter until it softens enough to eat instead of putting it in a microwave.
What is the best blender for making a fruit smoothie bowl?
A high-speed blender works the best for making smoothie bowls with frozen fruit. I use a Vitamix to make smoothie bowls.
Delicious Smoothie Recipes
Did your kids love this smoothie bowl? Please leave a 5-star rating below or a review in the comments section!
Don't forget to snap a pic of their delicious smoothie bowl with all of their favorite toppings and tag @carrots.and.cookies on Instagram so I can see it. Enjoy!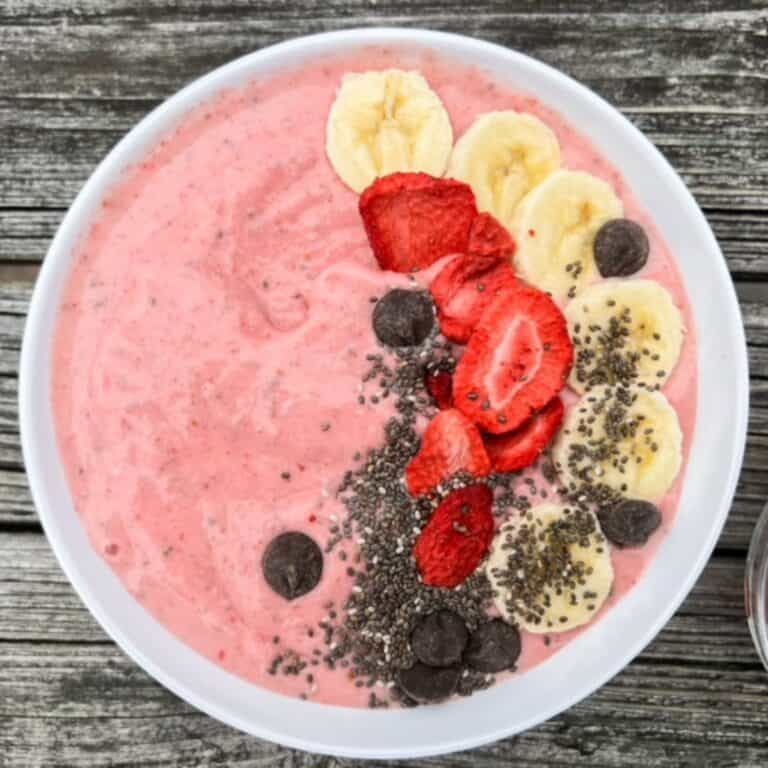 Easy Strawberry Banana Smoothie Bowl
With 5 ingredients and 10 minutes, you will have this incredible thick and creamy smoothie bowl ready in no time! It's high in protein and fiber, so it will help keep your kids feel full longer!
Equipment
1

Blender

High powered blender with a tamper.
Ingredients
5

ounce

Skyr*

One 5oz container of Strawberry Skyr.

⅓

cup

kefir

Plain, unsweetened.

1

tablespoon

chia seeds

1

banana

Over-ripe. Frozen.

2 ½

cups

strawberries

Frozen. One 10oz bag.
Instructions
Place all ingredients in a high powered blender in the order that they are listed.

Start blending on the lowest setting. Gradually increase the blending speed. Use the tamper that comes with your high powered blender to press the frozen strawberries and banana down into the blades and to keep the ingredients moving.

Blend until smooth.

Divide into bowls. Top with your kids favorite toppings and enjoy!
Notes
*Nutritional information is an estimate and is based on using Siggi's brand of Simple Ingredient Skyr, strawberry flavored. The database used to esimate nutritional information doesn't always recognize Skyr as an ingredient. In total, this recipe offers 13 grams of protein per serving.
If you can't find strawberry skyr, vanilla flavored will work, too.
Kefir can be substituted with milk.
Let your kids top their own smoothie bowls - it helps encourage independence in the kitchen.
Nutrition
Calories:
183
kcal
Carbohydrates:
30
g
Protein:
13
g
Fat:
3
g
Saturated Fat:
1
g
Polyunsaturated Fat:
1
g
Monounsaturated Fat:
0.2
g
Trans Fat:
0.01
g
Cholesterol:
10
mg
Sodium:
50
mg
Potassium:
466
mg
Fiber:
5
g
Sugar:
20
g
Vitamin A:
96
IU
Vitamin C:
74
mg
Calcium:
166
mg
Iron:
1
mg