Busy weeknight dinners have never tasted so good! In just 15 minutes you will have a complete and absolutely delicious one-pot meal that your kids will be begging you to make again and again!
Pesto, tortellini, chicken, and broccoli is what it's all about. Let me show you how easy it is to make my 'go to' meal for busy weekdays and how you can change it up depending on what produce you have on hand.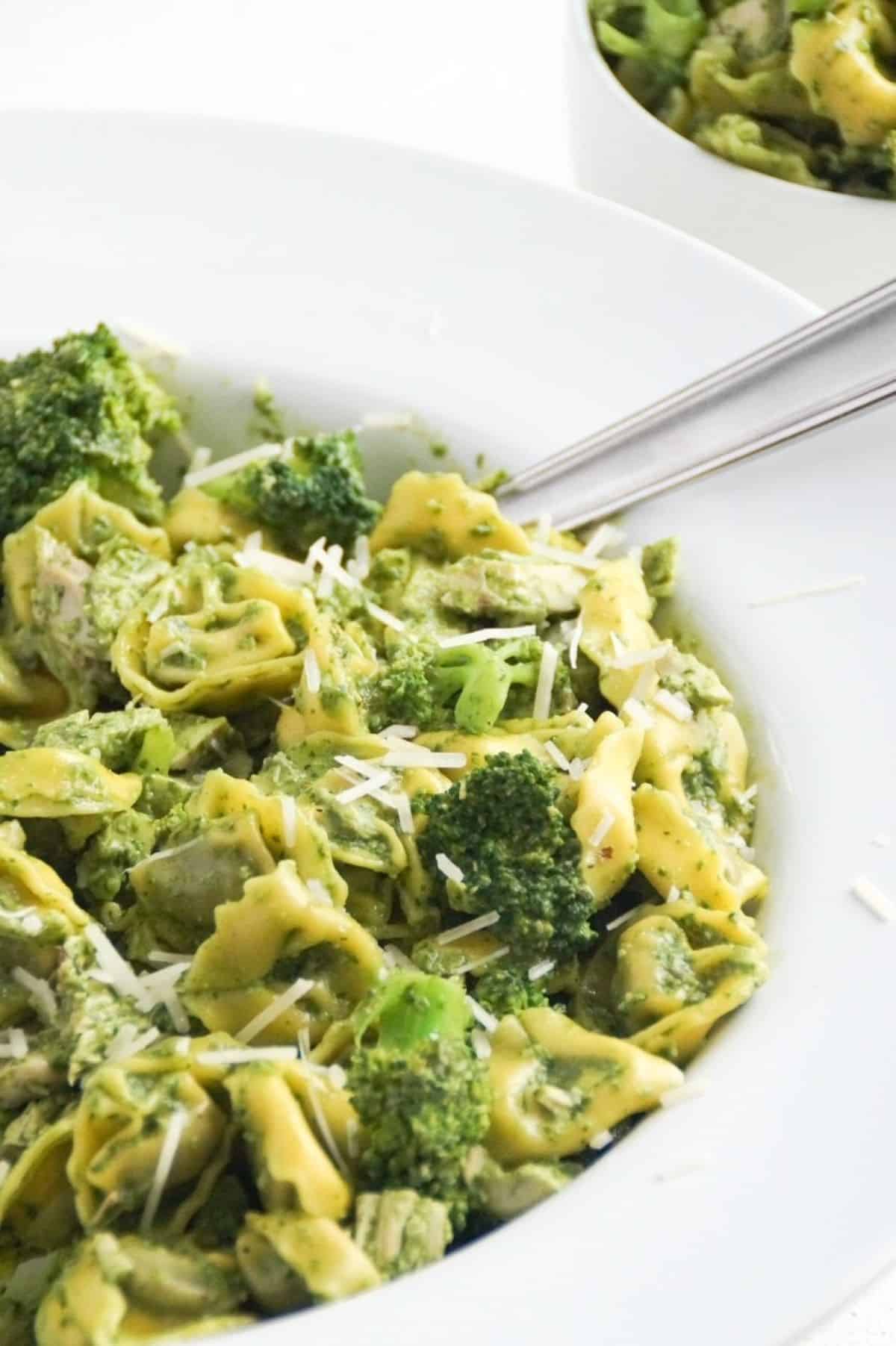 Have you ever just thrown a handful of ingredients together because it's all you have and then just hope for the best? If not, you should try it! That's how this recipe came to be when my kids were little.
I needed another easy pasta recipe, also known as a quick and easy 'one pot wonder' meal that I could take along in a thermos for them because of our busy schedule. The added bonus with this pesto with pasta recipe is that it's one all three of my kids enjoy. Now that's saying something!
In fact, my kids love this so much that I now double the recipe so there is enough for leftovers, either for dinner or for them to heat up and pack in a thermos for lunch at school. And, as you'll see, it's almost too easy to be considered a recipe, lol.
Also known as 'al pesto pasta,' this pesto with tortellini meal can be made with store bought or homemade pesto. Pesto is the 'star of the show' with this dish, so just be sure to use a pesto that you really like.
Jump to:
Why You'll Love This Recipe
Quick and easy recipe
15-minute meal
One pot
Easy to modify.
Great, simple pasta recipe.
Ingredient Notes
Tortellini I like to use spinach tortellini because, why not? 😉 Pesto already makes this recipe green, so I figure why not add even more by using spinach tortellini. Still cheese tortellini will work just as well.
Chicken Good source of protein. I always keep cooked shredded chicken on hand so I can use it to make quick and easy meals like this. To make this meal vegetarian, just leave the chicken out.
Broccoli Adds color and texture to this recipe. Broccoli is a good source of fiber, and it has a high antioxidant and anti-inflammatory content.
Pesto Either use store-bought or homemade pesto. Homemade pesto adds a vibrant green color and can be made with less oil. If I don't have the ingredients to make homemade pesto, I either use Genova Pesto or Vegan Kale, Cashew & Basil Pesto from Trader Joe's. The vegan pesto is my least favorite, but I appreciate the different ingredients and my kids still enjoyed it. See, I tell it how it is 😉
Parmesan (optional) I often sprinkle extra grated parmesan before I serve it, but it's not necessary.
How to Make Pesto with Tortellini and Chicken in 15 Minutes
Here is a very brief overview of how to make this pesto with tortellini recipe. For a full list of ingredients and complete instructions, scroll down to the recipe.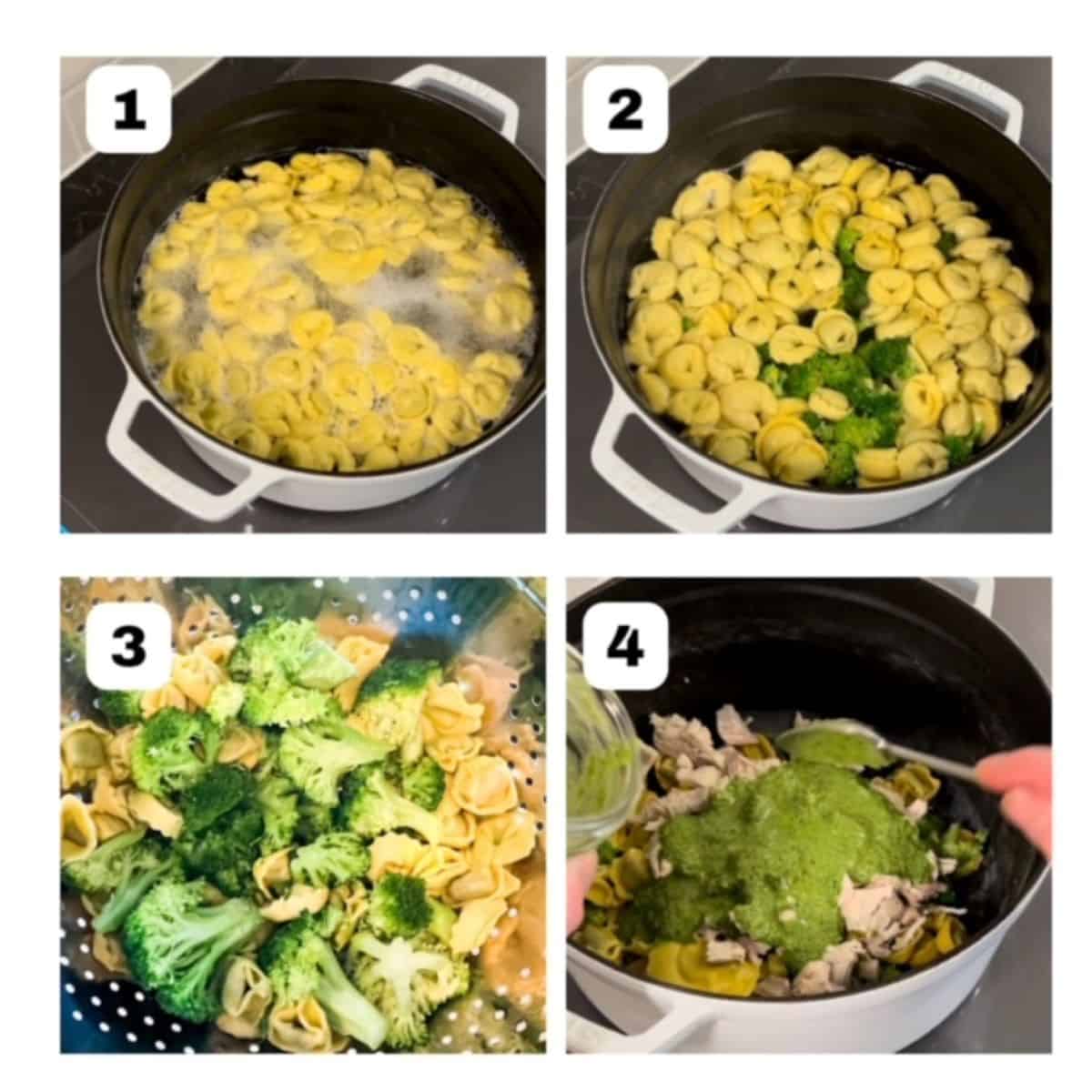 Bring a large pot of water to a boil. Then, add the tortellini while the water continues to boil (medium-high heat). and cook it according to the package instructions (typically for 2-3 minutes).
Add broccoli florets to the tortellini as it cooks, but only for the last minute of cooking the tortellini.
Drain tortellini and broccoli.
Add cooked tortellini, broccoli, shredded chicken, and pesto to the pot and cook just until heated through.
Optional: sprinkle grated parmesan cheese on top, before serving.
Dietitian Tip
There are some nights (okay, a lot of nights 😉 that we don't have time to serve a bunch of side dishes in order to offer a variety to our kids. And that's where 'one pot meals' like this come in handy.
One option that you can give kids when serving this meal so they feel like they have a 'choice' as to what they eat for dinner is whether or not they would like to sprinkle parmesan on their pesto pasta. I know it sounds simple, but your kids will appreciate it. One of my kids does not like it with the extra parmesan pieces, but the rest of us do.
It's sort of like when you go to Italian restaurants and they either offer grated parmesan or freshly ground pepper. Sometimes it just takes one small step to make a meal seem that much more special.
Simple Recipe Modifications
There are so many easy ways to change this recipe up just a bit. Here are just a few ideas:
Toss in fresh spinach when you add the broccoli, or you can sub spinach for broccoli.
If you like spice, add a pinch or two of red pepper flakes.
For more color, toss in carrot slices with the broccoli, or stir in cherry tomatoes when you add everything back to the pot to heat through.
For more of a Mediterranean flare, add sundried tomatoes with or without olives.
Instead of chicken, you can air fry salmon from frozen and add it to the tortellini with pesto. So good!
Serve with pieces of fresh basil leaves to enhance the basil flavor.
Mix in pine nuts or toasted walnut pieces for a little crunch and even more flavor.
Expert Tips
Cook the tortellini to al dente, which means it should be tender but firm. This will allow it to hold its shape when mixed with sauce.
Tortellini cooks very quickly, so be sure not to overcook it.
Add the broccoli to the boiling water for no more than one minute. If you add it too soon, the broccoli will be mushy.
This meal will taste as good as your pesto. Use a pesto that you know your family enjoys.
To make this vegetarian, leave the chicken out.
If you don't have quite enough pesto or if you prefer a mild pesto flavor, add a small amount of broth or olive oil to thin out the pesto that you do have. Or reserve a half of a cup of pasta water and stir it in with the pesto.
Questions You May Have
What are some side dishes for tortellini?
I absolutely love the combination of the lemon and garlic from my Tuscan Kale Salad with this pesto tortellini dish! Otherwise, garlic bread, naan, Caesar salad, or even applesauce would work great as side dishes.
Can I use frozen tortellini?
Yes, absolutely. The tortellini will take a few more minutes to cook, so keep an eye on it to be sure it's cooked but not overcooked.
What pasta goes well with pesto if I don't have tortellini?
You can use any type of pasta in place of tortellini. I was making this for someone who was on a low sodium diet, so I made this with whole wheat spaghetti noodles instead of tortellini and it still tasted great.
Can I use pesto from a jar?
Yes. Use whatever pesto you enjoy.
What do you do with leftover tortellini?
Leftover pesto tortellini can be reheated and placed in a thermos for an easy packed lunch or served as dinner another night. It can also be enjoyed cold, as an easy pesto tortellini with chicken pasta salad.
Related Recipes
Did you make this easy pesto tortellini with chicken meal and love it? If so, I'd love to hear about it. A 5-star rating is the best compliment and a comment below is always appreciated!
When you make this incredibly easy pesto with tortellini recipe, don't forget to take a pic and post it on Instagram @carrots.and.cookies so I can see it!
More Easy Dinner Recipes
15-MInute Pesto Tortellini with Chicken
Busy weeknight meals have never tasted better! In just 15 minutes you will have a complete meal of pesto tortellini with chicken and broccoli that your kids will be raving about.
Equipment
1 Large pot.

1 Large strainer
Ingredients
10

oz

Spinach Tortellini

Can use cheese tortellini instead.

2

cups

Broccoli florets

Can use up to 3 cups.

1 ½

cups

Cooked chicken

Shredded or chopped cooked chicken.

7

oz

Pesto

Homemade or Storebought
Instructions
Use a large pot to bring water to a boil.

Add tortellini to the boiling water and cook according to the package instructions, until the tortellini is 'al dente' (cooked through, but still firm). This takes about 2-3 minutes when using fresh tortellini.

Add broccoli to the boiling water for the last minute of cooking the tortellini.

Use a large colander to drain tortellini and broccoli.

Add cooked tortellini, broccoli, and chicken to the pot. Mix in the pesto and cook over medium heat, just until heated through.

Optional: sprinkle with grated parmesan cheese before serving.
Notes
Nutrition facts are just an estimate and will vary depending on the type and brand of tortellini and pesto used to make it.
Tortellini cooks very quickly. Be sure not to overcook the tortellini or broccoli, otherwise it will be mushy.
To make this a vegetarian meal, leave the chicken out.
This recipe is easily doubled.
This meal will taste as good as your pesto. Use a pesto that you know your family enjoys.
If you don't have as much pesto as this recipe calls for, you can either reserve some of the pasta water or use broth or olive oil to thin out the pesto that you do have. 
Leftovers can be enjoyed hot or cold (like a pasta salad). My kids like to heat leftover pesto tortellini up and place it in a thermos to pack in their school lunches. 
This recipe is super flexible. You can stir in fresh spinach leaves or cherry tomatoes in the final step for to add color and enhance the nutrient profile. 
For a touch of spice, try adding a pinch of red pepper flakes.
For a Mediterranean flare, add sun dried tomatoes and / or sliced olives.
Nutrition
Serving:
1.5
cup
Calories:
508
kcal
Carbohydrates:
40
g
Protein:
30
g
Fat:
25
g
Saturated Fat:
6
g
Polyunsaturated Fat:
0.5
g
Monounsaturated Fat:
1
g
Cholesterol:
82
mg
Sodium:
878
mg
Potassium:
278
mg
Fiber:
4
g
Sugar:
4
g
Vitamin A:
1495
IU
Vitamin C:
41
mg
Calcium:
243
mg
Iron:
2
mg