Easy and delicious homemade white cheddar mac and cheese recipe made with protein pasta and a creamy cheese sauce just like Panera's. This is a fiber and protein-rich version of the childhood classic!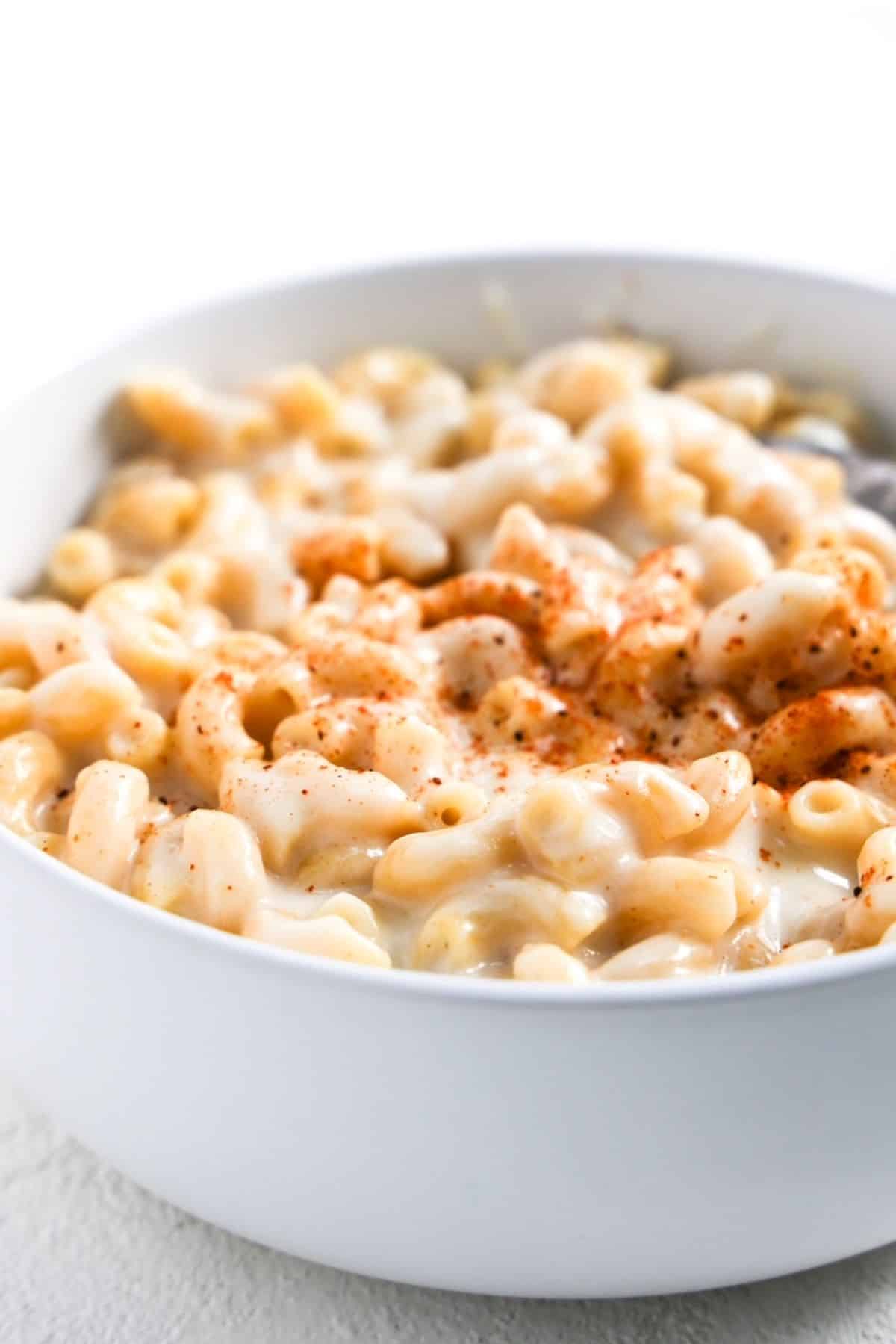 I don't know about your kids, but mine have been ordering mac and cheese at restaurants for years. My oldest especially loves mac and cheese and insists that Panera has "the best" mac and cheese.
Well, if you know me, you know I'm up for a good challenge. 😉 I've been determined to come up with a version of mac and cheese that my daughter approves that isn't quite as high in saturated fat or salt, and this is it!
Jump to:
Why You'll Love This Recipe
Easy recipe This recipe is so easy! In fact, if your kids are old enough to use the microwave and a whisk, they can make the cheese sauce.
10-Minute recipe In order to make this recipe in 10 minutes, you'll need to cook the cheddar cheese sauce in the microwave as the pasta cooks on the stovetop.
Kid-tested This recipe is kid-tested, and parent approved! I tried adding garlic powder, onion powder, and even more Dijon mustard, but my kids gave it a thumbs down. As is usually the case, simple is best. 🤩
Delicious side or main dish This mac and cheese recipe is SO much better than what you will find at the grocery store!
Dietitian Tip
Mac and cheese served warm, with a creamy texture and one consistent color is what makes it a favorite comfort food for many, especially children.
Still, homemade macaroni and cheese is often very high in saturated fat, while being low in fiber, which is not good for heart health. This is why I decided to come up with a recipe that uses olive oil instead of butter, 2-percent milk instead of heavy cream, and pasta that is higher in both fiber and protein.
Now, don't get me wrong. My version is not 'low' in saturated fat or sodium because it's still made with cheese, but the amount is lower than most traditional recipes.
And, to clarify - I'm not saying you should never allow your kids to eat traditional mac and cheese (made with butter and whole milk or cream), I'm just letting you know that there are different ways to make it. 😊
Ingredient Notes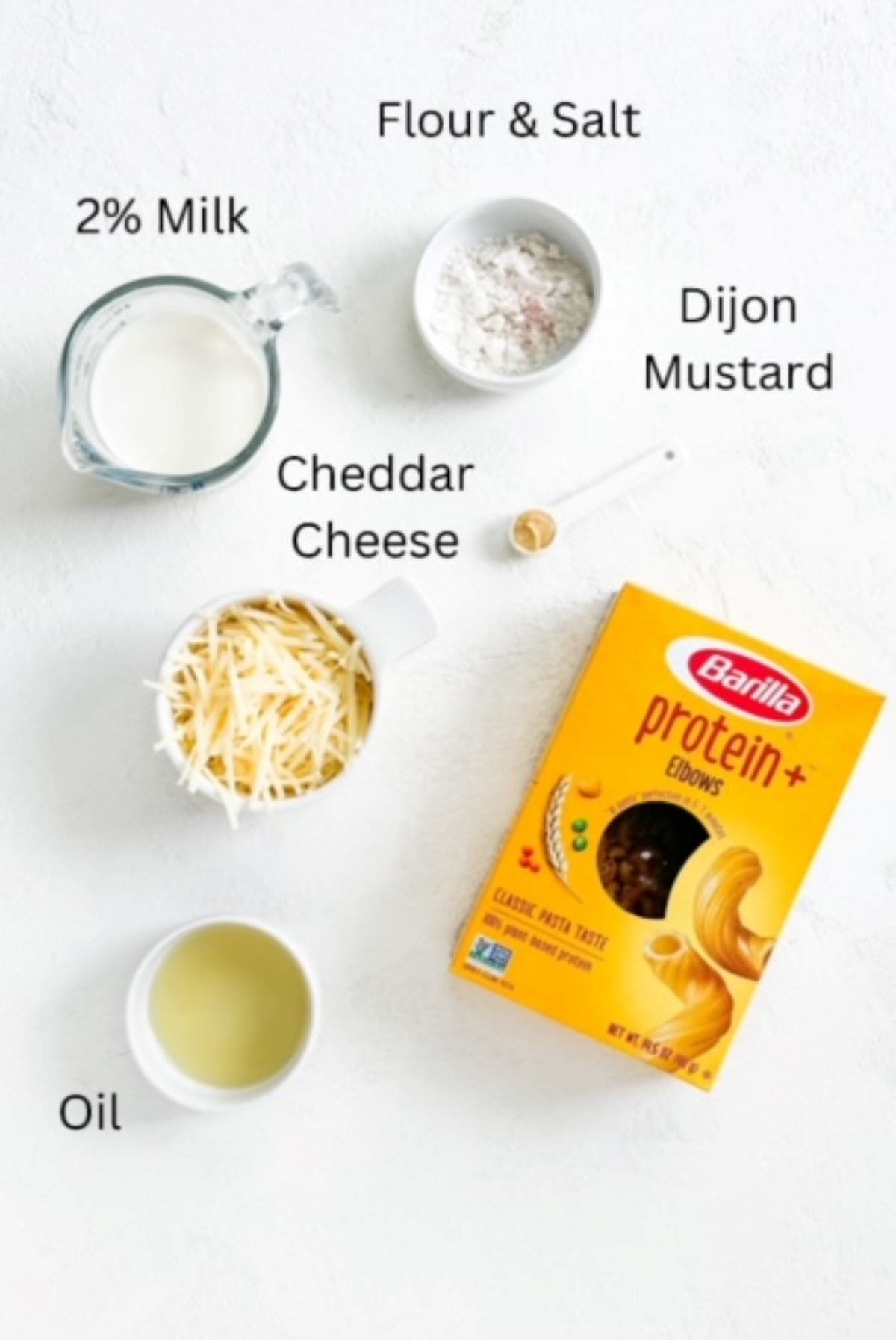 Pasta I like to use Barilla Protein+ elbows pasta to make mac and cheese because it's higher in fiber and protein and the look and taste of it are more similar to traditional pasta when compared to chickpea or whole wheat pasta.
Sharp white cheddar cheese Medium cheddar didn't have quite enough flavor, and extra sharp was too sharp for my kids. Use white instead of yellow cheddar to make white mac and cheese.
Milk I use 2% milk. If you don't have 2% milk, you can use whole milk. I do not suggest making this with skim milk. In my experience, the cheddar cheese sauce will be too thin if you use skim milk.
Flour Un-bleached all-purpose flour. You can use whole wheat flour, but the sauce will look more grainy and not as white.
Oil I use extra virgin olive oil. Avocado oil or melted unsalted butter can be used instead.
Dijon mustard I don't suggest using more than the recipe calls for. I tried doubling the amount and my kids didn't like it.
How to Make White Cheddar Mac n Cheese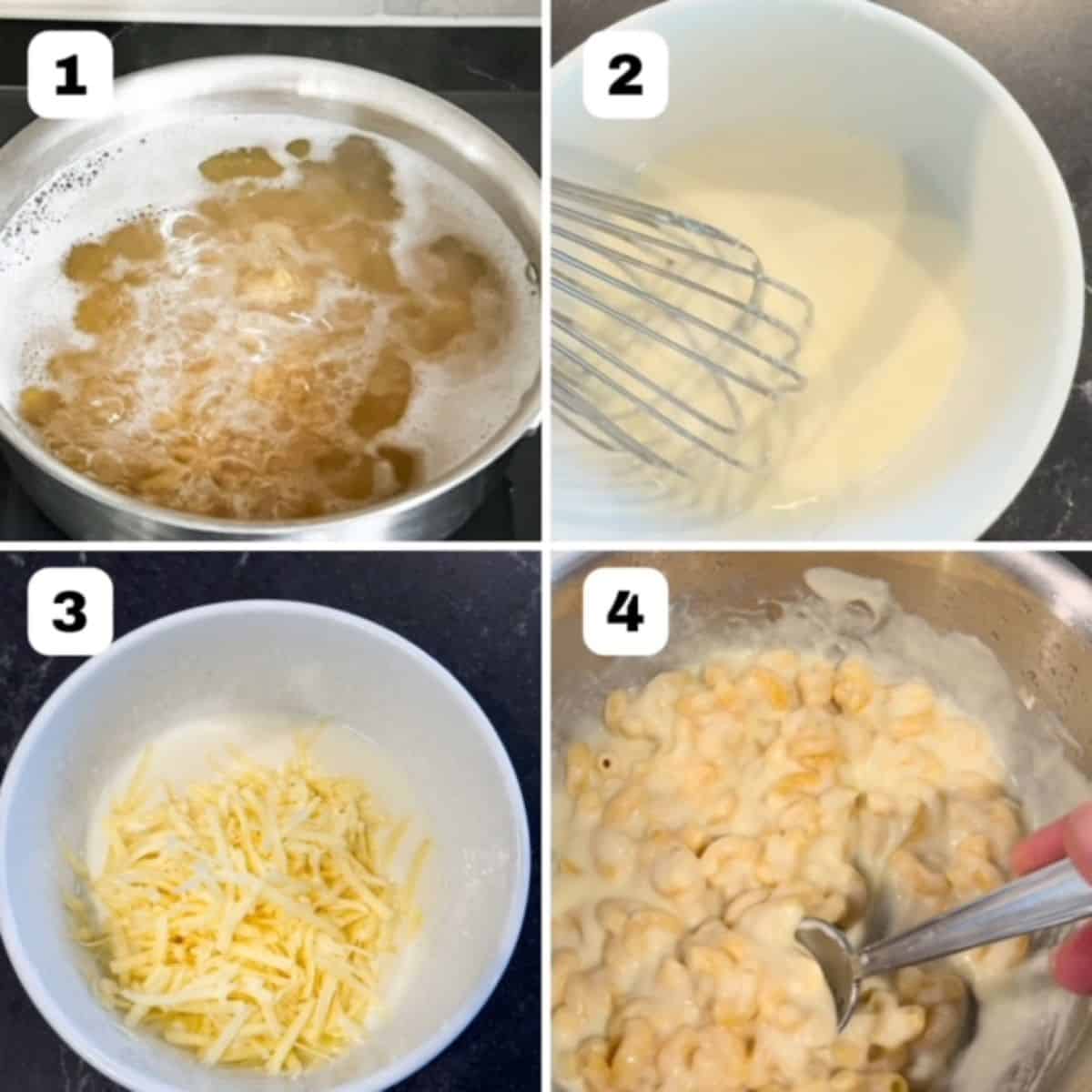 Here is a brief summary of how to make white cheddar mac and cheese from scratch. For a complete list of ingredients and full instructions, please scroll down to the recipe card below.
Use a large pot or Dutch oven to cook pasta to al dente according to the package instructions. Drain pasta.
While the pasta is cooking, make a white sauce in the microwave.
Add the grated cheese to the white sauce. Stir until the cheese is melted.
Use a spatula to stir the cheese sauce into the cooked pasta.
Serve and enjoy!
Helpful Tips
Use a box grater or food processor to grate the cheese.
Do not use package pre-shredded cheese. The anti-caking agents added to pre-shredded cheese will give the sauce a different texture and will make it harder for the cheese to melt.
If you want to use butter instead of oil, melt butter first.
Recipe Variations
Add hot sauce for a little spice.
For more adventurous eaters, try sprinkling Old Bay seasoning on top of the mac n cheese for incredible flavor.
If you have time, turn this into oven baked mac and cheese to change it up! All you need to do is pour the mac and cheese in a square baking dish, sprinkle with panko breadcrumbs and a sprinkle of parmesan cheese and bake in the oven until the top is light golden brown in color.
What to Serve with Mac and Cheese
Some of these ideas are inspired by what my kids choose to order with a small mac and cheese as a 'you pick two' at Panera.
A Veggie It's the dietitian in me, haha! Broccoli, peas, or carrots.
Salad
Half of wrap
Half of a sandwich
Questions You May Have
Can the cheese sauce be made on the stovetop?
Yes, it can. However, I find it much easier (and quicker!) to make the sauce in a microwave, still the cheese sauce can be made on the stovetop if you prefer.

To make the sauce on the stovetop, first, whisk the oil, flour, and salt together in a large saucepan. Add the milk, whisk well, and cook over medium heat. Whisk frequently until the sauce thickens and is bubbly. Turn the heat off, then whisk in the cheese.
How do you store mac and cheese?
Leftovers can be stored in the fridge. Be sure to let it cool to at least room temp before placing it in the refrigerator.
Can you make mac and cheese ahead of time?
For best results, you should make mac and cheese the same day you will be serving it.
Still, you can do some of the prep work ahead of time.

For instance, the pasta can be cooked ahead of time and the cheese can be grated and stored in the fridge up to a few days before using it. To keep the noodles from sticking together, stir in a tablespoon of olive oil before storing in an airtight container.
Related Recipes
More Easy Dinner Recipes
Did you make this mac and cheese recipe and love it? Please let me know by giving it a 5-star rating or leave a review below. It's the best compliment!
Don't forget to follow me on Instagram for more nutrition tips and easy recipes!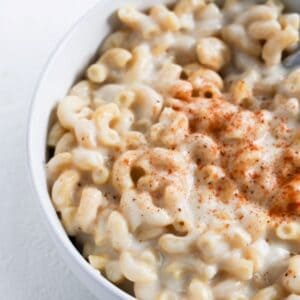 10-Minute White Cheddar Mac and Cheese
Easy and delicious homemade white cheddar mac and cheese made with protein pasta and a creamy cheese sauce just like Panera's.
Ingredients
1 ½

Cups

Barilla Protein+ or Chickpea pasta

Can use any type of elbow macaroni pasta.

1 ½

Cups

2% Milk

2

Cups

White cheddar cheese

Grated. Do not use pre-shredded.

2

tablespoon

Flour

2

tablespoon

olive oil

extra virgin

½

teaspoon

Dijon mustard

Smooth dijon, not the kind with grains.

½

teaspoon

Salt

Pinch

Pepper
Instructions
Cook pasta according to the package instructions. Once pasta is al dente, drain pasta and set aside.

While pasta is cooking, make the cheese sauce:

First, whisk together flour, oil, salt, and pepper.

Add milk to the flour and oil mixture. Whisk very well.

Place the bowl with the milk mixture in the microwave and microwave for 3-4 minutes, stopping every 45 seconds to whisk the mixture. The mixture is ready when it is thicker and bubbly.

Remove the bowl from the microwave and immediately stir in the white cheddar cheese and dijon mustard.

Pour the cheese sauce over the drained pasta. Stir to combine.
Notes
*Nutrition facts are an estimate using a database. Exact nutritional information will depend on the specific brands, ingredients, and amounts used when you make it.
My favorite type of pasta to use when I make this is Barilla Protein+ because it's higher in protein and the color and texture are so similar to traditional elbow macaroni pasta.
Do not use pre-shredded cheese to make this mac and cheese. Anti-caking agents are added to packaged pre-shredded cheese that changes the texture and keeps it from melting as easily. 
Most mac and cheese recipes call for whole milk or cream. I tried different kinds of milk to reduce the amount of saturated fat. 2% milk worked very well but when I made this with skim milk it wasn't as creamy.
I have used whole wheat flour in place of all-purpose flour, and it worked, but it had a darker color.
For extra flavor, try topping it with Old Bay seasoning or hot sauce. My daughter's friend gave me the idea for Old Bay - it's delicious!
Let cool completely before storing leftovers in an air-tight container in the fridge.
The cheese sauce can be made on the stovetop instead of in a microwave, but it will take longer. Instruction on how to make the cheese sauce on the stove can be found toward the bottom of the recipe post.
Nutrition
Serving:
0.5
cups
Calories:
432
kcal
Carbohydrates:
39
g
Protein:
25
g
Fat:
22
g
Saturated Fat:
9
g
Polyunsaturated Fat:
1
g
Monounsaturated Fat:
7
g
Trans Fat:
0.05
g
Cholesterol:
42
mg
Sodium:
535
mg
Potassium:
113
mg
Fiber:
8
g
Sugar:
8
g
Vitamin A:
438
IU
Vitamin C:
0.3
mg
Calcium:
383
mg
Iron:
6
mg