Making shredded chicken is as easy as boiling chicken to just the right temperature and then shredding it... with a mixer! Let me show you how to make this in 20 minutes from start to finish!
I've made shredded chicken using an Instant Pot and crock pot and I must say that boiling chicken on the stovetop is the easiest and best method for making shredded chicken. Trust me on this!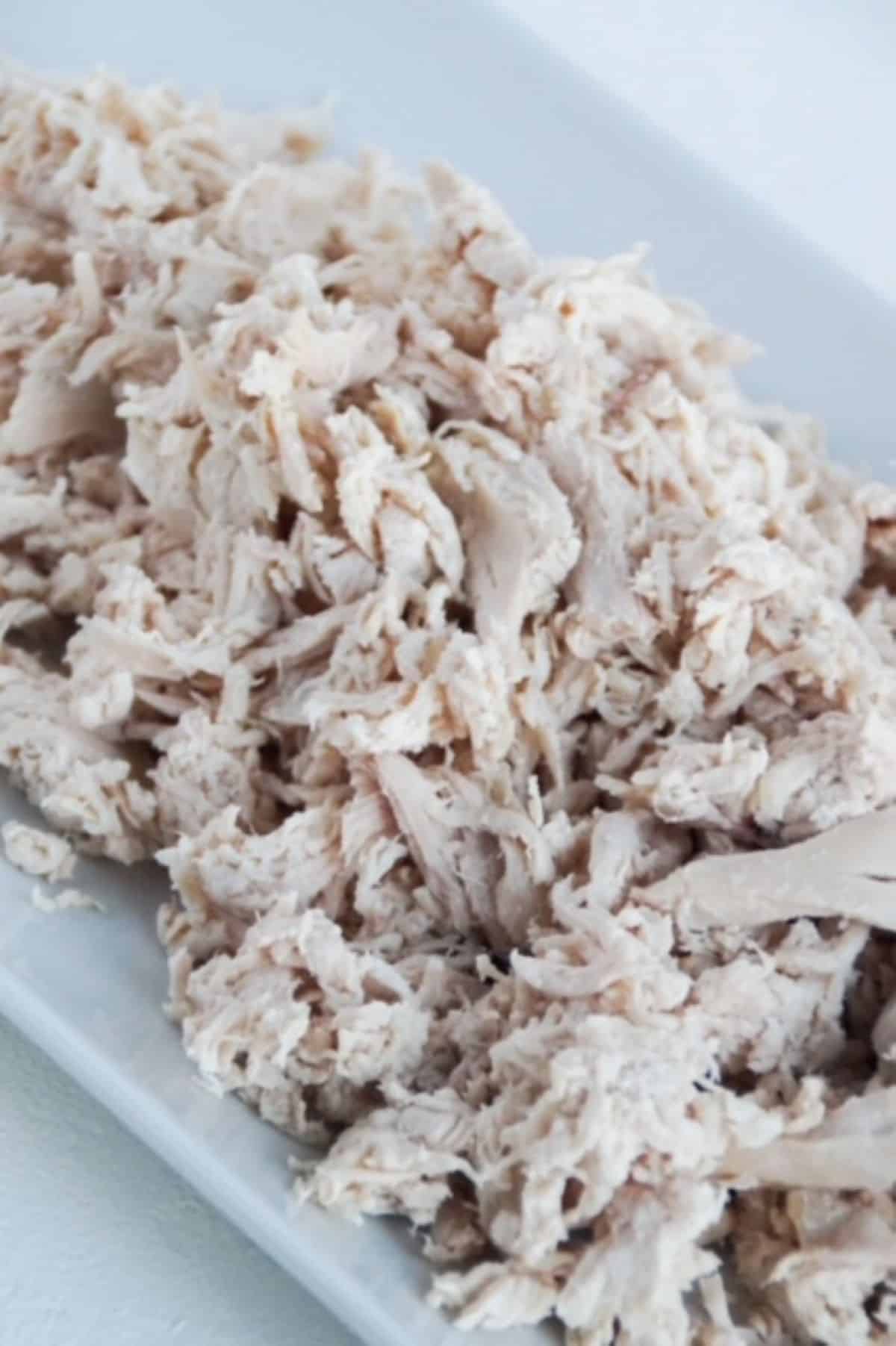 Yes, I said mixer! Once you shred chicken this way, you'll never go back to shredding it by hand. You have no idea how much time I've wasted shredding chicken breasts by hand over the years.
I don't know about you, but I like to keep cooked chicken on hand in the refrigerator and freezer because it's a good source of protein that can be added to just about anything.
Whether you are a meal prep queen or a mom who takes meals day by day, I think you'll agree that keeping shredded cooked chicken on hand is an absolute must!
What makes it even better is that most kids actually love plain chicken, or chicken that is served with a simple sauce or topping. In fact, just today my daughter said, "this chicken is so good, can I have it in my lunch?" She topped it with a small sprinkle of cheese and packed it up. So easy!
But, of course, shredded chicken breast is mostly used to make a variety of dishes like chicken salad and chicken enchiladas.
What I'm trying to say is that this shredded boiled chicken (also known as 'poached chicken') is what you need to have on hand for when recipes call for "cooked chicken" to be added. Make sense? 😉
Jump to:
Why You'll Love This Recipe
This is the perfect 'meal prep' shredded chicken recipe because it keeps the flavor simple so that the chicken can take on the flavor of whatever you add it to.
Easy recipe Just 2 ingredients and 2 steps to make it.
Meal prep made easy Perfect for easy weeknight dinners like salads, casseroles, soups, wraps, tacos, and more.
Made on the stovetop. No Instant Pot, crock pot, or slow cooker needed.
Kid-friendly Kids often prefer the texture of shredded chicken over cubed or cut up chicken.
Easily doubled.
Ingredient Notes
I'm not even kidding when I say that all you need to use to make this shredded chicken are boneless skinless chicken breasts and water. That's it.
How to Boil Chicken for Shredding: Step-by-Step
All you need to do is boil the chicken and then shred it! Sounds easier said than done, I know. But really it doesn't get much easier than this.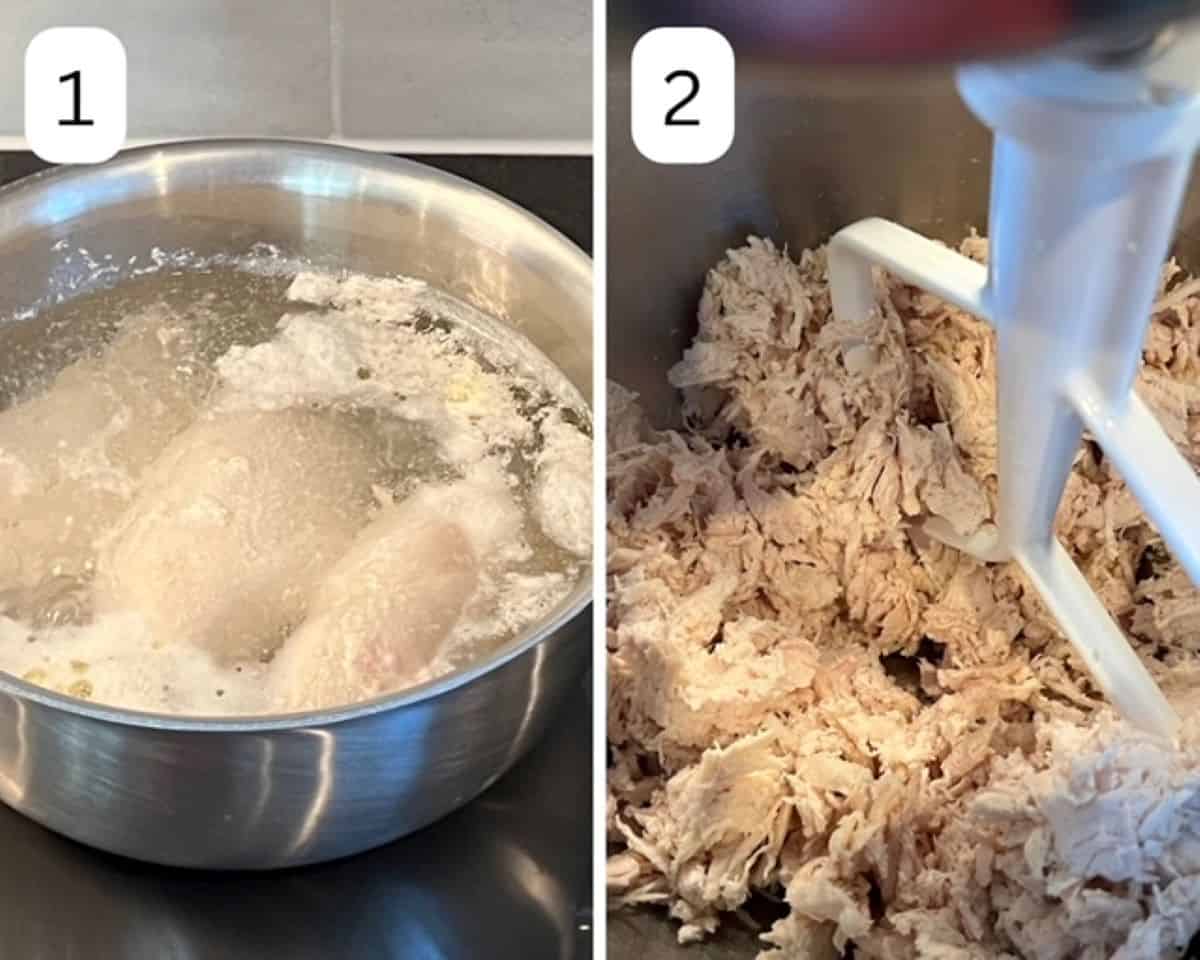 Thankfully you can make cooked chicken without using a slow cooker or Instant Pot - its super easy and so delicious!
Here's a quick overview of the steps to make easy shredded chicken. For the full list of ingredients and instructions, scroll down to the recipe.
Place the boneless skinless chicken breasts on the bottom of a pan and cover the chicken with about 1 ½ - 2 inches of water. For reference, I used three-and-a half to four cups of water to cover one and a half pounds of chicken breast in a 2.5-quart saucepan.
Cook on medium-high heat. When the water starts to boil, turn the heat down so that the water stays at a slow boil.
Cook the chicken until the internal temperature reaches 165 degrees Fahrenheit. The cooking time will vary depending on the size of each chicken breast and how many pounds of chicken you cook at a time. It can take anywhere from 12-17 minutes.
Once the chicken reaches 165 degrees, the chicken is ready to shred.
Carefully remove the chicken breasts from the water and place it in a dish to be shredded later or place the chicken breasts directly in a bowl and use a mixer to shred the chicken.
How to Shred Chicken: Three Ways
Shredding chicken can be so much easier than you think!
Use a mixer. This is absolutely easiest way to shred chicken. Just place the cooked chicken breasts in the bowl of your mixer. If using a stand mixer, use the paddle attachment. Start on low speed to break apart the chicken breasts. Gradually increase the speed and let it shred until the desired texture is reached.
Shred chicken using two forks. Simply hold one fork in each hand and use them to pull the chicken apart.
Pampered Chef double bladed salad shears I was introduced to this method of shredding chicken years ago when I attended a Pampered Chef party at a friend's house. It's easier than using two forks but not nearly as easy as using a mixer.
My Stand Mixer Pick
This is the much newer version of the stand mixer that I have from 17 years ago. It's worth splurging on because it will last for years.
SHOP NOW
Photo Credit: amazon.com
Leftover Shredded Chicken Recipes
Chicken tossed in with tortellini and pesto. This is my number one 'go to' easy weeknight dinner that all of my kids love on the busiest of days.
Mexican chicken recipes Chicken enchiladas, shredded chicken tacos, and taco salad.
Chicken soups or white chicken chili. In fact, shredded chicken can be used in place of ground turkey when making turkey chili.
Chopped salads Use leftover shredded chicken to make chicken salad, Caesar salad, or to top kale salad.
Chicken dip Use shredded chicken to make buffalo chicken dip or mix some plain shredded chicken in with the Jalapeño Artichoke dip that Trader Joe's sells to make a quick and easy chicken dip that has a touch of spice.
Barbecue chicken This can be as easy as tossing barbecue sauce in with the shredded chicken.
Expert Tips
If you prefer more flavorful shredded chicken, try adding crushed garlic cloves, pepper, and herbs to the boiling water. Another option is to boil the chicken in chicken broth to enhance the flavor even further.
Do not overcook the chicken. Overcooked chicken is tough to chew and harder to shred.
Use a digital instant read thermometer to check the temperature of the chicken.
Make shredded chicken to freeze for those times when you are in a bind!
Shredded chicken stores well in the refrigerator. Just be sure to use or freeze it within 3-4 days.
Have you noticed how many recipes called for "cooked chicken"? This is it!
One pound of chicken makes about 2 cups of cooked, shredded chicken.
Questions You May Have
Can you freeze shredded chicken?

Yes! In fact, I freeze shredded chicken often. Be sure to let the chicken cool completely and then place it in a sealed freezer-safe container or resealable freezer-safe bag. According to the USDA, Cooked chicken will taste best when frozen up to four months, longer if covered in broth.

I highly recommend making shredded chicken to freeze for those times when you are in a bind!
How do you keep cooked chicken from drying out?
To keep the chicken from drying out, I suggest adding a small amount of the water the chicken was cooked in (you can call this broth) to the chicken before it is completely cooled.
Can you boil frozen chicken?
Yes, you can boil frozen chicken breasts, but they will take longer to cook.
Did you make this shredded chicken recipe and love it? Don't forget to tag me on Instagram @carrots.and.cookies when you post a picture of you shredding your chicken in awe of how easy it is! 😉
What did you think about using a mixer to shred chicken? I'd love to hear from you in the comments and of course a 5-star rating is always appreciated!
Easy Dinner Recipes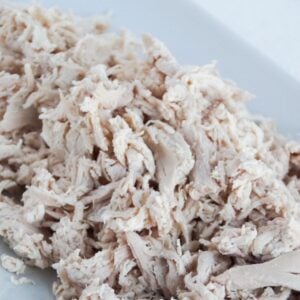 How to Boil Chicken Breasts for Shredding
This is the easiest shredded chicken recipe ever! With just 2 ingredients and 20 minutes you will have cooked shredded chicken ready to add to salads, wraps, casseroles, tacos, burritos, nachos, enchiladas, and more!
Ingredients
1 ½

lbs

boneless skinless chicken breast

4

cups

water

Add enough water to cover the chicken by 1 ½ - 2 inches.
Instructions
Lay the chicken breasts on the bottom of a small pot or larger saucepan.

Pour water in, being sure to cover the chicken with 1 ½ - 2 inches of water.

Bring the water to a boil using medium-high heat.

Once the water begins to boil, turn the heat down so that a slow boil is maintained (also known as simmering).

Cook chicken until the internal temperature reaches 165° Fahrenheit.

Remove the chicken from the water and place it in the bowl you will be shredding it in.

Set your mixer to medium-low speed to break the chicken breasts apart. Then gradually increase the speed and mix until all of the chicken is shredded.
Notes
Use the paddle attachment that comes with your stand mixer.
The size of the pot will be determined by the number of chicken breasts being cooked. For instance, a 2.5 qt saucepan (or small pot) can be used for 1-1.5 lbs. of chicken breast.
Although you can add seasonings based on preference, it really isn't necessary since the chicken will end up taking on the flavor of whatever you will be using it for.
If you would like to enhance the flavor, try boiling the chicken in chicken broth or add crushed garlic, pepper, and other herbs to the boiling water.
Cooking time will depend on the size of chicken breasts and how many breasts are cooing at the same time. It will likely take 12-17 minutes for the chicken to reach an internal temperature of 165 degrees. 
Use a digital instant read food thermometer to measure the internal temperature of the cooked chicken. Overcooking the chicken will make it tough and more difficult to shred.
If you do not have a hand mixer or stand mixer, you can use two forks to shred chicken by hand. Shredding by hand using two forks works, it just takes longer.
Nutrition
Calories:
129
kcal
Protein:
24
g
Fat:
3
g
Saturated Fat:
1
g
Polyunsaturated Fat:
0.5
g
Monounsaturated Fat:
1
g
Trans Fat:
0.01
g
Cholesterol:
73
mg
Sodium:
139
mg
Potassium:
420
mg
Vitamin A:
34
IU
Vitamin C:
1
mg
Calcium:
10
mg
Iron:
0.4
mg