'Tis the season to... give a kitchen gift! Having the right kitchen gear is key to reducing stress in the kitchen. So, in a way, you are gifting self-care 😉
Because planning meals takes mental energy, oftentimes having the right kitchen tools, utensils, and cookware at your fingertips is what it takes to turn cooking into an enjoyable experience. What a gift!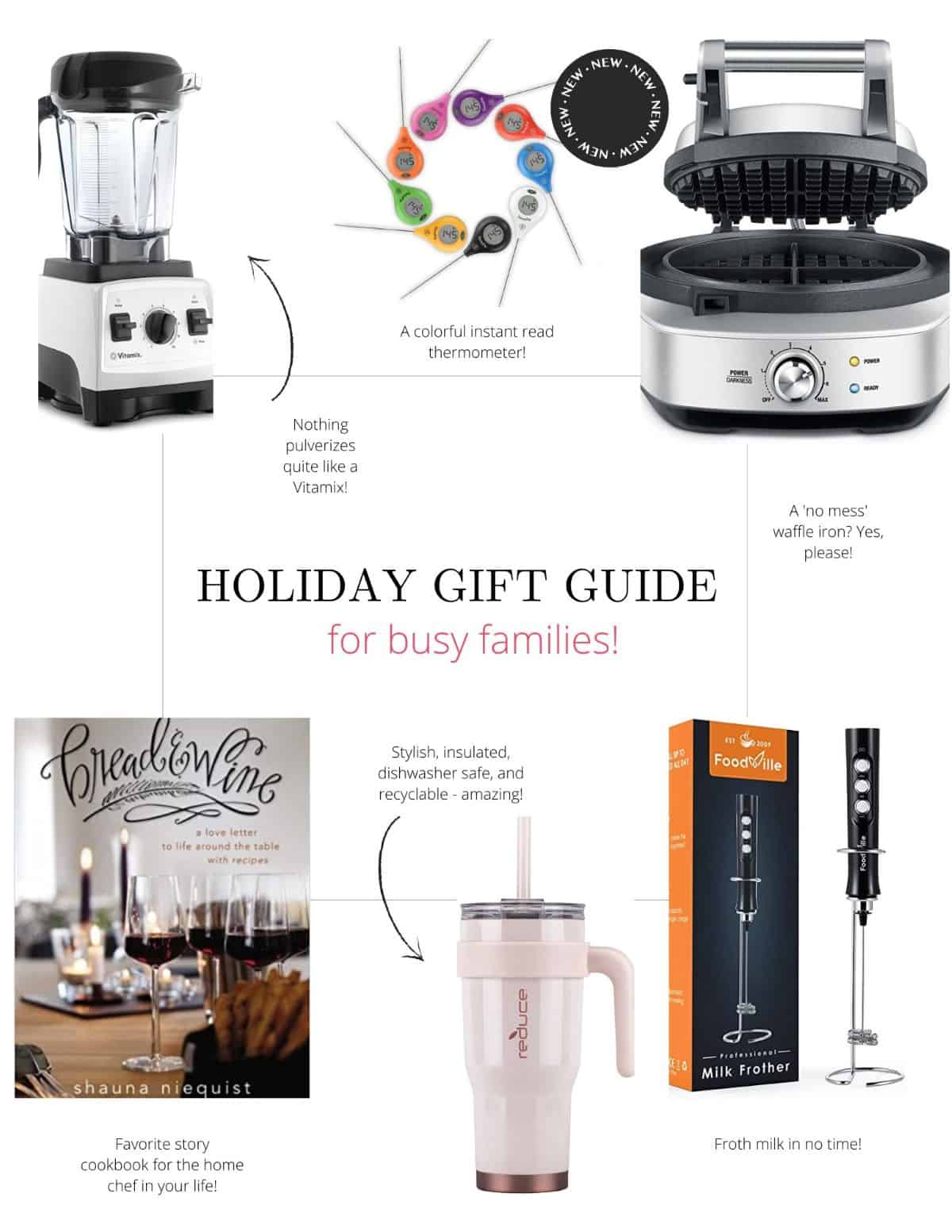 One of the biggest obstacles to cooking is time. Using the right gadgets and cookware can often be your answer to making meals faster. They can also make cooking easier which can help turn the often 'stressful job' of cooking into an enjoyable and rewarding one.
And as a dietitian mom who finds cooking to be therapeutic and enjoyable, I often get asked "what do you use?" or "what do you have in your kitchen?". These questions are what inspired me to create this list for you.
For me, whipping together things like homemade guacamole and turkey burgers would not be 'easy' without a garlic press and food masher, and there's no way I'd be able to cut a pineapple to make fresh fruit salad as quickly without a sharp bread knife. And having to make Tuscan kale salad without kitchen shears? Not a chance.
In this gift guide, I'll break the items down into a few categories for you. There are a variety of price points in this guide, so there's something for every budget. What I did not include are lunch box options (because I already have a post with the best lunch boxes) or items most people already have in their kitchen (unless I think they might want a second, lol).
Jump to:
Finding the Best Kitchen Gifts
With so many kitchen tool, utensil, cookware, and small appliance options out there (really, there are tons!), it can be hard to figure out which ones are actually worth getting. This is why I've selected twenty-one to showcase. They are the ones that I use all the time, to save time.
My Picks for the Best Kitchen Tools
Oh, how I love my kitchen tools! I have the most items listed under this category, and they are all super useful. Really, I'm not sure what I'd do without them 🙂 Give these as teacher gifts, hostess gifts, or as stocking stuffers for your home chef.
My Picks for the Best Small Kitchen Appliances
These small appliances are perfect for small and large kitchens. They are all easy to use and easy to clean. I use the air fryer and all coffee related appliances daily, the blender often, and the waffle maker when I make waffles, lol.
My Cookware Gift Picks
If you know me, you know that I'm all about using safe and easy to clean cookware that allows you to double or triple batch a recipe to save time. This is where an extra muffin tin and square griddle pan come in to play.
More Kitchen Gift Ideas that I Love
Here are more gift ideas for the home-cook or foodie in your life!
Questions You May Have
More Ideas for Gift Giving
Which ones did you decide to gift? Take a pic of what you give as a gift or gift to yourself and tag me on Instagram @carrots.and.cookies so I can see it!
Do you love my kitchen gift ideas? Comment below and let me know what your favorites are!