Lunch box snacks to the rescue! Having lunchbox snacks available for kids will reduce lunchtime battles big time! Here I'll share with you a long list of easy snack ideas that can be found in nearly every grocery store, along with a few easy homemade options.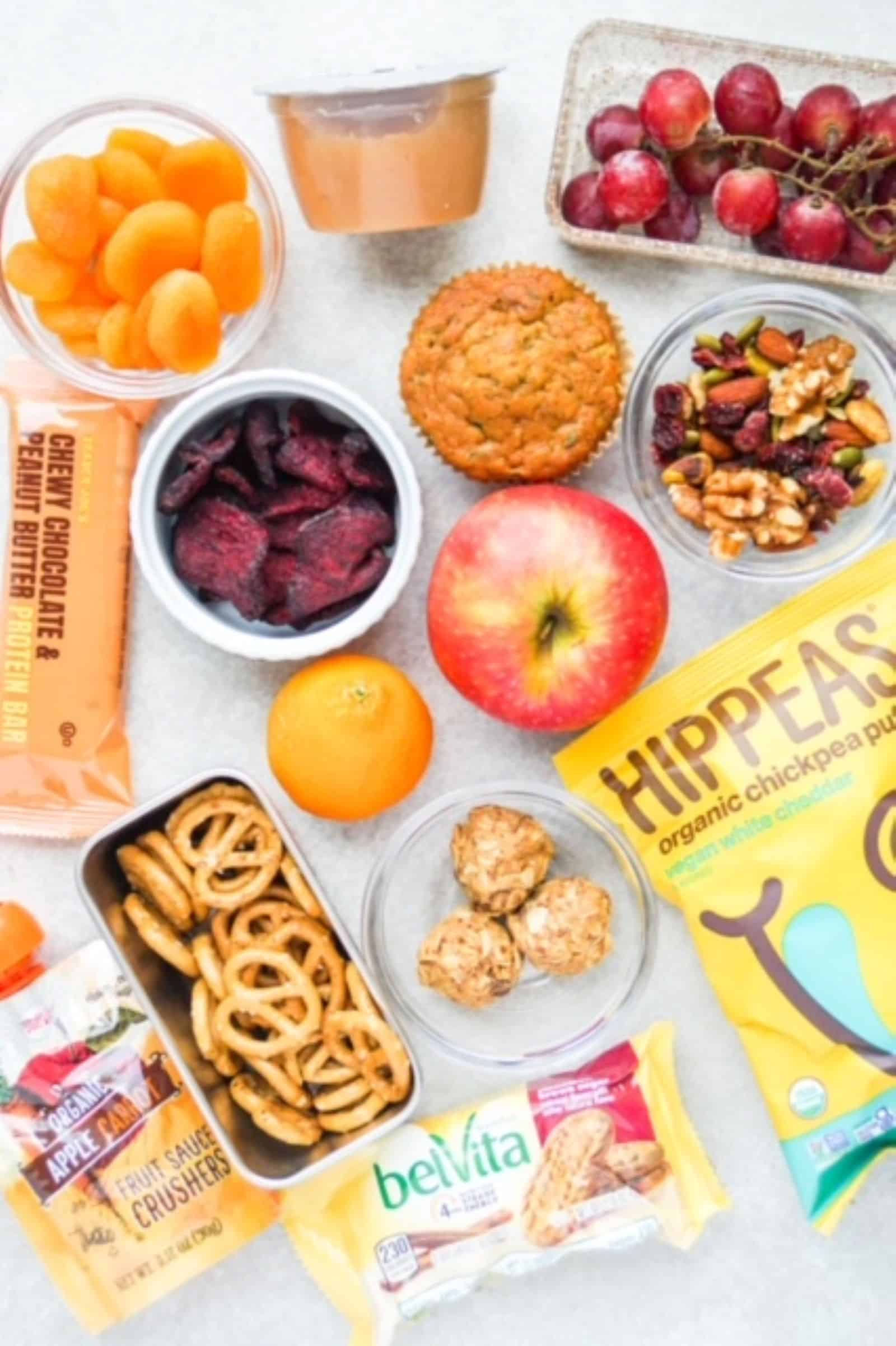 And most of what I've listed contain fiber and either no or very little added sugar. Fiber helps keep things moving through the digestive tract as well as provide other essential nutrients that may help reduce their risk of heart disease and cancer. Fiber also helps you feel full longer.
Implementing a new strategy that included adding snacks to lunchboxes when my kids wanted more of a say, led to less waste and less stress. And the best part was that they ended up eating more of the 'meal' part of their lunch. Success!
The start of a new school year should be exciting! What I've learned over the years though is that for many parents, the thought of resuming the role of packing lunches can be overwhelming. It doesn't have to be!
Jump to:
What I've Learned from Packing Lunches
First, let me just say that we all need to lower the expectations for ourselves. Second, it often gets harder as your kids get older because they eat more food and have stronger opinions (shocker, I know;).
It's hard to believe that I have been packing school lunches for ten years, even longer if you count our daycare days! I've learned a lot over the years of packing lunches, and I'll summarize it here.
Some days they are hungrier than other days.
If they tell you that something you packed was 'amazing', it doesn't mean that they want it for lunch every single day.
Some weeks they will want a similar lunch packed every day and then all of a sudden, they'll decide it's time for a change. Sounds confusing at first. But, if I really think about it, I'd probably feel the same way.
They understand that some foods are better choices than others. This doesn't mean that they always want to make the 'best' choice (whatever that means).
Some days hunger takes priority. Other days, talking and catching up with friends does (which means they will probably not eat much, come home hungry).
They are more likely to eat all of what was packed if they have a say in it (or pack some of it themselves).
They are more accepting of the food they'd rather not eat if there's at least one food packed that they enjoy eating.
Dietitian Tip
One of the questions I often get asked as a dietitian is... "what do you do?". I get asked this for all kinds of scenarios and am often hesitant to respond with specifics because just because something works for me, doesn't mean it will work for you.
However, for the purpose of this post, I am making an exception because I think it will really help many families reduce stress during the school year.
Here's what I do most days. It's simple.
I pack the 'main' part of their lunch. I'll have to write a whole separate post about this. It could be a chicken wrap, chicken salad with whole grain crackers, peanut butter and jelly (or honey) sandwich, or re-heated leftovers in a thermos.
I also pack one lunch container with fruit and another small container with veggies.
Then they complete their lunches with what I consider lunch box snacks. I strongly encourage them to pack at least one dairy item (they usually choose Greek yogurt).
Why I Started Adding Snacks to Lunch Boxes
I started adding lunchbox snacks every day when I was going crazy trying to figure out how much food to pack.
My son would come home one day saying I didn't pack enough in his lunch and then when I would pack more, he'd come home with food left that we'd have to throw out.
Since then, I've started packing more snacks for lunches and explain that they need to eat the 'food that will go bad' first and then eat the rest of the snacks if they are still hungry.
And if they are not hungry for all of it, they can have the rest as a snack when they get home from school. Problem solved.
55 Easy Snacks for Lunch Boxes
Fruits & Veggies
Banana
Apple
Grapes
Cherries
Clementines
Carrots
Applesauce
Fruit and/or veggie pouches
Guacamole (with chips or pretzel sticks)
Hummus (with carrots or pretzel thins)
Fruit leather
Dairy
Squeeze yogurt
Drink yogurt or kefir
String cheese
Dried Fruit, Nuts, Seeds, and Jerkey
Dried mango
Raisins
Craisins
Dried apricots
Apple chips
Cashews
Sunflower seeds
Pumpkin seeds
Pistachios
Trail mix
Granola (homemade or store-bought)
Dry roasted almonds
Beef jerky
Turkey jerky
Beet chips
Banana chips
Bars, Baked Goods, and Energy Bites
Crunchy Snacks
Graham crackers
Cheddar crackers (examples: Goldfish or Annies)
Veggie straws
Peanut or almond butter filled pretzels
Whole grain dry cereal
Cheddar rice and/or corn puffs (example: Pirates Booty)
Popped corn chips (example: Pop Corners)
Chickpea puffs (example: Hippeas)
Pita chips
Bagel chips
Rice cakes
Animal crackers
Whole grain crackers
Popcorn
Chips (gasp!)
Lunch Box Snacks FAQs
Homemade Lunchbox Snacks Recipes
Was my list of lunchbox snacks helpful? Please leave a 5-star rating below or a review in the comments section!
Don't forget to snap a pic of your kids' favorite lunchbox snacks and tag @carrots.and.cookies on Instagram so I can see it. Enjoy!