Zucchini Banana Chocolate Chip Muffins are delicious, moist, easy to make (hello, one bowl!), and surprisingly healthy! Your kids will love them!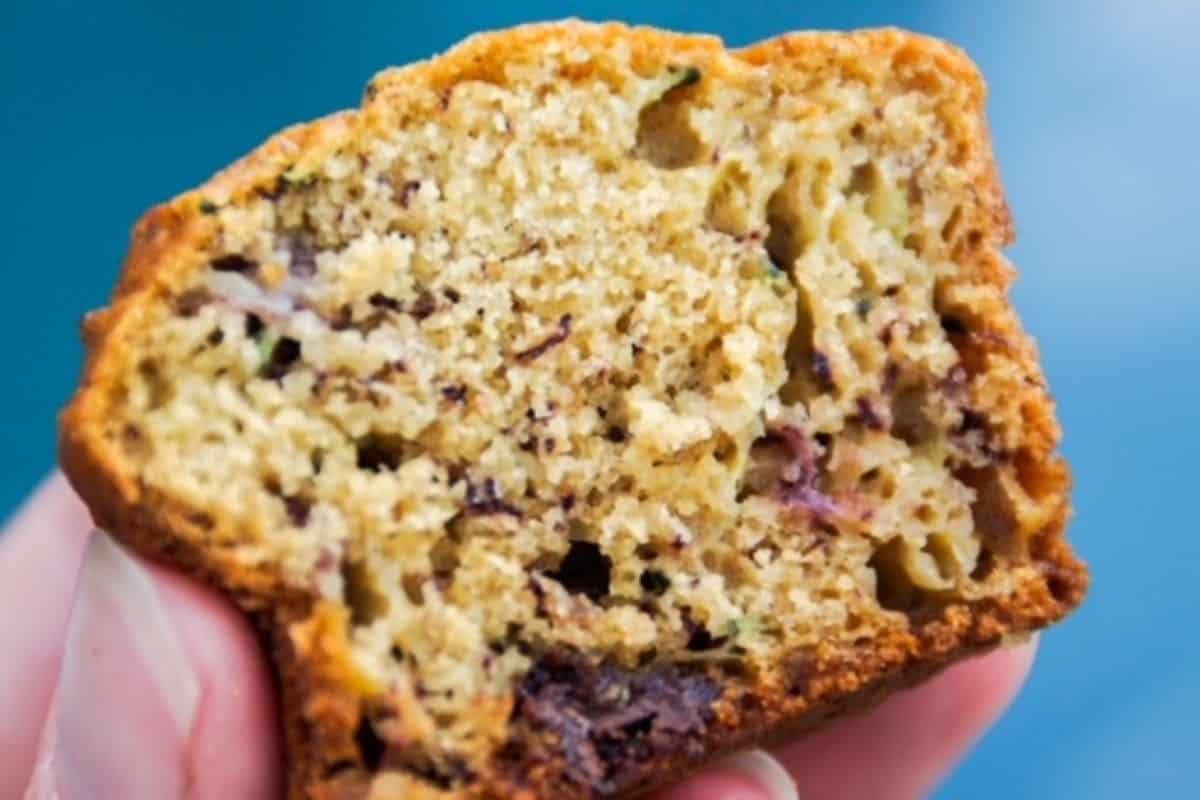 This is just one more easy and delicious way to get your kids to eat more whole grains, fruit AND veggies! Plus, this recipe will help use up all of the farmer's market zucchini! Make them today!
For more chocolate chip recipes that kids just love, try my easy bliss balls, vegan blondies, and chocolate chip cookie bar recipes!
And, for more delicious kid-approved muffin recipes, check out my Banana Carrot Muffins with Raisins and Lemon Blueberry Muffins!
Why This Recipe is so Great
These muffins make an excellent snack or delicious addition to school lunches or even breakfast!
I have yet to meet a kid that doesn't love a muffin, much less chocolate chips! This recipe meets both criteria while not overdoing it in the added sugar department. So, it's a win-win for both parents and kids!
This recipe calls for just enough chocolate chips to give the taste kids love but not so much that they are overly sweet.
Made with whole grain flours.
These muffins are high in fiber, so your kids will be full longer (and so less likely to ask for snacks all day long).
When there is ample supply of zucchini in the summer months, consider grating zucchini to freeze and use later in recipes like this - it's so easy.
This recipe is easily doubled, so you can make them for a crowd or stick some in the freezer - huge time savings!
Ingredient Notes
Zucchini Contains fiber, vitamins (like vitamin C, vitamin B-6, and folate), and minerals (like potassium and manganese).
Bananas Bananas are full of fiber and potassium. They also serve as a fabulous sweetener, especially over-ripe bananas.
Flour White whole wheat flour and oat flour are used to provide the perfect consistency and flavor. Both are made from whole grains, which means they are excellent sources of fiber. White whole wheat flour is unbleached. It has the same nutritional value as whole wheat flour, but because of the variety of wheat used to make it, white whole wheat flour has a milder flavor, a lighter color, and a softer texture.
Milk Contains protein, calcium, and vitamin D. If your child has a milk allergy, a milk alternative can be used instead but know that the consistency may be affected.
Olive oil I use extra virgin olive oil. It contains healthy fats.
Egg Eggs are a source of protein and it provides structure to the muffins.
Sugar Included for structure and flavor. I use organic cane sugar (it's tan in color).
Baking soda and baking powder Added for leavening.
Salt Used for flavor and to help activate the baking soda. Do not leave out the salt.
Chocolate chips Because you can't have a chocolate chip muffin without chocolate chips! And, well, kids love chocolate chip everything!
step-by-step instruction
Here's a quick overview of the steps to make these easy and delicious muffins. For the full list of ingredient and instructions, scroll down to the recipe.
Preheat oven and either grease or line the muffin tins to keep the muffins from sticking.
In a medium mixing bowl, mash the overripe bananas.
Add grated zucchini and continue to mash.
Add liquid ingredients and mix well.
Add all other ingredients except chocolate chips and mix just until all dry ingredients are incorporated.
Finally, add chocolate chips and mix.
Evenly distribute batter in the lined or greased muffin tin.
Bake and enjoy!
Expert Tips
Use either use a fork or a kitchen utensil like a hand-held meat or potato masher to mash the over-ripe bananas. It's easy!
Grate the zucchini as you would grate a block of cheese. I use a box grater. A food processor or mandolin would work as well. Just be sure to wash the zucchini and trim both ends off first
If using freshly grated zucchini, you do not need to ring it out first.
Recipe FAQ's
What if I don't have white whole wheat flour?
White whole wheat flour can be substituted with All-Purpose flour. Making this substitution will reduce the fiber content of the muffins. You can use whole wheat flour instead but the muffins will be more dense.
What if I don't have oat flour?
Either make your own oat flour (from rolled oats, using a high speed blender) or you can use all-purpose or additional white whole wheat flour in place of the oat flour. A combination of white whole wheat flour and oat flour are used in order to optimize the texture of these muffins.

Oat flour softens these muffins that would otherwise be a little denser if made with white whole wheat flour alone.
More Snack Recipes That Kids Love
Did your kids love these muffins? Be sure to comment below to share your feedback, and don't forget to snap a pic and tag @carrots.and.cookies on Instagram. Enjoy!
Zucchini Banana Chocolate Chip Muffins
Made with whole grain flours, zucchini, and bananas, these moist and healthy zucchini muffins make a perfect snack for kids! And, they require just one bowl for mixing - easy to make and easy to clean up!
Ingredients
2

small over-ripe bananas

1

cup

zucchini

grated

1

cup

white whole wheat flour

¾

cup

oat flour

¾

cup

milk

I use skim milk

¼

cup

olive oil*

extra virgin

1

egg

1

teaspoon

baking powder

aluminum-free

1

teaspoon

baking soda

⅓

cup

sugar

¼

cup

chocolate chips

semi-sweet or dark chocolate chips

½

teaspoon

salt
Instructions
Preheat oven to 375° Fahrenheit.

Place the bananas in the bottom of a medium mixing bowl and mash well.

Add the grated zucchini to the banana and mix well.

Add all other ingredients to the mixing bowl. Mix well.

Divide batter evenly into a lined muffin tin (12 muffins).

Bake for 20-25 minutes, until a toothpick comes out clean.
Notes
*I use extra virgin olive oil but use what you have!
Use either use a fork or a kitchen utensil like a hand-held meat or potato masher to mash the over-ripe bananas. It's easy!
For this recipe, simply grate the zucchini as you would grate a block of cheese. I use a box grater. A food processor or mandolin would work as well. Just be sure to wash the zucchini and trim both ends off first
Nutrition
Calories:
177
kcal
Carbohydrates:
25
g
Protein:
4
g
Fat:
7
g
Saturated Fat:
2
g
Polyunsaturated Fat:
1
g
Monounsaturated Fat:
4
g
Trans Fat:
1
g
Cholesterol:
16
mg
Sodium:
230
mg
Potassium:
187
mg
Fiber:
2
g
Sugar:
10
g
Vitamin A:
89
IU
Vitamin C:
4
mg
Calcium:
61
mg
Iron:
1
mg