Baked eggs in muffin tins make the perfect grab and go breakfast on the busiest of mornings and they could not get any easier to make! Seriously, all you need are eggs, a greased muffin tin, and optional toppings. Let me show you how it's done!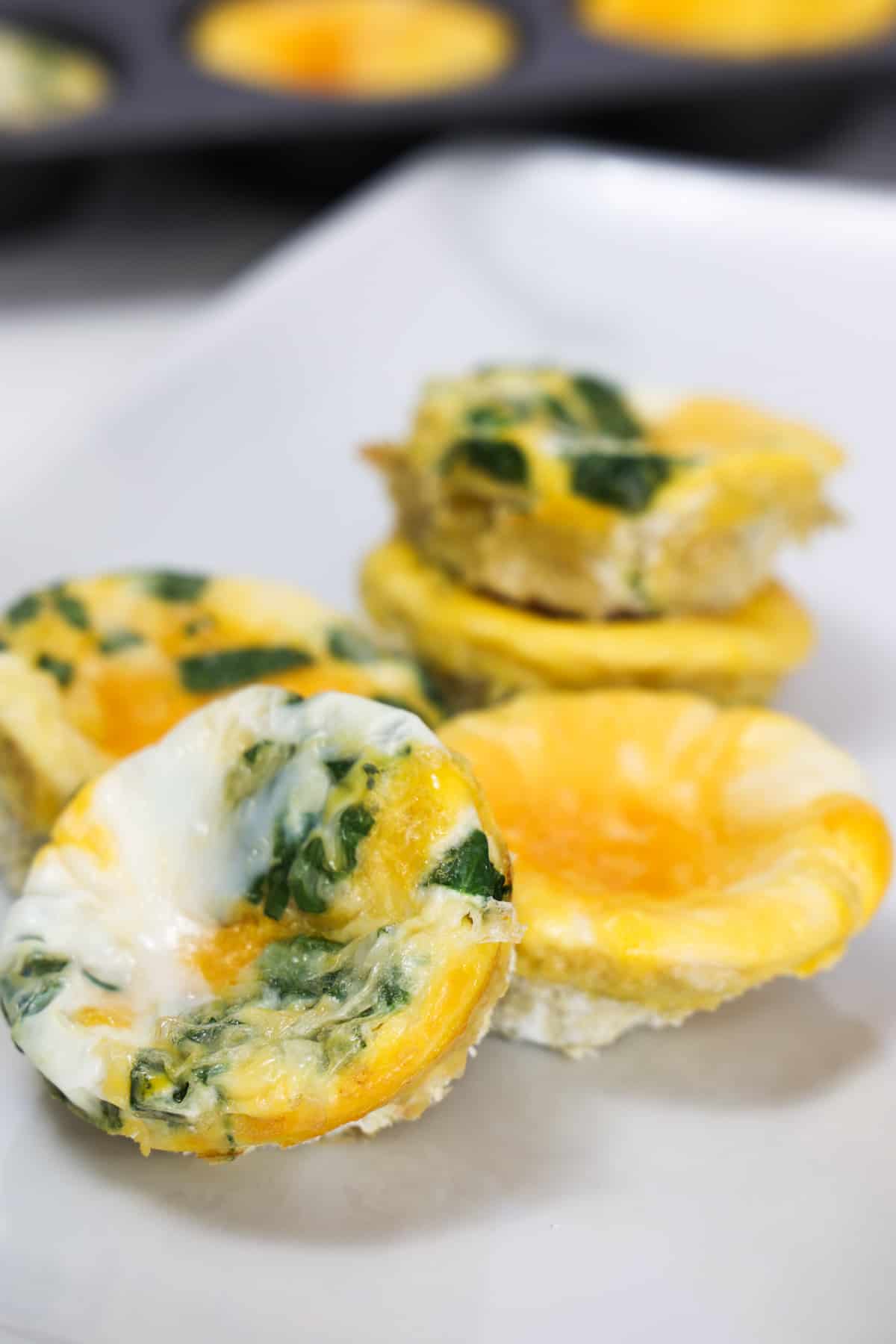 Generally speaking, baked eggs in a muffin tin are pretty much the same thing as egg bites but made without all of the other ingredients mixed in (like cream, one or more kinds of cheese, maybe a veggie or pieces of bacon). So, I should probably start calling them something different, like egg muffins 😉
Have you noticed how egg bites are increasing in popularity? I've seen them at Costco, Trader Joe's, Starbucks, and our local grocery stores.
It's no wonder why they are so popular! Breakfast seems to be one of the hardest meals to get a protein in. I mean, you could make the most simple and refreshing smoothie or muffin made with whole grains, but if you don't include something with protein, you'll likely be hungry soon after eating.
And, while baked eggs aren't exactly an egg bite, they are very similar and serve the same purpose. Plus, they are simpler to make. You can thank me later 🙂
What makes these egg muffins even better is (drumroll please;)... they reheat in about thirty seconds because they are made with very few ingredients. Not kidding!
Jump to:
Why You'll Love This Recipe
Quick and Easy To make and to reheat.
Grab and Go breakfast For busy mornings or as a quick afternoon snack.
Simple ingredients You need eggs, and everything else is optional!
Easily customizable Check out the bottom of the post for recipe variations.
Perfect meal prep eggs recipe In 20 minutes (including prep time), you'll have 12 egg bites ready to grab on busy mornings.
Kid-friendly My youngest loves these served warmed with a sprinkle of salt.
Dairy-free Safe for kids with milk allergies with the recipe as is.
Eggs are a good source of protein which will help kids feel full longer and help to meet the protein needs of teenage athletes.
Ingredient Notes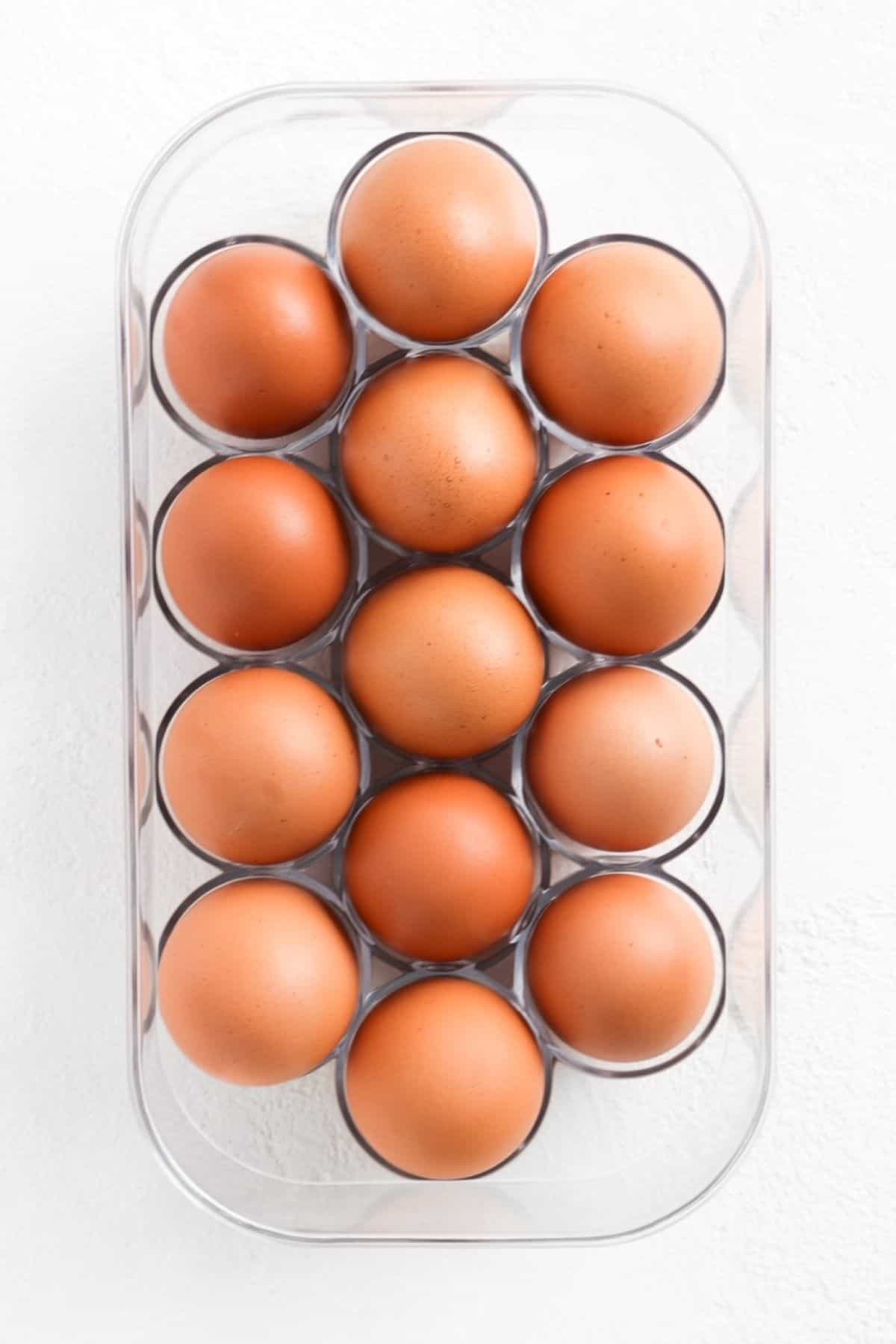 Eggs Good source of protein which will help you feel full longer. They also contain choline and a variety of other nutrients.
Cooking Spray This is the cooking spray that I use because it is made without propelants and can be used for high heat cooking.
Optional ingredients you can add: salt and pepper, spinach, cheese, kale, bell peppers, turkey bacon, and so much more! When you add a tablespoon of one or a combination of of these optional ingredients, they turn baked eggs into little breakfast egg muffins. Yum!
How to Bake Eggs in a Muffin Tin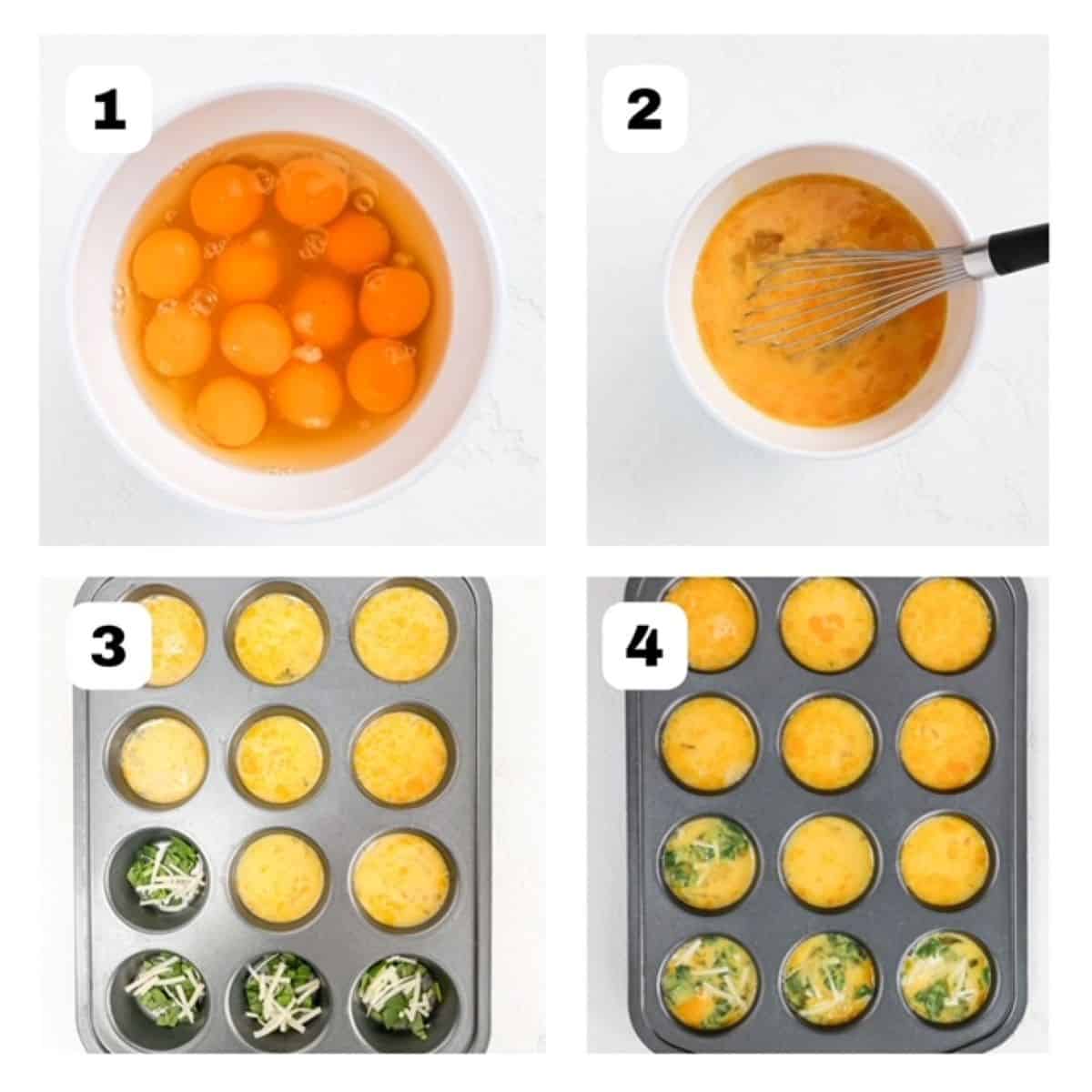 You're not going to believe how easy it is to make muffin tin eggs! I will provide a brief overview of how to make them here. For a complete list of ingredients and instructions, scroll down to the recipe.
Grease each well of a 12-cup muffin tin.
Whisk together eggs in a mixing bowl.
If adding additional ingredients, sprinkle a small amount on the bottom of each muffin cup (also known as a well).
Pour about one-quarter of a cup of egg mixture into each muffin well, dividing the mixture evenly among the 12 wells.
Bake in a preheated oven at 350 degrees for 14 -17 minutes. See 'Helpful Tips' section below.
Remove from oven and let cool.
Dietitian Tip
Quick and easy breakfast options are a must for making sure teens eat breakfast before school. My kids get on the bus at 7am, and they wake up with just enough time to throw themselves together and get to the bus.
Thankfully, my kids know they need to eat before leaving the house. But if I don't have options that are easy for them to get together and quick to eat, they'll either not eat or grab something that's not very filling (and probably high in sugar;).
This is why I like to meal prep things like energy bites, pancakes, waffles, and baked eggs. When I have easy breakfast options ready in the fridge all they need to do is grab one and, if needed, heat it up, eat it quick, brush their teeth, and run out the door.
Recipe Variations
To make baked egg whites, you will need fewer eggs. While typically two egg whites equal one egg, it's not an exact exchange. In my experience, four egg whites makes three egg muffins, not two. So, if you want to make this recipe only using egg whites, I suggest using the egg whites from 18 eggs, not 24.
For a little more protein, you can mix in one tablespoon of cottage cheese per egg muffin.
For more moisture in the egg, whisk in one tablespoon of milk per egg.
There are so many veggies that can be added to these egg muffins. For me, the easiest was to put one spinach leave torn into pieces and a few pieces of grated cheddar cheese at the bottom of the muffin cup, before adding the egg mixture. I do not cook the spinach first.
My Favorite Muffin Tin
A few years I decided to splurge on this muffin tin and I'm so glad I did. It is made with a durable, PFOA-free nonstick coating and is dishwasher safe.
SHOP NOW
Photo Credit: amazon.com
How to Reheat and Serve Baked Eggs
Reheat egg muffins in the microwave for about 30-40 seconds. If it's not hot enough after 30 seconds, put it in for another 10 seconds.
These baked eggs can be served warm as is, with ketchup, or cut into pieces and sprinkled with salt and pepper, similar to how you would eat a scrambled egg.
These baked eggs are thin enough to use to make egg and cheese breakfast sandwiches. All you need to do is make a sandwich by placing the baked egg with a slice of your favorite cheese (I love cheddar, but my kids prefer American cheese) in between two halves of an English muffin and air frying it for a few minutes. So easy!
Cost Saving Tip
You may have noticed that brown eggs often cost more than white eggs. But did you know that the only difference between brown and white eggs is the color of their shell?
That's right! It's because, with few exceptions, chickens with brown feathers lay brown eggs and chickens with white feathers lay white eggs.
So, the next time you buy eggs, choose whichever eggs you would buy as if they were all the same color.
Helpful Tips
Check the egg mixture after cracking each egg for any remaining shell pieces. Make sure all pieces of the eggshells have been removed before whisking.
Grease the muffin pan very well. The protein in eggs can cause it to stick to the pan when heated, so it's really important to grease the muffin pan.
Check on the egg bites after about 12-13 minutes, but they will likely take at least 14 minutes.
If you whisk in milk or cottage cheese, the cooking time will be close to 17 minutes.
You do not want to overcook eggs, so keep a close eye on them after about 12-13 minutes. Overcooked eggs get a rubbery texture.
I don't suggest adding more than one tablespoon of optional add-ins per egg muffin.
If you choose to whisk in milk or cottage cheese, cut back on the number of eggs. For instance, if you mix in three-quarters of a cup of milk or cottage cheese, use 9 eggs (not 12) to make 12 egg muffins. It's super helpful to know how to convert tablespoons to cups when modifying recipes like this.
Questions You May Have
Can you freeze baked eggs?
You can but I really don't recommend it. If you do freeze them, be sure to let them defrost completely in the refrigerator before heating them up.

The one exception I make is when I use these to make freezer breakfast sandwiches. I assemble the egg and cheese sandwiches using an English muffin, wrap them in parchment paper and freeze in freezer-safe resealable bags. Then, I use my air fryer to reheat them from frozen.
Are these like Starbucks egg bites?
They are similar in that they are made with eggs and can be eaten with one bite. However, Starbucks uses a lot of cheese and a cooking method (Sous Vide) that requires special cooking equipment.
Can I use all egg whites to make this recipe?
Yep! If you want to make this with just egg whites, use 16 egg whites instead of 12 whole eggs.
How do you store baked eggs?
Store baked eggs in an airtight resealable food-safe bag and place in the refrigerator. Store in the refrigerator for up to 3 days.
More Easy Breakfast Recipes
Did you bake eggs in a muffin tin and love them? Please leave a 5-star review or comment below to let me know!
Don't forget to follow me on Instagram @carrots.and.cookies and tag me in a picture when you make these so I can see it!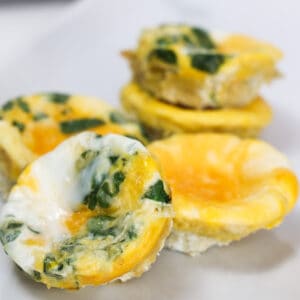 Easy Baked Eggs in Muffin Tins
You are going to love these baked eggs that are perfect for a quick grab and go breakfast or snack. All you need are two basic ingredients and a muffin tin!
Instructions
Preheat oven to 350 degrees Fahrenheit.

Grease a 12-cup muffin tin well using cooking spray or butter.

If you want to add optional toppings, sprinkle about one tablespoon of the toppings of your choice to the bottom of each muffin cup.

Pour about ¼ cup of egg mixture into each muffin cup, distributing the mixture evenly among the muffin cups.

Bake the eggs in the muffin tin in the oven for 14 minutes. See notes.

Remove from the oven and let cool slightly before serving.
Notes
*The nutritional value of the recipe is an estimate and only includes the eggs as ingredients. The nutritional value will change if egg whites are used instead or of additional toppings are used.
Grease the muffin tin well to keep the oven baked eggs from sticking to the sides of the pan. 
There are so many ways to change up this egg muffin recipe! If you are adding other ingredients, like chopped veggies, cheese, or herbs, place them in the muffin cups before pouring the egg mixture in. 
I don't suggest adding more than 1 tablespoon of add-ins / toppings because otherwise the egg mixture might spill over the edges while baking.
If you want to use all egg whites for this recipe, use 16 egg whites in place of the 12 eggs that the recipe calls for. 
Check the eggs after 14 minutes. Depending on your oven and if you choose to add anything to the eggs, they could take up to 17 minutes to bake.
If you have a convection oven, reduce the convection bake temperature to 325 degrees Fahrenheit.
Store baked egg muffins in an airtight container or resealable bag in the refrigerator for up to three days.
Reheat baked egg muffins in the microwave for about 30 seconds.
Check out the recipe post for recipe variations.
Nutrition
Calories:
126
kcal
Carbohydrates:
1
g
Protein:
11
g
Fat:
8
g
Saturated Fat:
3
g
Polyunsaturated Fat:
2
g
Monounsaturated Fat:
3
g
Trans Fat:
0.03
g
Cholesterol:
327
mg
Sodium:
125
mg
Potassium:
121
mg
Sugar:
0.3
g
Vitamin A:
475
IU
Calcium:
49
mg
Iron:
2
mg