This vibrant and refreshing oat milk smoothie is a kid-favorite! There's so much fruit in this (orange, pineapple, and banana) that they'll never know carrot is used to give it the extra pop of color! And, because it's made with oat milk, kids with dairy, soy, and nut allergies can enjoy it, too!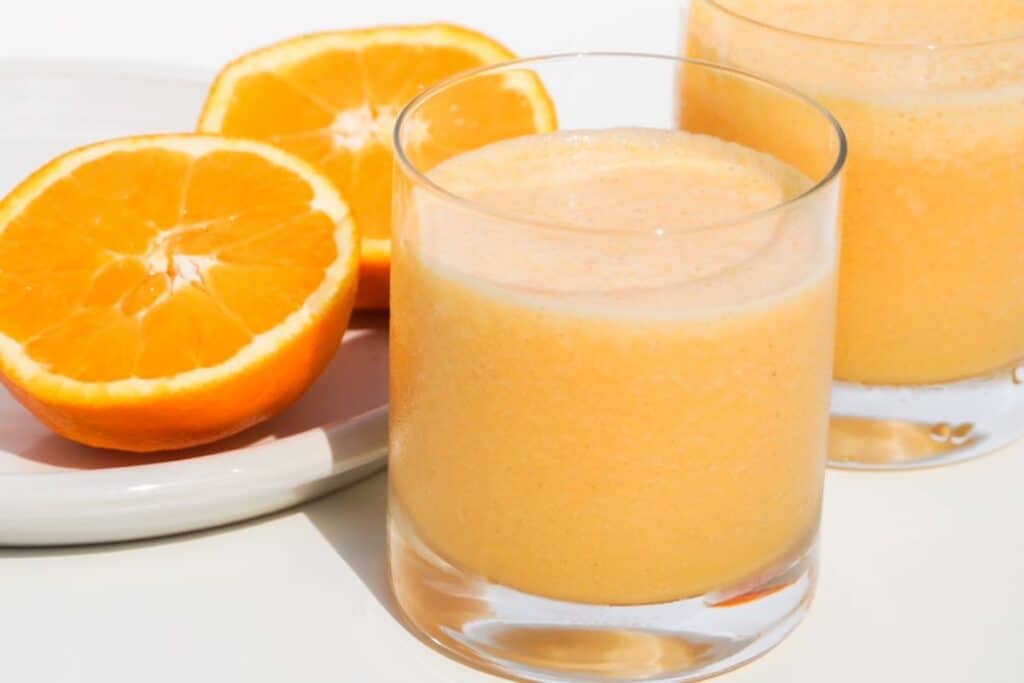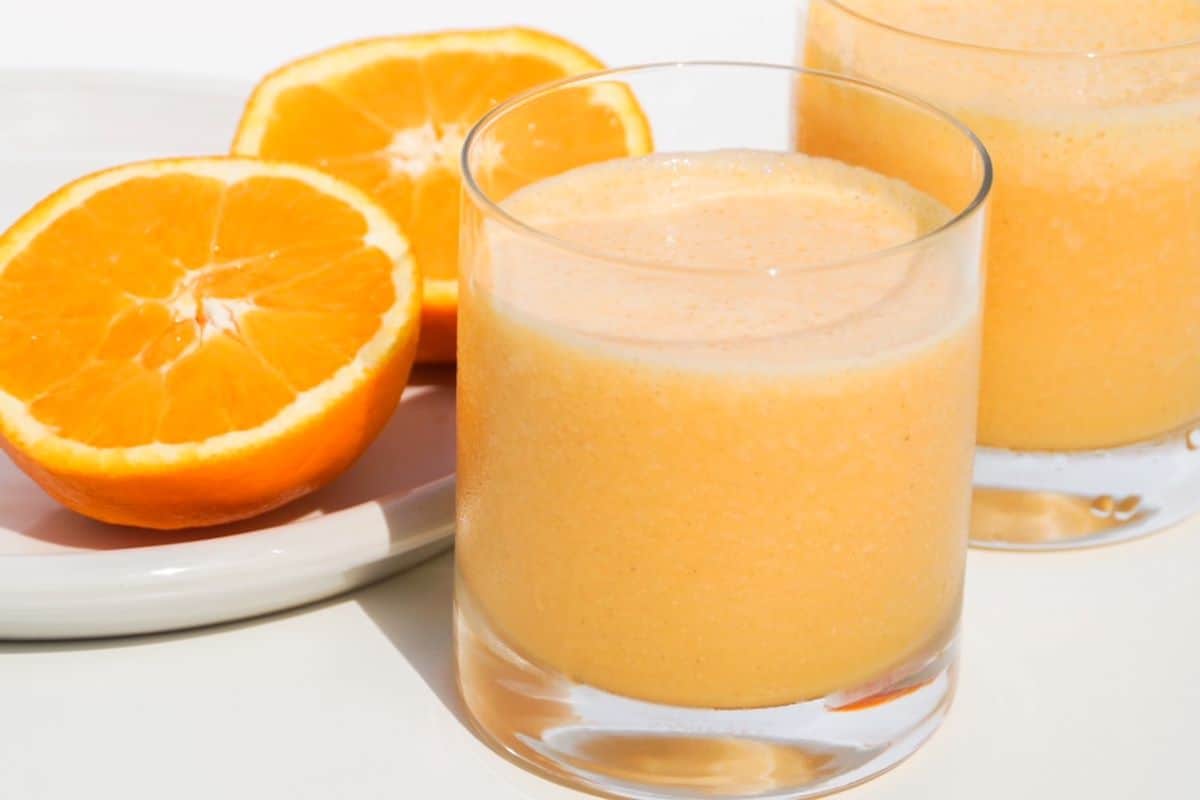 I started noticing that so many recipes that kids were raving about included either apple juice or orange juice as an ingredient. I guess it's because juices add sweetness and help thin out the smoothie. Well, I figure why not give it a shot with the whole fruit and a small amount of water in place of juices - success!
And, if you know me, you know I'm all about food exposure for kids. We are not a dairy-free household, but I encourage my kids to try new flavors and textures.
When I used all oat milk (in place of oat milk and water) when making this smoothie, my kids thought it tasted too much like oat milk and really didn't care for it... so, I cut back on the amount and they loved it!
For more refreshing and kid-approved recipes that call for frozen fruit, check out my strawberry banana and tropical blue smoothie bowl recipes!
You've also got to make my Fresh Fruit Salad for your kids - it is the perfect compliment to school lunches!
about this recipe
Lessen the stress of 'back to school' schedules by having these easy to find ingredients on hand and ready to blend up for an easy and healthy start to school days!
This smoothie is made with whole fruits and vegetables (no juices), which makes it high in fiber. Fiber helps kids feel full longer and keeps things moving in the digestive tract.
Oat milk is used so kids with dairy, nut, and soy allergies can enjoy it, too.
Made with less oat milk than usual because it's the way kids like it, ha!
This is a vegan recipe.
All you need is a high powered blender (I love my Vitamix) and this smoothie will be ready in no time.
Can be served as part of your child's breakfast or as an afterschool snack.
ingredient notes
Orange Use a large seedless navel orange, peeled. Oranges are high in vitamin C and fiber. If using an orange with seeds, remove the seeds.
Frozen pineapple pieces Pineapple adds a wonderful sweetness that masks the flavor of the banana and oat milk. Pineapple contains manganese, copper, various vitamins, and fiber.
Banana Use an over-ripe banana. An over-ripe banana helps give this smoothie a smooth texture and acts as a natural sweetener. Bananas are high in potassium and fiber.
Oat milk I used unsweetened oat milk. Oat milk is thought to be the milk alternative that is most similar to cow's milk in flavor and texture. It is a nice option for kids with certain dietary restrictions because it is naturally free of dairy, soy, and nuts. Still, use whatever milk you prefer or have on hand!
Carrot Carrots are an affordable vegetable that are easy to find year round. They are a good source of vitamin A (beta carotene) and fiber. Carrot adds a vibrant orange color that your kids will love.
Hemp hearts Hemp hearts provide omega-3 fatty acids and protein. They also contain fiber, potassium, iron, and more. Oat milk is low in protein, so hemp hearts help round out the nutrition profile of this recipe.
Ice and water Added to get the perfect consistency for a smoothie.
step-by-step instructions
Here's a quick overview of the steps to make this smoothie. For the full list of ingredients and instructions, scroll down to the recipe.
Place water, the orange, and oat milk in a high powered blender.
Add carrot, banana, and ice.
Then add the hemp hearts and frozen pineapple pieces.
Blend well, until the desired consistency is reached. It takes about one minute with my Vitamix.
expert tips and faqs
You can substitute oat milk for the water if your kids really enjoy the taste of oat milk. When I made it this way, my kids felt like the oat milk flavor really stood out.
Regular cow's milk or a different milk alternative can be used in place of oat milk in this smoothie.
Frozen mango can be used in place of pineapple but the smoothie will be less sweet.
Either a fresh or frozen over ripe banana can be used. Using a frozen banana will thicken the smoothie. If the smoothie is too thick when using a frozen banana, add a small amount of additional water or oat milk to thin it out.
Why is oat milk so popular?
Oat milk is safe for people with dairy, soy, and nut allergies. Plus, it has a hint of natural sweetness and is thicker than other milk alternatives which makes it useful in smoothies.
Is oat milk good for you?
Oat milk can be included in a healthy, well-balanced diet.
Back to School Orange Carrot Oat Milk Smoothie
This easy oat milk smoothie recipe makes a tasty addition to breakfast or after school snack!
Equipment
Blender, preferably a high speed blender
Ingredients
1

Orange (seedless)

Large seedless navel orange, peeled.

1

Banana

Overripe

2

Carrots

Small to medium sized. Or, one large carrot. Ends removed and scrubbed well

1 ½

cups

pineapple pieces

Frozen pineapple pieces.

¾

cup

Oat milk

unsweetened

3

tbsp

Hemp hearts

¾

cup

water

1

cup

ice cubes
Instructions
Place all ingredients in a high powered blender in the order listed.
Notes
Either scrub the carrots well or wash and peel them first.
If using fresh pineapple instead of frozen, add a few more ice cubes.
When blending, start on a low speed. After about 20 seconds, gradually increase the speed and blend for an additional minute, or until the desired consistency is reached. 
Nutrition
Calories:
174
kcal
Carbohydrates:
27
g
Protein:
6
g
Fat:
6
g
Saturated Fat:
1
g
Polyunsaturated Fat:
4
g
Monounsaturated Fat:
1
g
Sodium:
48
mg
Potassium:
352
mg
Fiber:
4
g
Sugar:
18
g
Vitamin A:
5374
IU
Vitamin C:
51
mg
Calcium:
116
mg
Iron:
2
mg