Knowing how many tablespoons are in a cup can save you time and lessen stress with cooking, especially in those moments when you realize that you are multiplying a recipe, don't have the proper measuring cups, or the measuring cups you do have are in the dishwasher and you need something to measure with now.
I've included an easy-to-read measurement conversion chart that I created to take the guess work out of converting tablespoons (tbsp) to cups when you are short on time.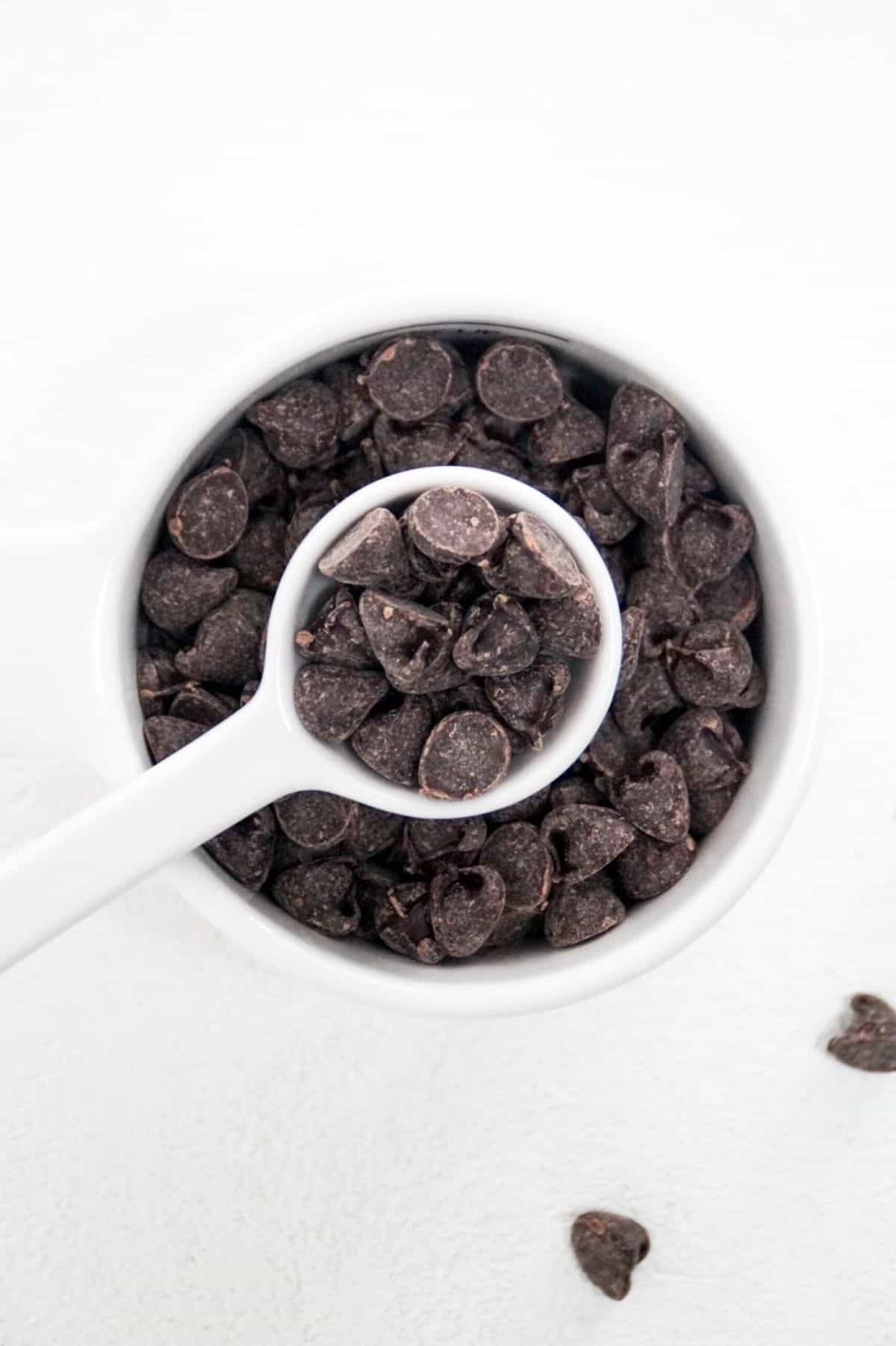 Have you ever gone to double a recipe but have no idea how to convert tablespoons to cups? Or, how about cutting a recipe in half and wondering how to divide a quarter of a cup in half?
I've been there! Thankfully, one major 'life skill' I learned in the food service part of my dietetic internship was how to convert units of measurement. I mastered the basics by memorizing how many tablespoons are in a cup, how many teaspoons are in a tablespoon, and how many ounces are in a cup. The rest is simple math that can be done with a basic calculator.
Understanding these two conversions will help make measuring ingredients easier when you cook. Let's get started!
Jump to:
What is a Cup?
Who knew that such a simple word could be so confusing? As a dietitian, I've learned to ask clients to clarify what kind of cup they use because when they say they have a "cup of milk" or a "cup of juice" with breakfast, that could mean they are drinking anywhere from four to twenty-four ounces, depending on the size of their 'cup' at home. What a difference!
Thankfully, for recipes, the term "cup" has been a little more standardized and is used to reference a measuring cup. Measuring cups are used for measuring volume, usually in cooking and baking, and come in different sizes.
Measuring cups are essential for accurately measuring ingredients when making a recipe. In the United States (US), one cup is equal to 8 ounces or 240 milliliters (mL) of volume and is used to measure both dry and wet ingredients.
What is a Tablespoon?
A tablespoon is a unit of measurement used to measure small amounts of ingredients, such as flour, oil, and spices, in cooking and baking. One tablespoon is equal to approximately three teaspoons, or 15mL.
How to Convert a Cup into Tablespoons
Here is a simple chart that I created that shows how to convert cups to tablespoons.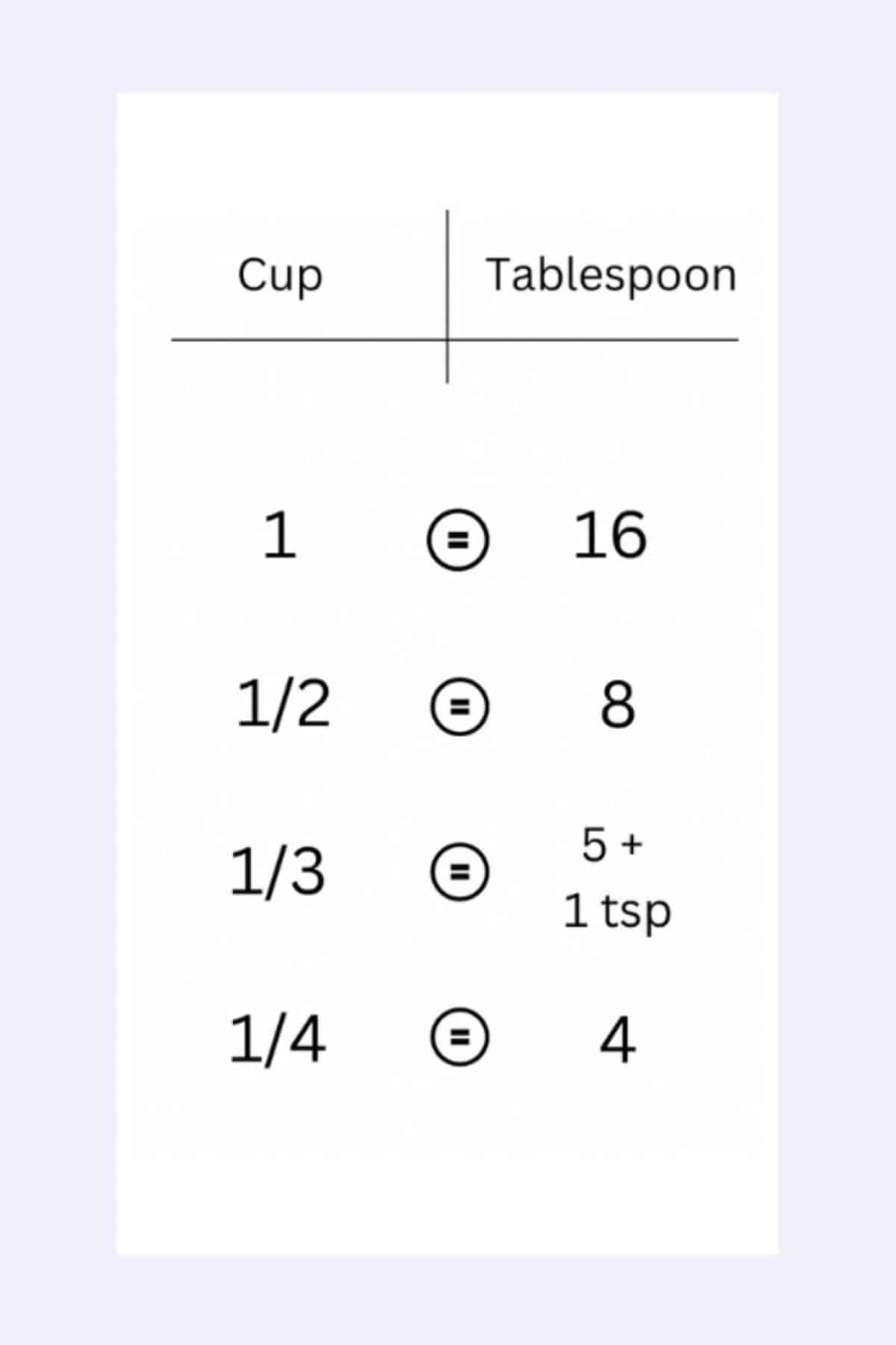 How Many Tablespoons in a Cup
There are 16 tablespoons in a cup. That's right, sixteen tablespoon equals one cup. It sounds easy, but you might end up second guessing yourself if you don't measure often. This is why I've found it easier to remember that there are four tablespoons in a quarter of a cup.
So, now you know for the next time you find yourself asking, "what is one cup in tablespoons?" the answer is 16!
How Many Tablespoons in ½ Cup
There are 8 tablespoons in a half cup. So, if your recipe calls for a half cup and you don't have a half cup measurement, you can use eight tablespoon instead. Easy, right?
How Many Tablespoons in ⅓ Cup
There are 5 tablespoons plus one teaspoon in a third of a cup. Another way to look at it as 5 and one-third of a tablespoon since there are three teaspoons in one tablespoon.
How Many Tablespoons in ¼ Cup
There are four tablespoons in one quarter of a cup. This is the main conversion that I have chosen to memorize because it makes it easier to divide and multiply. I'll say it again, one quarter of a cup equals 4 tbsp.
Practical Application from a Dietitian Mom
I make energy bites all the time. My kids love them, I love them, and they freeze well. We started going through them so often that I started to double or triple the recipe, which is why I figured it would make a good example to show you how to convert tablespoons to cups for a recipe.
My recipe calls for 3 tablespoons plus 1 teaspoon of honey. When I multiply the recipe by three, which I often do, instead of having to measure out 9 tablespoons and 3 teaspoons, I can measure out a half of a cup and then would have to add two tablespoon honey extra.
This is because there are 3 teaspoons to a tablespoon (so in total I would need 10 tbsp) and 8 tablespoon in a half of a cup. Since I don't have a ⅛ measuring cup, I just add the extra two tablespoon separately of honey.
How to Measure Using Tablespoons and Cups
You may have noticed that there are measuring cups with spouts and measuring cups with flat edges. The measuring cups with spouts are known as liquid measuring cups. The measurement lines stop below the edge to make it easier to pour.
The measuring cups with flat edges are mostly used to measure dry ingredients like flour, oats, and sugar. When measuring dry ingredients, your measurement will be most accurate if you use a spoon to place the dry ingredient into the measuring cup with a flat edge and then use the back side of a knife to flatten the surface so that the dry ingredient is level with the edge of the cup.
Measuring with a tablespoon is similar to measuring with a measuring cup that has a flat edge. You want the ingredient you are measuring to come level with the edge of the tablespoon.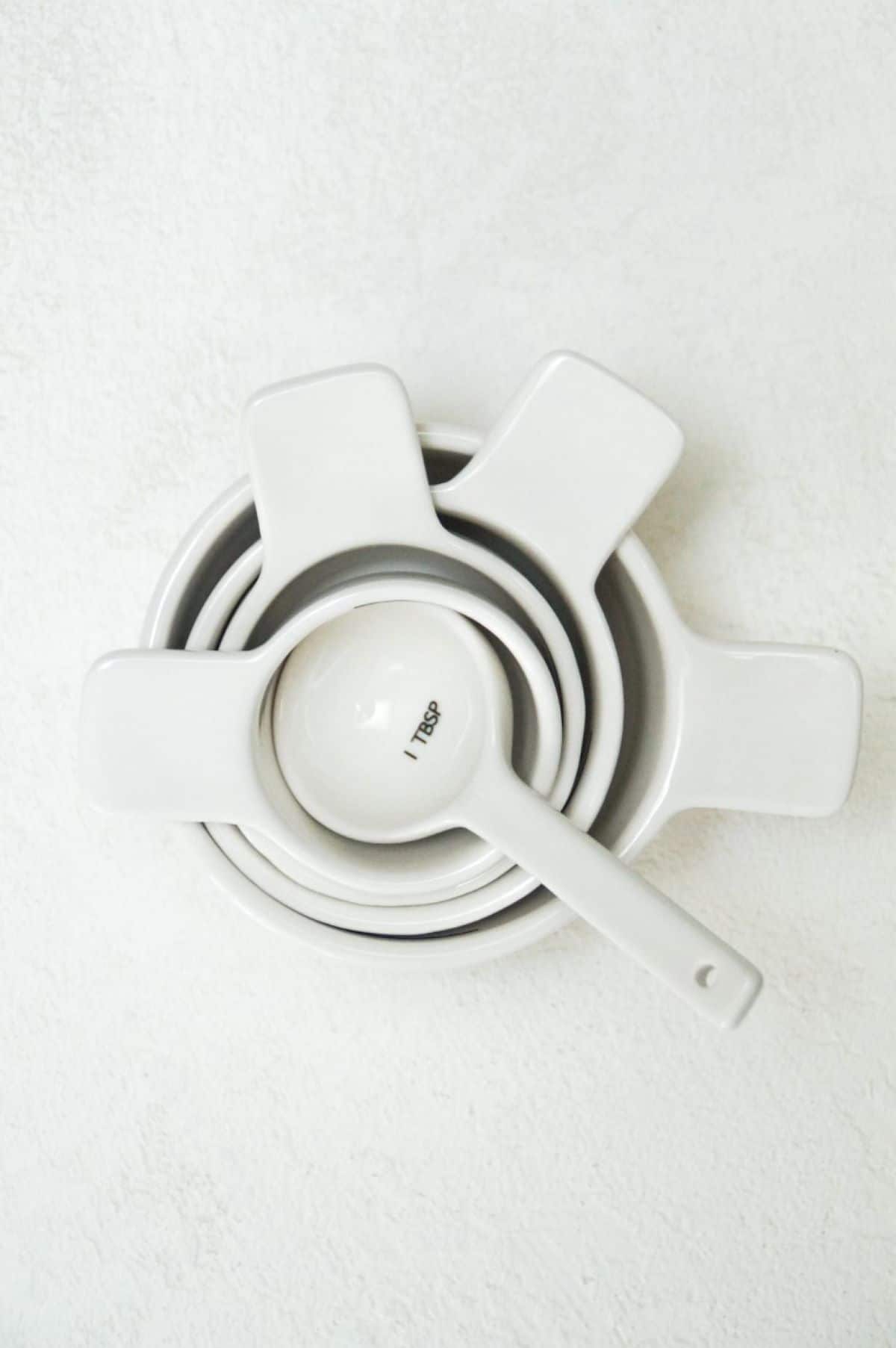 Tips for Measuring
Be sure to level off dry ingredients before adding them to a recipe, especially when baking. Adding a mounded cup of chicken to a tortellini dish wouldn't make a difference, but adding a mounded cup of flour when making cookies or a cupcakes might all the difference.
If you need to convert tablespoons to a cup and you aren't quite sure what the conversion is, look it up. You'd rather take an extra minute to look it up rather than chancing it and possibly ruining the recipe.
When multiplying a recipe or cutting a recipe in half, I suggest doing all of the measurement conversions ahead of time and write them down with the recipe. I've tried doing the conversions in the moment and it didn't work out very well 😉
Please keep in mind that while for the most part tablespoons are the same around the world, measuring cups are not. The FDA has defined the US legal cup to measure 240mL for the purposes of nutrition labeling but other countries define a one cup measurement differently.
Questions You May Have
How many teaspoons are in a tablespoon?
There are three teaspoons in one tablespoon.
How many tablespoons in a cup of butter?
There are 16 tablespoon in a cup of butter. You will need two sticks of butter when a recipe calls for one cup because there are usually 8 tablespoon of butter in one stick.

Most brands put markings on the outside of the wrapping on each stick of butter to show you how many tablespoons are in one stick.
What is 3 tablespoons equal to in cups?
Three tablespoons does not easily convert into a cup measurement. 3 tablespoons equal 0.1875 cups, which is between ⅛ and ¼ of a cup.
How do you convert 12 tablespoons to cups?
There are 4 tablespoons in ¼ of a cup. So, if you divide the number of tablespoons by 4 it will give you the number of 'quarter cups'. Then, you multiply that number by ¼.

In this case, 12 divided by 4 is 3 and 3 times ¼ is ¾. So, 12 tablespoons is equal to ¾ of a cup.
Easy & Delicious Recipes
Did you find this post answer your question about how many tablespoons are in a cup? Please leave a comment below to let me know!