Homemade sourdough French toast makes an easy and delicious breakfast option any day of the week. Consider this a lightened-up version of classic French toast, made with a few simple ingredients and ready in just 10 minutes!
Plus, I'll teach you my trick to making French toast quick!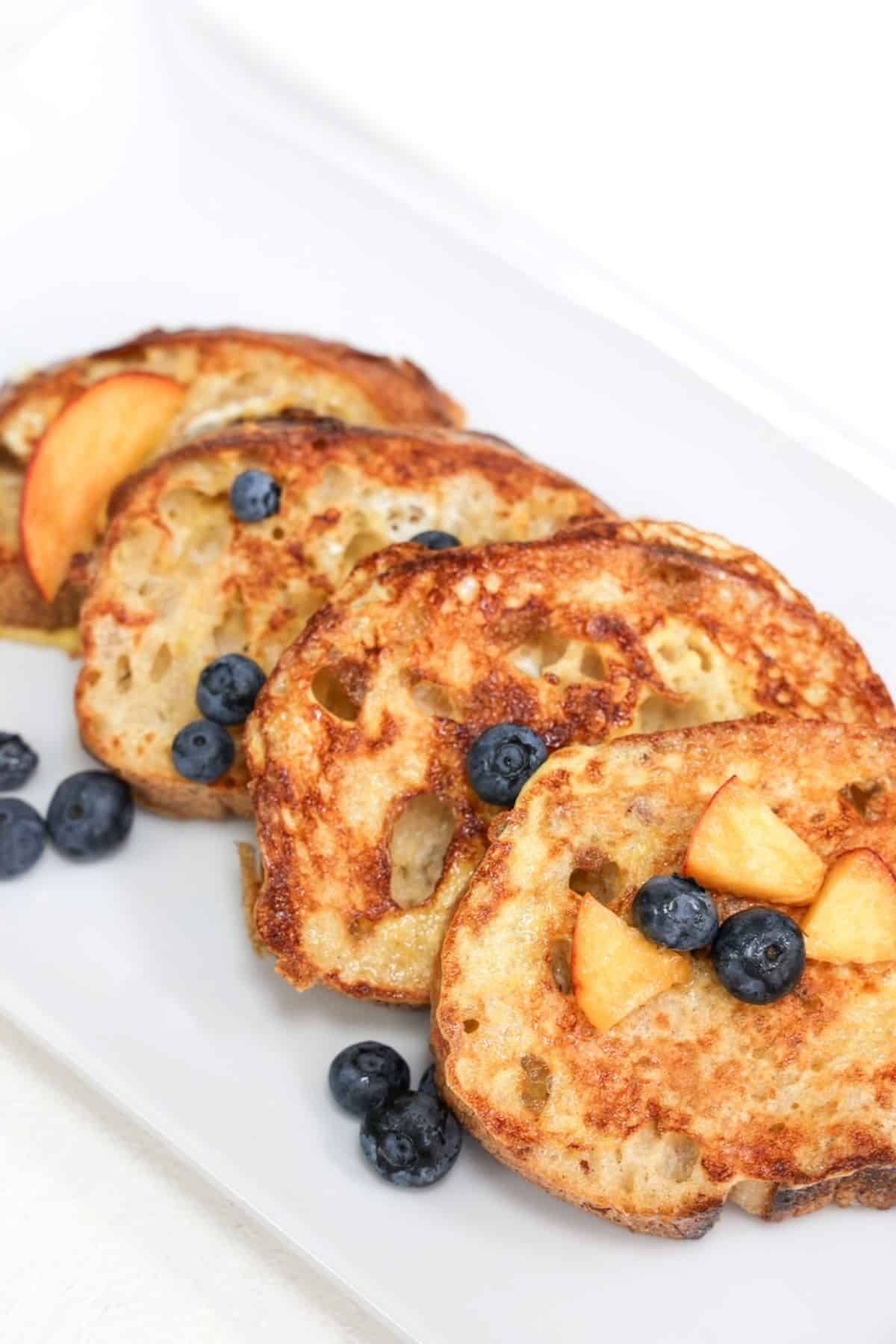 Who knew that making delicious French toast using sourdough could be so easy? I started making French toast for my kids years ago when I realized how much my kids loved it even after I lightened it up by using regular milk (instead of heavy cream) and less sugar than most traditional recipes.
Of all breakfast recipes, French toast is one of my favorites to make because, just like pancakes, I can make a lot at once. Then all my kids have to do on busy mornings is reheat it and choose what they want to top it with!
Jump to:
Easy Sourdough French Toast
Sourdough bread has gained in popularity over the years because of potential nutritional benefits, especially as it relates to gut health.
And thankfully, turning days old sourdough bread into sourdough French toast is so much easier than you think! In fact, it's so easy to make, that you won't want to wait for a weekend brunch or special occasion to make it.
This recipe uses standard-sized slices (not thick cut slices) of sourdough bread, eggs, milk, vanilla, and cinnamon to make the most easy and delicious breakfast for any day of the week.
And, because kids love French toast, too, you're going to want to double or triple batch this recipe so all you have to do in the mornings is reheat it!
What is Sourdough Bread?
Sourdough bread is a bread made by the fermentation of dough. It has a sour taste which helps to balance out the sweetness from maple syrup and fruit that is often served with French toast.
Sourdough bread from a bakery has a different texture than sourdough sandwich bread that you find at the grocery store. Either one can be used to make French toast, but the soaking and cooking times will be different.
Recipe Highlights
Ingredient Notes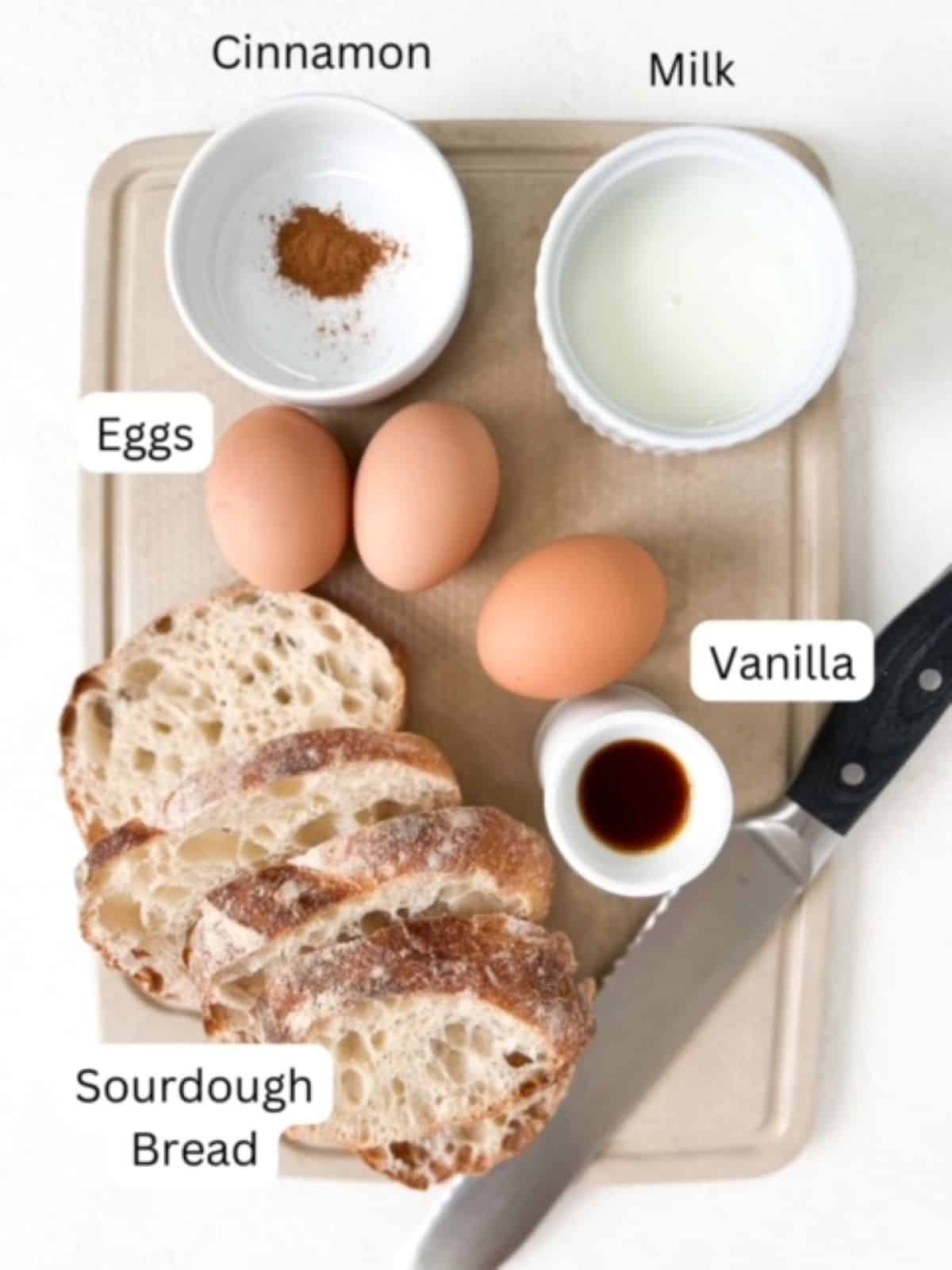 Step-by-Step Instructions
Make the egg mixture. Add the eggs, milk, vanilla, and cinnamon to a medium mixing bowl and whisk well. Pour batter into a square baking dish.
Dip the bread slices in the egg mixture. Use a fork or pair of tongs to dip and flip the slices of bread so that all sides have been coated in the egg mixture.
Place the slices of dipped sourdough onto a greased skillet over medium heat. I like to use a square griddle pan to make French toast because more slices fit on it, but you can use a large skillet instead. After 2-3 minutes, flip each slice over and continue to cook it in the pan over medium heat for another 2-3 minutes, or until each side is golden brown.
Continue to cook until each side is golden brown.
My trick for making French toast quick Use two square griddle pans, or one square griddle pan and one large skillet to cook French toast at the same time! It's a game changer because it literally cuts the cooking time in half. I don't know why I didn't think to start doing this sooner!
Recipe Notes
French Toast Topping Ideas
What to Serve with French Toast
Questions You May Have
What kind of bread is best for making French toast?
The only kind of bread that you absolutely should not use (or eat) is moldy bread. Otherwise, you can change up the kind of bread you use to make french toast.

Sourdough bread, cinnamon raisin bread, and brioche bread are pretty popular to use for French toast.
How thick should you slice bread for French toast?
Even though it is often suggested that you only use thick slices of bread to make French toast, I have found that my kids like it better when I use regular slices of bread.

Also, thick slices of bread soaked in the egg batter are harder to cook through on the stovetop. For all of these reasons, I choose regular slices of sourdough bread.


How to reheat French toast
French toast can be reheated in a microwave or air fryer. I prefer to reheat French toast in my air fryer so that the sides crisp up a bit.
Can you freeze leftover French toast?
Yes! You can freeze French toast in freezer-safe resealable bags in the freezer for two to three months.

To reheat the frozen French toast, place the bag of frozen French toast slices in the refrigerator overnight to defrost before reheating or place individual slices of frozen French toast in your air fryer to reheat.
Related
Did you make this sourdough French toast from scratch and love it? Please let me know by leaving a comment or 5-star review below!
Sourdough French Toast
This easy and delicious homemade sourdough French toast recipe is made with simple ingredients in just 10 minutes!
Equipment
1

square griddle pan

I use two pans at the same time to cook several slices of French toast at the same time.
Ingredients
10

slices

sourdough bread

6

eggs

½

cup

milk

I use skim milk.

2

teaspoon

vanilla extract

½

teaspoon

cinnamon
Instructions
Heat one or two greased square griddle pans on the stove over medium heat.

Place eggs, milk, vanilla, and cinnamon in a square baking dish and whisk very well.

Place each slice of sourdough bread in the egg mixture. Use tongs to flip the slices over to make sure all sides of each slice of bread are coated in the egg mixture.

Place each slice of bread coated in the egg mixture on the hot greased griddle pan. Cook for 2-3 minutes.

Use a spatula to flip each slice over and continue cooking over medium heat for another 2-3 minutes, or until each side is lightly browned.

Serve right away or place on a baking sheet in a warm oven to keep warm until ready to serve.
Notes
*Nutrition facts are an estimate and will vary based on the thickness of slices, the kind of milk used, and how much egg mixture is absorbed by the bread.
The slices of sourdough should not sit in the egg batter for more than a few seconds. If you leave the bread to sit in the batter, your French toast will be soggy.
Cook time will vary depending on the thickness of the slices of sourdough used, as well as how much of the egg mixture the bread soaks up.
Use avocado oil spray or butter to grease the skillet or pan(s).Whisk the egg batter very well using a fork or whisk to blend the egg whites and yolk together well. This will help keep the French toast from being too 'eggy.'If you like French toast to be more 'eggy,' lightly whisk the egg batter.
If you don't like French toast to be 'eggy' at all, you can increase the amount of milk.
If you like French toast a little darker and crispy on the sides, cook each side a little longer.
I've heard that sprinkling a small amount of sugar on each side before cooking it will help to caramelize it, but I haven't tried it because I try to minimize the amount of added sugar in main dish recipes like this one.
If you will be serving this French toast to kids and don't have maple syrup, fresh fruit, or whipped cream to top it with, consider adding a tablespoon of maple syrup to the egg batter to give it a little sweetness to balance out the sour taste from the sourdough bread.
To enhance the flavor even more, consider adding a dash of ground nutmeg in addition to the cinnamon.
Buying a whole loaf of sourdough and slicing it yourself using a bread knife will help you get the perfect thickness to make sourdough. While I don't like to use very thick slices of bread to make French toast, sometimes pre-sliced store-bought bread are sliced too thin.
If you only have one pan or skillet to use, it will take longer to make 10 pieces of French toast.
Nutrition
Calories:
437
kcal
Carbohydrates:
68
g
Protein:
21
g
Fat:
8
g
Saturated Fat:
2
g
Polyunsaturated Fat:
2
g
Monounsaturated Fat:
2
g
Trans Fat:
0.02
g
Cholesterol:
197
mg
Sodium:
856
mg
Potassium:
267
mg
Fiber:
3
g
Sugar:
8
g
Vitamin A:
336
IU
Vitamin C:
0.01
mg
Calcium:
131
mg
Iron:
6
mg