Not able to find a box of pancake mix on the shelves? No problem! Thankfully homemade pancakes are very easy to make and use basic pantry ingredients - phew! You can do this!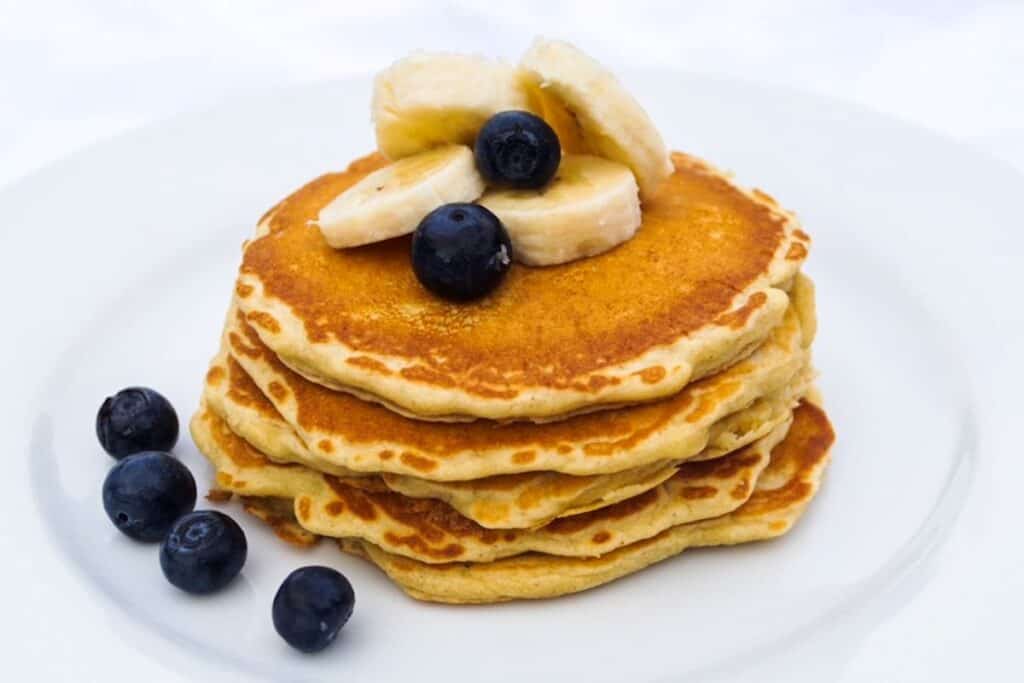 I love how versatile pancakes are! Pancakes can be served first thing in the morning or when having breakfast for dinner. And, with this recipe only requiring one bowl for mixing, cleanup will be easy!
Plus, serving a hearty wholesome breakfast like this might just help lessen the non-stop requests for snacks!! It's true!
Dress pancakes with your favorite fixings or use them to make mini breakfast burritos. Encourage your kids to get creative! My son recently ate his taco-style; my daughter used to request a pancake sandwich in her school lunch - fun!
About this recipe
What kid doesn't like a nice and fluffy pancake? When I first started this blog, I was reading posts about people not being able to find pancake mix on the grocery store shelves. I thought, who needs buy pancake mix when you can easily make your own? It really is so easy!
Made with oat flour and white whole wheat flour to create the perfect balance of texture and flavor.
Because oat flour isn't the only flour in this recipe, you do not need to soak the flour for ten minutes, as many oat flour pancake recipes call for you to do.
High in fiber so your kids will feel full longer.
Kids require a lot of energy and energy comes from food. Beginning the day with a hearty and healthy breakfast like this will help start their day with the energy they need to focus, play, and grow.
Let your kids choose their toppings! I love to top mine with peanut butter and a light drizzle of pure maple syrup, but my kids prefer different toppings.
Leftover pancakes reheat well.
One of my kids liked it when I made her a peanut butter and jelly sandwich using small leftover pancakes in place of bread. Get creative!
Ingredient Notes
Oat flour Provides soluble fiber and helps balance out the texture and flavor of white whole wheat flour (in my opinion anyway, haha!).
White Whole Wheat Flour

White whole wheat flour is unbleached. It has the same nutritional value as whole wheat flour. And, because of the variety of wheat used to make it, white whole wheat flour has a milder flavor, a lighter color, and a softer texture.

Milk Provides protein, calcium, and vitamin D. I use skim milk.
Egg Helps with the consistency of the pancakes. Provides protein and other nutrients
Olive oil Use extra virgin olive oil. Good source of healthy fats.
Baking Powder Used for leavening.
Sugar Used for flavor. Sugar is an inexpensive way to sweeten whole grain products.
Salt Added for flavor.
step-by-step instructions
Here's a quick over view of the steps to make these whole grain pancakes. For the full list of ingredients and instructions, scroll down to the recipe.
Add dry ingredients to a medium mixing bowl and stir together.
Add liquid ingredients one at a time and mix well, just until all ingredients are combined.
Let sit for about five minutes to let the baking powder work.
Heat a greased griddle pan while pancake batter is sitting.
Pour batter on griddle. Use about one-quarter cup of batter per pancake.
Cook for about two minutes. When edges appear cooked and bubbles formation slows down, flip the pancake over and cook for an additional two minutes, until done.
expert tips and FAQs
Ask your kids how they would like them served - the child that wouldn't eat eggs may now eat them if wrapped inside of a pancake. You won't know until you try!
Let the batter sit for five minutes. Don't skip this step or you will end up with very flat (but still edible) pancakes.
For fluffier pancakes, sift the flour once or twice before adding it to the dry ingredients and/or let the batter sit a little longer before pouring on to the pan.
Super Simple Pancake Recipe
These kid-favorite pancakes use basic pantry (healthy) ingredients, are super easy to make and can easily be reheated! Serve them for breakfast or let them cool and use them to make your kids pancake sandwiches for lunch - so fun!
Ingredients
½

cup

white whole wheat flour

can substitute unbleached all-purpose flour

½

cup

oat flour

2

teaspoon

baking powder

aluminum-free

2

teaspoon

sugar

¼

teaspoon

salt

1

cup

milk

I use skim milk

1

egg

whisk well with a fork

2

tablespoon

olive oil

extra virgin
Instructions
Mix all dry ingredients together in a medium mixing bowl.

Add wet ingredients one at a time to the dry ingredients and mix well.

Let sit for at least 5 minutes.

Pour about ¼ cup of batter on to a hot, lightly oiled pan.

Cook for about 2 minutes. When the edges appear cooked and the entire surface is covered with small bubbles, use a small spatula to flip the pancakes over. Cook for an additional 2 minutes.
Notes
Letting the batter sit before pouring on to the hot pan allows the baking powder to activate. Without this step, the pancakes will be extremely flat and more difficult to flip.
Have fun and play around with the types of flour! The texture of the pancakes will change as you change the type(s) of flour used but the taste should still be excellent. If using only all-purpose flour, use one cup of all-purpose flour in place of the first two ingredients.
If your kids are used to the sweetness from a pancake mix, you might want to try using 3 teaspoons of sugar in this recipe first and then gradually cut back to 2 teaspoons. Since most kids prefer to eat pancakes with syrup, they likely won't be missing the extra sugar, though!
Topping ideas: peanut butter, almond butter, maple syrup, bananas, berries
This recipe is easily doubled. Freeze leftovers to enjoy another time!
Nutrition
Calories:
110
kcal
Carbohydrates:
13
g
Protein:
4
g
Fat:
5
g
Saturated Fat:
1
g
Polyunsaturated Fat:
1
g
Monounsaturated Fat:
3
g
Cholesterol:
24
mg
Sodium:
175
mg
Potassium:
93
mg
Fiber:
1
g
Sugar:
3
g
Vitamin A:
96
IU
Calcium:
124
mg
Iron:
1
mg