This simple granola recipe is too good to be true! Simple healthy ingredients, ready in 20 minutes, and it's a hit with kids? Yes, please!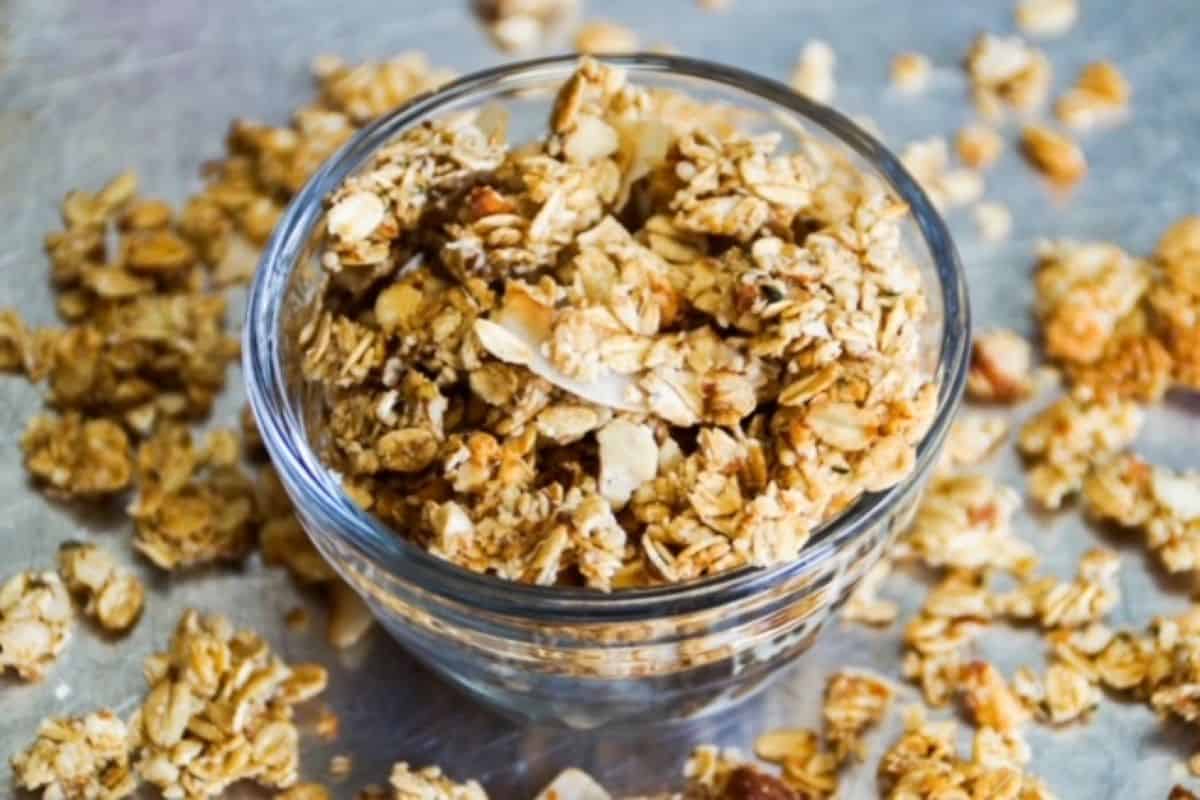 Kids love this granola! Serve it for a snack or use it to make Fruit and Yogurt Parfaits, smoothies, and fruit crisps. Granola can also be used as a topping for pancakes or Fresh Fruit Salad!
It's so good that I often gift it! In fact, I just made a batch for this exact purpose! You've got to try it!
A few years ago an unexpected package arrived. It was a copy of the True Roots cookbook. I had never heard of it and I had no idea who gifted it!
Although I am not all about eliminating gluten, dairy, etc (unless medically necessary), I have enjoyed some of the recipes. This recipe is one that I adapted from it. Enjoy!
Did I leave you hanging? I thought it was my aunt who gifted me the cookbook, but it turns out it was my younger sister. Fun surprise!
About this recipe
Granola typically consists of rolled oats, nuts, honey or other sweeteners, oil, and sometimes, dried fruit. Granola is served with breakfast or as a snack.
Can be served alone as a snack or as a topping for smoothie bowls, yogurt, pancakes, and more. Let your kids get creative!
Easier than most homemade granola recipes because there is no mixing required once it goes in the oven
It's so easy - even kids can help you make it.
This is a healthy snack that does not need to be refrigerated. This makes it perfect for when your family is 'on the go', whether to sporting events or when traveling.
This recipe contains almonds, which is a tree nut. Do not serve this granola recipe to kids who have a tree nut allergy.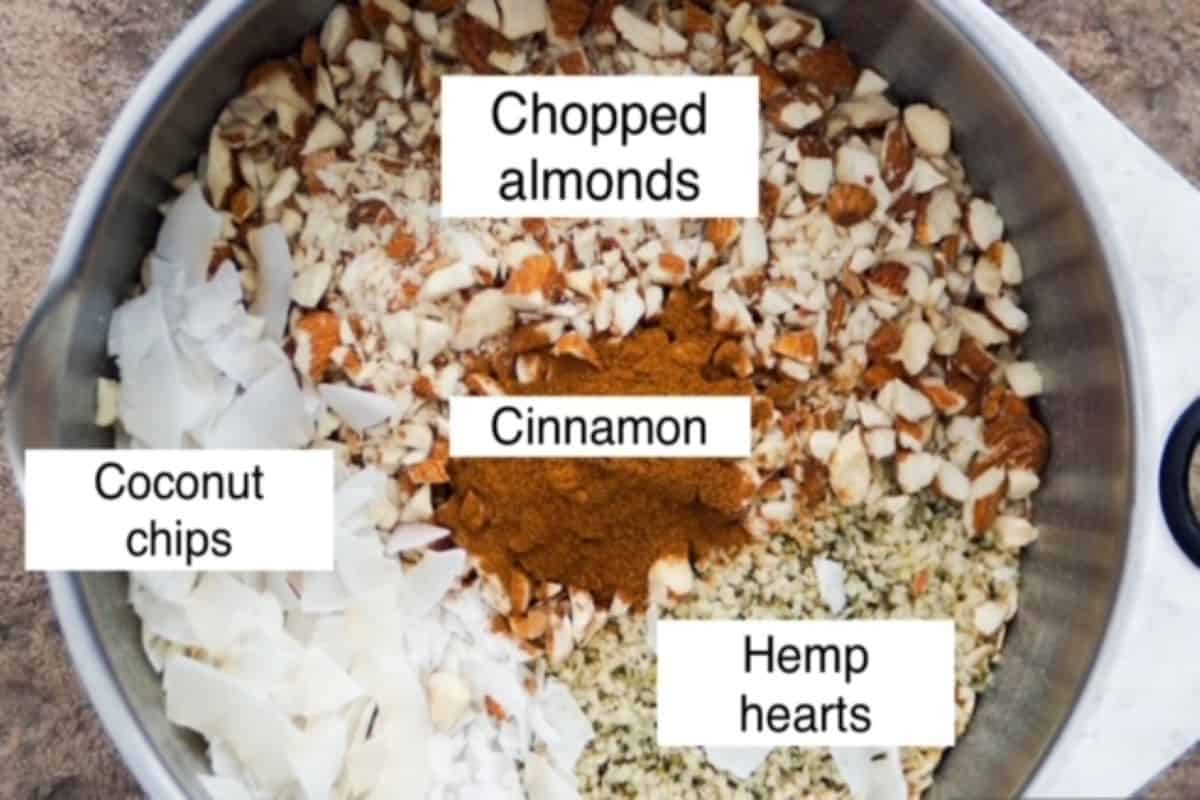 Ingredient Notes
Oats Use Rolled Oats. Oats are a whole grain and are an excellent source of soluble fiber, insoluble fiber, phosphorus, thiamine, magnesium, and zinc. The American Heart Association recommends eating at least three servings of fiber-rich whole grains daily. This is one easy way to get some in!
Raw Almonds Almonds are a tree nut. They add a crunchy texture as well as health benefits to this granola. Almonds contain fiber, omega-3 and monounsaturated fats, protein, Vitamin E, Manganese, Magnesium, and more.
Hemp Hearts Hemp hearts are a source of Omega-3 fatty acids and protein. They also contain fiber, potassium, and iron.
Coconut Chips For flavor and texture. Unsweetened coconut chips add a very mild coconut flavor - it's perfect for those that love coconut and those that could do without it. So good!
Cinnamon For flavor
Honey Used for crunch and natural sweetness.
Olive Oil Olive oil is rich in monounsaturated fats and is full of antioxidants and anti-inflammatory properties
Steps to make this recipe
Here's a quick overview of the steps to make this granola. For the full list of ingredients and instructions, scroll down to the recipe.
Mix all ingredients together.
Spread out evenly over a rimmed baking sheet lined with parchment paper.
Press down on granola with the palm of your hand to flatten the granola.
Bake in a preheated oven.
Let cool completely before breaking it into pieces.
Expert tips and FAQs
Use Old-Fashioned oats, also known as Rolled Oats. Do not use 'Quick-Cooking' or 'Steel-Cut' oats for this recipe.
Old Fashioned Rolled oats are easy to find and are inexpensive (especially when purchased in bulk).
Do not spend the extra money on "Gluten-Free Oats", unless you have been guided to do so my a credentialed healthcare provider. As stated by Beyond Celiac, "oats are naturally gluten-free but they easily come in contact with gluten-containing grains, making them unsafe for people with celiac disease."
Chopped almonds add a nice crunch to this easy granola recipe!
Use a good quality food chopper to get the almonds to the perfect size. I use one from Pampered Chef. It's quick and easy.
Hemp hearts, shelled hemp seeds, and hulled hemp seeds are the same thing. When the outer shell has been removed, you are left with the softer, chewier inner seed.
Coconut Chips are sometimes called Coconut Shavings.
How do you store homemade granola?
Store granola in an airtight container outside of the refrigerator.
Can this recipe be made vegan?
You can probably substitute maple syrup for honey. I haven't tried it but I think it will still work. The granola may not turn out quite as crunchy when making this substitution.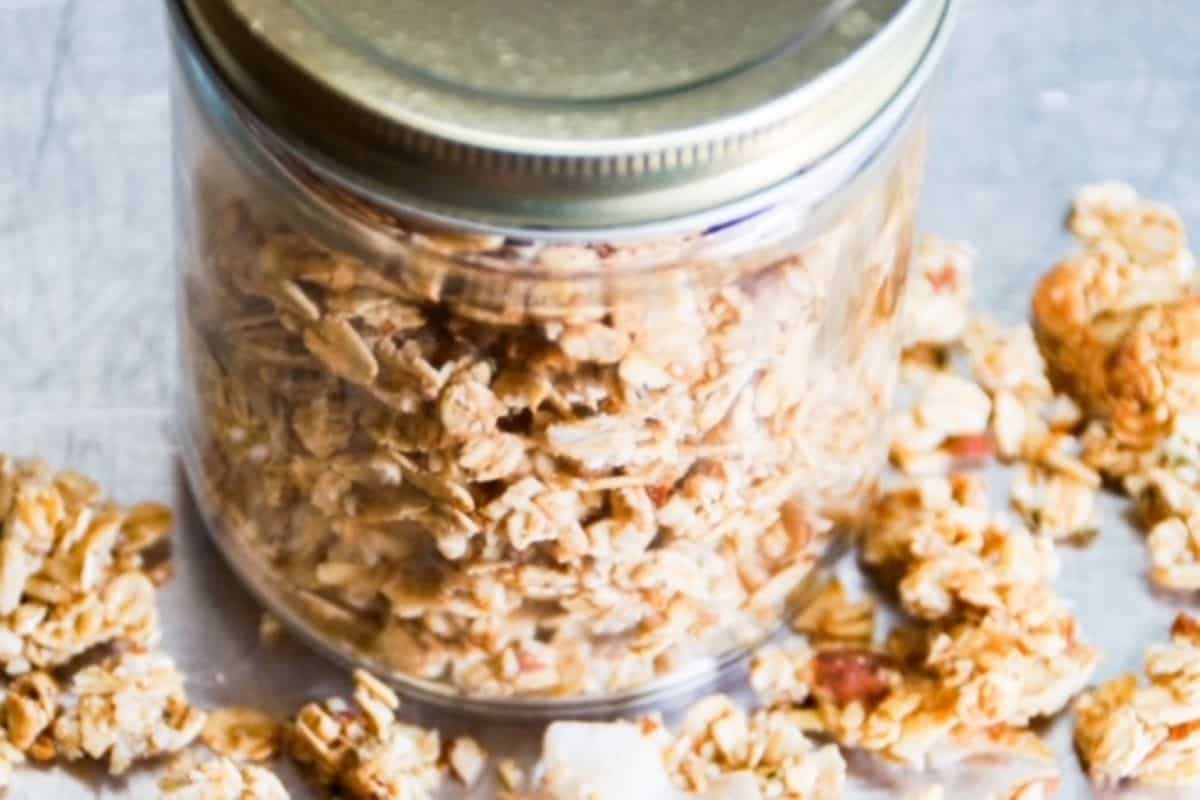 Uses for Granola
An easy, simple and healthy snack
Topping for a smoothie bowl
Trail mix
Fruit crisp
Add it to smoothies
Gift it!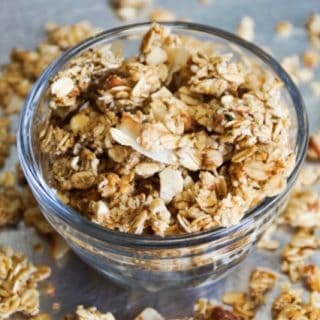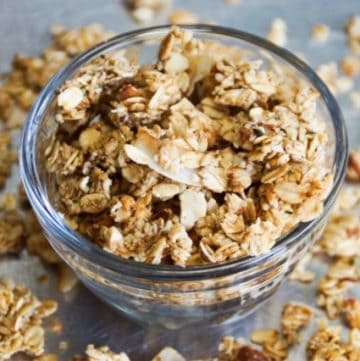 Simply Granola
This easy and healthy granola recipe makes the perfect stand-alone snack or topping for yogurt parfaits and smoothie bowls.
Ingredients
2 ½

cups

rolled oats

⅔

cup

raw almonds

chopped

¼

cup

hemp hearts

½

teaspoon

cinnamon

⅓

cup

honey

2

tbsp

olive oil

⅓

cup

unsweetened coconut chips
Instructions
Preheat oven to 375° Fahrenheit

Line a rimmed baking sheet with parchment paper*

In a medium mixing bowl, combine the oats, chopped almonds, hemp hearts, cinnamon, and unsweetened coconut chips

Add olive oil and honey to the oat mixture and mix well

Spread granola mixture out evenly over the rimmed baking sheet and press down using the palm of your hand or the backside of a spatula so the mixture is firmly packed

Bake in the oven for 15 minutes

Remove from oven and let cool completely

Once completely cooled, break granola apart and store it in an airtight container
Notes
*Instead of lining with parchment paper, you could lightly oil the baking sheet pan
*If using a Pampered Chef bar pan, you can skip step 2
Nutrition
Calories:
597
kcal
Carbohydrates:
65
g
Protein:
17
g
Fat:
32
g
Saturated Fat:
7
g
Polyunsaturated Fat:
9
g
Monounsaturated Fat:
14
g
Trans Fat:
1
g
Sodium:
7
mg
Potassium:
406
mg
Fiber:
10
g
Sugar:
25
g
Vitamin A:
66
IU
Vitamin C:
1
mg
Calcium:
113
mg
Iron:
5
mg