Fruit and yogurt parfaits make an easy breakfast, a quick snack, and even compliment lunch. It definitely helps that they are so pretty, so easy, and very well balanced!
Yogurt, granola, and fruit - it's as easy as that! In fact, if you have left over fresh fruit salad, use that to top the parfait!
You can make it fun for your kids by setting out various toppings and letting them create their own parfait. My youngest enjoyed doing that just this morning!
Yogurt
I still cannot get over how many options you will find in the yogurt aisle of a grocery store! I mean, no wonder why parents are confused what to feed their kids!
Some yogurt is as plain as you can get, while others come with a packet of m&m's. Some have five grams of protein per serving, while others have close to 20. Oh my!
I try my best not to have any food be 'forbidden' in our family. If my kids really want to try a particular yogurt, I might buy one.
Whether or not I buy a yogurt that they are asking for, I talk to them about the things I take into consideration when buying yogurt. I don't make a big deal about it, but I do do my best to educate them.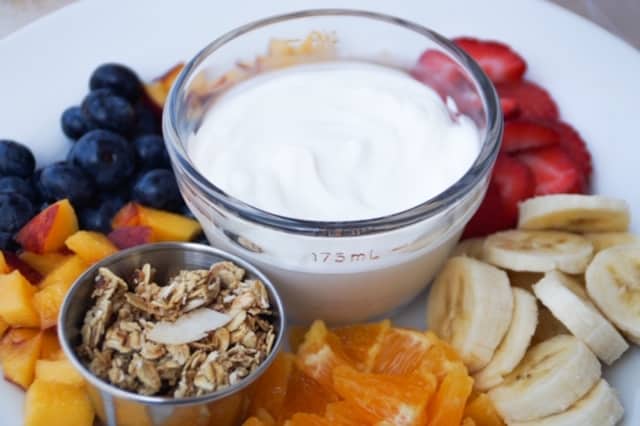 For parfaits, most kids prefer vanilla or banana flavored yogurt (often sold as "Banilla"). If you can, get both flavors and have your kids do a taste test! If they take ownership of what yogurt you use when making this, they will like it even more!
Because of the amount of sugar that can be added, I often mix plain yogurt in with either the vanilla or banana flavored yogurts. Try it and let me know what you think! Oh, and I'd suggest not mentioning this strategy to your kids until after they have enjoyed the fruit and yogurt parfait!
Granola
Granola, especially crunchy granola, adds a wonderful texture to fruit and yogurt parfaits!
Most granola contains oats that provide soluble fiber, B vitamins, and many other key nutrients. This is a good thing!
But, as with yogurt, not all granola recipes are created equal.
If you have options, choose granola that is full of 'good for you' ingredients (whole grains, nuts, seeds). A well made healthful granola can be loaded with fiber, protein, and healthy fats.
With parfaits, a small amount of granola goes a long way!
Fruit
There are so many fruits that would top off these fruit and yogurt parfaits perfectly.
Definitely keep in mind fruit that you know your kids will like. If there is a fruit they are not so sure about, you can mix it in with a fruit that you know they like. This strategy may improve their acceptance!
All fruits offer their own unique nutrition profile. One might be higher in potassium, while another might be higher in vitamin C.
Fruits may not all be 'created' equal but they all offer health benefits!
Unless you (or your child) has an allergy, you really can't go wrong here!
The only fruits that I really try to avoid are melons, but it's only because of their water content. If your kids insist on topping their parfaits with melon, I'd say give it a try!
With fruit as the topping, the options are endless!
If using frozen fruit, let it defrost before adding it to the parfait.
Oh, and I definitely suggest slicing or dicing most fruit into smaller pieces for this recipe.
Here are a few fruit combination ideas:
Strawberries and blueberries
Nectarines and blueberries
Mango and kiwi
Banana, mango, and kiwi
Peaches and blueberries
Bananas and strawberries
Strawberries, raspberries, and blueberries
Blackberries and pineapple
Easy Fruit and Yogurt Parfait
Easy and delicious, this fruit and yogurt parfait makes the perfect breakfast or snack!
Ingredients
5

oz

yogurt

Plain or vanilla. Your child's favorite yogurt is a good starting place, preferably with a low amount of added sugar.

2

tbsp

granola

¼

cup

fresh fruit

cut up or sliced
Instructions
Spoon yogurt into the bottom of a small bowl or mug.
Notes
This recipe is so versatile! You can easily change up the yogurt and/or fruit, based on what you have on hand.
If your kids are used to super-sweet yogurt, you can start to mix a small amount of plain yogurt in with the sweetened yogurt to slowly cut back on the level of sweetness.
This fruit and yogurt parfait makes an delicious breakfast or after school snack for kids!
Nutrition
Calories:
268
kcal
Carbohydrates:
34
g
Protein:
12
g
Fat:
9
g
Saturated Fat:
3
g
Polyunsaturated Fat:
3
g
Monounsaturated Fat:
3
g
Cholesterol:
9
mg
Sodium:
110
mg
Potassium:
544
mg
Fiber:
4
g
Sugar:
23
g
Vitamin A:
257
IU
Vitamin C:
3
mg
Calcium:
285
mg
Iron:
2
mg