This Pumpkin Overnight Oats recipe requires no cooking, is dairy-free, and tastes like pumpkin pie in a bowl!
It's an easy way to use up canned pumpkin and perfect for meal prep!
Who says 'pumpkin spice' had to be limited to lattes, pies, and pancakes? lol! This pumpkin overnight oat recipe will win over even the most traditional tastebuds.
When the cashier at Trader Joe's told me that their version of pumpkin pie overnight oats has been "flying off the shelves", I knew I had to replicate it. This is it!
It really can't be beat. Just like Chocolate Chia Pudding, this is made with the simplest ingredients that you probably already have on hand, requires no cooking or baking, and only takes 5 minutes to whip together.
The oat mixture does need to sit for at least a few hours in the refrigerator so the oats have time to absorb moisture (your gut will thank you). This is why it works best to mix everything together and put it in the fridge before you actually plan on eating it. Self-control, people. Self-control 😉
And, have no fear, I have more delicious pumpkin recipes for you! In fact, my Homemade Pumpkin Waffles and Whole Wheat Pumpkin Bread recipes will help you use up the leftover pumpkin puree.
Maybe next I'll come up with a pumpkin overnight oats recipe! Can October get any more delicious? 🤩
Believe it or not, I actually have a video of me making this recipe with the one and only Chris Dorner on her YouTube Channel, CDorner Fitness. Check it out!
Jump to:
❓What are Overnight Oats?
'Overnight oats' typically refers to an oat and milk (or water) mixture that has to set in the refrigerator for several hours before eating it.
They are considered a breakfast food, but they can also serve as a filling snack or eaten for lunch. You pick!
🍁Why You'll Love This Recipe
Quick and Easy Just mix everything together and let it set overnight. It's an excellent breakfast option for busy mornings.
Dairy-Free This recipe is made without milk or yogurt, so even kids with milk allergies can enjoy it! Now that I think about it, this is actually a vegan overnight oats recipe!
Kid-Tested, Parent-Approved Feel free to call it pumpkin pie overnight oats if you think it will help your kids take a bite. Once they taste it, they'll love it!
Good Source of Protein and Fiber Which will help you feel full longer.
🎃Ingredient Notes
Oats Good source of soluble fiber. Use Old-Fashioned rolled oats. Do not use instant or steel cut oats for this recipe.
Almond Butter Good source of protein, monounsaturated fat, and fiber.
Pumpkin Puree Good source of vitamin A and C, potassium, magnesium, and fiber... and more! Pumpkin contains anti-inflammatory and antioxidant properties.
Flax Meal Made from ground flax seeds. Flax seeds contain fiber and omega-3 fats. Flax meal helps to achieve the same consistency as Trader Joe's version.
Maple syrup Used instead of date paste because it's more practical for most people 😉
Spices Cinnamon and Nutmeg are used to help replicate the version of Pumpkin Overnight Oats sold at Trader Joe's.
👩‍🍳Ingredient Swaps and Recipe Variations
There are so many ways to customize overnight oats. Here are just a few variations that we've tried and loved. Get creative!
Chia seeds can be substituted for flax meal if you prefer the texture of chia.
Leave the flax meal out and not substitute it for anything. It won't be as thick and creamy, but it will still taste delicious.
Add two tablespoons of plain Greek yogurt and one teaspoon of vanilla. The yogurt adds a little tang (and more protein;) - it's my favorite modification to this recipe. This recipe will no longer be dairy-free or vegan if you add Greek yogurt will change this.
Adjust the amount of nutmeg If you aren't a fan of nutmeg, just add a pinch. It doesn't take much to balance out the cinnamon.
Adjust the amount of cinnamon If you don't like a strong cinnamon taste, reduce the amount to three-quarters of a teaspoon.
Pumpkin Pie Spice I still need to make this using just pumpkin pie spice, so I'm not sure how much to recommend. Still, I'm sure you can use pumpkin pie spice instead of the cinnamon and nutmeg.
Milk or Almond Milk You can use milk or unsweetened almond milk in place of water if you prefer.
🙋‍♀️How to Make Pumpkin Overnight Oats
It really doesn't get much easier than this. I'll give you a brief rundown here and for a complete list of ingredients and tips, scroll down to the recipe.
Add almond butter and maple syrup to the bottom of a glass breakfast jar. Stir well so the almond butter thins out.
Add all other ingredients to the almond butter mixture and mix well. All ingredients should be mixed well and evenly distributed.
Place an air-tight lid on the jar and seal. Store in the refrigerator for several hours, or overnight.
Enjoy cold or slightly warmed.
Optional: top with your favorite toppings.
😋Dietitian Tip
There are so many benefits of overnight oats. One main benefit is that they are an excellent source of both soluble and insoluble fiber because they are made with oats. Fiber works to improve gut health, aiding in digestion and absorption. Additionally, the fermentation of soluble fiber is our only source of short chain fatty acids, which help our immune system.
And did you know that only about 5% of the population meet the recommendations for fiber intake? Crazy, right?
Now, here's the thing. If you don't typically eat a lot of fiber but want to start eating more of it, gradually increase the amount you eat daily. Going from eating very little fiber to a lot of fiber in a short amount of time may cause some undesirable GI side effects.
And remember to drink enough fluids when increasing your fiber intake to prevent constipation.
Helpful Tips
Thinning out the almond butter in the first step will help avoid chunks in the mixture.
Use pure pumpkin puree, not pumpkin pie filling.
Do not use chunky almond butter unless you don't mind having chunks of almond in your oats.
Let the oat mixture set at least for a few hours for optimal texture and to help prevent undesirable GI side effects.
You can easily modify this recipe by using milk or yogurt instead of water, adding chia seeds, or topping it with your favorite toppings like granola, pepitas, walnuts, pecans, or mini chocolate chips.
Questions You May Have
Can you eat overnight oats warm?
Absolutely. I prefer to eat overnight oats cold, but my daughter prefers them warm. They can be enjoyed either way. Overnight oats can be warmed in the microwave.
Do you cook overnight oats?
Nope! There is no cooking and no baking when making overnight oats.
Do overnight oats need to be overnight?
No, not necessarily. The key is to let overnight oats set in the refrigerator for at least four hours before eating.
Are quick oats okay for overnight oats?
No, I do not recommend using quick oats to make overnight oats. Using quick oats changes the consistency to "mushy" (in my nephew's words).
What do I do with leftover pumpkin puree?
Excellent question. You can either make multiple batches of this recipe (think meal prep), so you have breakfast set for days. Or you can use the leftover pumpkin puree to make all kinds of things like pumpkin waffles, pancakes, muffins, sauces, or pumpkin bread.
Related Recipes
More Easy Breakfast Recipes
Did you love this Pumpkin Overnight Oats recipe? Please leave a 5-star rating below or a review in the comment section.
Don't forget to snap a pic of your overnight oats with your favorite toppings and tag @carrots.and.cookies on Instagram so I can see it!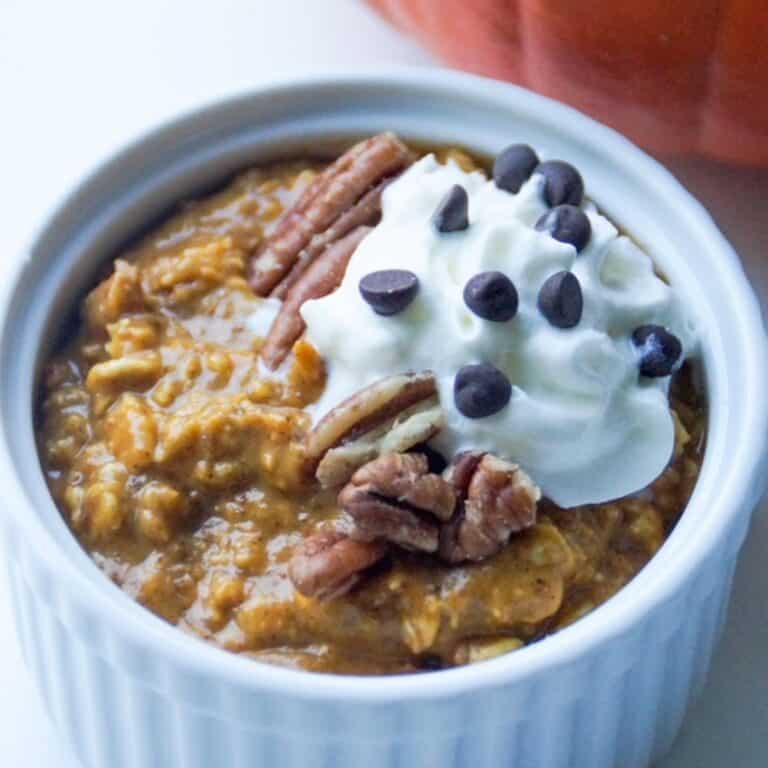 Favorite Pumpkin Overnight Oats
This 5-minute pumpkin overnight oat recipe is incredible! It makes a quick and easy breakfast option, especially when on the go and it will satisfy the even the strongest pumpkin craving.
Ingredients
¼

cup

Whole Oats

Use Old Fashioned Rolled Oats

½

cup

Pumpkin Puree

Use pure pumpkin puree. Do not use pumpkin pie filling.

1

tablespoon

Flax meal

Use flax meal, not whole flax seeds.

2

tablespoon

Water

1

tablespoon

Maple syrup

Use pure maple syrup

1½

tbsp

Almond Butter

At room temperature.

¾

tsp

Cinnamon

If you really like cinnamon (like me:), use 1 teaspoon of cinnamon instead of ¾ tsp.

⅛

teaspoon

Nutmeg

2

pinch

salt
Instructions
Add all ingredients to a 12-ounce jar (or larger) and mix well, until all ingredients are incorporated.

¼ cup Whole Oats,

1 tablespoon Flax meal,

2 tablespoon Water,

1 tablespoon Maple syrup,

1½ tablespoon Almond Butter,

¾ teaspoon Cinnamon,

⅛ teaspoon Nutmeg,

2 pinch salt,

½ cup Pumpkin Puree

Place the lid on the jar to seal it and store in the refrigerator for at least 4 hours (typically this would be overnight).

Enjoy it cold or warmed up the next morning.
Notes
Use pure pumpkin puree, not pumpkin pie filling.
Use Old-Fashioned Rolled Oats. Do not use instant or steel cut oats.
Overnight oats store well in the refrigerator for several days.
Feel free to adjust the amount of cinnamon and/or nutmeg depending on your flavor preferences.
Top with your favorite toppings and enjoy cold or slightly warmed. Topping ideas include chia seeds, chopped walnuts, pecans, mini chocolate chips, a spoonful of whipped cream, granola, or dried fruit.
If you don't need a dairy-free recipe, you can use milk or plain yogurt instead of water.
For meal prep purposes, you can double or triple batch this recipe. Then, divide it into jars and store refrigerated for up to five days (unless the ingredients you use expire before then).
Recipe variation ideas: leave out the flax meal, use chia seeds instead of flax meal, add 2 tablespoons of plain Greek yogurt and 1 teaspoon of vanilla to the mixture (this one is my favorite version). 
Nutrition
Serving:
0.5
cup
Calories:
241
kcal
Carbohydrates:
30
g
Protein:
7
g
Fat:
12
g
Saturated Fat:
1
g
Polyunsaturated Fat:
4
g
Monounsaturated Fat:
6
g
Sodium:
61
mg
Potassium:
410
mg
Fiber:
7
g
Sugar:
12
g
Vitamin A:
12713
IU
Vitamin C:
3
mg
Calcium:
121
mg
Iron:
3
mg