This homemade gluten free taco seasoning for kids has the traditional and addictive taco flavors that kids love without much spice. Use it to make chicken, shrimp, beef, turkey, or chicken tacos, burritos, or bowls. Your kids will love it!
Whether you have a child that has to follow a gluten free diet (per a doctor's instruction) or not, this taco seasoning is for you!
Make this homemade taco seasoning once and you will have 'taco Tuesday' set for weeks!
About this recipe
This is the best 'do it yourself' taco seasoning. In fact, it's easy enough that your kids can measure out the ingredients and make this seasoning themselves!
Unlike many store-bought taco seasonings, this is made without added sugar.
This is made with traditional taco flavors kids like, like garlic powder, chili powder, and cumin, but also has Tajin which gives it a slight tropical twist.
Tajin's FAQ page states that their products "do not contain gluten. In fact, TAJIN® meets FDA regulations for 'gluten free' products." For more information on the FDA's regulation of 'Gluten-Free" claims, please refer to their website.
For kids who like spice, red pepper flakes can be added to give this taco seasoning some heat.
Ingredient Notes
Tajin A delicious tropical spice made from ground chili peppers, sea salt, and dehydrated lime juice. I was first introduced to this in Costa Rica and can now find it in Aldi!
Chili Powder For traditional taco flavor.
Garlic Powder Because garlic makes everything taste better, ha!
Paprika A brightly colored (red) spice.
Oregano A versatile herb that adds nice flavor to a variety of dishes (including Tex-Mex and Italian).
Cumin Some refer to cumin as a spice while others call it an herb. Call it what you want, haha!
Salt Use either sea salt or iodized table salt. Sea salt contains more minerals than table salt, but offers the same amount of sodium. For more information on the differences between sea salt and table salt, check out this article from the Cleveland Clinic website.
steps to make this gluten free taco seasoning
Here's a quick overview of the steps to make this easy taco seasoning. For the full list of ingredients and instructions, scroll down to the recipe
Measure all ingredients and put them in a small jar or other airtight container. Mix them up and store. That's it!
Notes and tips
If your kids don't like foods that are heavily seasoned, start by using just a small amount. Get their feedback and adjust as needed the next time you make it.
Tajin is becoming more popular and easier to find in grocery stores. Aldi even carries it.
If you don't have Tajin, you can substitute an equal amount of chili powder.
For the kiddos who need to follow a strict gluten free diet (as guided by a doctor), be sure to purchase spices that do not contain gluten. If the "gluten-free" claim is not on a label, you may need to check the company website or call customer service to verify. For more information, check out this article written by a dietitian, Are Spices Safe for a Gluten-Free Diet.
What to make using this taco seasoning
Tacos Of course, haha! Taco meat can be made with lean ground beef, ground turkey, textured vegetable protein, a mixture of lentils and walnuts, or black beans and sweet potatoes. Get creative!
Chicken fajitas Typically made with roasted bell pepper, onion, garlic, and lime. You can make these sheet pan style or cook the chicken separate from the vegetables.
Nachos Made with tortilla chips and cheese as the base. Can add black beans or chicken and a sprinkle of taco seasoning to to change it up.
Homemade tortilla chips You can dust just a little bit of this taco seasoning on to corn tortillas and air fry them to make flavorful tortilla chips.
Recipe FAQs
Can you use taco seasoning in place of fajita seasoning?
Absolutely. The only difference that I am aware of is that fajita seasoning usually contains onion powder. If you are using onions in your recipe, you likely won't be able to tell the difference. If this concerns you, simply, sprinkle a small amount of onion powder in when you add this taco seasoning when making fajitas.
How much taco seasoning should I add for tacos?
The first time you make your own taco meat, I suggest adding 1-2 tablespoons of taco seasoning per pound of meat or meat substitute. The amount you add will depend on how much your kids like seasoned food. For kids just getting used to seasoned meat, start by adding less taco seasoning and adjust according to your family's preference the next time you make it.
How do I store this taco seasoning?
Store taco seasoning in an airtight container. You can reuse a small used jelly jar that has been washed or buy a small mason jars with a lid to store it in.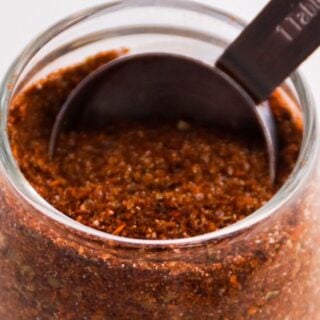 Gluten-Free Taco Seasoning For Kids
Taco meat has never tasted so good! This homemade gluten-free taco seasoning is super easy to make and is an absolute kid favorite! This seasoning offers the traditional taco flavors with the added twist with Tajin.
Ingredients
3

tbsp

Tajin

3

tbsp

chili powder

1

tsp

garlic powder

1

tsp

sea salt

1

tsp

paprika

1

tsp

oregano

1

tsp½

cumin
Instructions
Mix all ingredients together in a small jar.

Store in an airtight container.
Notes
The number of servings this makes will depend on how 'seasoned' your kids like their food.
I'd suggest adding 1-2 tablespoons per pound of meat. I usually use 1.5 tablespoons when cooking up a pound of meat mixed with a can of black beans.
The amount of sodium per serving will seem high but keep in mind that one serving (two tablespoons) can be used to season one pound of taco meat. 
Nutrition
Calories:
18
kcal
Carbohydrates:
3
g
Protein:
1
g
Fat:
1
g
Saturated Fat:
1
g
Polyunsaturated Fat:
1
g
Monounsaturated Fat:
1
g
Sodium:
1001
mg
Potassium:
112
mg
Fiber:
2
g
Sugar:
1
g
Vitamin A:
1463
IU
Vitamin C:
1
mg
Calcium:
25
mg
Iron:
1
mg