This easy beans and rice recipe is a family favorite! Serve it as a side or main dish any time of year. Your kids will love it!
This recipe is one of my oldest daughter's favorite dinners. And, thankfully it makes enough that she can pack it in a thermos for her school lunches. It's a meal that I make year round.
This beans and rice casserole pairs wonderfully with guacamole. And, if your kids are really hungry, you can serve this with an enchilada dish, too.
About This Recipe
Sit back and relax while this dish cooks up in the oven. Simply mix all of the ingredients together then cover with foil. Place in the oven, and you're done. No peeking while it cooks!
High in fiber so your kids feel full longer.
Sautéing the onions and bell peppers for about five minutes is the most work this recipe calls for.
Kids love having this bean and rice dish with guacamole and chips.
Makes an amazing addition to tacos, burritos, burrito bowls, and soup. Plus, it reheats and freezes well.
Use a thermos to send reheated leftovers in school lunches.
Ingredient Notes
Black beans Perfect size and texture for a bean and rice casserole. They contain folate, magnesium, antioxidants, and fiber. Black beans have shown to have more antioxidants (gram for gram) than other beans, with the most active antioxidant being anthocyanins.
Rice Brown rice is a whole grain, which means it contains more nutrients than white rice. The American Heart Association recommends eating "three or more servings of fiber-rich whole grains every day".
Bell pepper Bell peppers are so versatile and they add a nice pop of color. They are an excellent source of vitamins (especially vitamin C and vitamin A) and fiber.
Onion and garlic Add wonderful flavor and contain prebiotics.
Broth Used instead of water to achieve a savory flavor. I use less-sodium chicken broth.
Bay leaves Bay leaves must be removed from the dish before serving. Whole bay leaves are not edible.
Thyme For flavor.
Step-by-step instructions
Here are the steps broken down quite simply. For complete instructions, scroll down to view the recipe card.
Sautee the onions and bell pepper until softened.
Place all ingredients in a 9x11 baking dish. Cover the baking dish with foil and press down on the sides to seal the edges.
Cook in the oven for 1 hour and 15 minutes.
Remove foil. Remove bay leaves.
Sprinkle cheese on top.
Serve and enjoy!
Expert Tips and FAQs
Rinse and drain canned beans well before adding them in with the other ingredients.
To save time, use a good quality food chopper to chop the onions, bell peppers, and garlic.
Vegetable broth can be used instead of chicken broth to make this dish vegetarian.
Bay leaves must be removed before serving.
Brown and white rice work wonderfully in this dish.
If you care about minimizing arsenic but prefer the nuttiness and nutritional benefits (vitamins, minerals, fiber, and antioxidants) of brown rice, you would want to choose brown basmati from California, India, or Pakistan. These will have about ⅓ less inorganic arsenic than other kinds of brown rice.
Whether cooking with brown or white rice, be sure to rinse it thoroughly until the water is clear and drain the excess water before cooking. Doing this may reduce arsenic levels by up to 30 percent.
Are bay leaves edible?
No, not really. They technically can be eaten but it is not suggested. Bay leaves are considered a choking hazard, especially for small children. Although the chance of this happening is rare, it is not worth the risk. Bay leaves remain rigid even after hours of cooking. Because of this, they can cause damage to the gastrointestinal (GI) tract.
Why do you rinse rice?
Rinsing rice removes debris and surface starch. Surface starch causes the rice to be more sticky.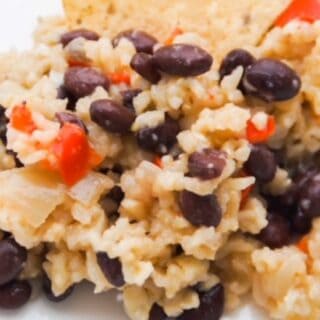 Easy Rice and Beans Recipe
Easy, healthy, and delicious casserole made with black beans and brown rice.
Ingredients
1

cup

brown rice, uncooked

rinse well

2

15 oz can

black beans

rinsed and drained (about 4 cups of cooked beans)

1

onion

chopped

2-3

bell peppers

chopped

3

cups

chicken or vegetable broth

4

cloves

garlic

minced

2

bay leaves

1

tablespoon

olive oil

extra virgin

½

teaspoon

dried thyme

¼

teaspoon

crushed chili pepper

1

cup

cheddar cheese

shredded
Instructions
Preheat oven to 350° Fahrenheit

Saute chopped onion and bell pepper in 1 tablespoon of oil until softened, about 5 minutes.

Place rice, beans, broth, onion and bell pepper mixture, garlic, bay leaves, thyme, and crushed red pepper into a 9x11 casserole dish and mix well.

Cover with foil, seal the edges well.

Place in the oven for 1 hour and 15 minutes.

Remove from oven and let sit for about 5 minutes.

Remove foil.

Sprinkle the cheese evenly over the beans and rice, while it's still hot.

Serve and enjoy!
Notes
Be sure to remove both bay leaves before serving.
Serve this with guacamole and chips - kids love it!
Nutrition
Calories:
190
kcal
Carbohydrates:
23
g
Protein:
8
g
Fat:
8
g
Saturated Fat:
4
g
Polyunsaturated Fat:
1
g
Monounsaturated Fat:
3
g
Cholesterol:
15
mg
Sodium:
118
mg
Potassium:
247
mg
Fiber:
2
g
Sugar:
2
g
Vitamin A:
1118
IU
Vitamin C:
40
mg
Calcium:
123
mg
Iron:
1
mg