This easy and delicious homemade cranberry sauce is made with fresh apple, orange juice, and just a touch of brown sugar. It takes just 15 minutes to make and can even be made ahead of time.
I make this (and good 'ol green bean casserole) every year for Thanksgiving and Christmas whether or not I'm hosting because it is so simple, versatile, and yum-o! I'm telling you, cooking for the holidays doesn't have to be so complicated! 🙂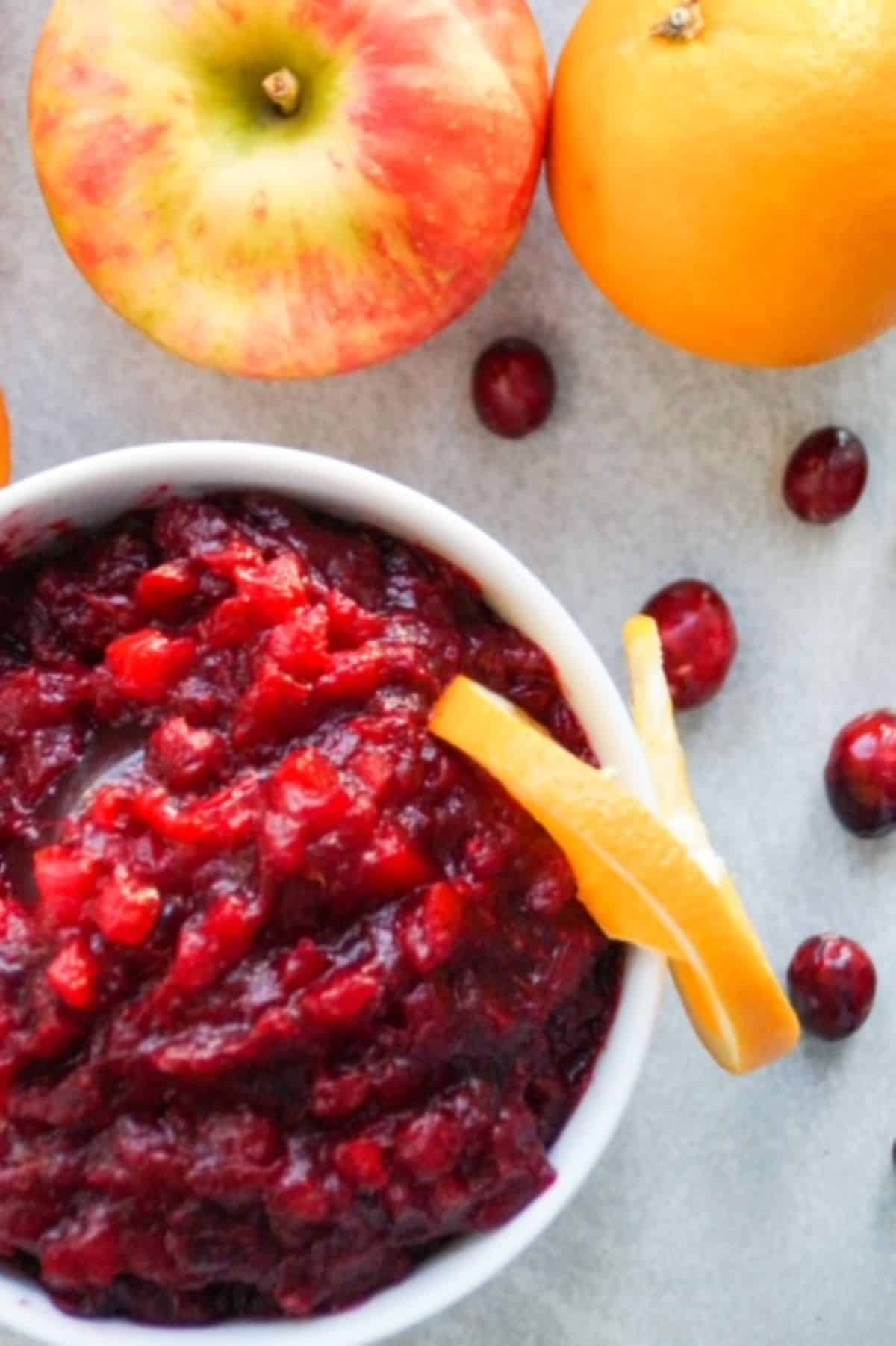 I've always loved cranberry sauce (yes, even from a can), but I had never tried homemade cranberry sauce until I was in college. Can you believe it?! Let me just tell you, this is so much better than cranberry sauce from a can!
One of my roommates was Canadian and her mom made us homemade cranberry sauce to celebrate Canadian Thanksgiving. She added fresh apple so that she could achieve the same amount of sweetness without adding as much sugar. Genius!
I decided to add fresh orange juice so that it wouldn't need so much brown sugar because this dietitian momma prefers to save sugar for dessert;). Orange juice is not a must, but if you don't add it, you'll definitely need to add more brown sugar.
And while most people only think to serve cranberry sauce with Thanksgiving dinner, my kids enjoy it as a side with a variety of meals. Two of my kids even like to eat it as a snack. So, feel free to double or triple this recipe and serve it however your kids love it.
If you have any cranberries left, try adding them to my Apple Oatmeal Bake. It's delicious!
Jump to:
Why You Will Love This Recipe
This super easy cranberry sauce recipe uses fresh apple and orange juice to naturally sweeten the cranberry sauce. A small amount of brown sugar is added to top off the sweetness and to help create the texture that kids love. If your family loves cranberry sauce and you are looking for an easy and delicious recipe that uses less sugar, this is the cranberry sauce for you!
This recipe calls for much less 'added sugar' than traditional cranberry sauce recipes.
Kids approved.
Quick and easy. Easy to make and easy to serve.
Versatile recipe. Cranberry sauce can be served as a Thanksgiving side dish, alongside Rosemary Pork Tenderloin, with cheese and crackers, or as a spread on a sandwich or wrap.
Ingredient Notes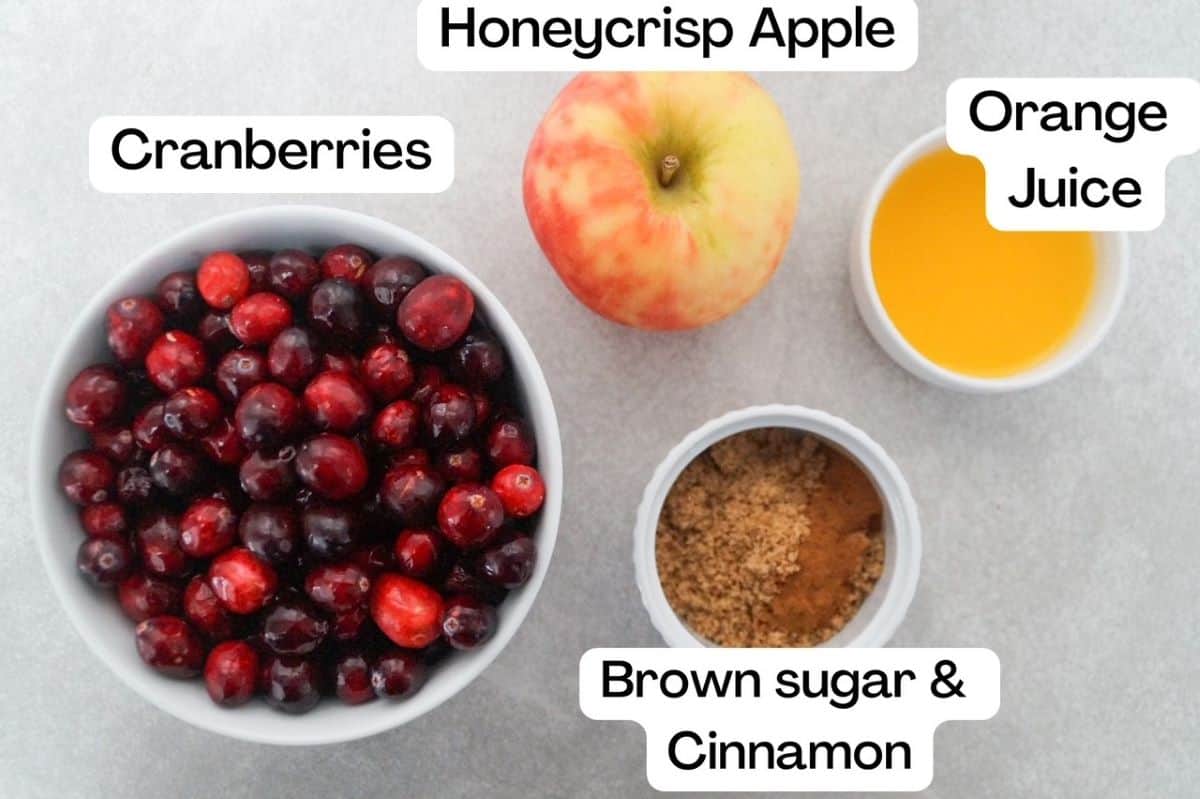 Cranberries Store fresh cranberries in the refrigerator or freezer. Cranberries are beautiful in color, have a tart flavor, and are high in vitamin C.
Honeycrisp Apple Sweet and delicious. These are typically larger than other sweet apples. So, if you choose to substitute it with Gala apples, use two small Gala apples in place of one large Honeycrisp apple.
Orange Juice Use fresh orange juice, if possible.
Cinnamon Added for flavor.
Brown Sugar Brown sugar helps balance out the tartness of the cranberries.
Optional: Orange Zest. If your kids like the flavor of orange zest, add one teaspoon of zest at the end, while the cranberry sauce is still hot.
Step-by-Step Instructions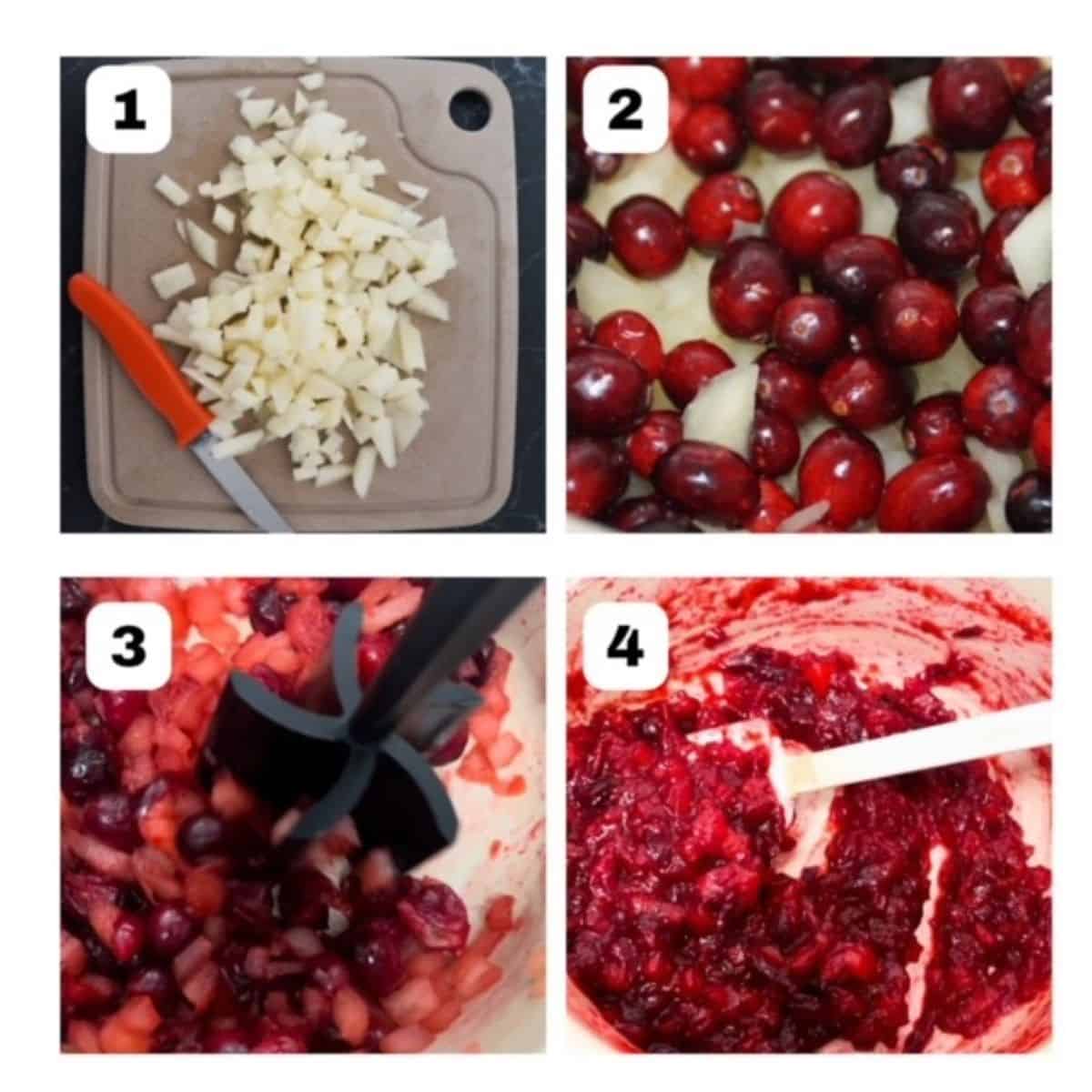 Here is a quick overview of the steps to make this homemade fresh cranberry sauce. For a full list of ingredients and instructions, scroll down to the recipe.
First, peel, core, and chop up the apple into small pieces.
Then, place apple pieces in a medium saucepan with one quarter cup of water and cook over medium heat for about five minutes.
While the apple pieces cook, rinse cranberries and measure out the rest of the ingredients.
Once the apples are softened, add cranberries and continue to cook for another three minutes, until cranberries start to pop.
Using a food masher, mash cranberries and apple together.
Last, add orange juice, cinnamon, and brown sugar and mix well.
Cook for an additional 2 minutes, or until all ingredients are combined.
Let cool.
Expert Tips
Easily doubled or tripled.
To reduce cooking time, cut apple into small pieces.
Most kids will end up taking seconds - let them!
Recipe FAQs
Can this cranberry sauce be made ahead of time?
Yes, it can! I usually make this a day or two ahead of time. Then I either serve it chilled or at room temperature.
Can you freeze this cranberry sauce?
Yes! Fresh cranberry sauce freezes nicely. Pack it in an airtight container or in a resealable freezer bag before freezing.
What can cranberry sauce be served with?
Serve cranberry sauce with any meal or with cheese and crackers as a snack. Also, try serving cranberry sauce in place of jam on bread or crackers. And of course, it is delicious on turkey sandwiched and when served as a side with leftover turkey and sweet potato casserole.
More Fall Inspired Recipes
Did you try this homemade cranberry sauce recipe? Tell me how it went! Leave a comment below.
Follow me on Pinterest, Instagram, and Facebook for more kid-friendly recipes and meal inspiration!
The BEST Fresh Cranberry Sauce
This easy and delicious homemade cranberry sauce is made with fresh apple, orange juice, and just a touch of brown sugar. It takes just 15 minutes to make and can even be made ahead of time.
Ingredients
2

cups

fresh cranberries

Rinse well.

1

Honeycrisp apple

1 large apple, or approximately 1½ cups chopped sweet apple

¼

cup

water

¼

cup

orange juice

3

tablespoon

brown sugar

½

teaspoon

cinnamon
Instructions
Peel, core, and chop the apple into small pieces.

Add chopped apple and water to a medium sauce pan.

Cook apple for about 5 minutes, until softened.

Add cranberries to the cooked apples and continue to cook.

After about three minutes the cranberries will start to pop. When they start to soften and pop, mash cranberries and apples using a food masher.

Add orange juice, brown sugar, and cinnamon. Stir to combine and cook for an additional 2 minutes.

Remove from heat and let cool.

Optional: add 1 teaspoon of orange zest and one additional tablespoon of brown sugar, depending on preference.
Notes
Honeycrisp apple can be substituted with a different sweet apple. However, because they are usually much larger than other apples, you may need more than one apple if using an apple like Gala.
Larger apple pieces will take longer to cook.
If using frozen cranberries, cook time will be a little longer.
If you don't have orange juice, add a little more water and brown sugar.
Kids love leftover cranberry sauce served by itself, with crackers or pretzels, or as a side dish with dinner. 
Leftover fresh cranberries can be frozen in a resealable freezer-safe bag to be used later.  
Nutrition
Calories:
44
kcal
Carbohydrates:
12
g
Protein:
1
g
Fat:
1
g
Saturated Fat:
1
g
Polyunsaturated Fat:
1
g
Monounsaturated Fat:
1
g
Sodium:
2
mg
Potassium:
68
mg
Fiber:
2
g
Sugar:
8
g
Vitamin A:
43
IU
Vitamin C:
8
mg
Calcium:
9
mg
Iron:
1
mg