With just a few simple ingredients, you will have this easy and delicious, tender and juicy oven roasted pork tenderloin made in just 30 minutes. This is a recipe that anyone can make, and everyone will love!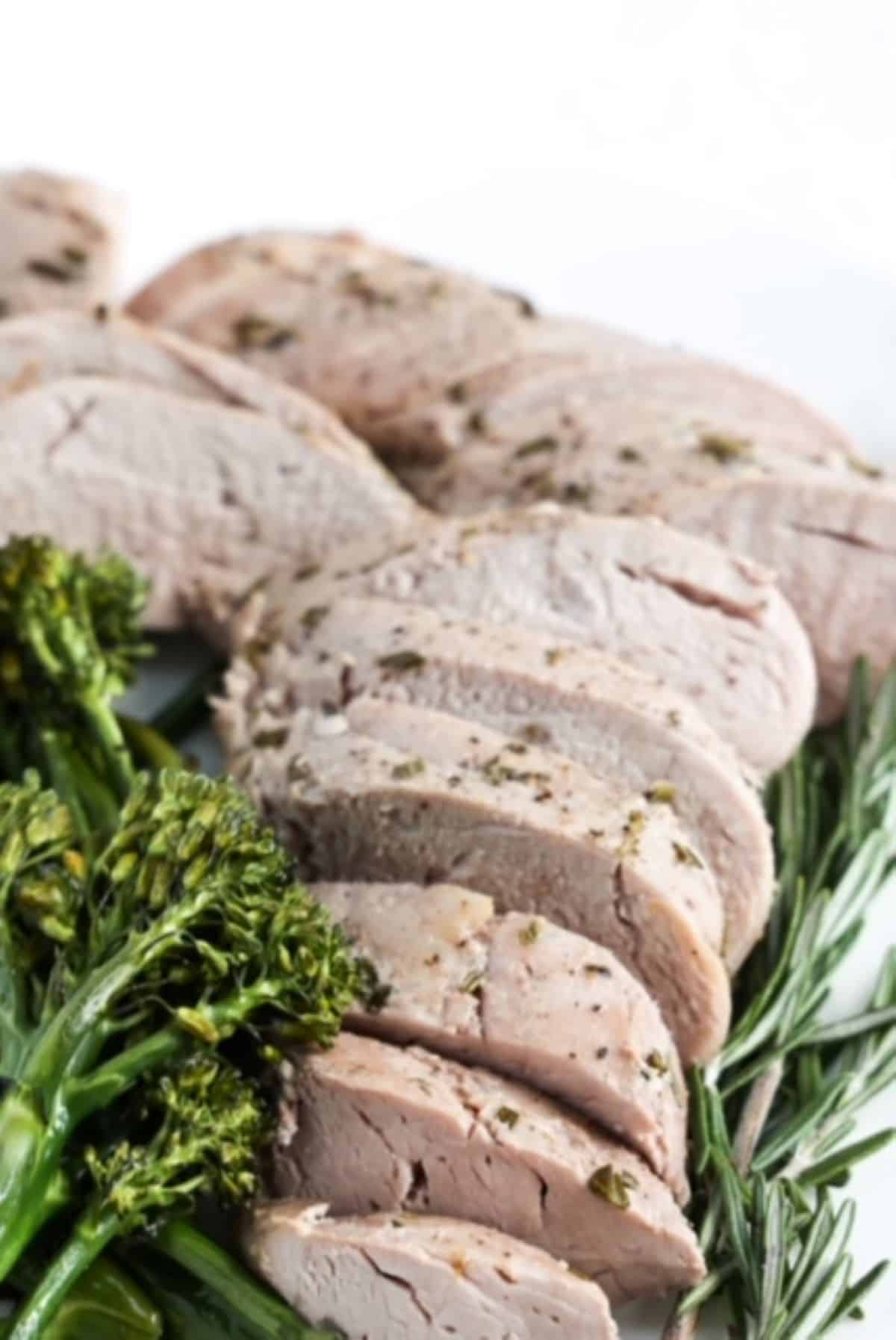 Have you ever invited company over for dinner and then wondered what in the world you are going to make? Well, let me just tell you that, when cooked correctly, pork tenderloin has got to be one of the fanciest easy homemade meals ever.
And it's not just great for company. This also makes a delicious 'main dish' at holiday meals. I know this may sound crazy, but it's also an excellent weeknight meal option because of how easy it is.
If you stick to using tenderloins that are about 13-16 ounces (no more than one pound) each, this delicious oven pork tenderloin will be done in 25 minutes, from start to finish. It's true!
And, to make it even better, you can make roasted root vegetables or balsamic Brussel sprouts at the same time because they cook at the same temperature in the oven as this pork tenderloin. So, if you time everything right, you'll have a complete meal ready in no time!
Of course, you could also add in chunks of potato to roast with the veggies or serve mashed potatoes, sweet potatoes, and/or homemade cranberry sauce as sides. Pork tenderloin is so versatile!🤩
Jump to:
Why You'll Love This Recipe
This is the best pork tenderloin recipe because it's easy, delicious, and enjoyed by the whole family! I mean, even busy families deserve delicious dinners! 😉
3 Ingredients Besides salt and ground black pepper, this recipe calls for just three ingredients, pork tenderloin, olive oil, and fresh rosemary. Try to resist the urge to add other seasonings like garlic powder the first time you make this 🙂
Quick and Easy Prep time is quick, and cleanup is a breeze. It all comes together in just 30 minutes!
Ingredient Notes
Pork tenderloin Lean meat, tender, and quick cooking.
Fresh rosemary Adds an amazing earthy flavor. Use kitchen scissors or a sharp paring knife to chop the rosemary leaves.
Olive oil Contains healthy fats
Pork Loin vs Tenderloin
From what I understand, pork tenderloin is a small pork loin. Because pork tenderloin is smaller than pork tenderloin, it cooks faster. Both
You cannot substitute pork loin for tenderloin (or vice versa) without making adjustments to the cooking method and/or amount of cook time.
Step-by-Step Instructions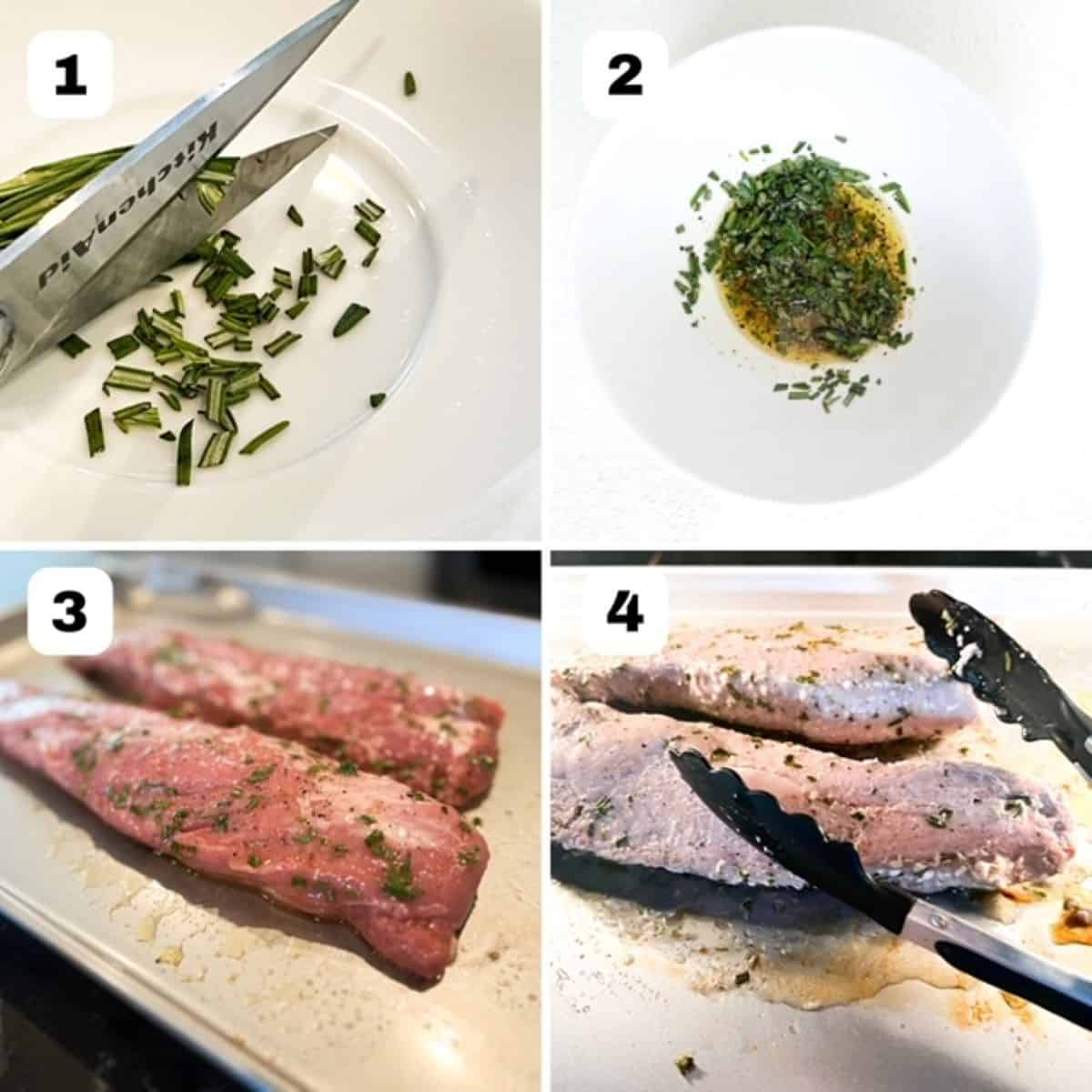 Preheat oven to 425 degrees Fahrenheit.
Chop fresh rosemary into small pieces. I use my kitchen shears for this step.
In a small bowl, mix together the olive oil, rosemary, salt, and pepper. Set aside.
Lay each tenderloin on a rimmed baking sheet, Pampered Chef bar pan, or large baking dish. Both tenderloins should fit next to each other on the same baking sheet.
Pour the rosemary and olive oil mixture over the pork. Use your hands or a basting brush to rub each tenderloin with the mixture. Be sure to cover both entirely.
Roast pork tenderloins in the oven for about 25 minutes, turning once after the first 10-15 minutes.
Cook pork to an internal temperature reaches 145 degrees in the thickest part and remove it from the oven. An instant read meat thermometer works best for this.
Let the cooked tenderloin sit for about 5 minutes before slicing. Optional: tent the tenderloins with foil while it sits.
Slice tenderloins into about one-inch pieces and serve.
Dietitian Tip
Whether making baking pork tenderloin or pork chops, trimming the fat off of the outside of the tenderloins is optional but highly recommended because it is an easy way to reduce the amount of saturated fat. To do this, use a sharp knife or kitchen shears to cut the visible fat off from the surface of each tenderloin.
Save time by roasting potatoes or vegetables at the same time as the pork tenderloin. Simply cut potatoes, sweet potatoes, or other hearty vegetable into bite sized pieces, drizzle with olive oil, sprinkle with salt and pepper, and spread them around the pork tenderloin. If the pork tenderloin is done cooking before the vegetables, simply transfer the pork tenderloins onto a cutting board, return the vegetables to the oven and continue to cook in the oven until they are fork tender.
How to Reheat Leftover Pork Tenderloin
We like to keep is simple and reheat leftovers in the microwave. I suggest microwaving in 30 second intervals until it is completely heated through to keep it from getting chewy.
The USDA recommends using leftover pork within 3-4 days.
Helpful Tips
Cooking time can vary depending on the size of the tenderloins.
Use an instant read meat thermometer. It's the only way you will know when to take the tenderloins out of the oven.
Do not overcook. Overcooking will produce a chewy consistency, which your kids may not like.
Don't roast the tenderloin for 25 minutes straight. Be sure to turn it at least once, every 10-15 minutes, until done.
Use a sharp knife or kitchen shears to cut off visible fat.
To keep warm, tent tenderloins with foil when out of the oven.
Questions You May Have
What is pork tenderloin?
Pork tenderloin is a boneless piece of pork that is long and narrow. It comes from the most tender part of the animal.
Can I use a different cut of pork?
It depends. You can roast a 2-pound pork loin instead of 2 one-pound tenderloins, but because it will be denser, you will need to roast it longer.
What kind of knife works best to cut pork tenderloin?
Use a very sharp chef's knife to slice port tenderloin.
Is this a boneless pork tenderloin recipe?
Yep! In fact, I'm pretty sure all pork tenderloin is boneless.
Is this the same as baked pork tenderloin?
Yes and no. When you roast something in the oven, you are essentially baking it at a higher temperature.
Related Recipes
More Easy Dinner Recipes
Did your kids love moist and delicious rosemary pork tenderloin? Please leave a 5-star rating below or a review in the comments section!
Don't forget to snap a pic of their dinner and tag @carrots.and.cookies on Instagram so I can see it. Enjoy!
30-Minute Oven Roasted Pork Tenderloin
This super easy and perfectly seasoned roasted pork tenderloin with rosemary recipe is one that anyone can make, and everyone will love!
Ingredients
2

pounds

pork tenderloin

2 tenderloins, about one pound each*

1

tablespoon

fresh rosemary

chopped

1

tablespoon

olive oil

extra virgin

½

teaspoon

salt

I use coarse sea salt

½

teaspoon

black pepper

preferably freshly ground
Instructions
Preheat oven to 425° Fahrenheit.

Lay pork tenderloins out on a rimmed baking sheet.

Mix olive oil, salt, pepper, and rosemary together in a small bowl.

Rub each tenderloin with rosemary mixture, covering each tenderloin completely. Using your hands for this step is most efficient and effective.

Place in oven and roast for 15 minutes.

Cook the tenderloins for 20-30 minutes*, turning once after the first 12 minutes.

Remove from oven when the internal temperature of the thickest part of the tenderloin reaches 145°.

Once out of the oven, tent tenderloins with foil for about 5 minutes before slicing.

Use a sharp knife to slice the pork into ½ inch pieces and serve.
Notes
Use an instant read digital meat thermometer to measure the internal temperature of the tenderloin. This is to prevent overcooking the pork.
*Cooking time will vary depending on the size of each tenderloin. Remove from oven when the thickest part of the tenderloin reaches 145 degrees.
A smaller tenderloin (about 13 ounces) will likely be finished cooking in about 20 minutes.
If you use a cut of pork that is thicker than one pound (like pork loin), cooking time will increase. In this case, continue to turn every 10-15 minutes while roasting, until an internal temperature of 145 degrees is reached.
Nutrition
Calories:
152
kcal
Carbohydrates:
1
g
Protein:
23
g
Fat:
6
g
Saturated Fat:
2
g
Polyunsaturated Fat:
1
g
Monounsaturated Fat:
3
g
Cholesterol:
74
mg
Sodium:
204
mg
Potassium:
449
mg
Fiber:
1
g
Sugar:
1
g
Vitamin A:
10
IU
Vitamin C:
1
mg
Calcium:
8
mg
Iron:
1
mg