Cozy up with this incredibly flavored soup that kids love. Nothing beats an easy, healthy, and delicious soup on a cold winter's night!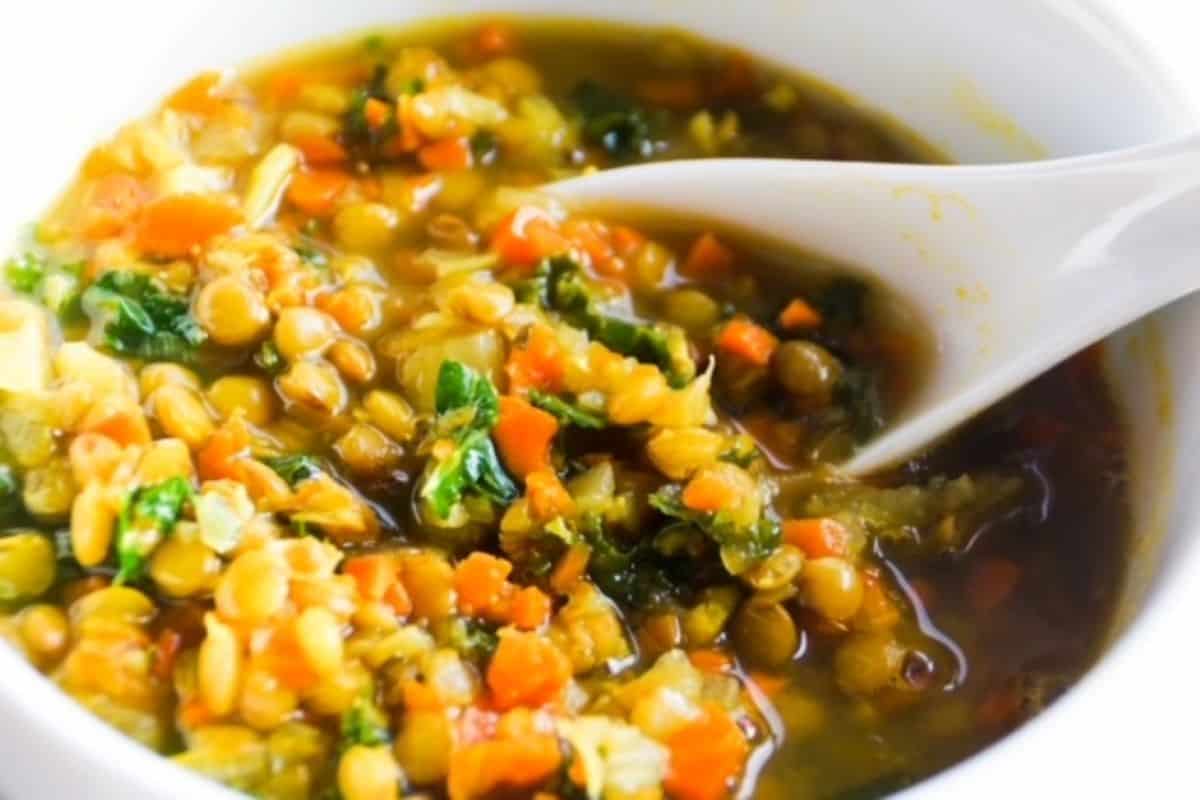 This lentil soup is perfect for kids... you just might want to hold off on telling them what's in it until after they rave about it, haha!
Seriously though, the fennel and turmeric take this amazing lentil soup to the next level in a very flavorful and healthy way. Your whole family will love it.
If you like cooking with kale, try my Easy Tuscan Kale Salad recipe. Believe it or not, both of these recipes with kale are a hit with kids!
About This Recipe
A few years ago our oldest child asked to order lentil soup from a café even though she had no idea what it was. Because I am all about food exposure, I let her order it (even though I was sure she wouldn't like it). It turns out she loved it!
I've been on a mission to find the perfect lentil soup recipe to make at home ever since. This is it! This recipe is not only super healthy, but it is easy and my kids love it. Yay!
Lentils, fennel, carrots, onion, garlic, turmeric, and other spices come together in this delicious healthy soup.
Chopped carrots, fennel, and onion fit right in to the texture of lentils.
The small pieces of kale add color and even more nutrients to this already healthy soup.
Leftovers can be easily reheated and sent along in school lunches! We love our thermos for this!
Ingredient Notes
Lentils High in fiber, protein, and iron. They are also a good source of potassium, folate, and manganese. For more details, check out lentils.org.
Carrots High in beta carotene and fiber. If you scrub the carrots well, there is no need to peel them first. But, if peeling is easier for you, do it!
Fennel High in fiber and vitamin C (an antioxidant)
Kale Use Curly Kale, it is the most common variety of kale. Kale contains fiber, antioxidants, calcium, vitamin C, vitamin K, iron, and more.
Onion A regular yellow onion will do!
Garlic For flavor.
Turmeric Turmeric adds to the golden color of this soup. Turmeric contains curcumin, which has been shown to have health benefits. Curcumin is most known for it's anti-inflammatory properties.
Cumin For flavor.
Thyme For flavor.
Broth Either chicken broth, chicken stock, or vegetable broth can be used. If you don't have 6 cups of broth, two of the cups can be substituted with water.
Balsamic vinegar Added to balance out the flavor.
Black pepper Helps the beneficial properties from turmeric to be absorbed. Also adds flavor.
Salt For flavor.
step-by-step instructions
Here's a quick overview of the steps to make this soup. For the full list of ingredients and instructions, scroll down to the recipe.
Chop carrots, fennel, onion, and garlic up into very small pieces using a good quality food chopper.
Cook chopped vegetables and garlic in olive oil until the vegetables are tender. Then, add all other ingredients except balsamic vinegar, salt, and pepper. Bring to a boil. Reduce heat and let simmer.
Add balsamic vinegar. Stir.
Add salt, and pepper, and kale pieces. Stir.
Remove from heat and enjoy!
expert tips
This lentil kale soup can be made ahead of time and reheated either on the stovetop or in the microwave.
Chop the vegetables into very small pieces. A good quality food chopper is a must to keep this recipe 'easy'. Chopping vegetables into very small pieces will help with acceptance of the texture for your kids.
Up to two cups of the broth can be substituted with water, if needed.
If you buy bagged pre-chopped kale, stick some in the freezer. Then, when it's time to throw some kale in the soup, simply take a few handfuls of frozen kale out and crumble with your hands as you add it to the soup. This is the easiest way to get small pieces of kale into soup.
If using fresh kale, remove the thick ribs and then either tear off pieces or use kitchen scissors to cut kale into pieces.
Recipe FAQs
How should I serve this soup for kids? Serve this soup to kids in a small bowl and their favorite spoon. My kids like to eat this using a porcelain soup spoon.
Leftovers can be reheated and placed in a thermos - perfect for packing lunches.
This soup also freezes well. Simply, let it cool, place it in a freezer safe container or resealable bag, and freeze.
What can I serve with this soup for my kids? Serve this soup with a hearty piece of bread, a small salad, crackers, or a their favorite wrap or sandwich. I serve this with small grilled cheese sandwiches or Caesar salad (one of their favorites) for my kids.
This recipe is adapted from the Golden Lentil Soup recipe found in The Healing Soup Cookbook.
Lentil Kale Soup
Fennel and turmeric take this amazing lentil kale soup to the next level in a very flavorful and healthy way. Your whole family will love it!
Ingredients
1

tbsp

olive oil

extra virgin

1

onion

One large onion, chopped.

3

carrots

Medium sized. Washed and chopped - see notes.

1

fennel bulb

cored and chopped

4

garlic cloves

minced

1

tsp

ground cumin

1

tsp

ground turmeric

1

tsp

dried thyme

1

cup

lentils

rinsed and drained

6

cups

chicken broth

chicken or vegetable - see notes.

2

cups

kale

Remove ribs and tear into pieces.

1

teaspoon

balsamic vinegar

½

teaspoon

black pepper

salt

to taste (see notes)
Instructions
Heat oil in a large pot.

Add finely chopped onions, carrots, and fennel. Sauté until vegetables are tender, about 5 minutes.

Add garlic. Cook for one minute.

Add cumin, turmeric, and thyme. Stir into vegetables.

Stir in lentils and broth. Bring to a boil.

Reduce heat to bring it to a simmer. Cook for 30-35 minutes (see notes).

Add balsamic vinegar and stir.

Stir in kale pieces, salt, and pepper. Remove from heat.

Enjoy!
Notes
Chopped vegetables: To make this soup most kid-friendly, chop onion, carrots, and fennel until they are about the size of a cooked lentil. See recipe photo for reference. A good quality food chopper will save you so much time. Broth: I use chicken broth or stock, but vegetable broth will work just as well. And, if you would like a thinner soup, you can add an additional 0.5 - 1 cup of broth (or water). Salt: If no one in your family requires a salt restriction, add up to one teaspoon of salt the first time you make this, keeping in mind that store-bought chicken and vegetable broths contain salt (sodium). Once you have your kids sold on this soup, consider gradually reducing the amount of salt added. Cooking time: Use either brown or green lentils. Increase cooking time to 35 minutes if using green lentils.
Nutrition
Calories:
221
kcal
Carbohydrates:
33
g
Protein:
15
g
Fat:
5
g
Saturated Fat:
1
g
Polyunsaturated Fat:
1
g
Monounsaturated Fat:
2
g
Sodium:
125
mg
Potassium:
931
mg
Fiber:
12
g
Sugar:
3
g
Vitamin A:
7403
IU
Vitamin C:
37
mg
Calcium:
106
mg
Iron:
4
mg