Cozy up with this super easy and incredibly flavored soup that kids love. With ten minutes of prep time and thirty minutes on the stove, this veggie lentil soup can't be beat!
This lentil soup is perfect for kids! The color and flavor will have them sold. Plus, it's packed with protein and high in fiber, so it's perfectly filling. Your whole family will love it!
For another incredible soup recipe that kids love, you've got to make my Butternut Squash Soup! And, if you like cooking with kale, try my Easy Tuscan Kale Salad recipe. Both of these recipes are a hit with kids!
Why This Recipe is So Great
I was on a mission to find the best lentil soup recipe to make at home ever since my daughter devoured bowl of it at a restaurant. This is it!
Uses basic pantry ingredients and simple spices.
One pot = less mess!
Easy plant-based meal.
Ready in 30 minutes!
High in protein and fiber so kids feel full longer.
Kid approved!
Chopped veggies fit right into the texture of lentils.
Can be made ahead.
Great for packing lunches! We use our thermos for this.
Budget-friendly. Lentils are an inexpensive plant protein that can be stored in the cupboard.
Ingredient Notes
Lentils High in fiber, protein, and iron. They are also a good source of potassium, folate, manganese, and iron.
Carrots High in beta carotene and fiber. If you scrub the carrots well, there is no need to peel them first. But, if peeling is easier for you, do it!
Greens Use spinach, curly kale, or a mixture of both. They contain fiber, antioxidants, calcium, vitamin C, vitamin K, iron, and more.
Spices Turmeric, cumin, and thyme make the perfect combination for lentil soup! Turmeric adds to the golden color of this soup. It contains curcumin which contains anti-inflammatory properties.
Broth Either chicken broth, chicken stock, or vegetable broth can be used. If you don't have 6 cups of broth, two of the cups can be substituted with water. If using less-sodium broth, I do not suggest substituting any of it with water.
Fennel (optional) High in fiber and vitamin C (an antioxidant)
Onion and Garlic Are on the list of foods that contain prebiotics. Prebiotics are good for gut health.
Step-By-Step Instructions
Here's a quick overview of the steps to make this soup. For the full list of ingredients and instructions, scroll down to the recipe.
Chop carrots, onion, and garlic up into very small pieces using a good quality food chopper. If you are adding fennel, chop that up, too.
Cook chopped vegetables and garlic in olive oil in a Dutch oven until the vegetables are tender.
Add spices, lentils, and broth. Stir. Bring to a boil. Reduce heat and let simmer for 30-35 minutes.
Add balsamic vinegar, salt, pepper, and kale or spinach pieces. Stir.
Remove from heat and enjoy!
A Note About Lentils
Lentils are a pulse (along with beans and peas). Pulses are a staple in the Mediterranean diet and are recognized for being rich in polyphenols, in addition to other nutrients. Studies have shown that the consumption of lentil is connected to the reduction of various diseases.
Lentils are a plant protein. They contain about 18 grams of protein per cup.
Green lentils take a little longer to cook than brown lentils.
Recipe Variations
Most greens would work in this recipe. I suggest using spinach, kale, or a combination of both. Although I haven't tried it, I'm sure Swiss chard would make a nice substitute.
Green or red bell pepper can either be added or used in place of carrots.
Use green or brown lentils. Do not use red lentils or else the soup will be mushy.
If your kids love tomato, add freshly chopped tomato at the end.
To make this vegan or vegetarian, use vegetable broth.
Dietitian Tip
Allow your kids to explore new flavors and textures. Just because you don't think they will like something doesn't mean they won't!
A few years ago, our oldest child asked to order lentil soup from a café even though she had no idea what it was. I was sure she wouldn't like it. But, because I am all about food exposure, I let her order it and it turns out she loved it! So here you have it - my version of a veggie filled soup made with plant-based protein (thank you, lentils!). I hope you love it as much as we do!
Expert Tips
To save time, use pre-packaged baby kale or spinach.
Make this soup ahead of time and reheat it either on the stovetop or in the microwave.
Chopping the vegetables into very small pieces will help with the acceptance of the texture for kids.
Up to two cups of the broth can be substituted with water, if needed.
Recipe FAQs
How should I serve this soup for kids?
Serve this soup to kids in a small bowl and their favorite spoon. My kids like to eat this using a porcelain soup spoon.
Do lentils need to be soaked before making soup?
No. Lentils should be rinsed, but do not need to be soaked. If you do soak lentils, reduce the cooking time.
Can you freeze lentil soup?
Yes. This soup also freezes well. Simply, let it cool, place it in a freezer safe container or resealable bag, and freeze.
What can I serve with this soup for my kids?
Serve this soup with a hearty piece of bread, a small salad, crackers, or their favorite wrap or sandwich.

My kids love it when I serve it with a small grilled cheese sandwich or Caesar salad.
Other Dinner Recipes Your Kids Will Love!
Be sure to comment below to share your feedback, and don't forget to snap a pic of this incredible lentil soup and tag @carrots.and.cookies on Instagram. Enjoy!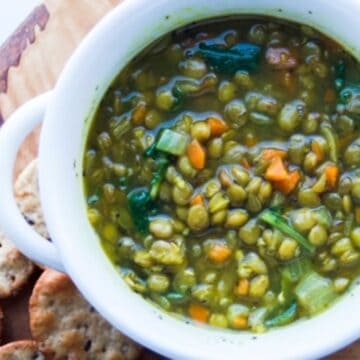 Veggie Lentil Soup
Cozy up with a bowl of this incredibly easy and flavorful plant-based lentil soup. It's full of veggies, high in protein, and cooks on the stove in one pot for just thirty minutes! Your kids will love it!
Equipment
1

Dutch Oven

I use Le Creuset but there are plenty of other alternatives out there that will work just as well!
Ingredients
1

tablespoon

olive oil

extra virgin

1

onion

One large onion, chopped.

3

carrots

Medium sized. Washed and chopped - see notes.

4

garlic cloves

minced

1

teaspoon

ground cumin

1

teaspoon

ground turmeric

1

teaspoon

dried thyme

1

cup

lentils

rinsed and drained

6

cups

broth

vegetable or chicken broth or stock - see notes.

2

cups

kale or spinach

If using kale, remove ribs and tear into pieces.

1

teaspoon

balsamic vinegar

½

teaspoon

black pepper

salt

to taste (see notes)
Instructions
Heat oil in a Dutch Oven.

Add finely chopped onions, carrots, and fennel (if using). Sauté until vegetables are tender, about 5 minutes.

Add garlic. Cook for one minute.

Add cumin, turmeric, and thyme. Stir into vegetables.

Stir in lentils and broth. Bring to a boil.

Reduce heat to bring it to a simmer. Cook for 30-35 minutes (see notes).

Add balsamic vinegar and stir.

Stir in spinach or kale pieces, salt, and pepper. Remove from heat.

Enjoy!
Notes
Chopped vegetables: To make this soup most kid-friendly, chop onion and carrots until they are about the size of a cooked lentil. See recipe photo for reference. A good quality food chopper will save you so much time.
Fennel can be added to enhance the flavor even more. One fennel bulb (chopped into small pieces) can be sauteed with the chopped onion and carrots.
Spinach or Kale To save time, used pre-packaged baby kale or baby spinach. If using curly kale, wash and remove the thick ribs from the leaves before tearing it into small pieces.
Broth: To make this a vegetarian or vegan lentil soup, use vegetable broth or stock. If you would like a thinner soup, you can add an additional 0.5 - 1 cup of broth (or water).
Salt: If no one in your family requires a salt restriction, add up to one teaspoon of salt the first time you make this, keeping in mind that store-bought chicken and vegetable broths contain salt (sodium). Once you have your kids sold on this soup, consider gradually reducing the amount of salt each time you make it.
Lentils: Use either brown or green lentils. Increase cooking time to 35 minutes if using green lentils. To save time, use pre-cooked steamed lentils and simmer for only about ten minutes. You can find them in the produce section of Trader Joe's grocery stores.
Nutrition
Calories:
209
kcal
Carbohydrates:
30
g
Protein:
15
g
Fat:
5
g
Saturated Fat:
1
g
Polyunsaturated Fat:
1
g
Monounsaturated Fat:
2
g
Sodium:
104
mg
Potassium:
770
mg
Fiber:
11
g
Sugar:
3
g
Vitamin A:
7351
IU
Vitamin C:
32
mg
Calcium:
87
mg
Iron:
4
mg