Easy and delicious Carrot and Lentil Soup is made with simple ingredients in just 30 minutes! It's high in protein, full of flavor, kid-tested, and parent-approved!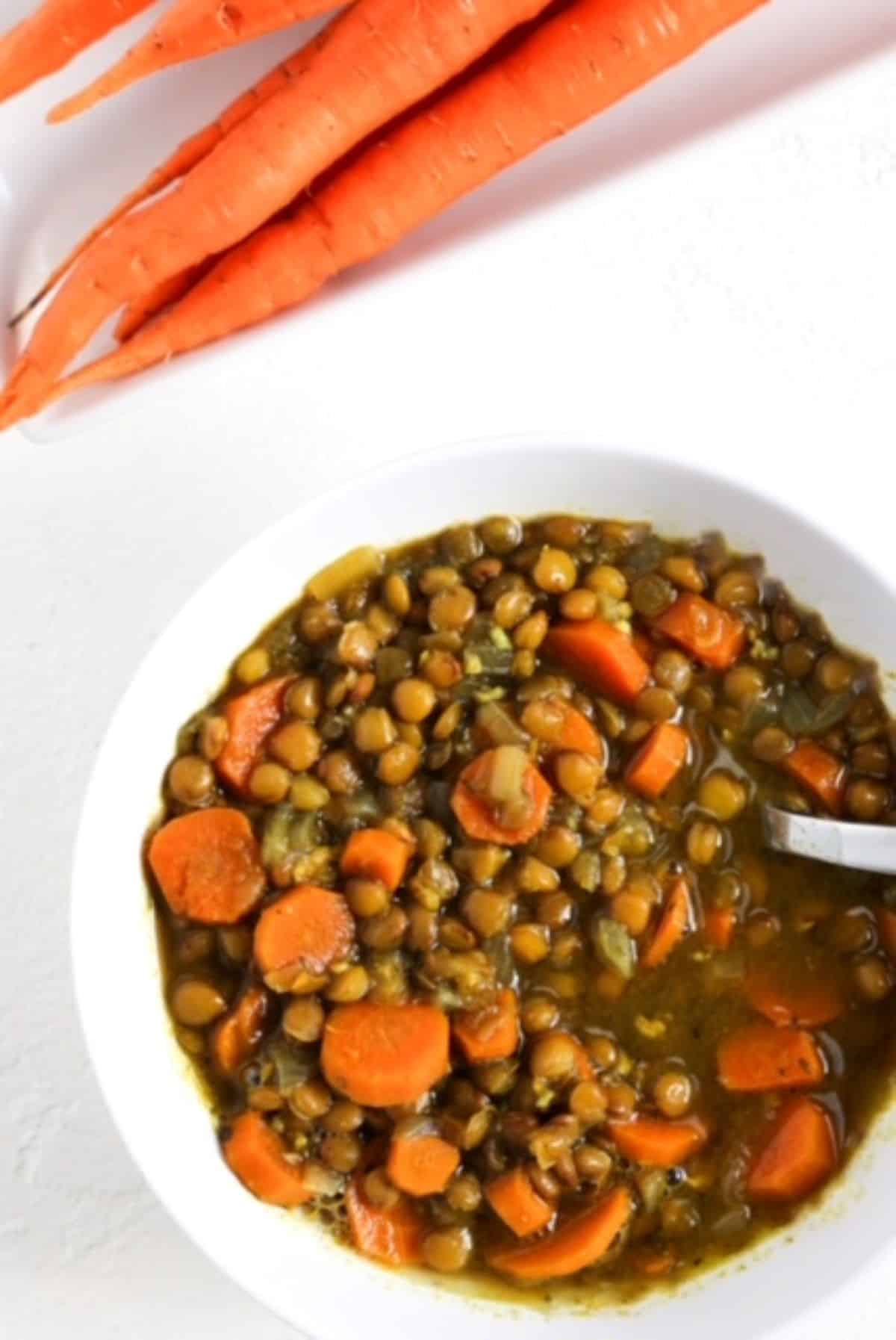 Have your kids ever wanted to order something from a restaurant that you were pretty sure they weren't going to like... and they ended up really liking it? Yeah, well, believe it or not, that's how I learned that my daughter loves lentil soup! 😆
This is a filling soup, sort of like chili... but it tastes totally different. And, because it's made with carrots, it makes a complete meal all on its own.
If your kids love soup as much as mine, you've got to make my Butternut Squash Soup!
Jump to:
🙋‍♀️What are Lentils?
Lentils are a pulse (along with beans and peas). Pulses are a staple in the Mediterranean diet and are recognized for being rich in polyphenols, in addition to other nutrients. Studies have shown that the consumption of lentil is connected to the reduction of various diseases.
Lentils are considered a plant protein. They contain about 18 grams of protein per cup. Green lentils take a little longer to cook than brown lentils.
😍Why You'll Love This Recipe
I was on a mission to find the best lentil soup recipe to make at home ever since my daughter devoured bowl of it at a restaurant. This is it!
Simple Ingredients This recipe calls for basic ingredients and simple spices.
One Pot One pot meals are the best because it means cleanup is easy!
Plant-Based Lentils are an excellent source of plant-based protein.
30 Minute Meal That's right! This recipe takes 30 minutes to cook using brown lentils and 35 minutes if using green lentils.
High in Protein and Fiber Both fiber and protein help kids feel full longer.
Kid-Tested, Parent-Approved Can it get any better than this?
Budget-Friendly Lentils are an inexpensive and shelf-stable.
Gluten-Free and Dairy-Free Meal
🥕Ingredient Notes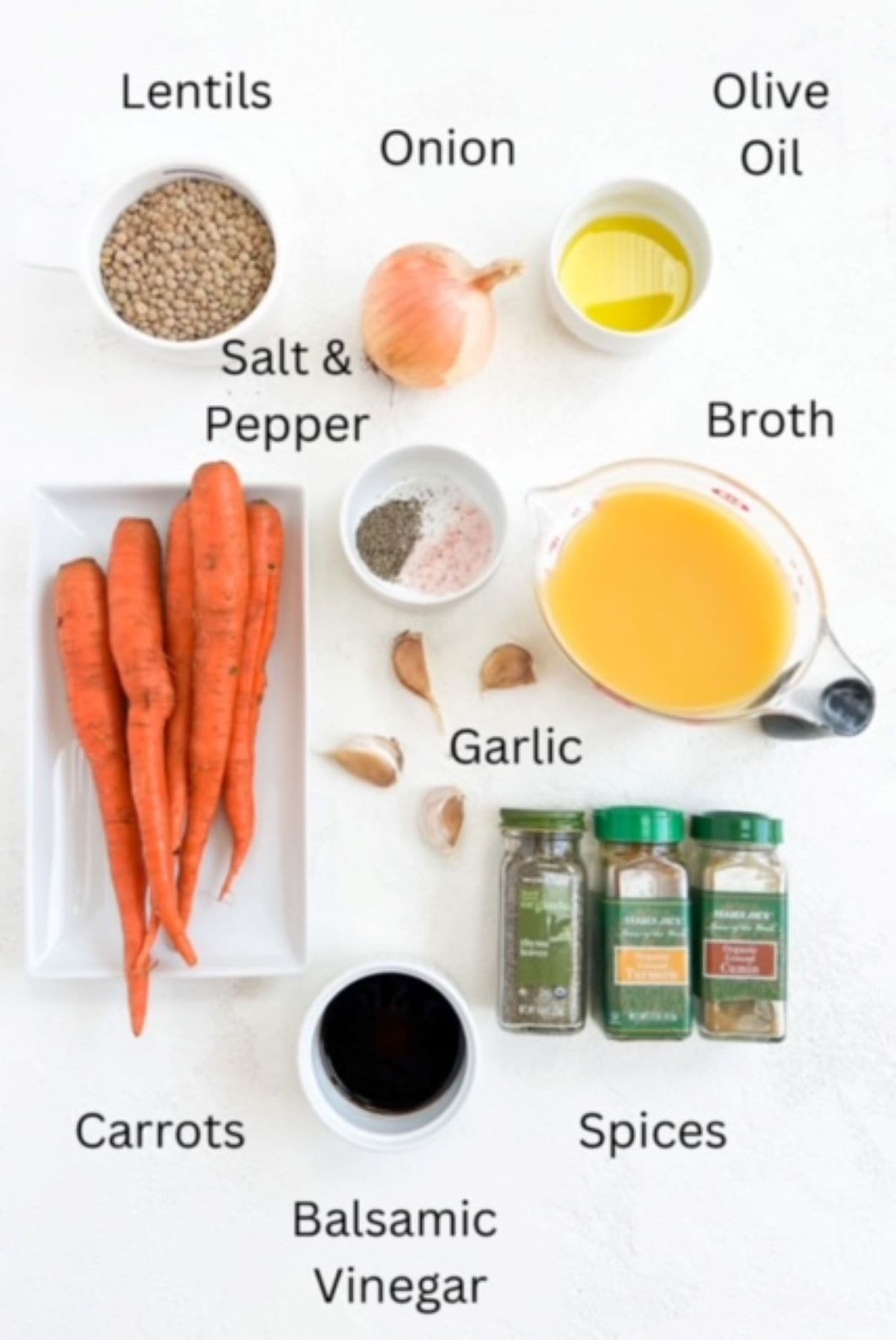 👩‍🍳Step-By-Step Instructions
Here's a quick overview of the steps to make this Carrot and Lentil Soup. For the full list of ingredients and instructions, scroll down to the recipe.
Use a soup pot or Dutch Oven to cook sliced carrots, minced garlic, and chopped onion in olive oil over medium heat for about 5 minutes, until the vegetables are tender.
Add spices to the cooked vegetables and stir.
Add the lentils and broth. Stir.
Bring to a boil. Reduce heat and let simmer for 30-35 minutes.
Stir in balsamic vinegar, salt, and pepper.
Remove from heat and enjoy!
Recipe Variations
For more of a spiced lentil carrot soup, add a pinch of red pepper flakes.
For more of a tomato-based soup, add one or two tablespoons of tomato paste.
If you like the flavor of coconut, either substitute some of the broth with coconut milk, or stir a small amount of full-fat or low-fat coconut milk or cream in before serving.
Pieces of kale or spinach can be added right at the end for more color and variety. I originally included this in the main recipe, but decided to make it a suggestion instead because most kids like to eat foods that are simpler.
Fennel can be added to enhance the flavor even more. One fennel bulb (chopped into small pieces) can be sauteed with the chopped onion and carrots.
If you are not vegetarian, feel free to use chicken broth or stock in place of vegetable broth.
Dietitian Tip
Allow your kids to explore new flavors and textures. Because, who knows? They may just surprise you 😊
When I updated this recipe, I decided to suggest slicing the carrots instead of chopping them up because many kids like carrots and may actually be more likely to try the soup if they see the carrots.
Still, some kids just don't like chunks or things with different consistencies. In this case, it would make sense to either chop up the carrots into very small pieces, so they blend in with the carrots and lentils, or use an immersion blender to turn this into a creamy soup.
Expert Tips
Use green or brown lentils. Do not use red lentils or else the soup will be mushy.
Increase cooking time to 35 minutes if using green lentils.
To save time, use pre-packaged Mirepoix (diced onion, celery, and carrots) that you can find in the produce section of most grocery stores (including Trader Joe's).
This lentil soup can be made ahead of time and reheated either on the stovetop or in the microwave.
Substitute up to two cups of the broth with water, if needed.
If you do not have 6 cups of vegetable broth, two of the cups can be substituted with water. If using less-sodium broth, I do not suggest substituting any of it with water.
A slow cooker can be used to keep it warm before serving.
Questions You May Have
How should I serve this soup for kids?
Serve this soup to kids in a small bowl and their favorite spoon. My kids like to eat this using a porcelain soup spoon.
Do lentils need to be soaked before making soup?
No. Lentils should be rinsed, but do not need to be soaked. If you do soak lentils, reduce the cooking time.
Can you freeze lentil soup?
Yes, absolutely! This soup freezes well. Let it cool completely before placing it in a freezer safe container or resealable bag. Then, store it in the freezer for up to 3 months.
What can I serve with this soup for my kids?
Serve this soup with a hearty piece of bread, a small salad, crackers, or their favorite wrap or sandwich.

My kids love it when I serve it with a small grilled cheese sandwich or Caesar salad.
Can this recipe be made in an Instant Pot?
I've never made lentil soup in an Instant Pot but I'm sure it would work!
Related Recipes
More Easy Dinner Recipes
Did you make this Carrot and Lentil Soup recipe and love it? Be sure to give this recipe a 5-star rating and comment below to share your feedback!
Don't forget to snap a pic of this incredible lentil soup and tag @carrots.and.cookies on Instagram. Enjoy!
Carrot and Lentil Soup
Easy and delicious Carrot and Lentil Soup is made with simple ingredients in just 30 minutes! It's high in protein, full of flavor, kid-tested, and parent-approved! Your kids will love it!
Ingredients
1

tablespoon

olive oil

extra virgin

1

onion

chopped.

4-5

carrots

Medium sized. Washed and sliced - see notes.

4

garlic cloves

minced

1

teaspoon

ground cumin

1

teaspoon

ground turmeric

1

teaspoon

dried thyme

1

cup

lentils

rinsed and drained

6

cups

vegetable broth

Can use chicken broth or stock (if you prefer). See notes.

1

teaspoon

balsamic vinegar

½

teaspoon

black pepper

salt

to taste (see notes)
Instructions
Heat oil in a Dutch Oven over medium heat.

Add finely chopped onions and sliced carrots. Sauté until vegetables are tender, about 5 minutes.

Add minced garlic. Cook for one minute.

Add cumin, turmeric, and thyme. Stir into vegetables.

1 teaspoon ground cumin,

1 teaspoon dried thyme,

1 teaspoon ground turmeric

Stir in lentils and broth. Bring to a boil.

1 cup lentils,

6 cups vegetable broth

Reduce heat to bring it to a simmer. Cook for 30-35 minutes (see notes).

Add balsamic vinegar and black pepper. Stir.

1 teaspoon balsamic vinegar,

½ teaspoon black pepper,

salt

Enjoy!
Notes
To make this soup most kid-friendly, chop onion and carrots until they are about the size of a cooked lentil. A good quality food chopper will save you so much time.
Carefully taste the soup before adding salt to it. If you are using broth made without sodium, you will likely want to add some salt.
If you would like a thinner soup, you can add an additional 0.5 - 1 cup of broth (or water).
If no one in your family requires a salt restriction, I suggest adding a half teaspoon of salt the first time you make this, keeping in mind that store-bought chicken and vegetable broths contain salt (sodium). Once you have your kids sold on this soup, consider gradually reducing the amount of salt each time you make it.
Use either brown or green lentils.
Increase cooking time to 35 minutes if using green lentils.
To save time, use pre-cooked steamed lentils and simmer for only about ten minutes. You can find them in the produce section of Trader Joe's grocery stores.
To save time, you can use pre-packaged Mirepoix (diced onion, carrots, and celery) found in the produce section of most grocery stores.
This lentil soup can be made ahead of time and reheated either on the stovetop or in the microwave.
Up to two cups of the broth can be substituted with water, if needed. However, if using less-sodium broth, I do not suggest substituting any of it with water. I tried it and it didn't taste very good 😉
Nutrition
Calories:
176
kcal
Carbohydrates:
29
g
Protein:
9
g
Fat:
3
g
Saturated Fat:
0.4
g
Polyunsaturated Fat:
0.5
g
Monounsaturated Fat:
2
g
Sodium:
972
mg
Potassium:
489
mg
Fiber:
11
g
Sugar:
6
g
Vitamin A:
7319
IU
Vitamin C:
6
mg
Calcium:
47
mg
Iron:
3
mg