Surprise your kids with a taste of the tropics! With just three main ingredients and ready in ten minutes, this is the easiest homemade healthy addition to breakfasts and snacks ever!
This simple and delicious and mango avocado toast is super easy, super healthy, and so fancy!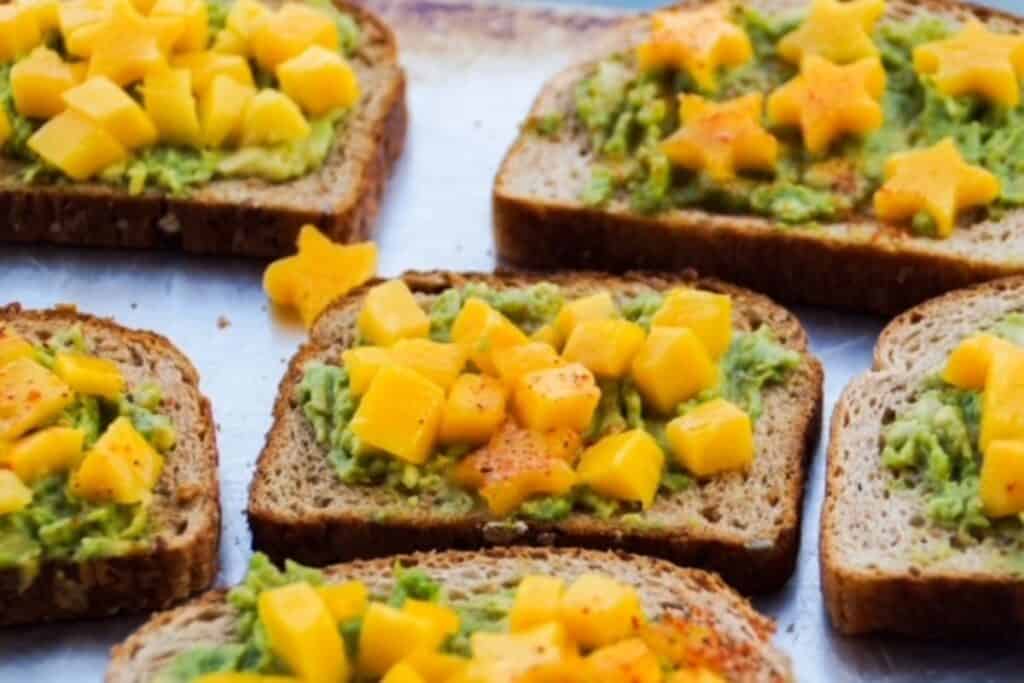 Am I the only one who asked "what is avocado toast and why is it so popular?" when it first became a thing? I mean, if taken literally, it doesn't sound like something that anyone would ever rave about.
But, wow - little did I realize how much you can really do with it!
When I first ordered mango avocado toast at Bird Rock Café in Southern California I asked, "what is this red seasoning on top"? It was Tajin! I was sold!.
Your kids will love this change from being served the same 'ol breakfast or snack! It really is the best!
And, if you end up with leftover avocado but not quite enough to make guacamole, you can use it to top Black Bean and Rice Casserole or spread it on top of a delicious turkey burger!
Plus, I've got this delicious mango overnight oats recipe that will help you use up any leftover mango!
about this recipe
Mango avocado toast can be served as breakfast or snack and it's ready in just minutes.
High in fiber so your kids feel full longer.
Made with simple ingredients that can be found year round.
Tajin adds a delicious twist of flavor. My son especially loves it!
Serve this with an egg, yogurt, a cup of milk, or another source of protein, and the meal is complete.
It's so easy, even your kids can make it!
ingredient notes
Mango Mango is a tropical stone fruit with orange flesh. Mangos are full of vitamins (most notable vitamins C and A, minerals, antioxidants (hello, polyphenols!) and fiber. In fact, mangos contain over 20 different vitamins and minerals.
Avocado Avocados are not only full of vitamins and minerals, but they also happen to be an excellent source of healthy monounsaturated fats! They are also an excellent source of fiber. In fact, there is about 3g of fiber per serving (~⅓ of an avocado).
Tajin Chili lime seasoning. I was first introduced to tajin in Costa Rica. Now I can find it locally - even Aldi sells it. Trader Joe's makes a chili-lime seasoning that you can used if you can't find Tajin.
Bread Use what you have or what your kids enjoy. I prefer to use whole grain or sourdough bread. Hearty breads give this mango avocado toast a firm foundation.
how to make this recipe
Here's a quick overview of the steps to make this mango avocado toast. For the full list of ingredients and instructions, scroll down to the recipe.
Lightly toast the bread.
Peel the mango. Then, cut into thin slices. Continue cutting to form small square pieces or use small cookie cutters to cut them the pieces into small shapes. Toss out the pit of the mango.
Cut the avocado in half lengthwise. Remove the pit. Scoop out the flesh of the avocado. Using a small paring knife, cut avocado up into thin slices.
Lay slices of avocado on top of a slice of toast. Lightly press or mash with a fork.
Top avocado with mango pieces.
Sprinkle with tajin or other chili-lime seasoning.
expert tips and FAQs
If you use plantain chips instead of bread, do not toast the plantain chips first.
The most commonly found mango in the United States is called Tommy Atkins. I have found Tommy Atkins, Keitt, and Ataulfo mangos in the grocery stores around where I live. Ataulfo mango tends to be the sweetest.
If you can find a few varieties of mango, consider getting one of each and do a fun little taste test with your kids to see which is their favorite!
The first time you make this for your kids, I would use whatever bread they are used to being served. Too many changes at a time can throw some kids way off.
Of course, if your child has food allergies, use whatever bread is safe for them to eat.
If your kids are not very adventurous with food or are super sensitive to even a hint of spice, I would start by sprinkling just a small amount of the chili lime seasoning on the corner of the mango avocado toast before serving. Or, leave it out altogether.
WHAT IS AVOCADO TOAST?
In the most basic sense, avocado toast is toast topped with mashed avocado, salt, pepper, and citrus. In this recipe, the citrus flavor is found in Tajin. By adding and substituting a few simple ingredients, you can really take avocado and toast to the next level!
HOW CAN I TELL WHEN AN AVOCADO IS RIPE?
A ripe avocado will be slightly soft to the touch (when gentle pressure is applied), but not mushy. Also, if you are able to flick the little stem off easily and the small round spot under the stem is green, the avocado should be ripe!
What can I use instead of bread?
Plantain chips! Really, the flavor and sturdiness of a plantain chip makes it a perfect base for serving fresh avocado and mango. Your kids will think this is the best snack ever!
WHAT IS TAJIN SEASONING?
The ingredient list for Tajin is simple: chili powder, dehydrated lime, and salt. This delicious chili lime seasoning is becoming more and more popular. I was first introduced to Tajin in Costa Rica about four years ago. The native's we met there sprinkled Tajin on mangos and ate it like candy!
Mango Avocado Toast
Surprise your kids with a taste of the tropics! With just three main ingredients and ready in ten minutes, this is the easiest homemade healthy addition to breakfasts and snacks ever!
Ingredients
1

mango

peeled and sliced thin

1

avocado

mashed

4

slices

bread

see notes

Tajin

to taste. optional, see notes
Instructions
Lightly toast bread in a toaster or toaster oven

While bread is toasting, peel and slice mango

Cut mango slices into small pieces and set aside

Mash avocado in a separate small bowl (see notes)

Carefully remove toast from the toaster oven and let cool slightly

Spread each slice of toast with about ¼ of the mashed avocado

Distribute mango pieces evenly over the avocado topped pieces of toast

Lightly sprinkle Tajin over the mango (optional, but highly recommended!)
Notes
You can use plantain chips (or other sturdy, salty type of cracker) in place of bread.
If your avocado is super soft, you can try mashing the avocado on top of the toast (time saver!). Otherwise, smash the avocado on a separate small plate or bowl before topping the toast with it.
The first time serving this to your kids, consider adding just a touch of Tajin or other chili lime seasoning. You can always add more!
Tajin is not included in the nutrition breakdown because it is an optional ingredient. Tajin does not add carbohydrate, protein, or fat to the recipe. It does contain 190 mg of sodium per one-quarter teaspoon.
Nutrition
Calories:
249
kcal
Carbohydrates:
35
g
Protein:
6
g
Fat:
11
g
Saturated Fat:
2
g
Polyunsaturated Fat:
2
g
Monounsaturated Fat:
7
g
Trans Fat:
1
g
Sodium:
199
mg
Potassium:
509
mg
Fiber:
7
g
Sugar:
12
g
Vitamin A:
845
IU
Vitamin C:
32
mg
Calcium:
67
mg
Iron:
2
mg