This easy and incredibly delicious mango salad dressing is made with simple ingredients and only takes 5 minutes to make. Just place all of the ingredients in a food processor or small blender and blend. That's it!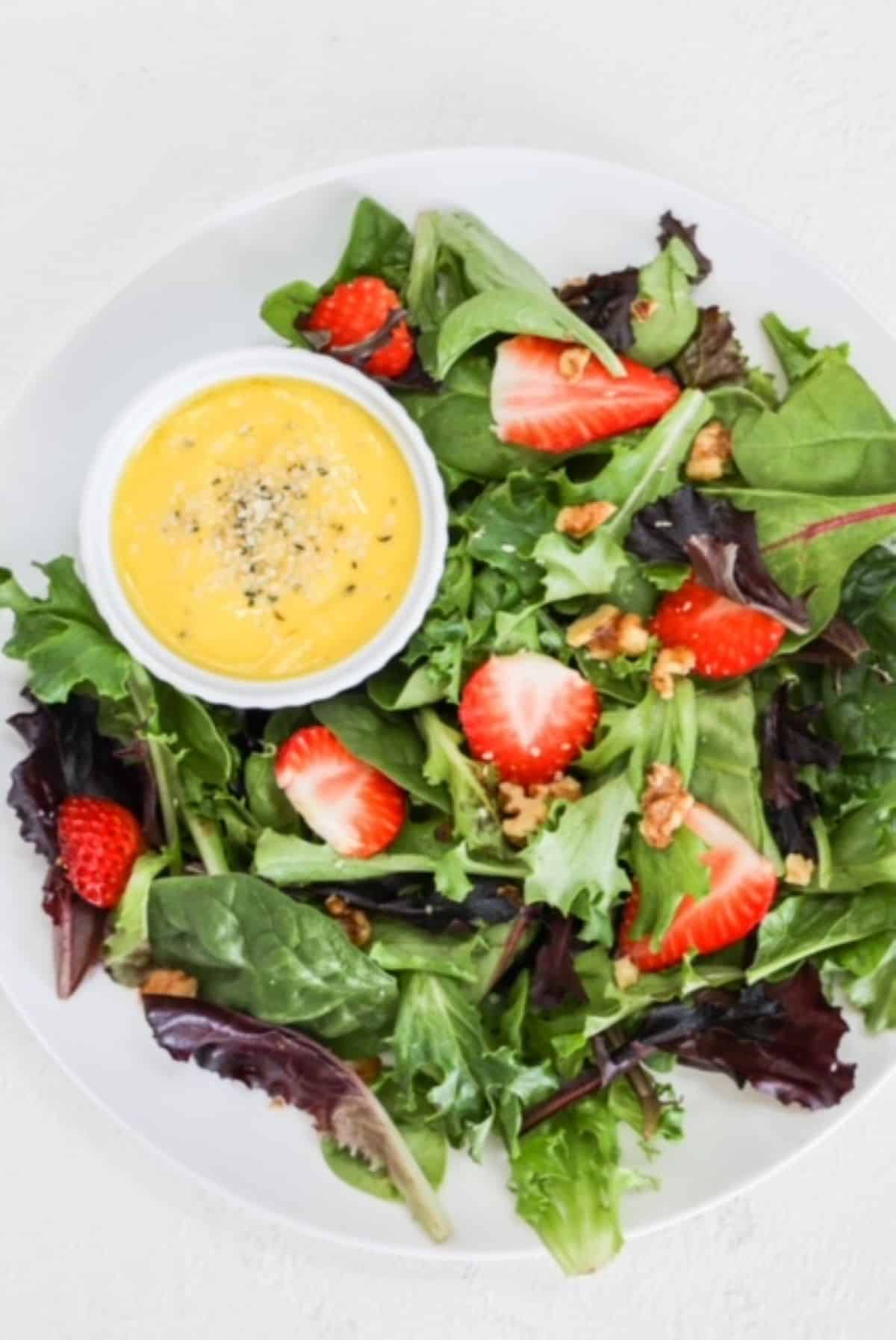 Who ever said salads need to be boring anyway? If you ask me, it's the salad dressing that literally makes or breaks a salad.
The way I see it is you can put pretty much anything in a salad, and it will taste amazing as long as the dressing is delicious. But, if you put everything you love in a salad and then top it with a dressing that you don't like, it's ruined. Do you know what mean?
I get it, though. I held off making my own salad dressings for years because I had no idea how to make them. Then one day while I was at a restaurant ordering a salad that I loved, I asked what was in the dressing.
And guess what? The ingredients were so simple! So, I went home and started experimenting. I first made a strawberry dressing, and now I've created this one made with mango. I know you'll just love it!
Jump to:
Why You'll Love This Mango Dressing
Easy recipe
Kid-friendly Not all kid like the taste of vinegar, so this dressing is made with lime instead.
Vegan (dairy-free) and soy-free
It's a sweet salad dressing made without refined sugar.
Easily customizable See flavor variations at the bottom of this post.
Ingredient Notes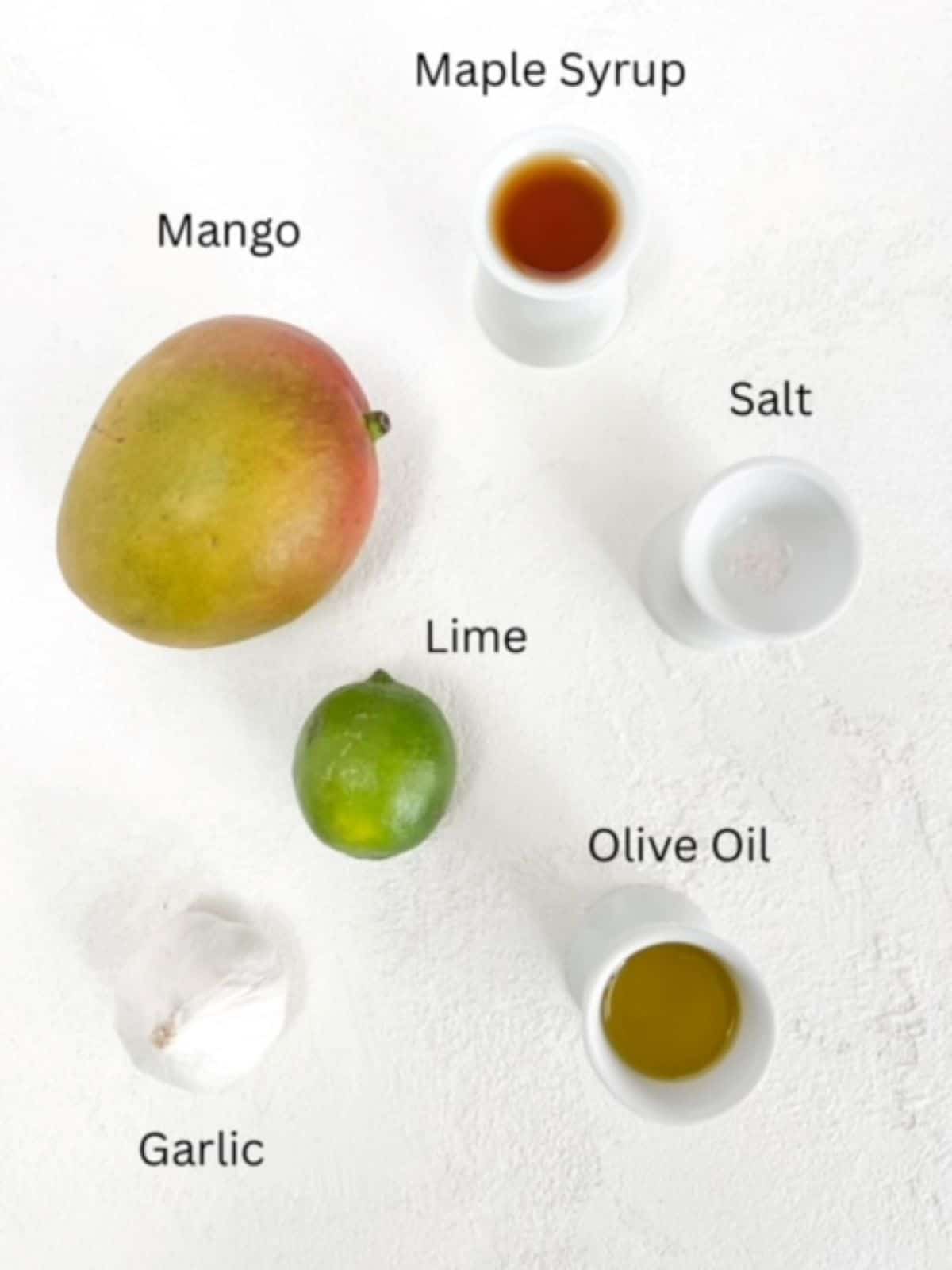 Mango I prefer to use fresh mango to make this dressing. You can use fresh or frozen mango. Fresh ripe mango will be sweeter and create a smoother texture, but defrosted frozen mango will work just as well. Mangos are high in fiber, vitamin C, and vitamin A.
Lime juice Use fresh squeezed lime juice. If you don't have lime juice, apple cider vinegar can be used instead.
Maple syrup Use pure maple syrup. Honey can be used instead.
Olive oil I use extra virgin olive oil.
Garlic I don't suggest using more than a half of a clove of garlic.
How to Make This Homemade Salad Dressing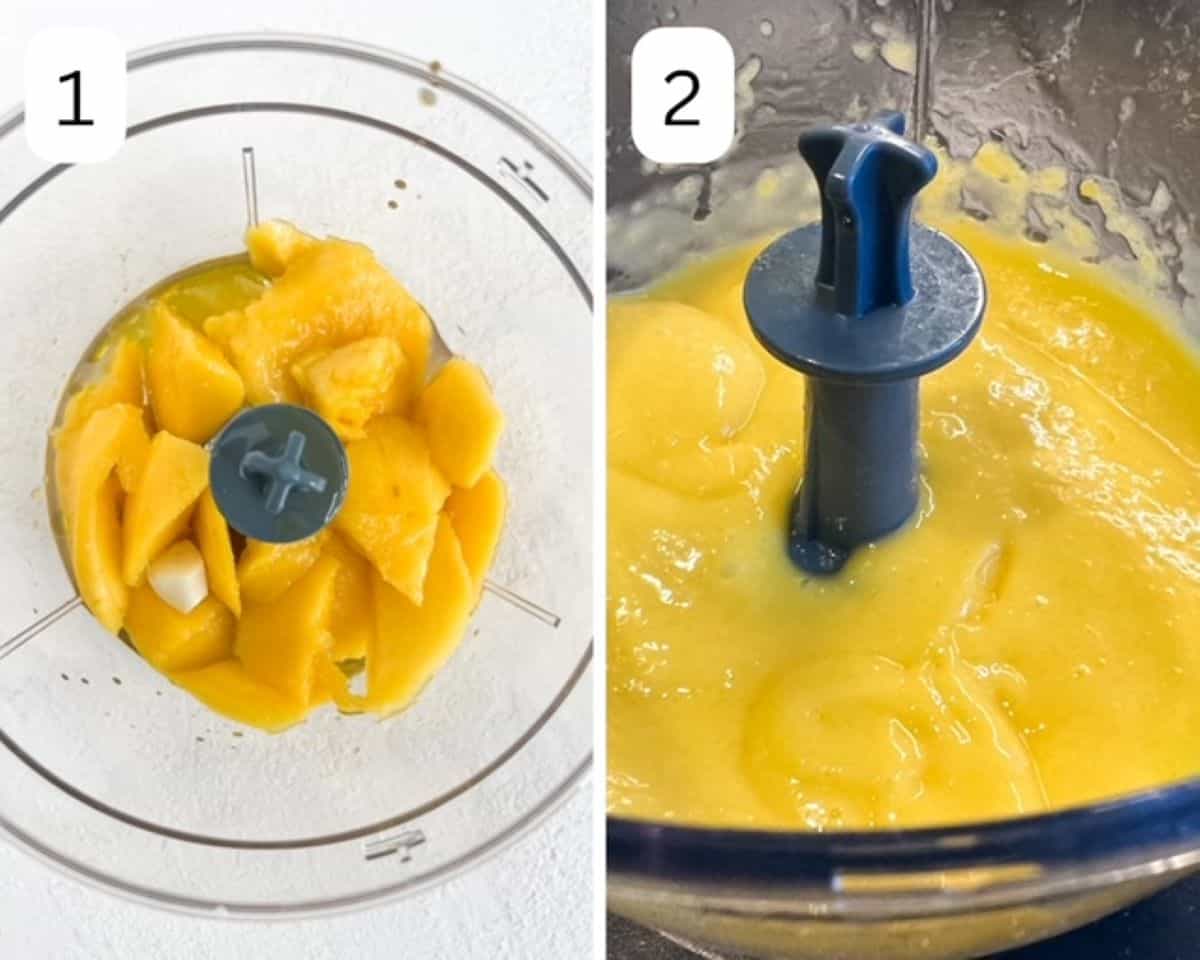 It doesn't get much easier or more delicious than this! I'll summarize the steps on how to make this mango vinaigrette salad dressing here. For the complete list of ingredients with measurements and full instructions, scroll down to the recipe.
Place all ingredients in a small blender or food processor.
Blend for one to two minutes, until a smooth consistency is reached.
Taste the dressing and adjust the flavor by adding more salt or maple syrup if needed, according to your preference.
Dietitian Tip
Sometimes the salad dressing served with a salad can be the one and only deciding factor that will determine whether or not a kid will eat a salad. So, it's key to know their flavor preferences well.
While most kids will prefer a sweet salad dressing, some do prefer a savory one, like Caesar dressing. For this reason, I like to ask my kids what kind of dressing they like when I'm serving a salad.
As for how much dressing they put on a salad... I let them decide for themselves because I'm all about me letting them know when and what we will be eating and then allowing them the freedom to decide how much of it they will eat.
Expert Tips
To thin out the dressing, add one tablespoon of water at a time and blend until your desired consistency is reached.
You will get the best flavor and texture using fresh mango.
If using frozen mango, defrost the frozen mango first. I have made this dressing using frozen mango and had to add extra water in order for it to all blend together.
Store mango dressing in a mason jar or other air-tight container and refrigerate.
Recipe Variations
There is so much potential for mango salad dressing, especially if you have adventurous eaters!
Jalapeño can be added to make a spicey mango dressing.
Cilantro could be added for more of a Tex-Mex flavor.
You could try using ginger instead of garlic.
Tajin would add incredible flavor to this dressing, because it has a little spice and tastes tropical.
Questions You May Have
What type of mango is best for making dressing?
Any type of mango will work for this dressing. No matter what kind of mango you buy, the size and ripeness of the mango will determine how much mango you get from it as well as how sweet the mango will be.

Alphonso mangos are the sweetest I have found in the States, but they are smaller than the more common Tommy Atkins mango. This recipe calls for one cup of mango, so if your mangos are on the small side, you may need two mangos for this recipe.
How do you cut a mango?
There are a few different ways to cut a mango. I prefer to use a knife to peel of the skin. Then, once the skin is removed, I use a knife to slice of pieces of mango, working around the pit.
Is this a mango vinaigrette dressing?
Great question. Technically, this is not a mango vinaigrette because it is not made with vinegar. If you prefer a vinegar flavor in dressings, you can blend in a tablespoon of apple cider vinegar or white balsamic vinegar.
How do you serve mango salad dressing?
Mango salad dressing is most often served on top of a mango salad. A mango salad can be made by topping mixed greens with sliced avocado, sliced mango, along with something crunchy like toasted and chopped walnuts, roasted chickpeas, or small chunks of plantain chips.

More delicious ways to serve mango dressing include: drizzling it on top of avocado toast or a flatbread pizza, use it as a dressing for a strawberry salad, or in a wrap.
More Salad and Dressing Recipes
Did you make this mango dressing and love it? Please leave a 5-star rating or comment below to let me know!
Don't forget to follow me on Instagram! If you make this dressing and post a pic, tag me @carrots.and.cookies so I can see it!
5-Minute Mango Salad Dressing
Say goodbye to boring salads with this easy and incredibly delicious mango dressing made with simple ingredients in just 5 minutes!
Ingredients
Instructions
Place all ingredients in a food processor or small blender

Blend for one to two minutes, until a creamy consistency is reached.
Notes
To thin out the dressing, add one additional tablespoon of water at a time and continue to blend until your desired consistency is reached. 
You will get the best flavor and texture using fresh mango.
If using frozen mango, defrost the frozen mango before blending. I have made this using frozen mango without defrosting it and needed to add extra water in order for it to blend.
To add spice to this sweet dressing, try adding a small amount of jalapeño or red pepper flakes. 
For more of a Tex-Mex inspired flavor, blend a small amount of Tajin or jalapeño and cilantro into the dressing.
For more of an Asian-inspired flavor, add a small piece of ginger when blending.
Store in a mason jar with a lid and refrigerate. Use within 3-5 days.
Nutrition
Calories:
62
kcal
Carbohydrates:
7
g
Protein:
0.3
g
Fat:
4
g
Saturated Fat:
1
g
Polyunsaturated Fat:
0.4
g
Monounsaturated Fat:
3
g
Sodium:
42
mg
Potassium:
65
mg
Fiber:
1
g
Sugar:
5
g
Vitamin A:
325
IU
Vitamin C:
14
mg
Calcium:
9
mg
Iron:
0.1
mg