Say 'hello' to our family's favorite muffin recipe! I've been on a mission to find the perfect balance of ingredients so that my kids are happy (taste, texture) and that I am happy (with the ingredients). These lemon blueberry muffins are it!
There's so much deliciousness in this recipe that it can go by many names, lol. Feel free to call these blueberry yogurt muffins with lemon, or lemon blueberry yogurt muffins, or lemon blueberry almond muffins. Once your kids try these, ask them what they think they should be called. I won't take it personal if they opt to rename these, haha!
And, I'm just going to put it out there - I was a little reluctant to post this because I wondered "what are people going to think when they see that this recipe calls for some white flour AND sugar?".
But, then, just this week, I was encouraged by an Instagram post from Shana Minei Spence, MS, RDN, CDN when she added that she tells clients to "think about foods to ADD IN rather than TAKE OUT". That's exactly it! It's like she knew exactly what I was thinking, haha! I couldn't have said it better myself!
And, if your kids love muffins as much as mine do, be sure to also make my Banana Carrot Muffins with Raisins and Zucchini Banana Chocolate Chip Muffins!
Recipe Highlights
Eating something with lemon, for me, feels almost as good as receiving a compliment. It adds a bit of sunshine to my day and I hope it does the same for you and your family! These light and refreshing muffins make a delicious after school snack or addition to school lunches.
This super tasty lemon blueberry muffins contain almond flour, yogurt, olive oil, fresh lemon, and blueberries. You can't say that for most other muffins!
Almond flour softens the muffin but using too much of it causes the muffins to fall apart.
White whole-wheat flour is still hard to find in most grocery stores (during the pandemic), so I stuck with all-purpose flour for the remaining cup of flour.
Olive oil is used in place of butter. Can you believe it? That's right. I use extra virgin olive oil (excellent source of omega-3's) and they taste amazing!
These muffins are excellent with or without berries added - try them both ways!
Ingredient Notes
Lemon Lemon juice and lemon zest are used in this recipe. Aside from adding amazing flavor, lemon juice contains vitamin C and it adds moisture to this recipe. Lemons can be found year-round in the States. I always keep them on hand.
Yogurt Use plain yogurt. Either traditional or Greek yogurt can be used. For a lighter muffin, use traditional yogurt.
Flour Almond Flour and All-purpose flour. A combination of flours are used to achieve the perfect consistency. Almond flour is made by grinding up blanched almonds. Almonds contain fiber, omega-3 and monounsaturated fats, protein, vitamin E, manganese, magnesium, and more.
Blueberries High in antioxidants, including anthocyanins which is a flavonoid. They are also an excellent source of fiber, potassium, vitamin C, and more. Plus, they add wonderful color!
Sugar One of the trickiest parts in developing this recipe was finding the right amount of sugar to include. This is because sugar does more than just sweeten a muffin. It also contributes to the consistency of the muffin.
Egg Helps to bind the muffins together. Eggs contain protein and other nutrients.
Olive Oil I use extra virgin olive oil because it contains healthy fats.
Baking powder and baking soda Used for leavening
Step-by-Step Instructions
Here's a quick overview of the steps to make these refreshing blueberry muffins. For full ingredients and instructions, scroll down to the recipe.
Preheat your oven.
Line or grease a muffin tin.
Add flours, sugar, lemon zest, baking powder, and baking soda together in a medium sized mixing bowl and mix well.
In a separate bowl, add the yogurt, egg, lemon juice, and olive oil. Mix until well combined.
Add the wet ingredients to the dry ingredients.
Mix just well enough so that all ingredients are combined.
Gently fold blueberries into the batter.
Divide batter evenly unto a lined muffin tin (12 muffins).
Bake for 18-20 minutes, until a toothpick comes out clean.
Expert Tips and FAQs
Do not overmix. There should be lumps in the batter.
Let the muffins cool completely before eating them. I know it will be tempting to snag a taste, but allowing the muffins to cool allows the lemon flavor to settle in and it will prevent the muffins from sticking to the muffin liners.
Muffins shrink a little as they cool which makes it easier to remove the muffin liner.
What kind of yogurt should I use to make muffins
The kind of yogurt you choose will affect the density and sweetness of these muffins. Using traditional yogurt will produce a lighter muffin than when making these using Greek yogurt. Using vanilla or lemon flavored yogurt will produce a sweeter muffin.
What is the difference between almond meal and almond flour?
Almond flour is made by grinding up blanched almonds (which means the skins have been removed); almond meal is made by grinding up whole almonds. Their nutritional value is pretty much the same. The differences mainly are in texture (the texture of almond meal is more coarse) and digestibility (almond skins can be difficult to digest).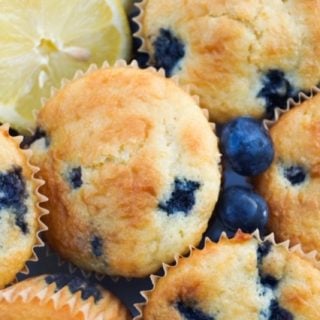 Lemon Blueberry Muffin Recipe
Easy, and delicious, these lemon blueberry muffins make an excellent after school snack or a healthful addition to a packed lunch! Kids love them!
Ingredients
1

cup

all-purpose flour

unbleached

¾

cup

almond flour

½

cup

sugar

I use raw cane sugar.

zest of one large lemon

about one tablespoon

1

teaspoon

baking powder

aluminum-free

¾

teaspoon

baking soda

¾

cup

yogurt

plain

1

egg

2-3

tablespoon

lemon juice

1 large lemon, juiced

6

tablespoon

olive oil

extra virgin

1

cup

blueberries
Instructions
Preheat oven to 400° Fahrenheit

Add the first six ingredients together in a medium-sized mixing bowl. Mix well.

In a separate mixing bowl, add the next four ingredients. Mix well.

Add the wet ingredients to the dry ingredients.

Mix just well enough so that all ingredients are combined. There should be lumps in the batter. Do not overmix.

Gently fold blueberries into the batter.

Divide batter evenly into a lined muffin tin (12 muffins).

Bake for 18-20 minutes, until a toothpick comes out clean*
Notes
Let the muffins cool completely before eating
*If you make these as lemon muffins, without blueberries, baking time will be about 14 minutes
Using plain Greek yogurt instead of plain traditional yogurt will change the consistency of the muffins (they will be more dense) but they will still taste amazing!
Vanilla or lemon flavored yogurt can be used in place of plain yogurt. Making this substitution will change the nutrition profile of the muffins.
Nutrition
Calories:
195
kcal
Carbohydrates:
21
g
Protein:
4
g
Fat:
11
g
Saturated Fat:
2
g
Polyunsaturated Fat:
1
g
Monounsaturated Fat:
5
g
Trans Fat:
1
g
Cholesterol:
16
mg
Sodium:
112
mg
Potassium:
66
mg
Fiber:
1
g
Sugar:
11
g
Vitamin A:
38
IU
Vitamin C:
3
mg
Calcium:
73
mg
Iron:
1
mg