These easy and irresistible no bake chocolate truffles are made with just two ingredients, chocolate chips and avocado. Toppings can easily be added for pops of color, flavor, and texture. They are perfect for any occasion!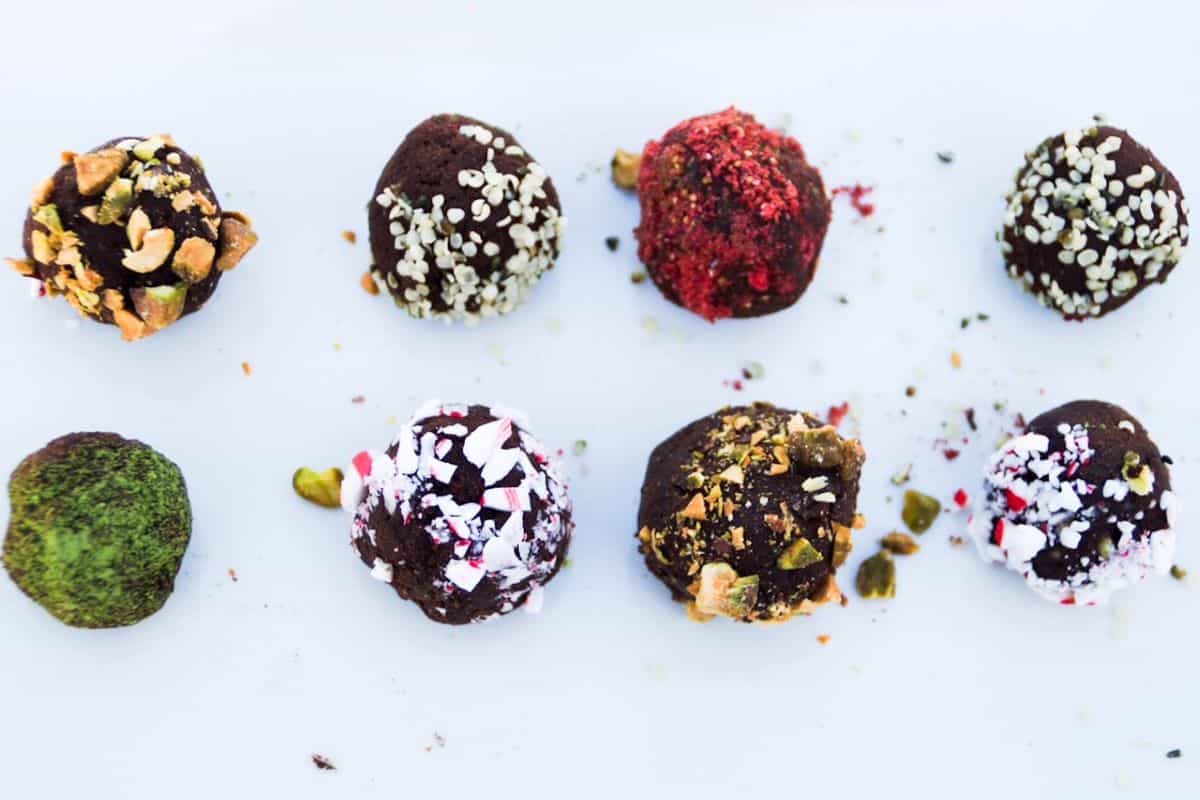 For the record, there is absolutely nothing wrong with indulging in traditional desserts. Have no doubt, my kids get their share and enjoy every bite (as do I, haha!).
But, if you know me, you know that I love trying new ways of sneaking unexpected ingredients in to foods to see if anyone notices. And oftentimes, I am pleasantly surprised!
For instance, my vegan blondies are made with chia seeds instead of egg and, believe it or not, no one can tell. In fact, two of my kids still have not idea that there is avocado in these truffles.
Thankfully, my kids are up to trying all of my creations, and these avocado truffles are no exception!
If you are looking for more dairy-free and egg-free recipes, you've got to make my chocolate covered pineapple and apple crumble recipes. Kids love them all!
Jump to:
Recipe Highlights
No Bake. Yep, you heard that right!
Two Ingredients Toppings are optional, though highly recommended.
15-minute recipe Once they are formed, they just need to set in the fridge.
Can easily be transformed into a decadent dessert to fit any occasion.
As with many other truffles, these are very rich so don't be surprised if your kids eat just one.
Contains fiber and healthy fats, so kids will feel full longer.
Ingredient Notes
Avocado High in fiber and mono-unsaturated fats.
Chocolate chips It's what gets kids hooked on these truffles! Use semi-sweet or a combination of semi-sweet and dark chocolate chips. Vegan chocolate chips are now so much easier to find! In fact, chocolate chips from Trader Joe's are vegan. If your family is not vegan and your kids do not have a milk-allergy, there are even more brands to choose from.
Optional topping ideas: Sprinkles, crushed candy cane pieces, coconut flakes, crushed pistachio pieces, hemp hearts.
Step-by-Step Instructions
Here's a quick overview of the steps to make these indulgent chocolate avocado truffles. For the full list of ingredients and specific instructions, scroll down to the recipe.
Place chocolate chips in a microwave safe mixing bowl.
Place flesh of one avocado in a separate bowl and mash well.
Melt chocolate chips: First, microwave for 1 minute. Stir well. Place bowl back in the microwave for an additional thirty seconds. Stir again. Chocolate chips should be melted.
As soon as the chocolate chips are melted, add the mashed avocado. Whisk well until a consistent creamy texture is achieved.
Let the mixture cool in the refrigerator for one hour.
Remove mixture from the refrigerator and form into round truffles using the palms of your hands or pads of your fingers.
Optional but highly recommended: Roll each ball into a decorative topping to make these truffles more visually appealing for kids and for added flavor. I like to cover about three-fourths of each truffle with the topping.
Decorative & Tasty Topping Ideas
Helpful Tips
The chocolate will burn if you do not microwave the chocolate in intervals.
Save time by mashing the avocado while the chocolate chips are melting.
Use ripe, but not overripe avocados.
Do not use avocados that have a lot of strings in the flesh.
Do not put the truffle mixture in the freezer to cool. I tried this (hoping to save time) and it hardened quickly - I ended up wasting half of the mixture.
Keep an extra avocado on hand, just in case the one you plan to use is either stringy or bruised inside.
There might be a few glimpses of green within the (from the avocado). I make sure to cover those spots with the topping.
If you are trying to get your kids used to the taste of dark chocolate, try gradually increasing the proportion of semi-sweet to dark chocolate chips used every time you make a batch of truffles.
Let your kids get creative with what to top the truffles with.
There has been some interesting debate as to whether or not avocados are considered vegan.
Questions You May Have
Can these truffles be stored in the freezer?
Yes, these truffles can be stored in the freezer.
How do you store truffles?
Store these chocolate avocado truffles in an airtight container or resealable food-safe bag in the refrigerator for two to three days.
What makes a truffle a truffle?
An actual truffle is fruiting body of a fungus. As for truffles made with chocolate, they are called a 'truffle' because their look resembles a black truffle (fungus).

Chocolate truffles are usually made with chocolate and heavy cream. This recipe uses avocado in place of heavy cream.
More Easy Dessert Recipes
Did you make these vegan truffles? Please let me know by giving this a 5-star rating or leave a comment below!
And remember to follow me on Instagram for more easy recipes and nutrition tips!
No Bake Vegan Chocolate Avocado Truffles
With two ingredients and no baking, these amazing truffles are super easy to make!
Ingredients
1

Avocado

Halved lengthwise. Remove the pit.

1

cup

Chocolate chips

Semi-sweet, dark chocolate, or a combination.
Optional: Topping Ideas
Hemp hearts

Coconut flakes

Candy cane pieces

crushed

Freeze-dried strawberries

crumbled

Pistachios

chopped fine
Instructions
Place chocolate chips in a medium microwave-safe bowl.

Microwave in intervals, for a total of ninety seconds (microwave for one minute, stir well, then place back in the microwave for an additional thirty seconds). Chocolate chips should be melted.

Remove the flesh from the avocado and place in a small bowl. Mash well.

Add mashed avocado to the melted chocolate (while the chocolate is still hot) and whisk well. Mix until a consistent creamy consistency is reached.

Refrigerate the chocolate-avocado mixture for one hour.

Remove mixture from the refrigerator and form mixture into small, round truffles (bite-sized). Store in the refrigerator for up to three days.

Optional: roll truffles in a topping before refrigerating.
Notes
*Nutrition facts do not include toppings. Nutrition facts are estimated based on online calculators. Nutrition information can vary for a recipe based on several factors such as precision of measurements and specific ingredients used.
Use a food chopper to mash avocado well. There should not be any large chunks of avocado when adding it to the chocolate.
Chocolate chips need to be microwaved in short intervals to keep them from burning.
For a truly vegan recipe, read the label of the chocolate chips and toppings (if using) you will be using to ensure that they are vegan.
Store in an air-tight food-safe container before placing in the refrigerator.
Kids can help by rolling the mixture into truffles and then into the topping. 
Nutrition
Calories:
97
kcal
Carbohydrates:
8
g
Protein:
1
g
Fat:
7
g
Saturated Fat:
3
g
Polyunsaturated Fat:
1
g
Monounsaturated Fat:
3
g
Trans Fat:
1
g
Cholesterol:
1
mg
Sodium:
2
mg
Potassium:
143
mg
Fiber:
2
g
Sugar:
5
g
Vitamin A:
27
IU
Vitamin C:
1
mg
Calcium:
10
mg
Iron:
1
mg