Zucchini Banana Chocolate Chip Muffins are delicious, moist, easy to make (hello, one bowl!), and surprisingly healthy! Your kids will love them!
Because they are high in fiber, these muffins make an excellent after school snack!
This is just one more easy and delicious way to get your kids to eat more whole grains, fruit AND veggies! Plus, this recipe will help use up all of the farmer's market zucchini! Make them today!
For another delicious kid approved muffin recipe, you must try my lemon blueberry muffins!
ingredient highlights
Zucchini contains fiber, vitamins (like vitamin C, vitamin B-6, and folate), and minerals (like potassium and manganese).
For this recipe, simply grate the zucchini as you would grate a block of cheese, using a box grater. A food processor would work as well. Just be sure to wash the zucchini and trim both ends off first.
What I love most about zucchini is that it can be used in so many things, like baked goods, soups, stir-fry, and omelets! It has even started to replace regular noodles-crazy!
Oh, and you can even freeze grated zucchini. It's true!

And, if you are new to baking with zucchini, this recipe will get you hooked!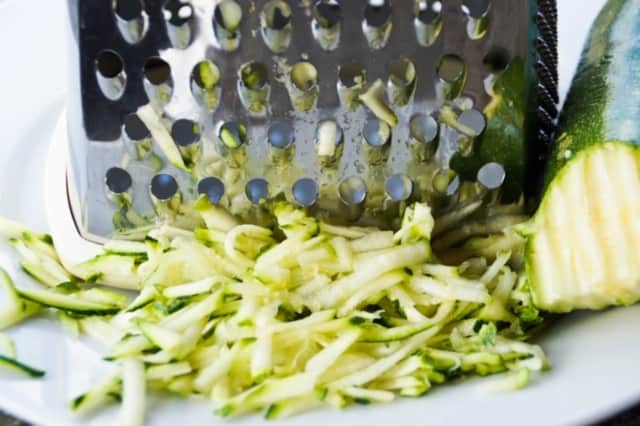 Bananas are full of fiber and potassium. They also serve as a fabulous sweetener, especially over-ripe bananas.
In case you haven't noticed, bananas brown much faster in the summer. I used to get so annoyed when this would happen. But, now I buy more bananas than we can eat just so I have enough to bake with!
Use either use a fork or a kitchen utensil like a hand-held meat or potato masher to mash the over-ripe bananas. It's easy!
Both white whole wheat flour and oat flour are made from whole grains, which means they are excellent sources of fiber.
White whole wheat flour is unbleached. It has the same nutritional value as whole wheat flour, but because of the variety of wheat used to make it, white whole wheat flour has a milder flavor, a lighter color, and a softer texture.
Did you know that oat flour is made by grinding up oats? It is! Aside from fiber, oats provide antioxidants and polyphenols. Good stuff!
Questions You May Have
Do I have to use olive oil?
The easy answer is, "no". I choose to exclusively use extra virgin olive oil for most of my baking/cooking but you definitely don't have to.
Olive oil can easily be substituted with avocado or canola oil (or whatever oil you prefer to bake with). It could even be substituted with melted butter, understanding that the nutritional profile would be quite different (butter is much higher in saturated fat).
What if I don't have white whole wheat flour?
White whole wheat flour can be substituted with All-Purpose flour.
What if I don't have oat flour?
You can either make your own oat flour (from rolled oats, using a high speed blender) or you can use all-purpose or additional white whole wheat flour in place of the oat flour.
Both white whole wheat flour and oat flour are used in order to optimize the texture of these muffins.
Oat flour softens these muffins that would otherwise be a little denser if made with white whole wheat flour a lone.
Is ⅓ cup of chocolate chips enough?
Yes, it is! Honestly, my kids love these the way they are and always ask for more.
I offered these muffins to their friends as a snack and they were quickly devoured.
In fact, you could even try cutting down to ¼ cup of chocolate chips.
Remember, we are trying to form healthy habits with our kids. A touch of sweet is okay... too much is..., well, too much.
Zucchini Banana Chocolate Chip Muffins
Made with whole grain flours, zucchini, and bananas, these moist and healthy zucchini muffins make a perfect snack for kids! And, they require just one bowl for mixing - easy to make and easy to clean up!
Ingredients
2

small over-ripe bananas

1

cup

zucchini

grated

1

cup

white whole wheat flour

¾

cup

oat flour

¾

cup

milk

¼

cup

olive oil*

1

egg

1

teaspoon

baking powder

1

teaspoon

baking soda

⅓

cup

sugar

¼

cup

chocolate chips

½

teaspoon

salt
Instructions
Preheat oven to 375 degrees Fahrenheit.

Place the bananas in the bottom of a medium mixing bowl and mash well.

Add the grated zucchini to the banana and mix well

Add all other ingredients to the mixing bowl. Mix well.

Divide batter evenly into a lined muffin tin (12 muffins).

Bake for 20-25 minutes, until a toothpick comes out clean.
Notes
*I use extra virgin olive oil but use what you have!