Say "hello" to your new favorite, easy, and delicious breakfast recipe that is just perfect for busy mornings! This banana baked oatmeal recipe is made with strawberries, without refined sugar, and takes just 30 minutes to make!
Bananas, bananas, and more bananas! That's how I feel in the summer when my bananas ripen so fast! Thank goodness bananas sweeten as they ripen, so when they are too ripe to eat, they are just perfect to add to all kinds of recipes, even a milkshake if you can believe that!
I don't know about you, but I make baked oatmeal all the time, so it only makes sense that I had to make a version with bananas. Right?
I've gone from making a standard baked oatmeal, to making baked oatmeal with apples (yum!), and now I make this version with bananas. Banana baked oatmeal by itself isn't my favorite, but when strawberries and mini chocolate chips are added, it tastes absolutely divine!
Jump to:
Why You'll Love This Recipe
Easy recipe It's easy enough that most older kids can make it themselves.
Meal prep Can be made the night before and reheated for a quick breakfast the next morning. This recipe is easily doubled, so you can freeze some or have enough for the rest of the week. I have even taken baked oatmeal along on road trips. I keep it cold in a cooler with ice packs and then put it in the fridge in our rental or hotel room. Just confirm that your hotel room will have a microwave for reheating it before you hit the road.
High in fiber and it contains protein which will help your kids feel full longer and fiber helps to keep things moving through the digestive tract.
School lunch idea Kids even love having this baked oatmeal for lunch. It can be heated in the morning and placed in a thermos so it stays warm until lunch time.
Lessens food waste When bananas get too ripe to eat by themselves, they are usually just right to be used in a recipe like this. So, instead of throwing out overripe bananas, use them to make banana baked oatmeal and other recipes that call for ripe or overripe bananas.
Ingredient Notes
Strawberries Delicious and nutritious! These pretty, heart-shaped berries are high in vitamin C, antioxidants, vitamins, manganese, folate, fiber, and more.
Bananas High in fiber and potassium. Bananas provide natural sweetness to recipes - especially over-ripe bananas.
Oats A whole grain. The American Heart Association recommends that at least half of the grains you eat are whole grains. Oats are an excellent source of soluble fiber, insoluble fiber, phosphorus, thiamine, magnesium, and zinc.
Milk Good source of protein and calcium. Milk adds moisture to soften the oats and helps give this baked oatmeal a smooth texture.
Egg Good source of protein. Egg helps with the structure of this oatmeal.
Maple syrup Use pure maple syrup. It adds a touch of sweetness that kids love.
Dietitian Tips
Unlike most traditional breakfast foods, this baked oatmeal is high in fiber. The fiber content (from oats, bananas, and strawberries) combined with the protein from egg and milk will help your kids feel full longer and lessen those frequent requests for snacks!
All three of my kids like baked oatmeal, so I often double up on this recipe so that we have enough for leftovers. My teenagers are old enough to reheat baked oatmeal the microwave before school which saves me time on busy mornings.
How to Make Banana Baked Oatmeal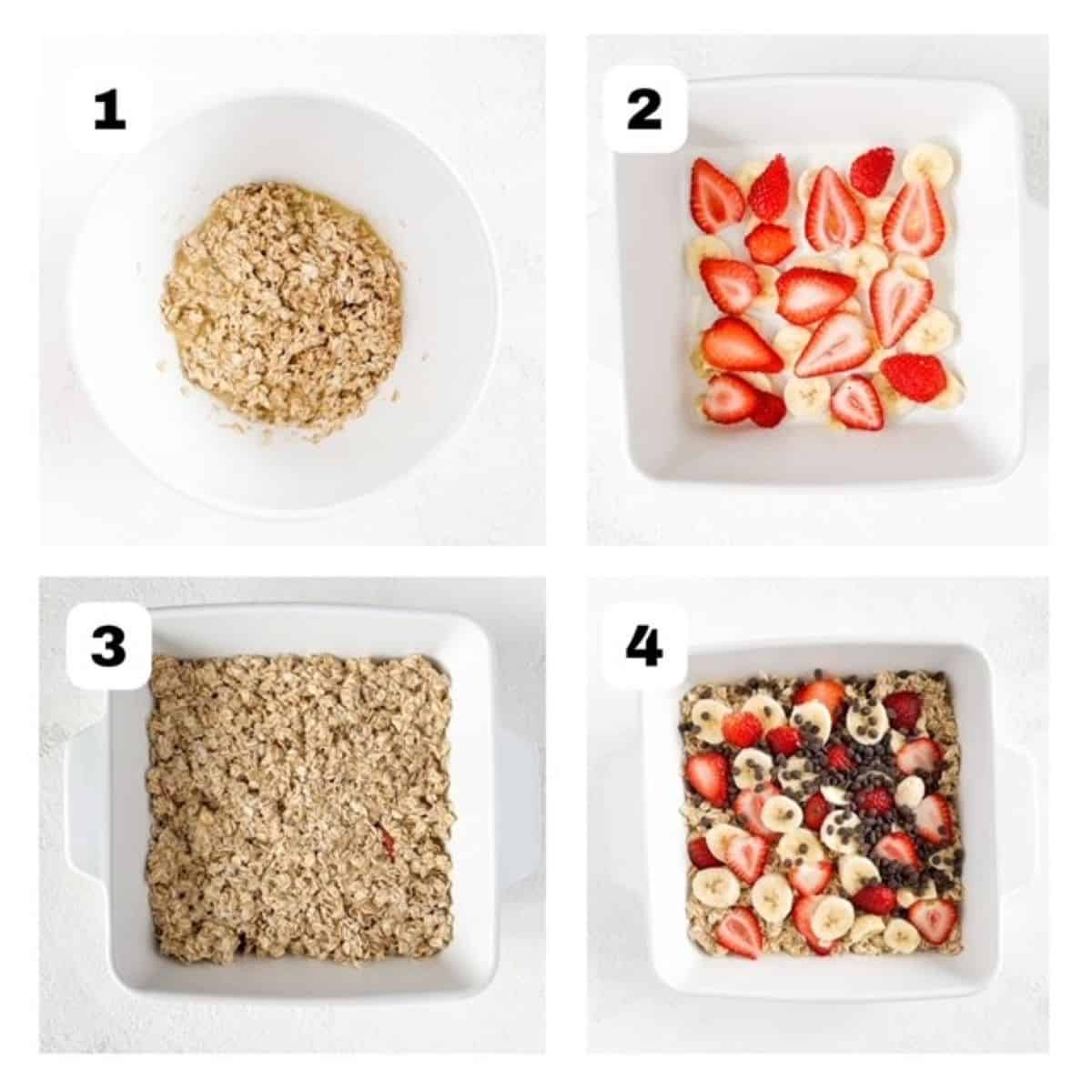 Here's a quick overview of the steps to make this easy and delicious banana baked oatmeal with strawberries. For the full list of ingredients and specific instructions, scroll down to the recipe.
Preheat oven to 350 degrees Fahrenheit.
Mix oats, milk, maple syrup, oil, egg, and baking powder together in a medium mixing bowl. Set aside.
Rinse strawberries under running water and remove the stems and peel the bananas. Slice the bananas and strawberries.
Spread half of the banana and strawberry slices out in a single layer on the bottom of a prepared baking dish coated with cooking spray or oil.
Spread the oat mixture out evenly over the strawberry and banana slices.
Top with remaining banana and strawberry slices. Last, sprinkle mini chocolate chips over the top of all of some of the sliced fruit (optional).
Bake in the oven at 350 degrees Fahrenheit for 20-25 minutes, or until the edges are golden brown. Let cool for 5 minutes before serving.
Expert Tips
Use old-fashioned rolled oats. Do not use instant oats or steel cut oats to make this recipe.
Rinse strawberries well under running water before slicing them.
Use ripe or overripe bananas because they add natural sweetness.
Brown sugar or agave can be used instead of maple syrup.
If you have a convection oven, either reduce the oven temperature to 325 degrees OR reduce the cooking time to 19 minutes.
While you can use mashed banana instead of banana slices, the flavor won't quite be the same. I've made this both ways and we prefer it made with banana slices.
If you have the opportunity to pick your own strawberries, do it! And, if you can you bring your kids along to help pick, that's even better!
Recipe FAQs
How do you serve baked oatmeal?
Serve individual portions in a cereal bowl.

I like to add a splash of milk to the individual servings of baked oatmeal to help it cool down and to smooth out the consistency. One of my kids prefers it as is, without the additional milk.
What can I use in place of strawberries in this recipe?
You can substitute blueberries or blackberries in place of strawberries, and it will still taste delicious. Or you can leave the berries out. Banana baked oatmeal might not be as pretty (lol), but it is still delicious!
Do I need to buy gluten free oats?
No, not unless you have been instructed to do so by a credentialed healthcare provider.
Can I use almond milk to make baked oatmeal?
Yes, you can use any kind of milk to make this baked oatmeal recipe. To make this a diary-free recipe, use a milk-alternative in place of regular milk.

I have made banana baked oatmeal with regular milk and cashew milk. The textures were a little different, but both versions tasted great.
Can protein powder be added to baked oatmeal?
I haven't tried it, but I would think protein powder could be added to baked oatmeal. For most people, adding protein powder isn't necessary, but if that's what you prefer, go for it. If you make this with protein powder, please let me know how it turns out!
More Easy Breakfast Recipes
Did you make this banana baked oatmeal recipe and love it? Please leave a 5-star rating below or a review in the comments section. It's the best compliment!
Don't forget to snap a pic of their strawberry banana baked oatmeal and tag @carrots.and.cookies on Instagram so I can see it!
Easy Banana Baked Oatmeal with Strawberries
This easy and delicious banana baked oatmeal with strawberries is made with simple ingredients and takes just 30 minutes to make from start to finish!
Ingredients
2 ½

cups

rolled oats

1

cup

milk

I use skim milk.

1

egg

lightly beaten

3

tablespoon

maple syrup

pure maple syrup

2

tablespoon

olive oil

extra virgin

1

teaspoon

baking powder

2

bananas

Use ripe or overripe bananas. Peel and slice the bananas.

1

cup

strawberries

Washed and sliced.
Instructions
Preheat oven to 350° Fahrenheit

Lightly oil an 8x8 baking dish

Spread half of the strawberry and banana slices out to cover the bottom of the baking dish.

Mix the rest of the ingredients together in a medium mixing bowl.

Pour mixture into the baking dish and spread it out so that it covers the layer of strawberries and banana slices.

Top with remaining banana and strawberry slices. Use the back of a fork to press the fruit slices slightly down into the oat mixture. Optional: sprinkle mini chocolate chips on top before placing in the oven.

Bake in the oven for 25 minutes. Let cool for about 5 minutes. Serve and enjoy!
Notes
Use old fashioned rolled oats. Do not use quick oats or steel cut oats to make this recipe.
Brown sugar or agave can be used in place of maple syrup. This baked oatmeal recipe is not very sweet. So, if you are used to very sweet baked oatmeal, you may want to drizzle the baked oatmeal with a little more maple syrup to make it a little sweeter.
A 9x9 baking dish would work just as well as an 8x8 baking dish. 
Leftovers can easily be reheated in the microwave.
Strawberries can be substituted with another berry or left out altogether. Banana baked oatmeal made without strawberries is delicious, too!
Nutrition
Calories:
199
kcal
Carbohydrates:
32
g
Protein:
6
g
Fat:
6
g
Saturated Fat:
1
g
Polyunsaturated Fat:
1
g
Monounsaturated Fat:
3
g
Trans Fat:
0.003
g
Cholesterol:
24
mg
Sodium:
64
mg
Potassium:
301
mg
Fiber:
4
g
Sugar:
11
g
Vitamin A:
117
IU
Vitamin C:
13
mg
Calcium:
106
mg
Iron:
1
mg